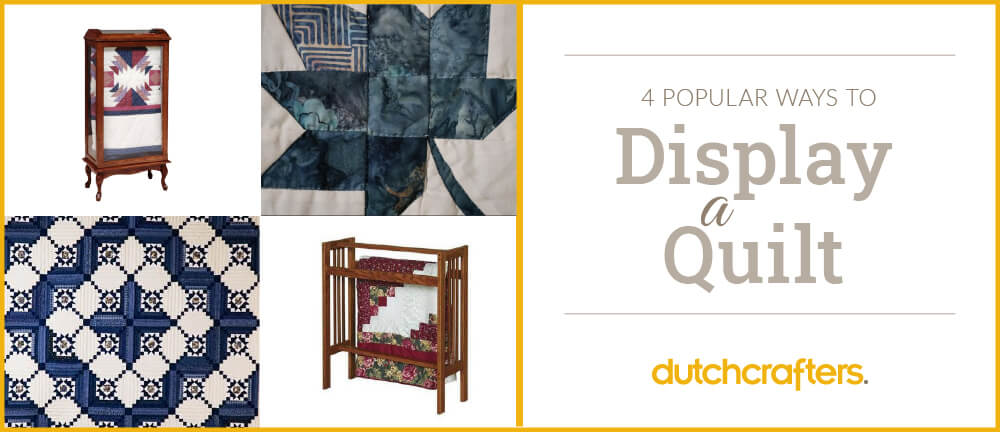 4 Popular Ways to Display a Quilt
Quilts are special. Whether you made one yourself, inherited a family heirloom, or received one as a gift, they are works of art that you might want to showcase. Sure you can throw them over a sofa or the back of a chair, but handmade quilts, in particular, should be handled carefully in order to maintain their beauty. Here are four safe and popular ways to display treasured quilts.
Ways To Display A Quilt
The Quilt Rack–Floor
Quilt racks, also referred to as blanket racks or towel racks, hold a quilt in a hanging position, and they're often made of wood or metal. Wood quilt racks are a good choice because they match most décor. There are quilt racks that can be mounted on the wall, ladder-style racks, or quilt racks that sit on the floor. It's important to consider the weight of the quilt you want to display. Some quilts can be rather heavy depending on the material they are made of and the size of the quilt. Smaller racks or lighter racks made with lightweight materials might not support the quilt fully.
The main draw of using a quilt rack to display your quilt is that it holds it in a hanging position, making it easier to view the patterns. Quilt racks are a popular choice for showing quilts at quilt shows or craft fairs. Free-standing quilt racks used on the floor can be moved fairly easily and usually have a number of rods to hold the quilts allowing them to hold more than one quilt.
The Wall Mounted Quilt Rack
Hanging quilt racks can be mounted on the wall. Proper installation is important in order to support the weight of the quilt. Wall quilt racks come in a variety of sizes and usually hold one quilt. Hanging them adds to decor while keeping delicate quilts off a frequently used chair or sofa back.
The Quilt Case
The quilt case offers a way to both store your quilt safely and display it at the same time. Other options for storing quilts include a natural fiber, cotton or linen bag or case. These options, like the quilt case, offer protection from bugs, dust, and moisture.
The Shelf Quilt Rack Combo
The shelf quilt rack combo offers a lovely display since you can hang a quilt and use the shelf to display other items, creating an attractive combination. This is another quilt display tool that adds to the decor of the room.
Other ideas for displaying your favorite quilt include using them on a guest room bed or keeping them on a chair or draped over the sofa. You'll want to be careful that the quilt doesn't sustain damage if the furniture it is placed on is used frequently.
Quilt Display Guidelines
Be sure the item you use to hang a quilt on can support its weight.
Measure height, width and depth of quilt racks to make sure they will fit in the space you want to use them.
Do not place a quilt you are displaying in full sunlight as it can cause fading.
Take quilts off of a quilt rack from time to time to shake out the dust.
Amish quilts combine artistry with function. The Amish value items that are practical and serve a purpose, and they don't make things just for show. Quilting is practiced among the Amish as it allows creativity and functionality in a beautiful piece.