Sitting Pretty: How to Pick the Right Sofa
It took Goldilocks three tries to pick seating that was "just right" in the home of the three bears. What was it that kept her moving from seat to seat? The size? The color? Too much fur on the seat? Whatever the reason, she had the right idea – careful consideration is required to find "just right" seating.
Buying a sofa in particular can be overwhelming. With so many options to choose from, finding the one that is "just right" for your home and family can take time. We've put together a buying guide to help you pick the right sofa.
What's Your Sofa Situation?
Before you start shopping, ask yourself the following questions:
How will it be used?
Lounging and TV watching may call for a couch or sectional facing an entertainment center, while a living room used for hosting might employ a modest-sized couch and chairs to create multiple seating areas.
For formal living rooms, a stand-alone sofa with a clean design can fit the bill.
If kids are in the picture, your best bet  is one that is both comfortable and highly durable from frame to fabric.
What shape best fits the room you're decorating?
L-shaped designs are great in homes with open floor plans because they can act as a divider.

The L-shaped design of the Connor Sofa Sectional can help divide an open floor plan.
Do you prefer a tight back or loose cushions?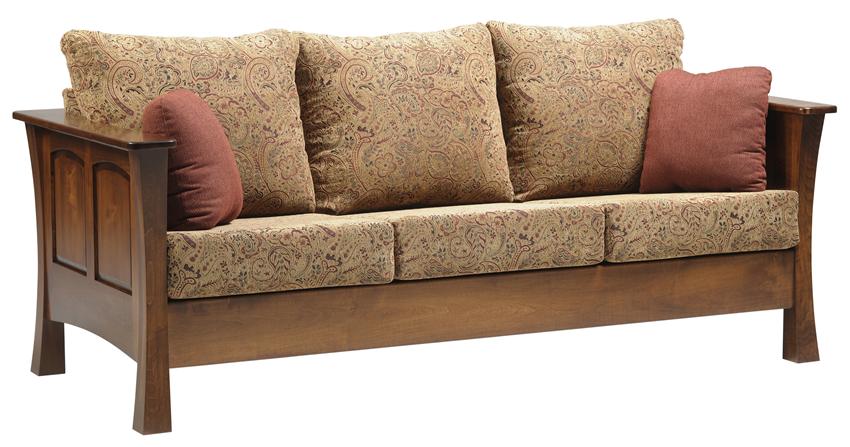 The Amish Woodbury Sofa offers loose cushions with a relaxed look and feel.
What size sofa is best for you?
The size of your sofa can affect the look of the entire room. If it's too large it can smother a small room. If it's too small it will look lost and out of place in a larger space.
Before shopping, decide on the layout of the room and set it up. Cutting out a template of the sofa you're considering from brown paper and placing on the floor where the sofa will go is a good way to get an idea of how it will look in a room.
Also consider the following when determining what size to buy:
Decide how many people you want it to seat.
Observe the proportions of the room to determine the best height, length, and depth.
For larger rooms, decide how much of the room you want it to occupy
In smaller rooms, look for a practical design that complements the space. A sofa with low or no arms will make a room look larger.
The depth of the seat and angle of the back contribute directly to comfort. Look for a combined seat height and depth of 40" to 44".
Find Your Perfect Upholstery Fabric
Function is key when choosing material for your sofa. For sitting room sofas that won't get much wear, a less durable fabric like linen or silk can work. If it will get a lot of traffic, consider synthetic fabrics or leather to get the most for your money.
Synthetic fabrics are durable, cozy, maintain their color, and are easy to clean. Real leather is always in style, wears well with age, and is fairly easy to clean.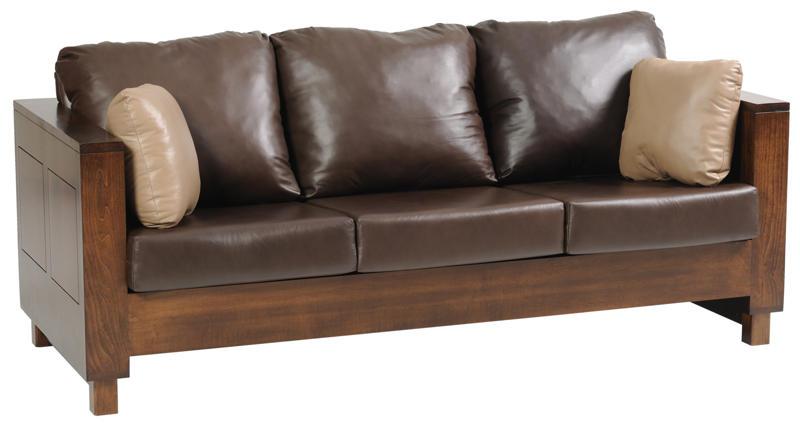 The Amish Handcrafted Urban Sofa makes a lovely display with leather.
We suggest ordering samples of the fabric you are considering. That way you can see a color or pattern in person and determine if you like the texture and feel of the fabric.
Consider the Cushions
Should you choose foam or feather cushions? A mix might actually be the best. Foam core cushions with feather wraps create a nice balance of structure and softness. The Hilton Apartment Sofa features Ultra Lux Seat (ULS) Cushions. ULS Cushions consist of a spring unit encased in high resiliency foam with a soft cell foam layer applied to the top and bottom. The unit is then encased in a jacket of blended and down feathers for maximum comfort.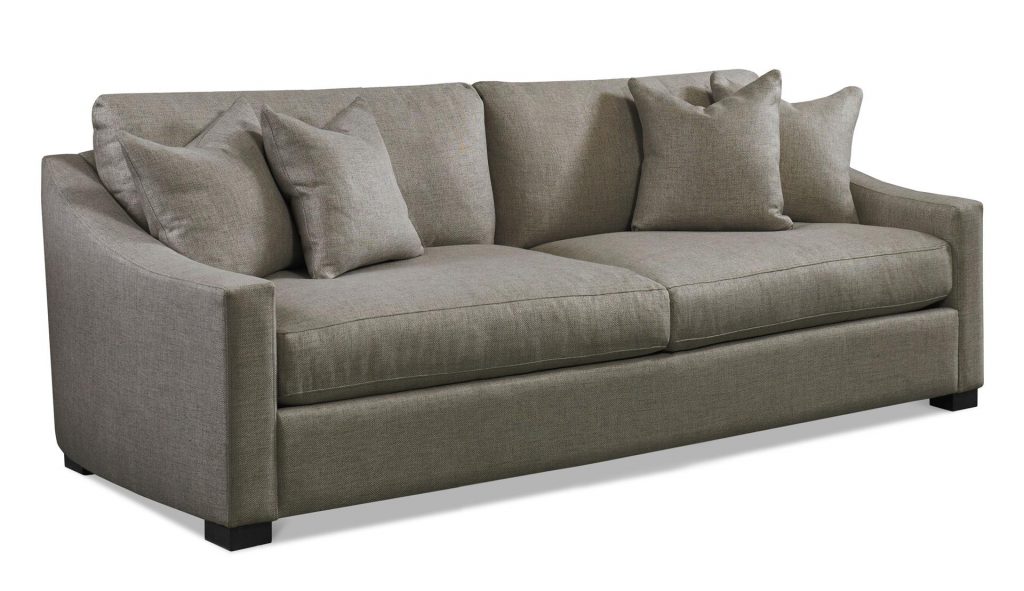 Choose Colors Carefully
With most sofas being substantial in size, your safest bet is one in a neutral color. Neutral fabrics match any décor and will stay in fashion longer. Save patterns and accent colors for throw pillows, art, ottomans, and complimentary pieces in the room. These pieces can be easily switched out when you want to change the look of your living or family room.
Select Your Style
Are you looking for formal and fancy or a more casual look? Do you like a pillow back with removable cushions or a tight back with tailored upholstery? Look for the style you love that best complements your home décor. The style can set the entire mood of the room.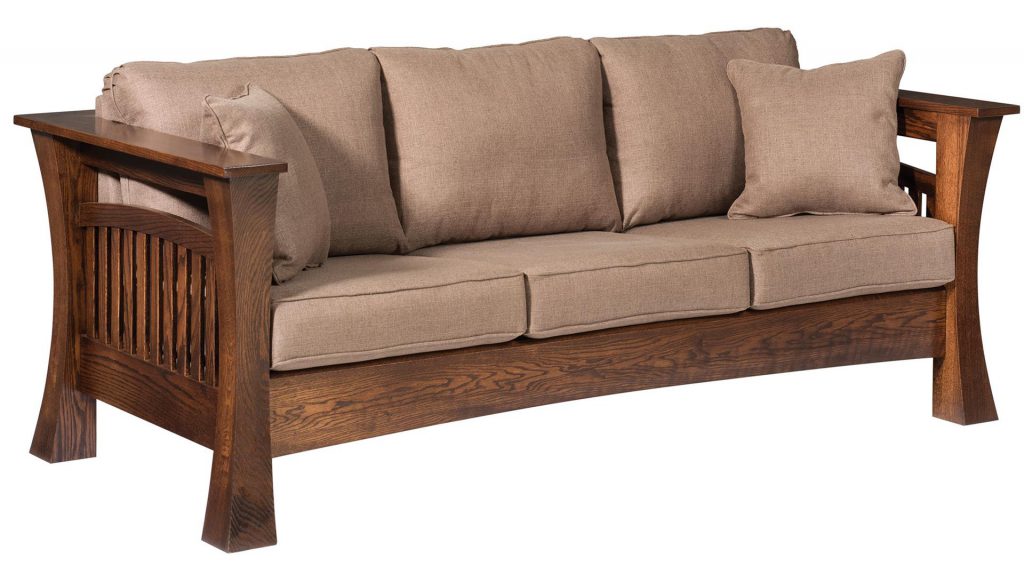 The Amish Gateway Sofa offers a more traditional style with removable cushions.
The Preston Sofa with its clean lines is comfy contemporary.
Sectional Solutions
Sectionals are family friendly and provide an alternative to the more common sofa and loveseat set up. You don't necessarily need a large room for a sectional. They can be used in place of a sofa and chairs or a sofa and loveseat. Sectionals also save space and create a tidy, uncluttered look. Make sure to measure curved sectionals with extra care.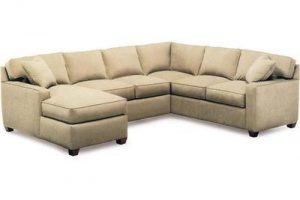 The Ethan Sectional offers a gorgeous sofa and chaise combo with a clean contemporary look.
You'll be way ahead of Goldilocks who ended up breaking the seat she sat in when you order an American made sofa or sectional from us. Find that "just right" look and feel while investing in the perfect combination of style and quality.