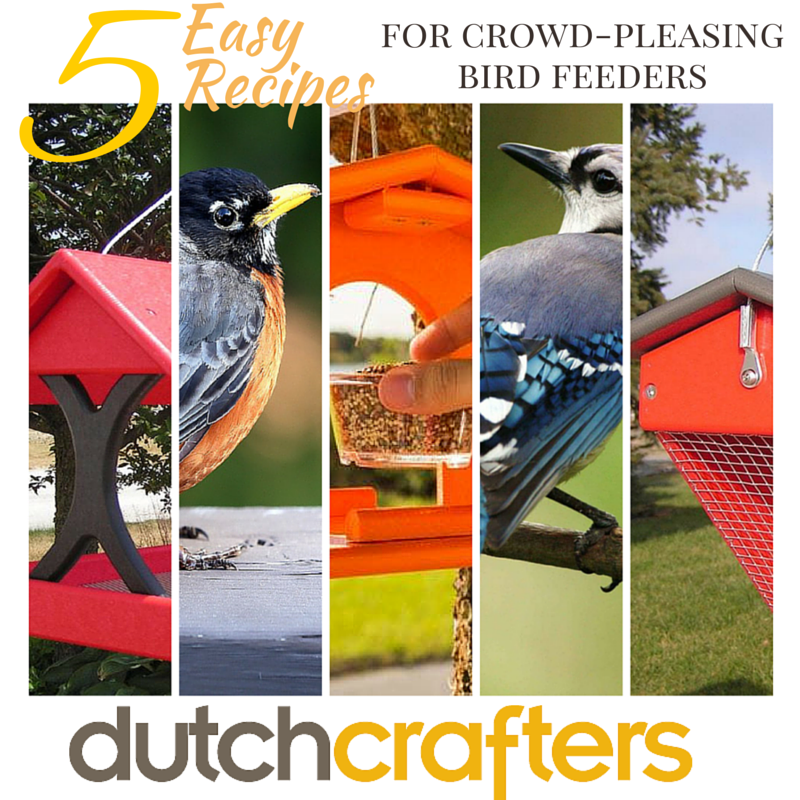 5 Easy Recipes for Crowd-Pleasing Bird Feeders
Birdsong is a defining feature of summer's pink mornings and long, hazy sunsets and while we might not know them by name, the gentle whistles and trills of sparrows, starlings, nightingales and chickadees as they enjoy local bird feeders are as deeply woven into summer as sunshine and iced tea.
So how can you make sure that this summer is the most musical yet? Well, the best way to guarantee a sky full of birds is to fill your bird feeders and houses with the kind of foods that'll keep them coming back day after day after day. Wrangle the kids into the kitchen and read on – birdsong is for everyone!
1. Songbird Suet
Suet – made by mixing seeds, fruits, and fats – provides everything birds need to stay healthy and strong. It also tastes great (by bird standards), and is guaranteed to attract a wide range of different species! Suet feeders or feeders with suet cages are the best way to make sure birds get the most from this staple. 
Ingredients:
2 cups peanut butter
2 cups lard
½ cup each of flour, old-fashioned oats, peanuts, raisins, sunflower seeds and chopped corn – substitute millet, different nuts, or berries for different results!
Method:
Melt the lard and peanut butter together in a pan.
Mix the melted liquid together with all of the dry ingredients and pack them into a cake pan or deep baking tray. Refrigerate for a few hours until nicely hardened, and then cut the suet into a size that fits your suet feeder or cages.
Great suet bird feeders include the Amish Poly Deluxe Bird Feeder with Suet Cages and the Amish Poly Upside Down Suet Feeder.
2. Tweety Trail Mix
Seeds and dried fruits are a great source of nutrients and healthy fats – birds love picking nuts and seeds from tray feeders! Different sizes of feeder will suit different sizes of birds, so take a look and choose the right size feeder to make sure your local birds can get inside.
 Ingredients:
 ½ cup sunflower seeds
 1 cup shelled walnuts and peanuts
 ½ cup dried fruit
 1 tablespoon dry, hard corn kernels
Method:
Simply mix everything together in a big bowl, and then spread a layer in your tray feeder. That's it!
Tray feeders are perfect for birds stopping by for a bite. The Amish Poly Double Deluxe Tray Bird Feeder offers a large spot to feast while the Amish Poly Small Bird Feeder caters to smaller birds.
Nesters' Nectar
These two jelly jar bird feeders are perfect for holding some oriole-favorite nectar recipe
Nectar is the food of choice for beautiful hummingbirds and sing-song orioles. While these birds can be a little harder to find than other species, seeing them in your garden is worth the effort.
Add this nectar to a jelly jar or oriole feeder for the best results.
Ingredients:
1 part sugar to 4 parts water
Method:
Warm the water on the stove or microwave. It doesn't need to boil – it just needs to be warm enough to dissolve the sugar.
When the water is warm, stir in the sugar until it dissolves.
Leave the mixture to cool, and then add to your feeder.
Store the remaining nectar in the fridge – preferably in a glass container – for up to two weeks.
The Amish Poly Oriole Feeder and the Amish Poly Double Oriole Feeder are great options for serving nectar recipes.
Brilliant Birdie Bread
This one-fits-all recipe is stuffed with protein-rich elements that create a chunky feed that's perfect for tray feeders, fly-through feeders, and suet feeders!
Ingredients:
4 eggs with shells
18oz of canned or preserved baby fruits, veggies, or applesauce
2 cups Bisquick
2 cups corn meal
1 cup flour (whole wheat if available)
1 cup dried fruit
1 cup unsalted nuts, chopped
2 tablespoons unshelled sunflower seeds
Method:
Preheat oven to 400 degrees Fahrenheit.
Blend the eggs with the shells until the shells are crushed. Add baby food.
Mix everything else in a bowl, and then stir in the egg mix with enough water to moisten the batter.
Spread into a greased 9" x 13" pan and bake for 40 minutes, or until the cake starts to pull away from the edges of the pan.
Cool the cake, cut it into squares, and then freeze it.
Heat or thaw the cake to serve!
Stop-and-Go bird food recipe and fly-through feeder for your birds on the move[/caption]
Glorious Gardeners' Garland
Fruit garlands are one of the prettiest ways to bring sweet-toothed birds to your garden! String them from branches and post-mount bird feeders, or tie them to the bottom of a suet or peanut cage for a cascade of color.
Ingredients:
Cored apples, halved lemons, under-ripe bananas, pitted cherries, or whatever tasty fruit you have to hand
Strong twine
Method:
Core your apples or other fruits and then slice them horizontally, so that they form rings.
Run your twine through the holes in the rings, like a curtain pole.
String the garland up and watch the birds figure out how to grab a bite!
The Amish Poly Split Peanut Bird Feeder will look stunning with a colorful garland recipe attached to it.