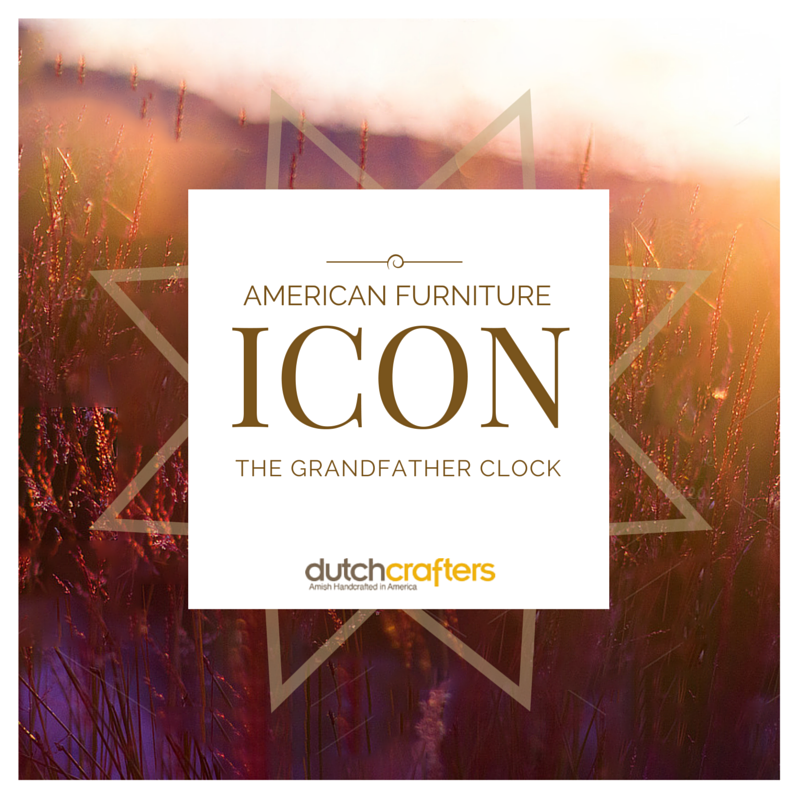 American Furniture Icon: The Grandfather Clock
This blog post was updated on February 19, 2019 with wall and mantel clock options and the Steelton 2005 Grandfather Clock Quick Clip Video.
From nursery rhymes to stories of olden times, the grandfather clock has been an icon of classic British and American elegance since William Clement created his first longcase clock in 1670. Let us show you some surprising places that highlight time-honored, American made Grandfather clocks in ways both old and new.
1. Foyers and Entryways
As much as we love traditional grandfather clocks gracing a chair-railed foyer as above, we have to temper that love with a word of caution: please regulate the incoming air! Destructive outside temps and humidity can easily damage a solid wood grandfather clock (as it does any solid wood furniture) with cracks and swelling. A vestibule is your simplest solution to the problem.
That said, opening a front door to reveal a well-mannered grandfather clock is truly an old-fashioned "moment," made for Southern mansions and New York townhouses alike. Due to their cumbersome size and weight, you'll typically encounter grandfather clocks on ground floors, but placing it right in the foyer adds a bonus beyond convenience – exposure. Arriving guests can't help but admire your heirloom-quality piece, and it can set the tone for your entire home.
2. Staircases: Landings and Nooks
In the crook of a block-style staircase, this opulent, cherry grandfather clock brings a welcome element of theatre to an otherwise practical area. A swan neck top and finial, embossed egg and dart molding, plus beveled glass on the door and sides all exude a grandiosity completely absent in this view of the room.
Not feeling quite so grand? Pare all the way down to a Mission style grandfather clock. Clean, straight lines, a plain clock face, and minimal engraving allow sweeping staircase surroundings (see below) to legitimately steal the show.
 3. At the Lodge
Taking the grandfather clock out of the mansion and into the lodge feels like a fitting reclamation of the icon's identity. Born of ingenuity and Clement's desire to make the exquisitely technical incredibly beautiful, a rustic, American West sort of setting lets both aspects of the clock shine. No fancy frills and sparkling hardware (or urns of giant flowers and glittering chandeliers) necessary.
Of course, there is still an inherent dignity in a freestanding floor clock like this – keep the power in the piece by surrounding it with rich natural beauty, like the stone floor and luxe leather seating.
4. In the Bedroom
Most American grandfather clocks come with automatic night silencers, and even the ability to shut off sound altogether, so putting one in the bedroom isn't quite as crazy as it, ahem, sounds.
It is, on the other hand, an understandable luxury in a small bedroom like this one — the dark, four-poster bed dominates the room, but the addition of the clock gives it purpose and weight. In a larger master bedroom, a grandfather clock can strike a pose in a recessed nook, or balance the expanse of floor-to-ceiling windows.
Wherever you place it, a grandfather clock needs care and service every few years in order to continue keeping perfect time and keeping up appearances. Winding isn't necessary with modern grandfather clocks, but oiling every couple years is good preventative maintenance. Approximately every ten years, be sure to get your clock serviced professionally for overhaul, where all of its innards will be cleaned and inspected for wear, tear, and replacement if necessary.
Consider these stunning wall and mantel options for the above spaces as well.
With nickel knobs and hinges and precise Hermle clock movement, the chimes sound in this video of our Amish Whitmore Grandfather Clock, featured in the DutchCrafters Sarasota Showroom.