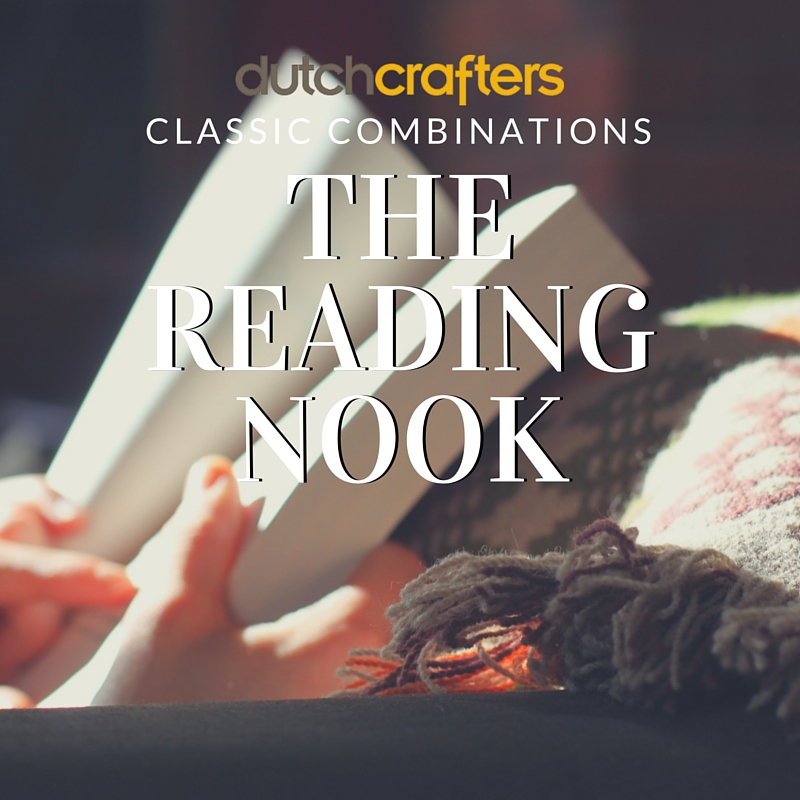 Classic Combinations: Reading Nook Furniture that Eases You Into Fall
Classic Combinations: Reading Nook Furniture that Eases You Into Fall
Two simple things: a solid wood bookcase and a reading chair. Most homeowners will have versions of these hanging around the house, but together? Together they are an oft-overlooked, pleasing power couple. To wit:
For the Inspired Sophisticate who likes a little spotlight
A soft, murmuring breeze outside an open door, a chilly September sun alighting on the page . . . unless you've got yourself a truly captivating novel to read, this urbane mix is as ideal for napping as it is for reading. Of course, we assume that you've got a pile of books just off-camera, so feel free to switch over to the latest thriller so you can luxuriate in the sumptuous upholstery and private time just a little bit longer.
The reading nook furniture details: Set this scene near a large window or French door, as above, to allow ample natural light for daytime reading. Add an adjustable sconce to swing over for night time lounging.  We've shown this expecting a wall of books just to the left, but think a ladder shelf  for your literature would serve beautifully, as well. Tuck a plush reading chair dressed in the calming tones of your choice under the ladder to finish your book nook.
For the Versatile Classicist with room to spare
Picture this: A warm fire crackles in the evening light, while favorite pets lie peacefully at its hearth. Parents wind down an easy night by (finally!) turning off the TV, and cozying up to a rocking chair with a picture book to smooth the transition between dinner and bedtime. The probability that both the listening parent on the couch and the heavy-lidded child on the lap will doze before the fire is out is high. With a turn of the final page, the book is placed back on its adjoining hardwood bookcase – near the framed family pictures, just below some handmade art – to signify the end of another day.
The reading nook furniture details: It can feel extravagant to dedicate a room to a reading nook, but a fairly nondescript corner in a wide-open living room like this is easy pickings. Start with bookcase for the corner in this instance, and let its size and wood tone serve as the anchor point for the room. Surround with all the traditional comforts of home – a rug, a mantle, plants, extra tables for extra convenience. Add an old-fashioned rocking chair with the kind of details that your great-aunt would appreciate and you've created a reading nook that's fit for a storybook.
For the Gallerina Muse with the guest list
We want to be invited to this party. We're thinking that it's abuzz with scintillating, highbrow conversation, not the least of which was sparked by the fantastic furniture on display. One open room with elegant curtains and a modernist watercolor sofa flows seamlessly into the next – this one, a more muted collection of timeless furniture that offers some much-needed weight to counter the airy glass and stone tables, plus overhead lighting that dazzles after dusk. Using the first room as a starting point, guests or residents can gather at will, before ducking into this quieter granite palette, with it's impressive three-piece bookcase and comfortable reading chair.
Just a note: This sort of setup can also prove ideal for the individual; scoot the chair toward the bookcase to let it double as a drink stand, then feel free to spread your research material around the ground. Once you've found something worth delving into, tuck yourself up into the chair.
Reading nook furniture details: Major credit goes to using what you've got or picking up what you can for eye-catchers. That supermod sofa or the tres-cultured console? Worth it. Art that speaks to you (from your own hand or another!) plus wallpaper, floor coverings, or paint with personality can all enliven a room for conversation. We've chosen a metallic leaf pattern for the chair upholstery, and finished both the bookcase and the chair in our new Antique Slate stain (here's another example of that Antique Slate stain – a mesmerizing finish that manages to capture the beauty of the wood in a seriously sleek fashion).
Find your happy place while the leaves are falling, and not the snow! Shop all pieces featured in our Reading Nook Furniture for 10% off this weekend,  9/26 – 9/28/2015!