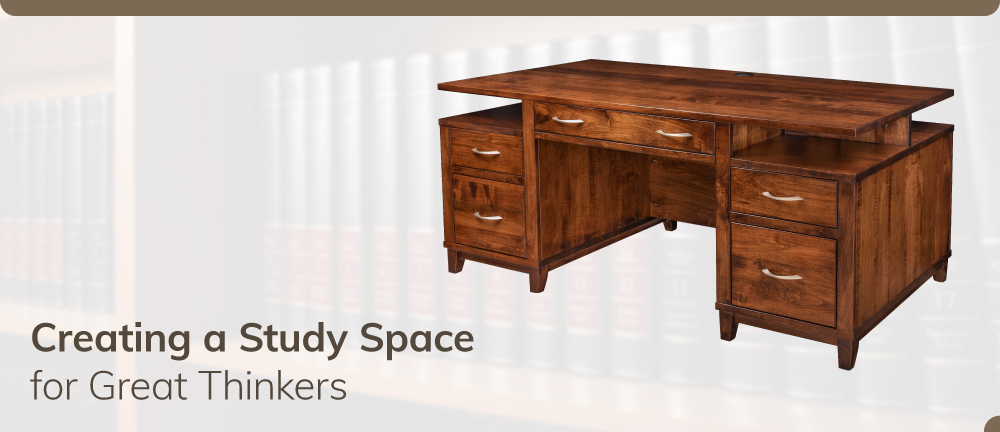 Creating a Study Space for Great Thinkers
What kind of study space works best for you? What spot do you like to settle in to read, concentrate, or get some work done?
I think a place conducive to studying or working differs by personality. While some need their study space to have complete quiet in order to concentrate, there are many who can have the TV on or listen to a podcast while hitting the books or working on a project. It all depends on the person.
Let's look at some different ideas for setting up what we'll call "a nice study space." Then I thought it would be fun to imagine what some of the great thinkers would work at using furniture from our Amish office furniture collection.
Creating A Nice Study Space
Here's an outline of good materials to create a nice study space that can produce results. If you don't have an office or den, you can still create a good spot to work at.
Whether it's for the kids going back to school, your late-night online classes, or the work you're trying to accomplish on your own, here are some suggestions.
For a Nice Study Space:
Set up in a quiet area where you can think, like a home office or a quiet bedroom corner. If some moderate noise works better for you, perhaps the kitchen table or living room coffee table is better.
Select a surface to work on, whether it's a desk, dining table, kitchen counter or bar, or lift up coffee table. It should be a space that's clutter free so you have room to work.
Select a comfy and supportive chair.
Good lighting is important so you don't strain your eyes.
Some nearby storage helps to keep things organized.
Some Good Work Habits
Trying to finish homework, get that novel written or set up your first website? Here are some ideas that can help.
Try to establish a routine. Figure out if your best work time is first thing in the morning or if you need to work in some weekend time for your projects. Try to plan the days and times you will work or study.
Get rid of any distractions.
Form a study group if you need one.
Get help from family or friends that can quiz you to help prepare for tests.
Some Ideas for the Kids Work Space
Consider adding a dry erase board or cork board to keep track of upcoming events.
Add a wall calendar.
Create an "In" box and an "Out" box for forms that have to be signed and returned.
Add a clock to stay on schedule.
A hook nearby for backpacks is handy.
Consider some shelves for books, art supplies, and files, etc.
Let's have some fun. What Amish furniture would our great thinkers work at? Here are some selections. Be sure to let us know if you think our picks are a good fit.
Light is the task where many share the toil. Homer
Homer was a renowned ancient Greek poet and the author of the Iliad and the Odyssey, two major works of Ancient Greek literature. These two epic poems had great impact on Western standards and ideas, making Homer quite influential.
We would put Homer at the Amish Savile Executive Desk. What do you think?
Do not say a little in many words but a great deal in a few. Pythagoras
Pythagoras was a Greek mathematician and philosopher and a self-described "lover of wisdom." He is best known for his contributions to math (the Pythagorean theorem).
We would put Pythagoras at the Amish Castle Rock Work Table Desk that offers high function wrapped in a simple nature. What do you think?
The will to win, the desire to succeed, the urge to reach your full potential…these are the keys that will unlock the door to personal excellence. Confucius
Confucius was a Chinese philosopher who helped shape Chinese culture. He was committed to family and practicing good moral behavior. He became a teacher of "Li" teaching people about moral and cultural behaviors.
We would put Confucius at the Amish Noble Mission Flat Top LDesk that has a simple mission style and plenty of room for books. What do you think?
Pleasure in the job puts perfection in the work. Aristotle
Aristotle was a Greek philosopher, scientist and polymath ( a person with a wide range of knowledge). He was an exceptional student who also questioned different things and sought solutions to hard questions and concepts that were deemed impossible. This made him quite influential. He believed in the power of reason.
We would put Aristotle at the Amish Royal Mission Storage Bench. What do you think?
The noblest pleasure is the joy of understanding. Leonardo da Vinci
Leonardo da Vinci was a great thinker, artist and philosopher. He was creative and imaginative beyond comparison. He painted the Mona Lisa and the Last Supper. He had a love for nature and it's said he would purchase caged birds just to set them free.
We would put da Vinci at the Amish Corner Desk with its creative cuts and natural look. What do you think?
Today a reader, tomorrow a leader. Margaret Fuller
Margaret Fuller was an American writer and women's rights activist. She spoke for equal treatment for men and women and for women to become more self-independent. She wrote Women in the Nineteenth Century, an early feminist work.
We would put Fuller at the Amish Roosevelt Executive Desk with its perfect balance of storage and work space. What do you think?
We'd love to hear what kind of study space works for you. Be sure to share your ideas with us in the comments below!