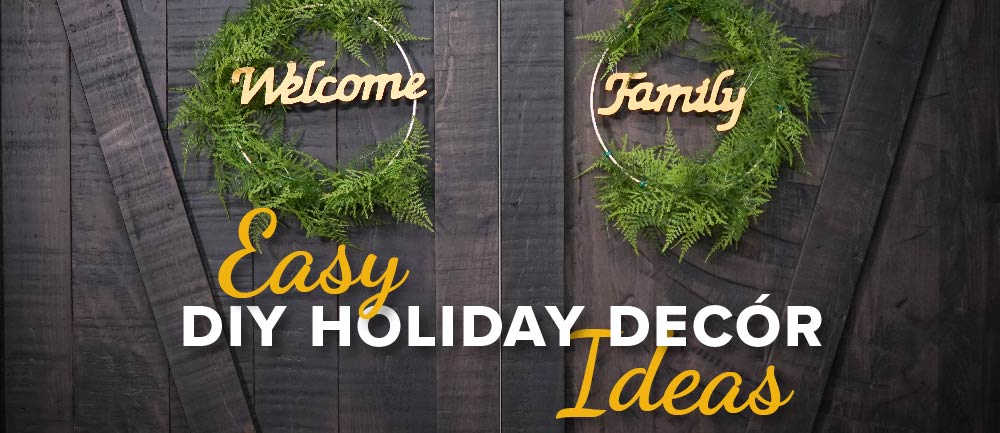 Easy Holiday DIY Decor Ideas
If you're like me and can't get enough of HGTV, DIY blogs, and Pinterest, then you're yearning to start crafting for the holidays (if you haven't already).
I'm sharing some simple decoration and DIY projects that will get everyone in the holiday spirit.
Even if you're screaming right now that it's too early to start decorating, keep in mind that researching décor and DIY ideas now can help you save money and time (thus also decreasing your chances of burning yourself with your hot glue gun).
Let's get started!
The Front Door
Wreaths are so welcoming. A Pinterest search led me to this customizable floral hoop wreath tutorial by Julie of Less-Than-Perfect Life of Bliss. I made two wreaths, one for each of the Original Sliding Barn Doors in our Sarasota office, following the steps Julie provided in her post. They were super-easy to make and only took 15 minutes each.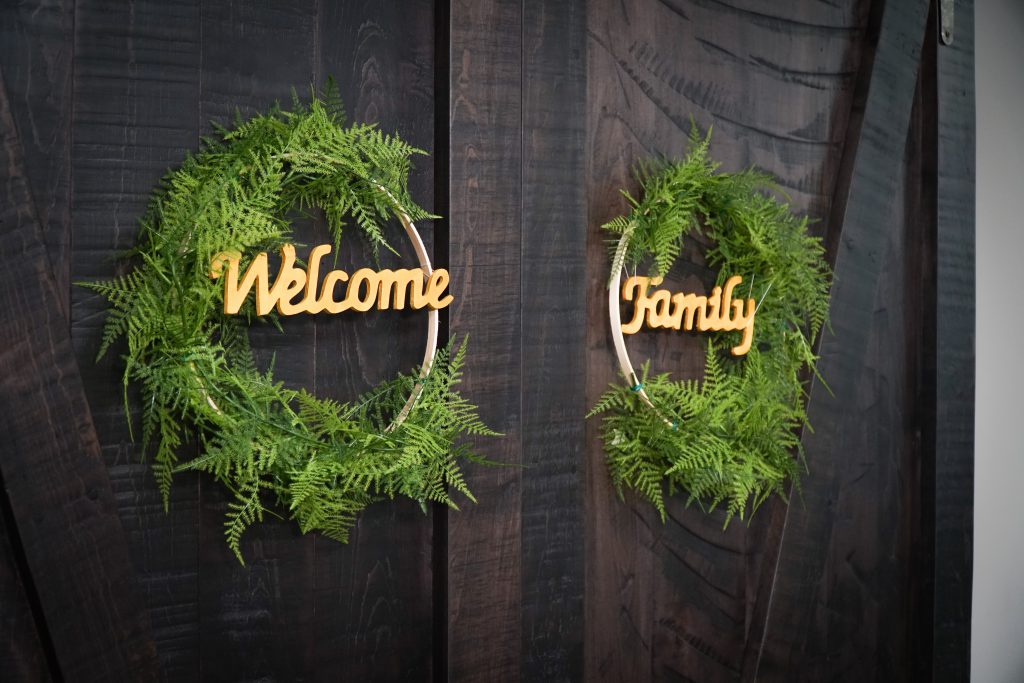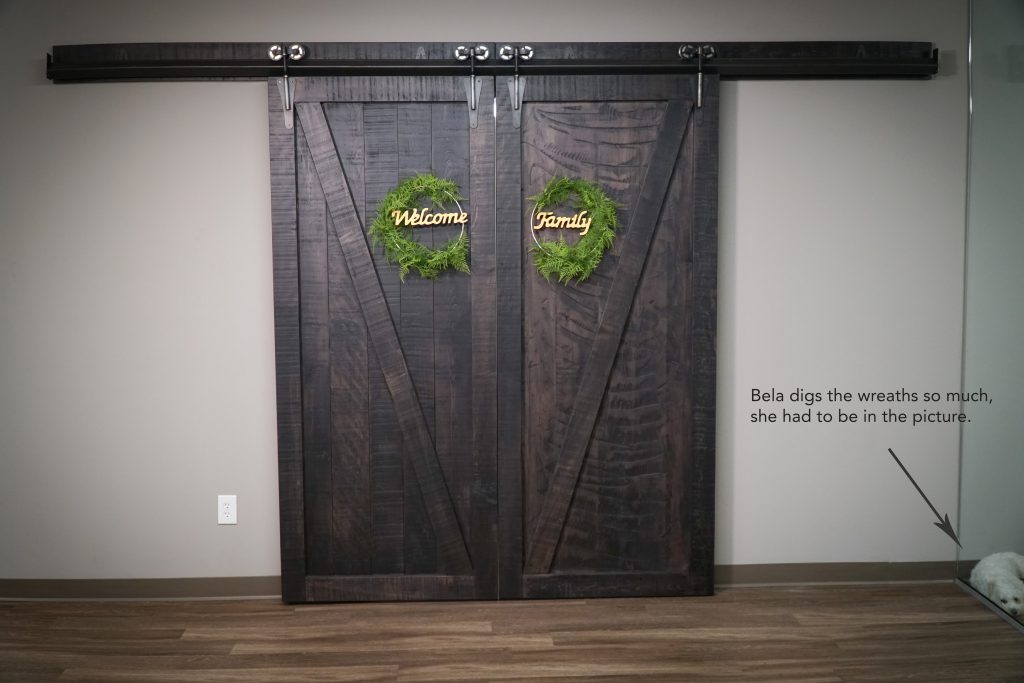 Sitting Room or Formal Living Room
A little bit can go a long way when it comes to décor, and if you have furniture that steals the show, like our Emma 3 Seat Sofa and Urban Factory Cart Coffee Table, you don't need to do much.
A Pinterest search for "decorating with fur" lead me to a DIY mini fur Christmas tree post by Krista of The Happy Housie.
Just like the wreaths, these trees are easy to make and customizable. I didn't buy enough fur at the fabric store, so I substituted fleece. I also added gold beads to each tree.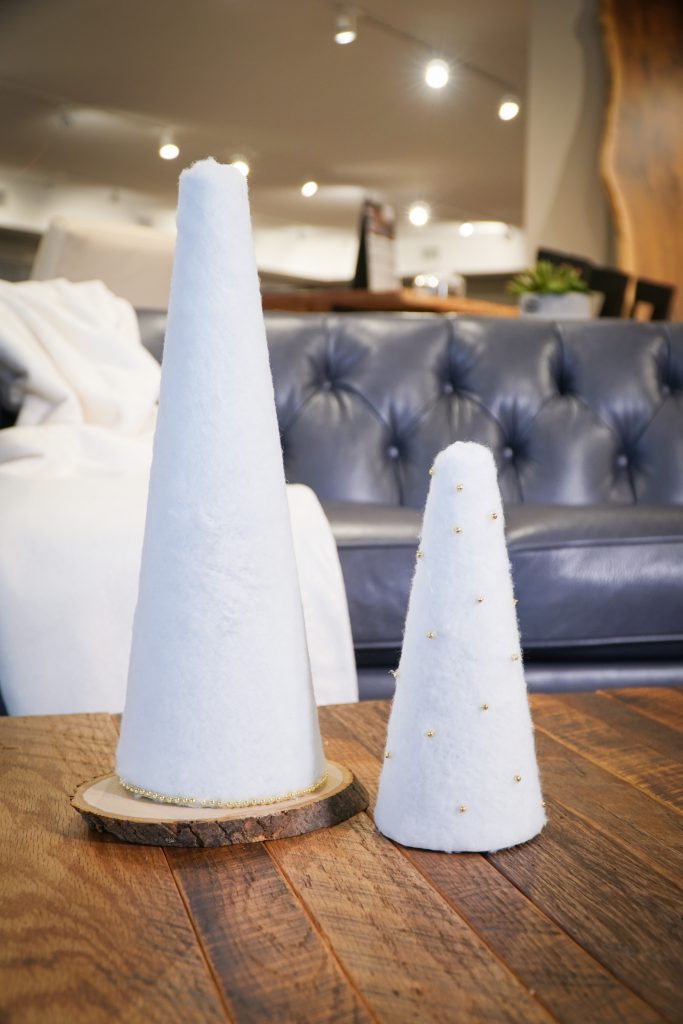 To play up the rustic barn cart, I made a burlap pillow cover by following this envelope pillow tutorial (yes, no having to sew on a zipper!). After I cut out the three pieces of fabric needed to make the pillow cover, I created a stencil of a deer head using an image I found online and a stencil sheet. I used the stencil and a small sponge to paint the deer head on the front of the pillow case, and added a plaid bow to tie in the gingham pillow cases and gingham touches you will see in this post.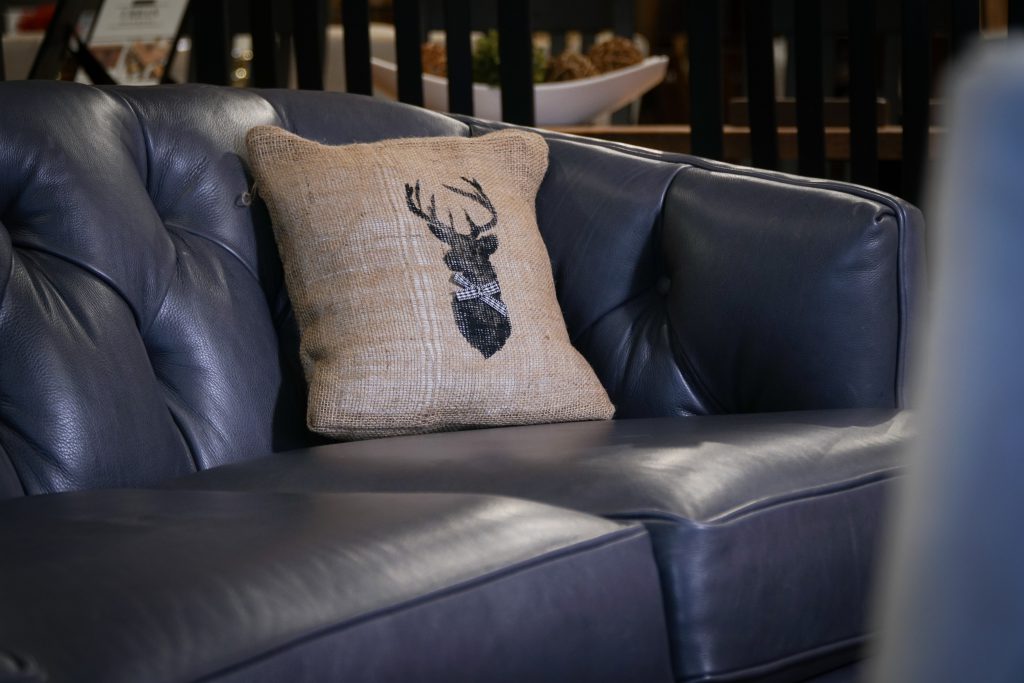 I finished the look by throwing on some gold-speckled fleece I found at the local fabric store to act as a blanket.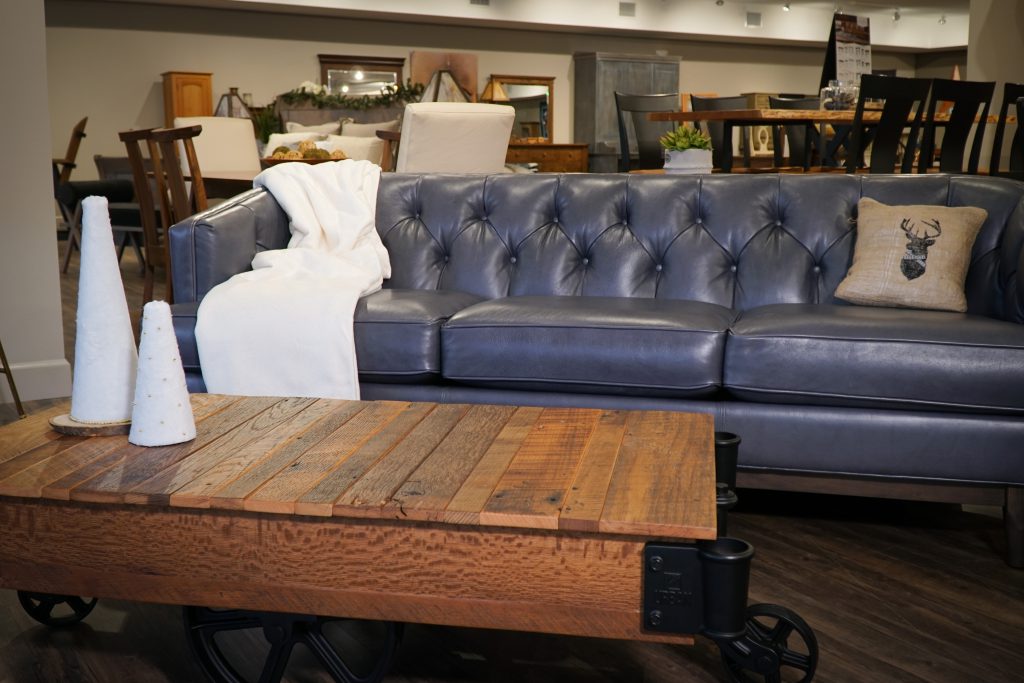 The Living Room
The living room should feel cozy as it's often where exchanging gifts and watching holiday movies together takes place. I was inspired by this image that showed up in my Pinterest feed.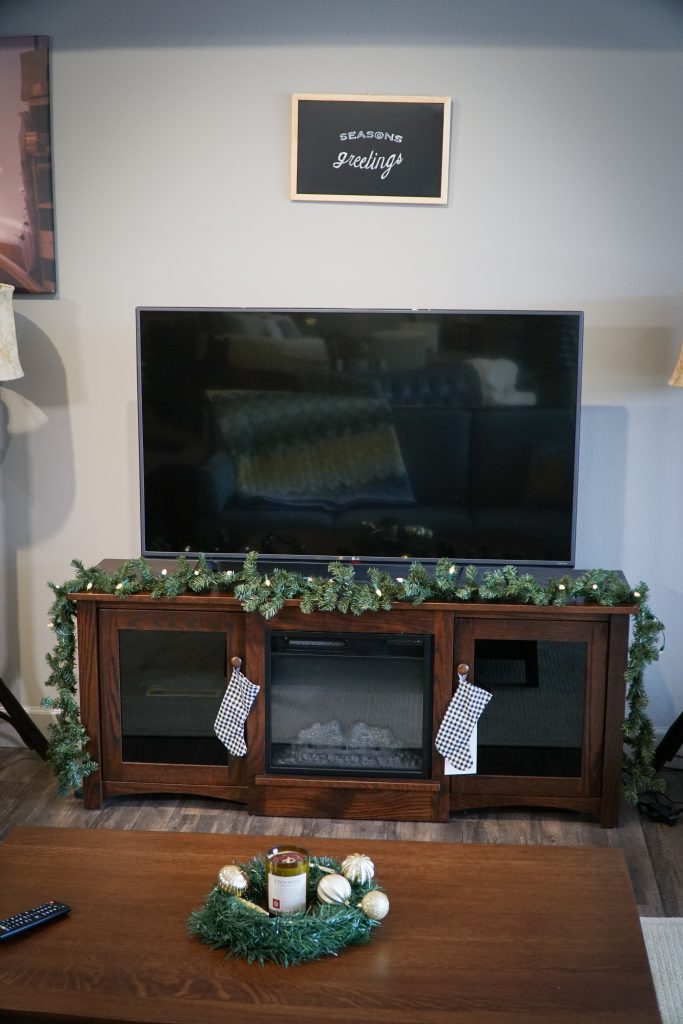 Although the Flint is an electric fireplace, it also serves as a TV stand and proves that you don't have to have a mantel to hang some stockings and decorate with garland and string lights.
I created the wreath on the Amish McCoy Hardwood Coffee Table by following the floral hoop wreath tutorial I mentioned earlier in this post. Showing just how customizable this DIY project is, I looped garland several times all the way around a small embroidery hoop and used floral wire to attach ornaments to the garland and hoop.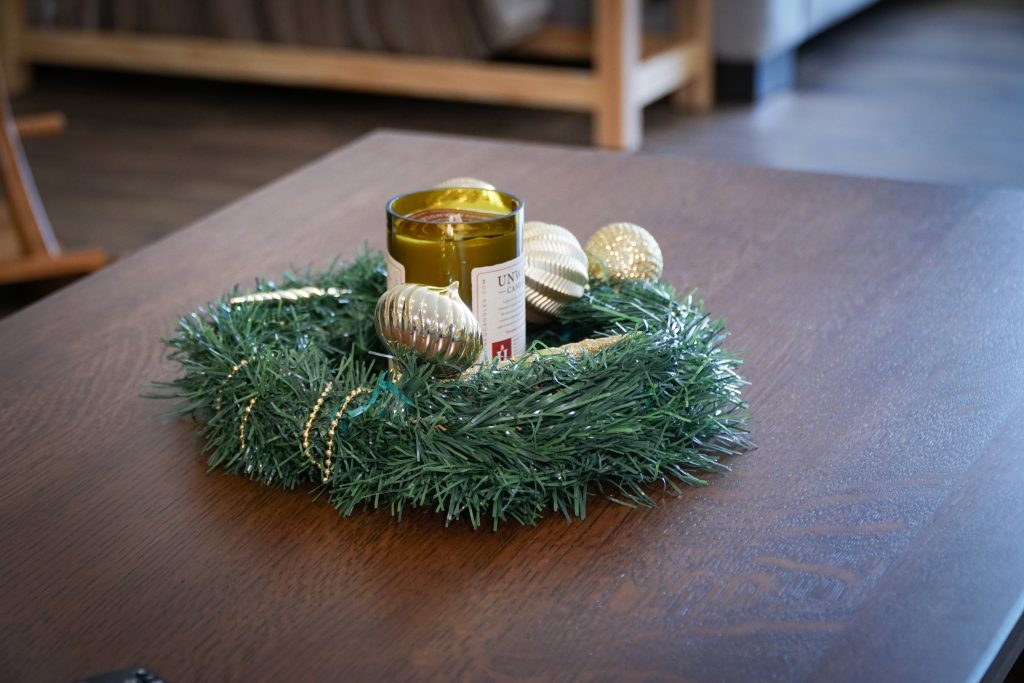 To complete the look, our Amish McCoy Sofa got a gingham pillow I stenciled with a gold Christmas tree and an Amish quilt.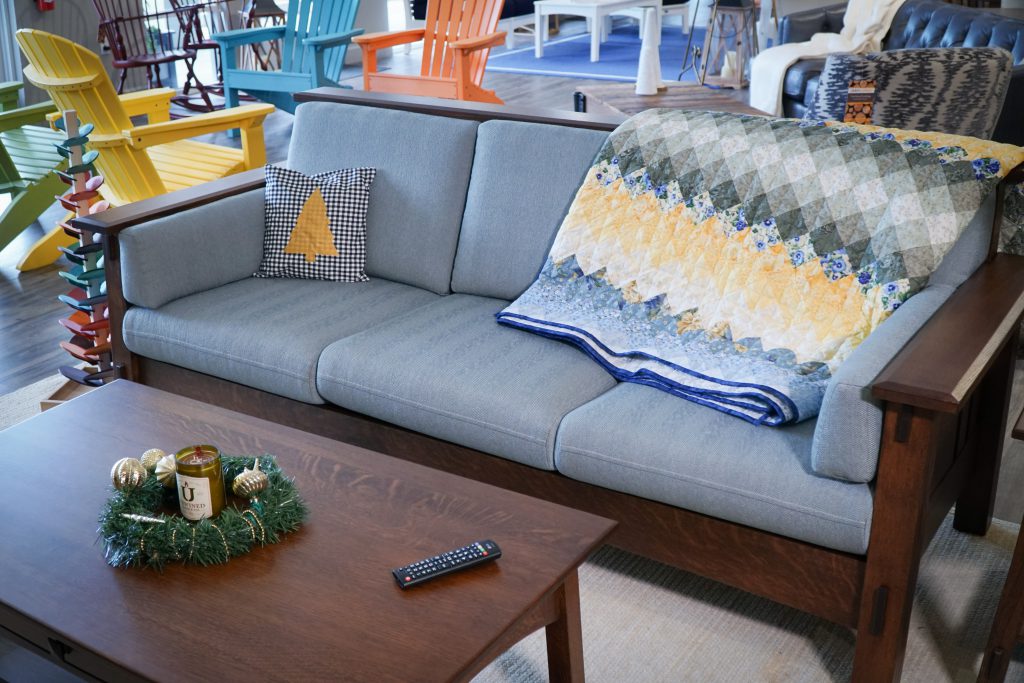 The Dining Room
I love a sparkling centerpiece for creating magic and whimsy at the holidays. I fell in love with this one made with manzanita wood by Kelly Page of the blog Bluegraygal. Unfortunately, I couldn't find it at my local craft store, and it would not have arrived on time if I ordered it (see, it pays to start early). I did find five lightweight branches on sale, three sprays covered in glitter (go glitter, go glitter, go!), a glass jar, and some clear stones and made it work. Hanging ornaments off of the branches completes the centerpiece and gives it that extra shine.
To not take away from the centerpiece, I added string lights and cardboard letters that I painted black to our Pinewood Farmhouse Hutch.
Here's the finished look, including black placemats, gingham napkins, and gold silverware. Still, I think our Normandy Pedestal Table paired with Corbin Parsons Chairs is the scene stealer.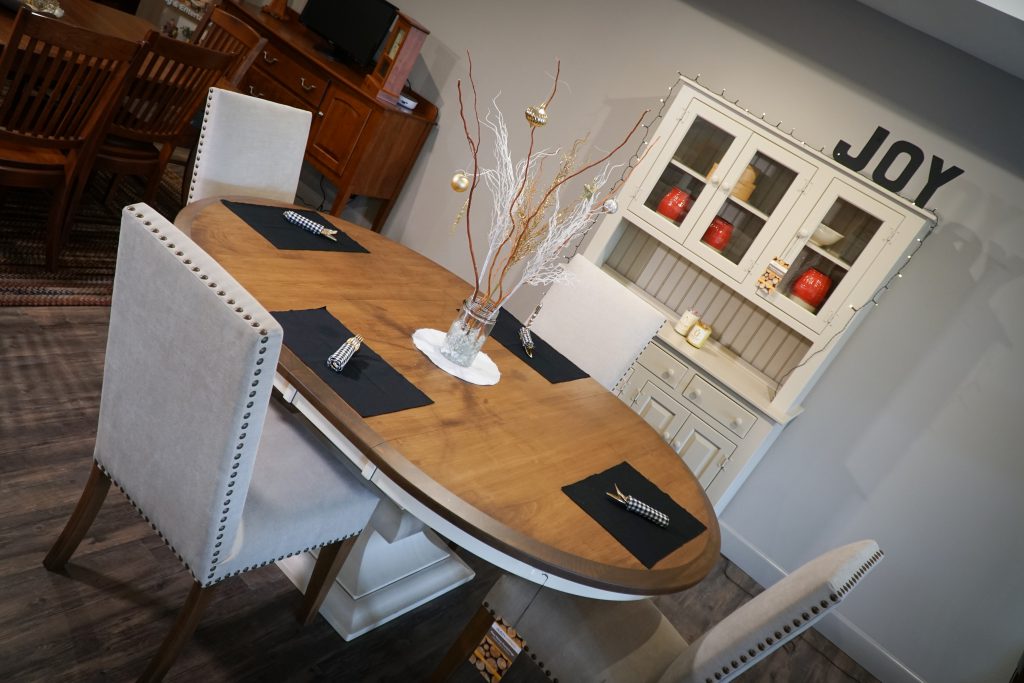 The Formal Dining Room
Although formal dining rooms are not as relevant as they used to be, they are a great space to host larger parties.
I drew inspiration for a centerpiece for the Napa from this image and this image to create this tablescape.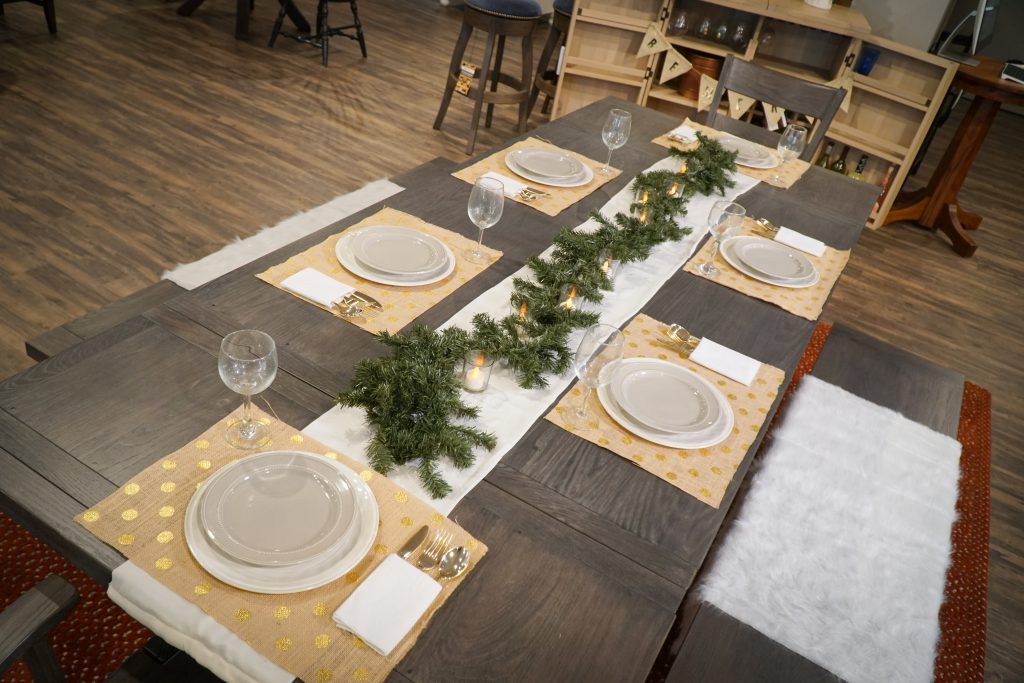 I shaped the garland that came with a wire center over a white table runner around eight small glass votives. I put battery powered "candles" that flicker to avoid having an open flame where there is garland and people passing serving plates.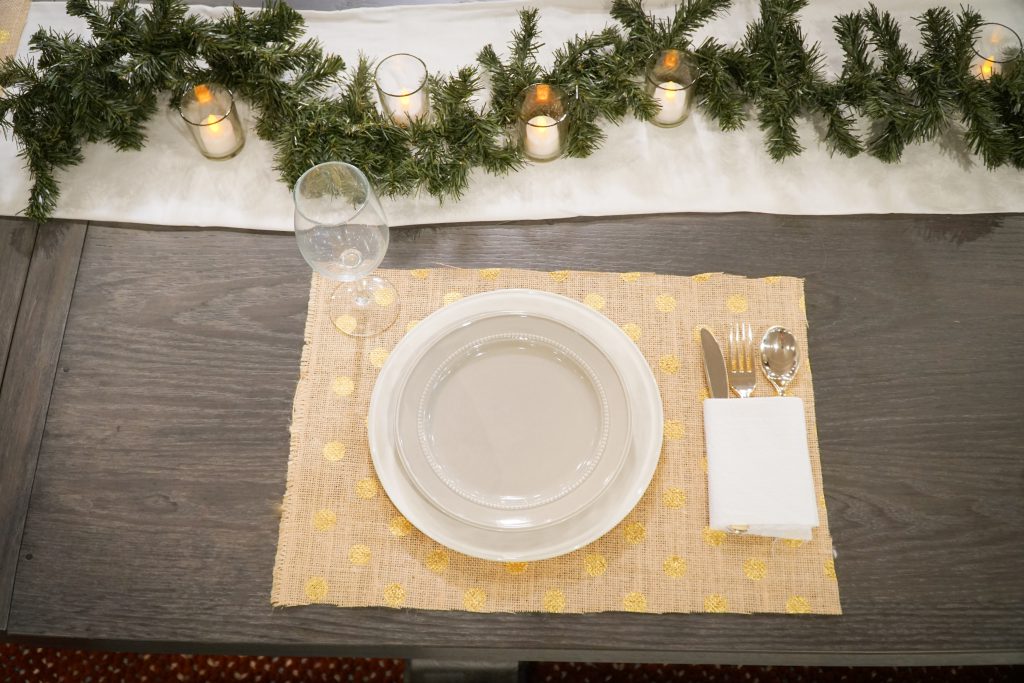 The final touches were burlap placemats with decorative gold dots, white napkins, and the fur draped over the American Made Napa Valley Benches.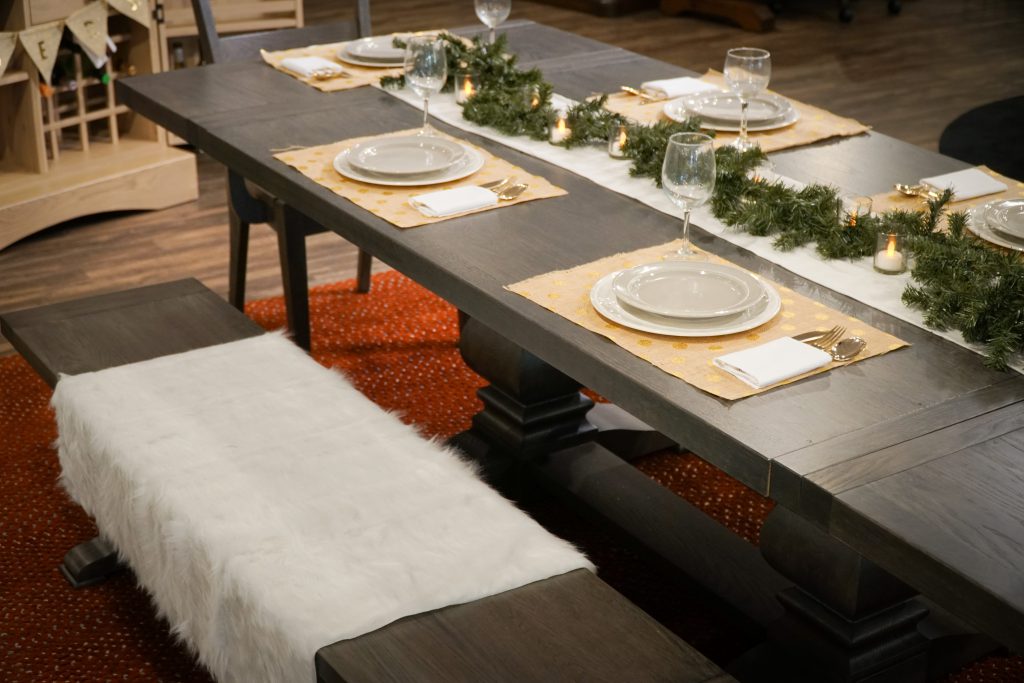 The Bar
Ah, there's nothing quite like after-dinner drinks and toasting to the end of another year at a home bar like our Amish Napa Wine Serving Bar. I brought in the burlap and pops of gold I incorporated into the Napa tablescape with a burlap banner and gold lettering I found at Target (yes, I also left with a cartful of other things not related to this post).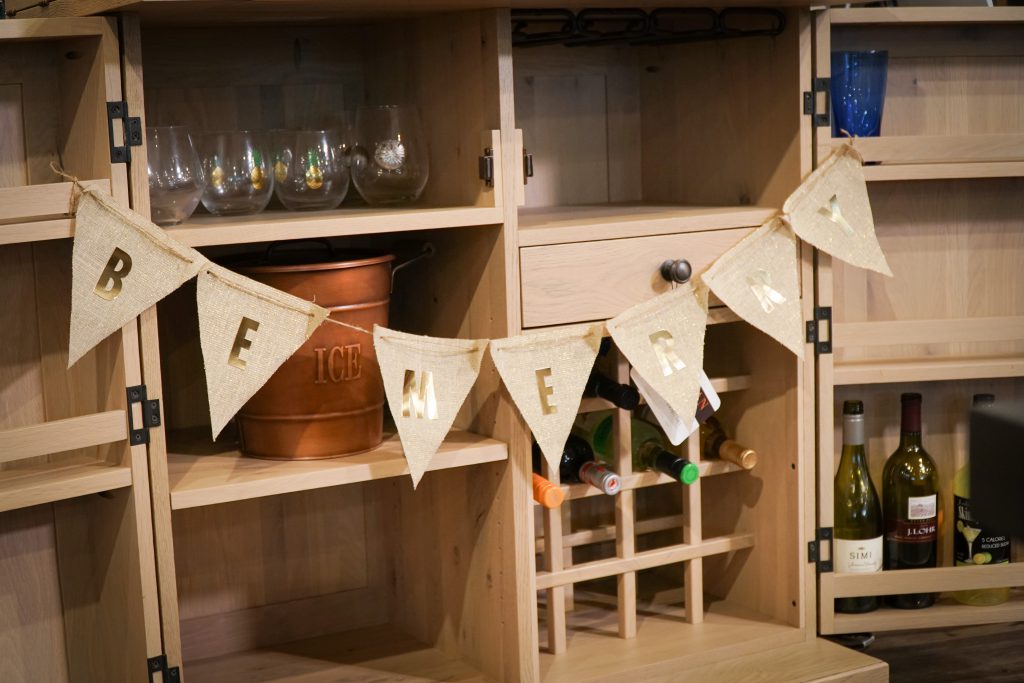 The space is brought together with a white mini Christmas tree decorated with gold and black strings of beads and string lights as well as a wood serving tray I painted gold.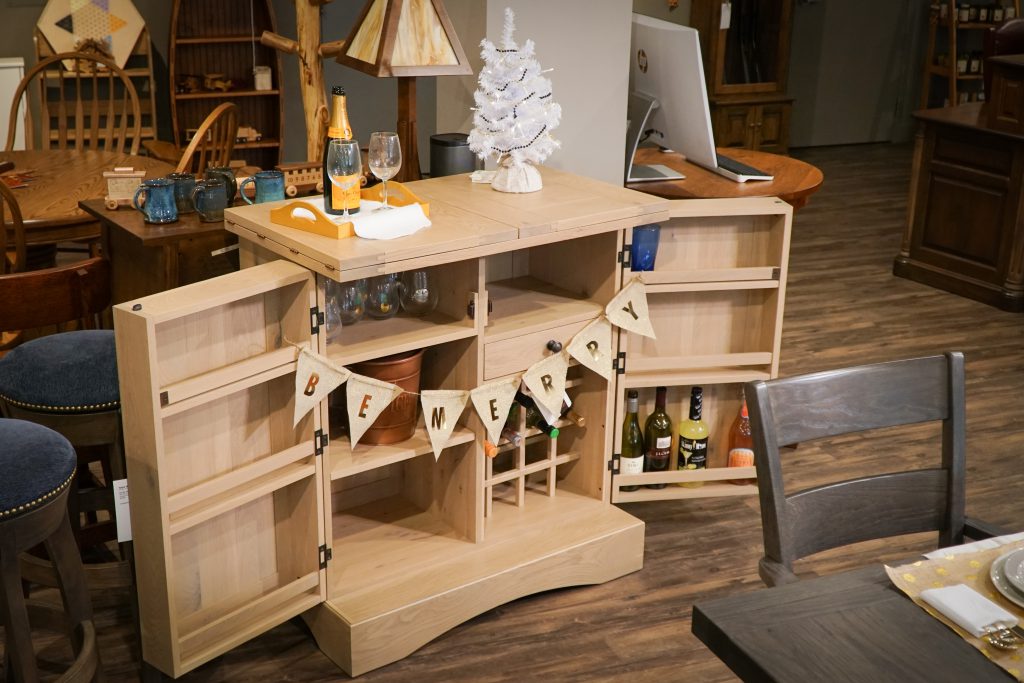 The Outdoors
I love spending time outside staring at the stars. I hear around the holiday season, you may even spot Rudolph while staring up at the night sky.
Again, a little bit of décor can go a long way and tie the indoors and outdoors together. This image of ornament-filled lanterns by Jennifer of Dimples & Tangles got me filling a lantern we already had on our Berlin Gardens Classic 60″ Round Poly Patio Table with gold ornaments and a string of black beads.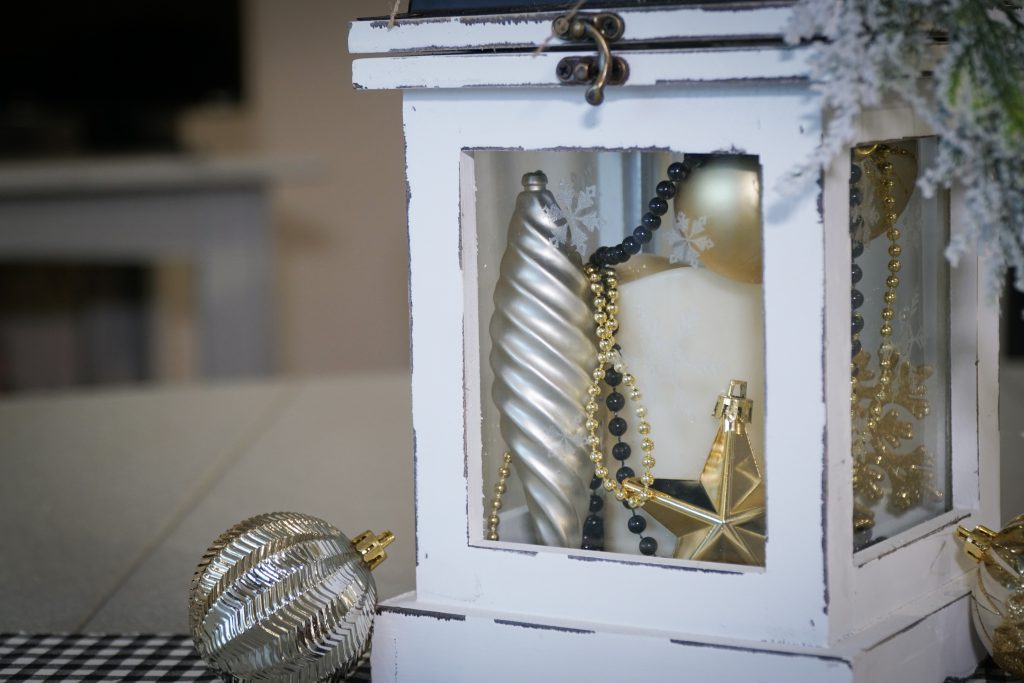 Final details were to create a bow out of burlap, stick some fake holly to it with floral wire, and use more floral wire to attach the bow with the holly to the top of the lantern. I added a thin table runner out of gingham fabric (I cheated for the photoshoot and didn't use outdoor fabric, but outdoor fabric is best as it tends to resist mold).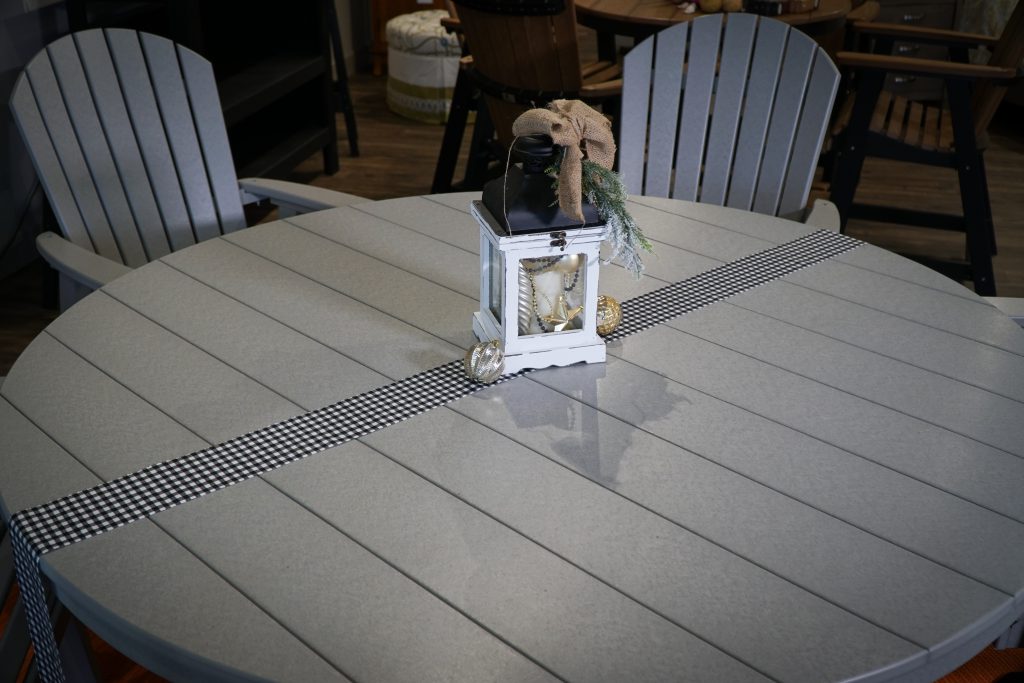 The Bedroom
Adding holiday cheer to a bedroom can be simple. Some garland, DIY pillowcases, and a warm fleece blanket can do the trick for our room scene featuring the Transitions Sleigh Bed by Keystone.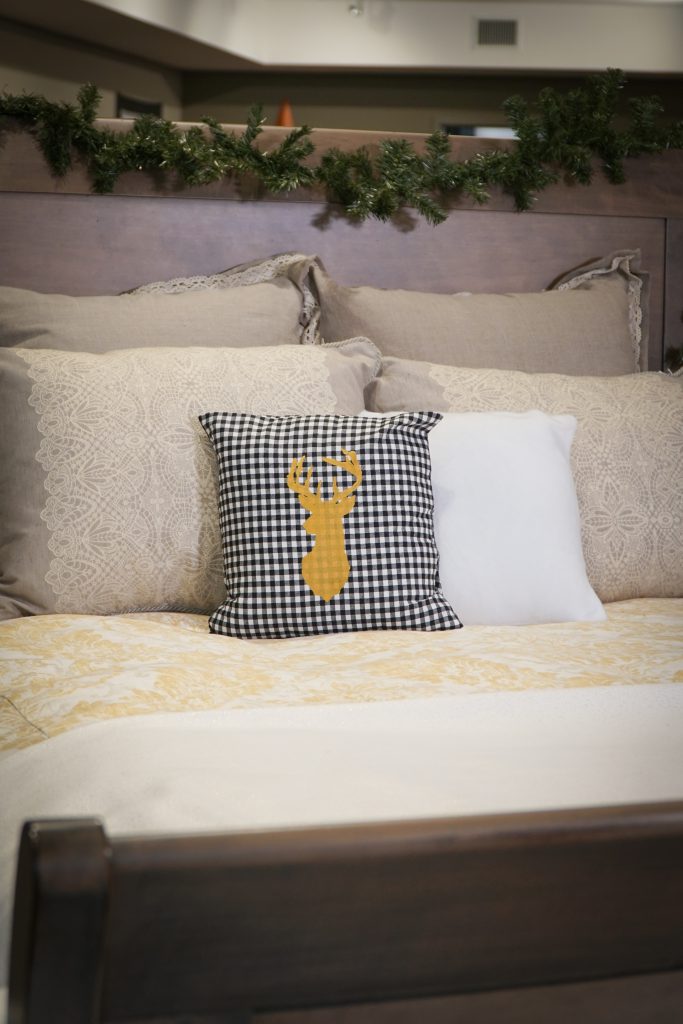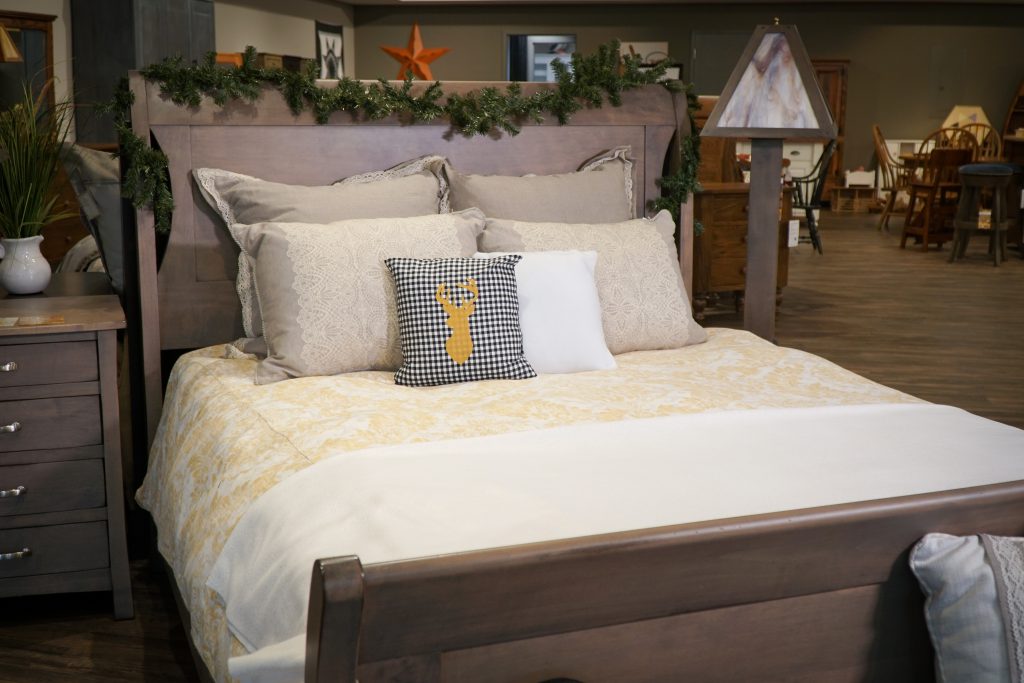 How do you plan to decorate for the holidays? Share with our blog community in the comments below. You may inspire someone's décor.