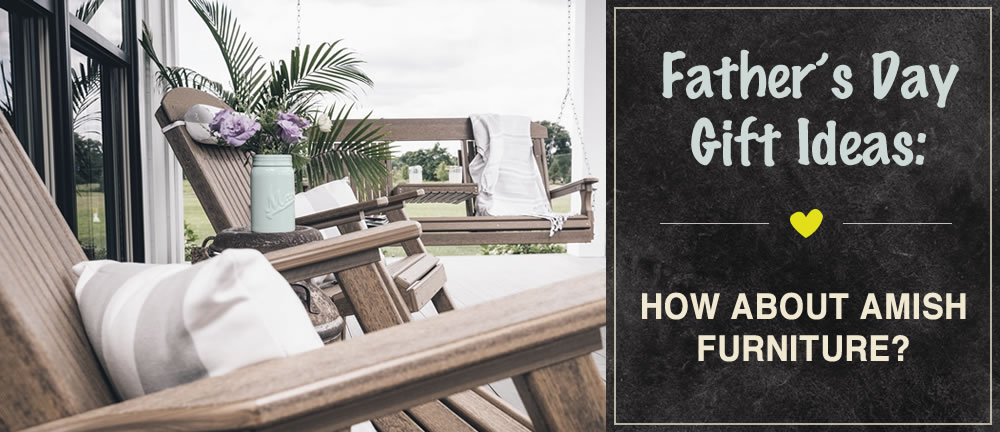 Father's Day Gift Ideas: How About Amish Furniture?
If you're looking for a unique Father's Day gift idea, one that will provide Dad with something that lasts, that brings him comfort, that he'll brag about to his friends and that's made in the USA, you've come to the right place.
We've got popular Amish furniture ideas that are sure to make the coolest Father's Day gifts ever!
What Amish furniture items make the best Father's Day gifts? Let's take a look.
For An Outdoorsy Dad
First up for the outdoorsy dad is the Amish Poly Fan-Back Adirondack Chair.
For the dad who likes to be outdoors fishing off the dock, napping in the shade or enjoying a cool drink on the porch, this is the chair to impress him and keep him comfy. He'll like it even more since it's made with poly lumber that comes from recycled plastic, giving it an eco friendly rep on the block.
If Dad likes a little more movement in a cozy outdoor chair, we've got him covered with the LuxCraft 2' Adirondack Poly Glider Chair. Same high, rounded Adirondack back with wide armrests and framework that fits any terrain, but..with a smooth gliding movement.
For the dad who never misses an afternoon nap on the weekend, the LuxCraft Poly Porch Rocker is just the seat. Made with durable poly, it won't rot, crack or splinter, and it's practically maintenance free. There's even a Limited Lifetime Warranty on it for added measure.
If He Loves Lighthouses
There's something cozy and welcoming about lighthouses that provide a guiding light. If there's a dad or granddad in your family with a fondness for them, you can peruse quite a variety of lighthouses at DutchCrafters. They're available in both wood and poly, and you can customize them picking the size, colors and lighting options (flashing, revolving) that your dad will like best.
For An Indoorsy Dad
Our recliners are like none you've seen before. We're talking solid wood crafted by hand with plush cushioning that's like sitting on a cloud. Customizable with choice of wood, stain, fabric or leather and the option to add power recline that's adjusted by remote control so all Dad has to do is sit back and push a button to experience pure bliss. He won't forget you for giving him this cool Father's Day gift.
If Dad already has a recliner he loves, consider adding an ottoman to go with it!
Classic coffee tables are taken to a new level with a lift top. Here's a way for Dad to have a table that converts easily in the living room. It makes a fine host holding drinks during TV time, snacks during sporting events and reading materials all the time. Lift the top for a table that Dad can dine at or work on his laptop. Lift top coffee tables make the perfect gift for small living rooms since they can serve different purposes.
For Dad's fine wine collection, you can get him a gorgeous solid wood wine rack.
Or, you can just get him a whole new bar.
For the Dad Who Likes His Own Chest of Drawers
Imagine surprising Dad with a gentleman's chest that's custom made in the wood and stain that he'll like best. There are wood drawers for his folded clothes, smaller drawers for accessories and attractive cabinet doors.
A Unique Gift Idea
Surprise Dad with a unique and useful gift. The Amish Hardwood Twisted Walking Cane is crafted from solid wood and makes a great aide to hike with or just to use as an aide in getting around.
Available with a handle also.
Amish made furniture offers great Father's Day gift ideas for Dad to enjoy.