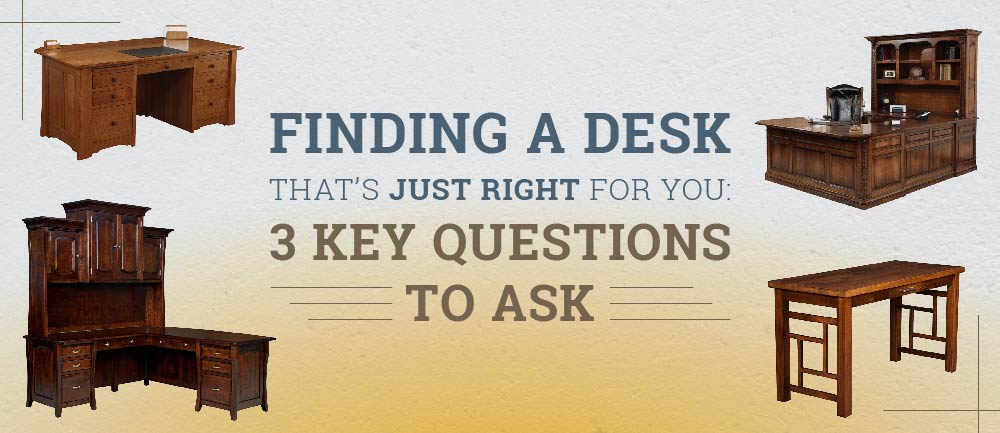 Finding the Right Desk for You: 3 Questions to Ask
Solid wood desks are versatile, beautiful, and durable. DutchCrafters desks are available in many different styles and with custom options to support your work. Find the right desk with the right combination of form and function for you within the space you have by answering three key questions.
Question 1: How much work space do you need?
Desks for Small to Medium Work Spaces
Solid wood writing desks fit small and medium spaces nicely and can blend in anywhere — from home office to bedroom to hallway.
The Amish Contemporary Writing Desk offers ample space for your laptop and writing pad. This writing desk is available in six custom widths.
The Amish Shakespeare Desk provides room for writing, creating, and reading in a bedroom, den, hallway, or home office.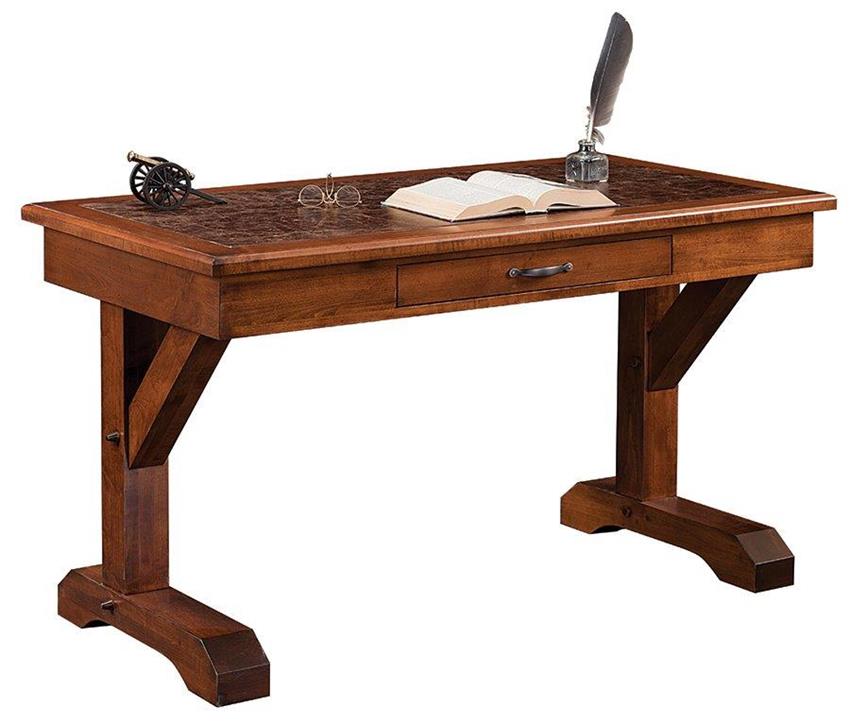 Desks with Room to Spread Out
Executive desks brim with features like substantial storage, while offering plenty of work space.
The Amish Buckingham Executive Desk offers a spacious desk top with option to add protective glass top.
The L Shaped Desk
L shaped desks provide the most work surface. There's room for your computer and papers on one side of the desk, while the other side can be used to spread out projects or as a space to meet with clients.
The Amish Kingsman L Desk can be custom-made with a right or left return (a work surface that sits to the right or left of the user) in addition to the desk area.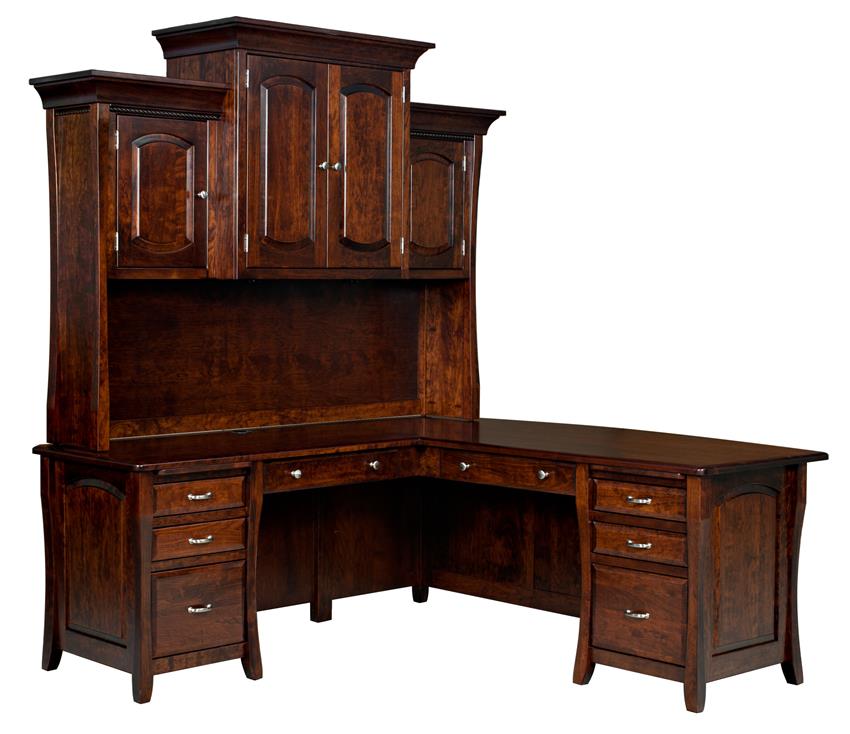 The U Shaped Desk
A U shaped desk offers the maximum amount of work space, and works best in larger spaces. They include a primary desk, a credenza, and a work surface called a bridge that connects the two. U desks are the perfect candidate for business offices and professionals that require plenty of room to multitask.
The Amish Lexington U-Shaped Desk with Optional Hutch Top is popular for the plentiful amount of space it provides. There's room to spread out and multitask to your heart's content.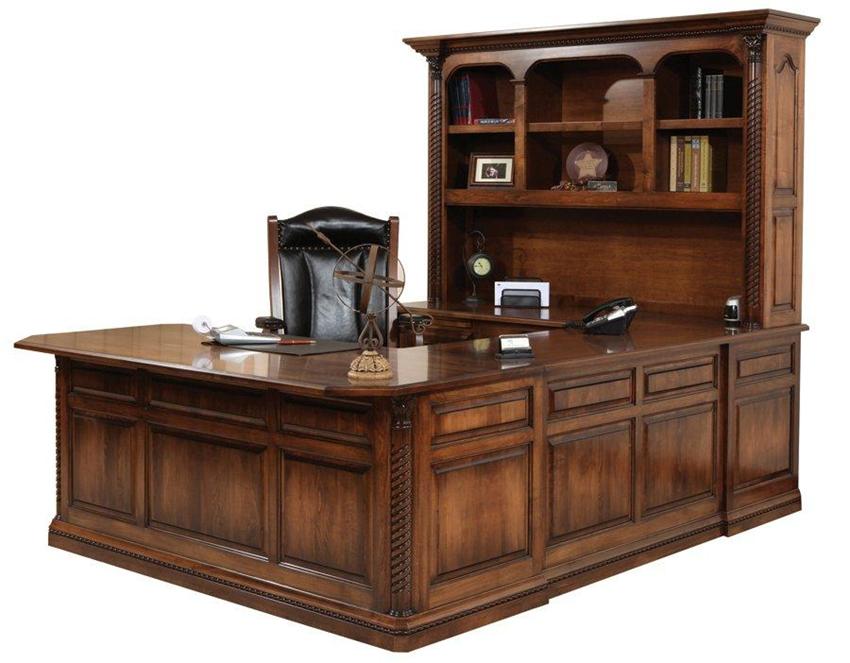 Question 2: What kind of storage system do you need?
For Simple Storage
Computer and secretary desks are fine choices if you don't need a lot of storage.
The Rivertowne Amish Desk is a computer desk with a convenient lap-top pullout, an extendable writing board, a file drawer, and a storage drawer.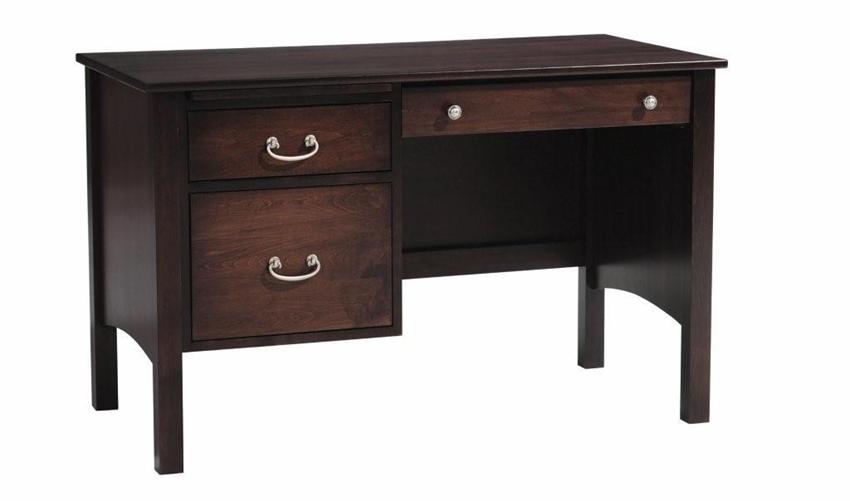 The Amish Secretary Desk with Doors provides simple storage, a modest work space, and a lot of style. Secretary desks add flair to the everyday desk, and come in a variety of shapes and sizes, making them easy to adapt to a home office, hallway, bedroom, or living room.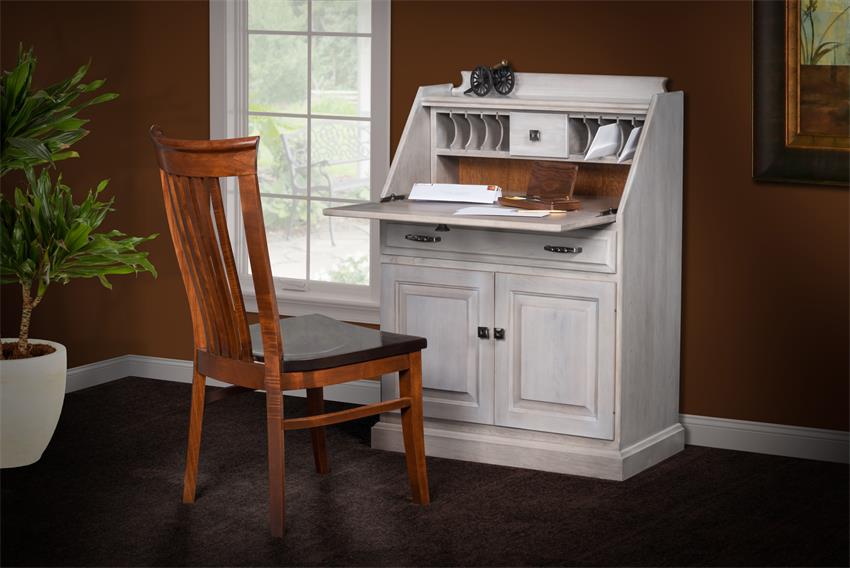 For Maximum Storage
Credenza desks provide a lot of storage. These desks are equipped with a work space and storage options, like drawers, shelves, and cubbies, to help you stay organized.
The Amish Manhattan Credenza Desk with Optional Hutch Top features file drawers, storage drawers, and cubby holes, along with a wood file tray and shelving in the hutch top for added storage.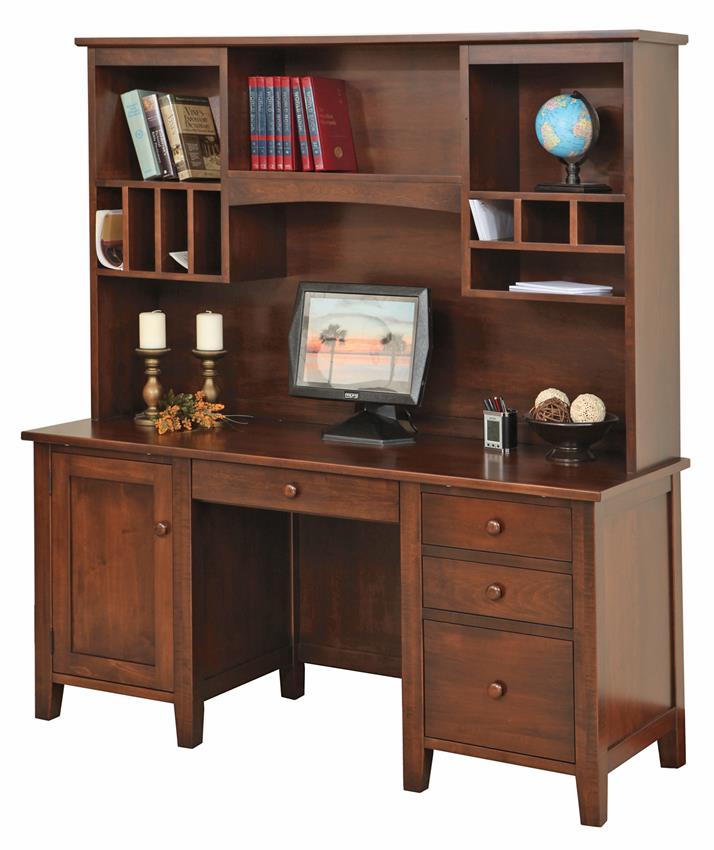 The Amish Deluxe Computer Armoire Desk provides ample room for computer equipment, supplies, and files. Close the solid wood doors to tuck away any work in progress.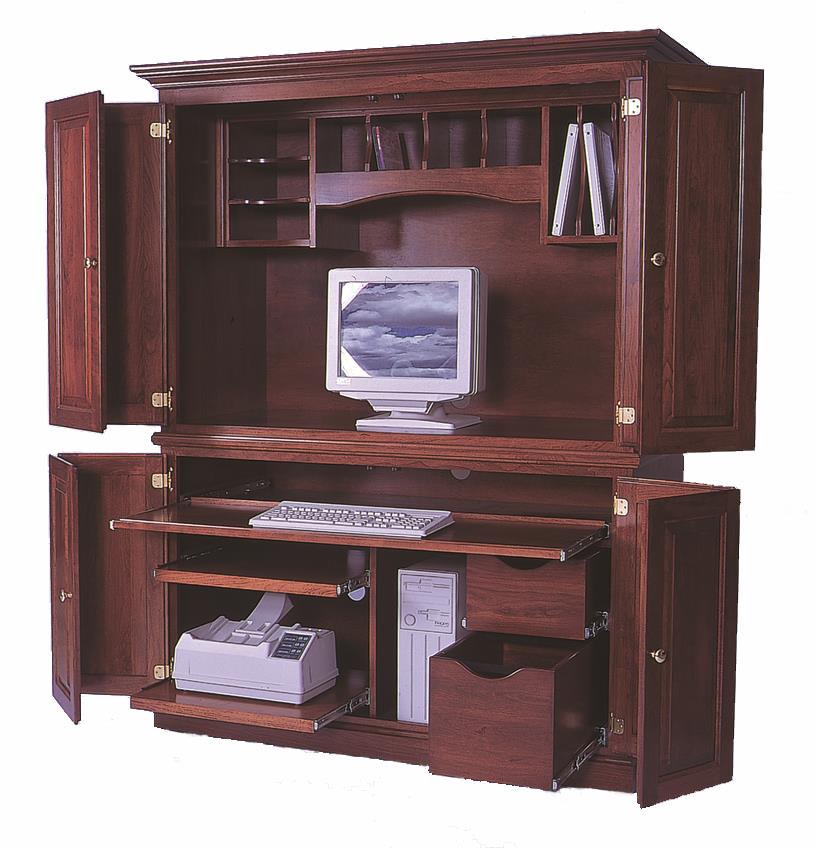 Executive desks like the Amish Balmora Solid Wood Executive Desk offer sophisticated style with plenty of work space and storage. The optional topper adds a variety of small drawers and compartments.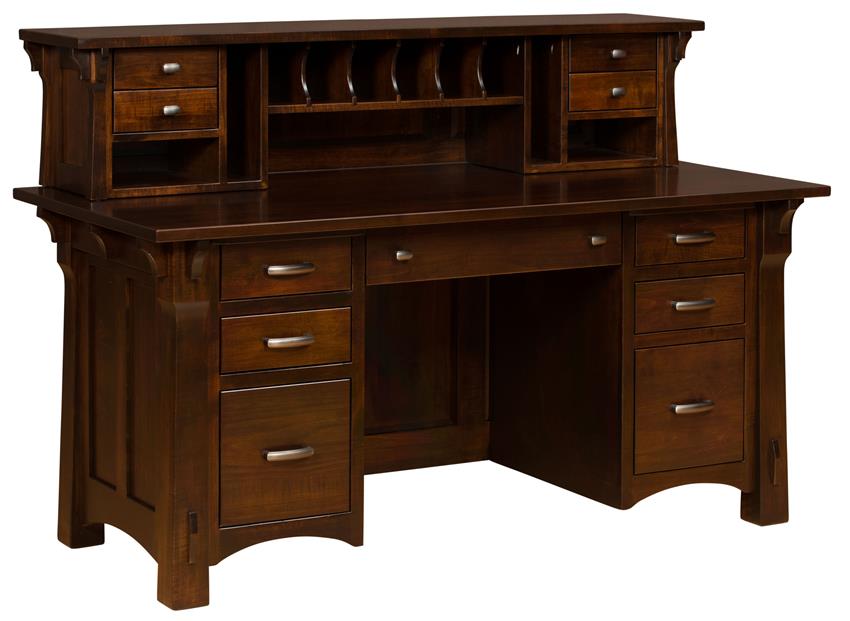 Question 3: What computer equipment do you need to accommodate?
Most desks provide room to set up a simple laptop comfortably, but if you require a monitor, keyboard, printer, and tower, you'll want to look at desks with room to accommodate it all.
Computer desks like the Amish Large Mission Computer Desk with Hutch Top have a solid wood cabinet to house a CPU, a keyboard pullout drawer, and the option to add a USB outlet.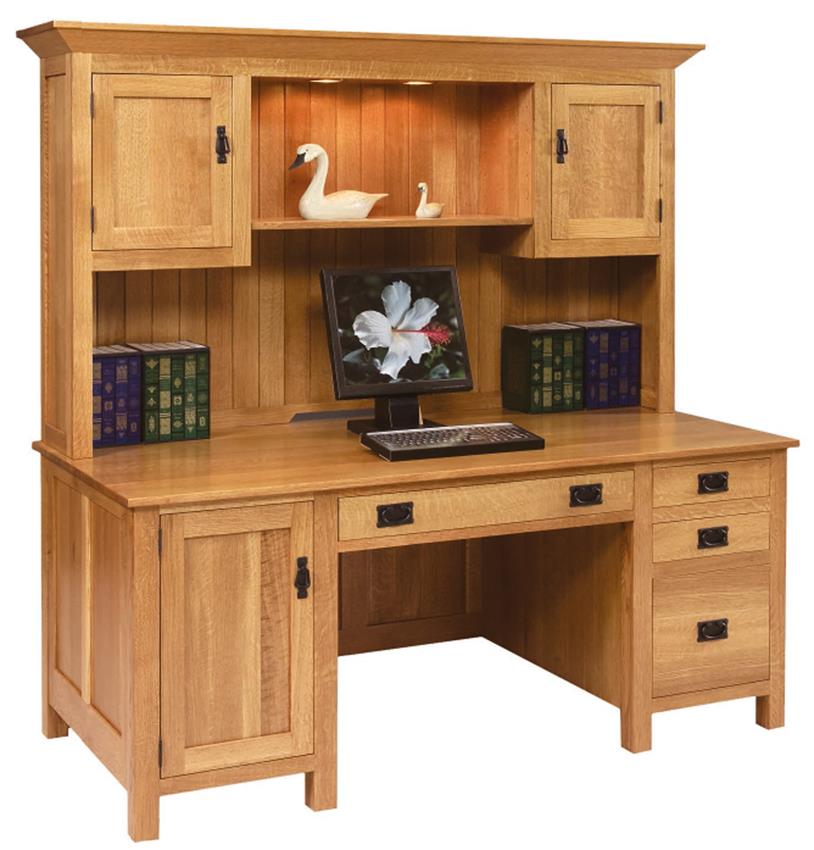 Find the right desk for your home or office in the style you love.