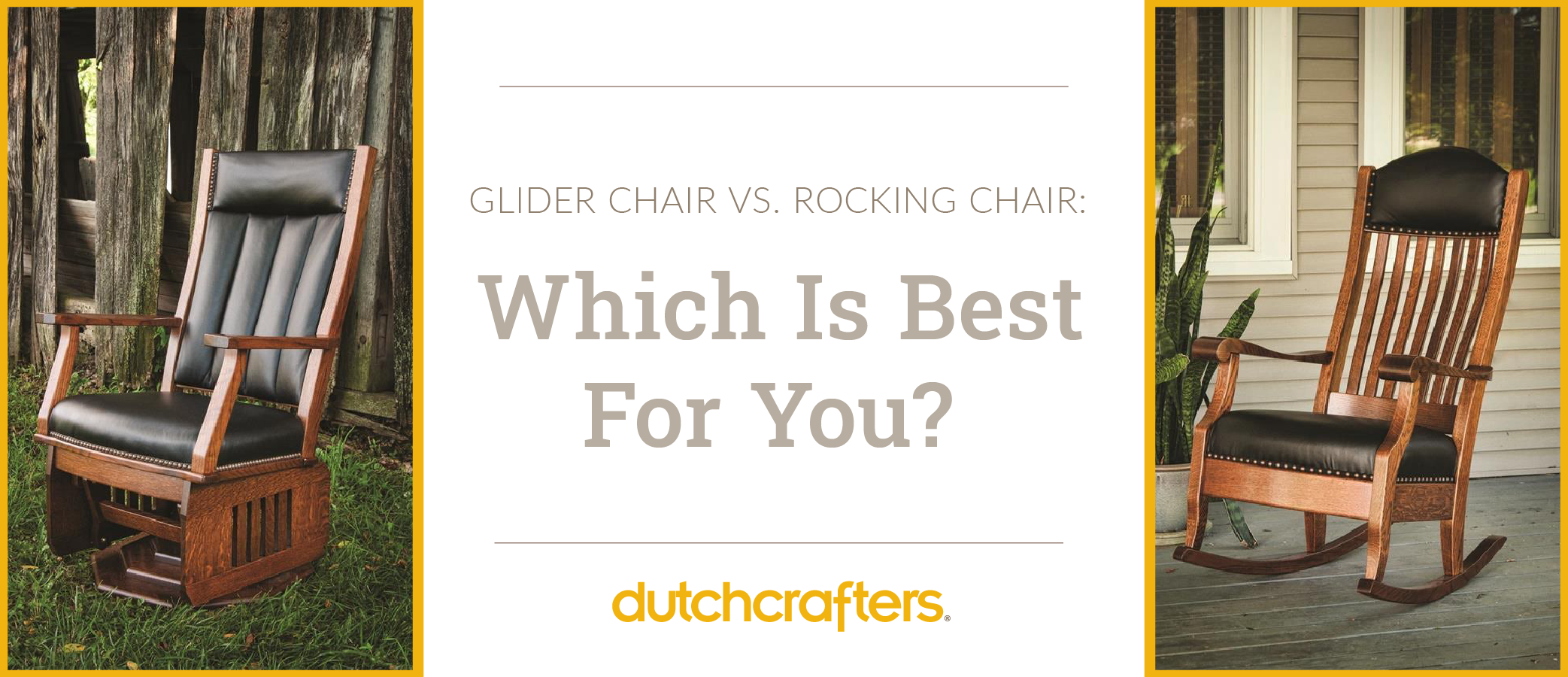 Glider Chair vs. Rocking Chair: Which Is Best For You?
The glider chair versus the rocking chair is an easy choice for some, but not for others. It comes down to the way you like to move, where you want to use the chair, and what style you like best.
The Glider Chair
Glider chairs are an investment in comfort and luxury. They are often purchased for baby nurseries to provide a comfy place for late night feedings. Gliders are a popular pick for the den and living room too, with the goal being to provide a comfy chair to relax in with the gliding movement to soothe the sitter. Gliders take up a good amount of space, especially if you opt to add a matching ottoman. Glider seats are spacious and offer more room than rocker seats. Many models recline for even greater comfort. Some models offer an added swivel option too.
The Rocking Chair
Rocking chairs are also a comfort seat, offering something more to do than just sitting upright. Rocking chairs don't take up as much space as gliders, yet don't often offer the variety of movement that gliders can. Rockers offer a traditional, old-fashioned feel and create a sense of warmth in any room.

Things that differ among rocking chairs and glider chairs include the following.
Movement
While both glider and rocker offer soothing movement, a rocking chair moves in an arc movement and a glider is a straighter movement back and forth.
The back and forth glider motion is less forceful than rocking chair movement. The glider seat sits on a base with a fixed track that helps to create a smooth movement that doesn't feel as bumpy as a rocking chair.
A rocking chair base consists of curved legs. The motion is a swaying motion front to back. A rocker gives you a more intense movement as you rock, not as gentle to some as glider movement.
Space Requirement
One drawback for glider chairs is they take up more space than rocking chairs. Glider seats are wider and they are bigger and heavier than rocking chairs. If you pair them with an ottoman, you'll need even more room for the glider. While rocking chair models can take up less space, they might make more noise, depending on the flooring.
Glider Chair Pros
Smooth, comfortable motion
Comfy seat that's wider than rockers
Available in a variety of styles
Can easily transfer to another room in the house
Some glider models recline as well
Some models come with matching ottomans
Better for napping
More versatile look
Smooth ride with less noise
Offer more variety of movement than rockers
Glider Chair Cons
Take up more space than rockers
Cost more than rocking chairs
Heavy and not easy to move
Rocking Chair Pros
Easier to move than a glider
Offer a beloved old-fashioned look
Lightweight
Larger range of movement is soothing
Cost less than gliders
Rocking Chair Cons
More upright than gliders and many models
Do not recline
Seats not as wide as gliders
Extensive range of motion won't work well in small spaces
Could possibly tip over
Armrests more narrow than gliders
A little noisier than gliders, depending on flooring
Glider and Rocker Benefits
Whether your glider chair or rocking chair start out in a baby nursery or not, they can both be moved to different areas in the home. A rocker is perfect in front of the fireplace or in a cozy living room corner. A glider can easily transfer to the main bedroom or guest room. Both offer comfort, provide seats you can sit in for extended periods, and are furniture items that help you relax.
You can use both in different rooms
Both offer a comfy seat
Both available in a variety of styles
What to Look For
First off is comfort of course. You'll want seat that's both relaxing and supportive. Cushioned arms are an added luxury that contribute to comfort. There are both high back and low back gliders and rockers, so look for a chair back that's high enough to support your head. Quality upholstery is a must, especially if your comfy chair is starting out in the nursery. Be sure to look for fabrics like that are stain resistant and easy to clean.
While both the recliner and the rocker offer a comfy seat, these subtle variations in their form and function make a difference. If you're looking to recline and nap in the chair, give the gliders a look. If you're looing to remain sitting up with a soothing rocking motion, perhaps the rocking chair is right for you. Looking to rock in a forward and backward motion? Go for the rocker. But if you want to gently sway or even swivel in some models, take a look at a glider chair.
Would you chose a glider chair or rocking chair for your home?