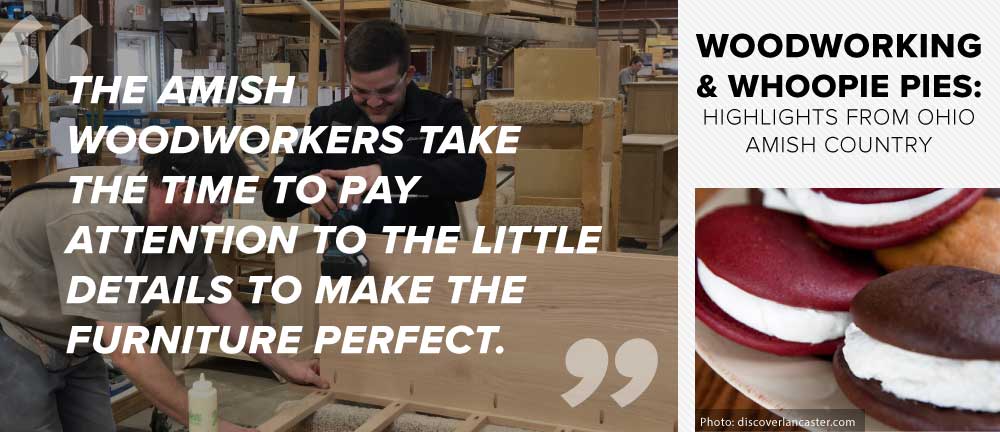 Woodworking and Whoopie Pies: Highlights from Ohio Amish Country
In early January, five of us flew to Ohio to visit some of our woodworkers in Amish country. Our group included product team manager Scott, sales team interim manager Alex, sales team assistant manager Kari-Jo, furniture specialist Reagan, and me. We went to further build on our commitment to offer only authentic products, as well as to learn and bring back our new knowledge and observations to our work and the rest of the team at DutchCrafters.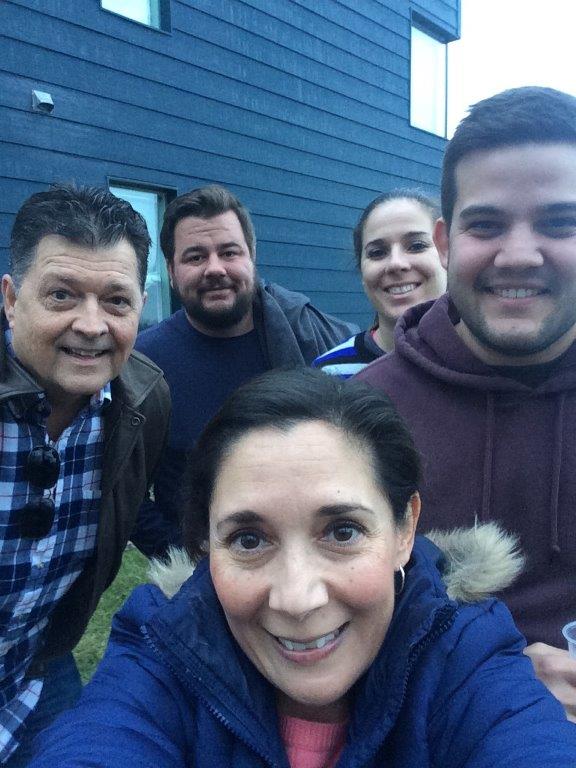 The DutchCrafters Team outside the Dwelling Bed and Breakfast
Originally planning to stay at a hotel, our journey began with our hosts from the Millcraft woodshop generously offering us a free stay at the Dwelling, a very modern style bed and breakfast in the middle of picturesque Amish country. The kitchen housed a large island with fresh fruit, cinnamon buns, and a big plate of whoopie pies.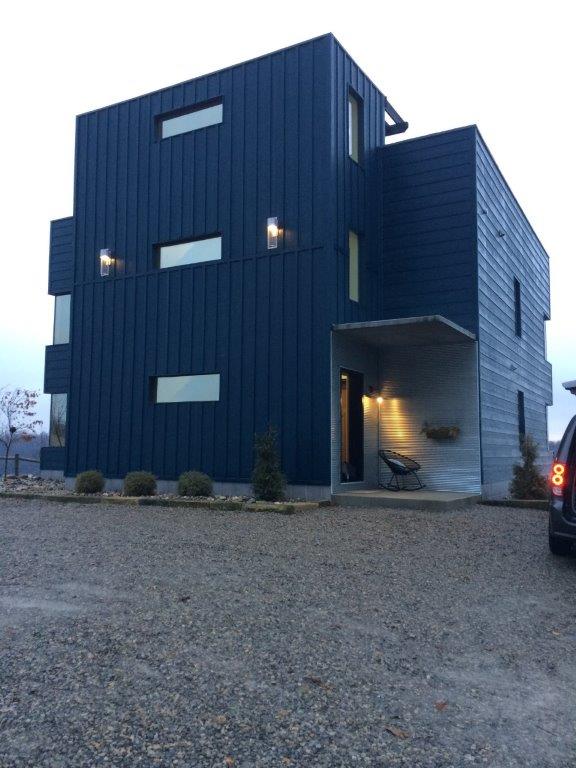 Exterior of The Dwelling Bed and Breakfast in Millersburg, Ohio.
Boy, did we like the whoopie pies.
During our three days in Ohio, we visited 10 woodshops, one finishing shop, and one of the shipping companies we use. We traveled throughout the counties of Millersburg, Berlin, and Wayne. We drove over rolling hills and observed several rustic barn stars as we went from shop to shop. A thin layer of snow just right for making snowballs and snowmen covered the ground.
Our team snowman.
The Woodworking
There's a lot to see in an Amish woodshop. There are a number of machines (some shops have more than others) to improve accuracy and help cut down on build time, but everything is run through by hand, watched over carefully, and refined to produce the best finished product.
Each woodshop has an area where the raw lumber comes in. It's beautiful even in its natural state as it waits to be masterfully cut, glued, screwed, shaped, and finished into solid wood furniture. It became easy to pick out cherry wood that was wrapped in black plastic to keep it from darkening while it's in the shop.
Raw lumber at the MillCraft woodshop. Our guide Alan informed us that this lumber comes from mature trees that are ready to harvest.

   Cherry wood wrapped in black plastic.

Raw lumber from old barns at the Urban Barnwood shop.
There are jigs for the furniture to cut precise patterns, angles, and pockets. At Millcraft, Alan walked us through what it takes to make just one drawer. There's cutting and filling of knots, precise gluing, and clamping and drying. Then it is on to the planer and the sander.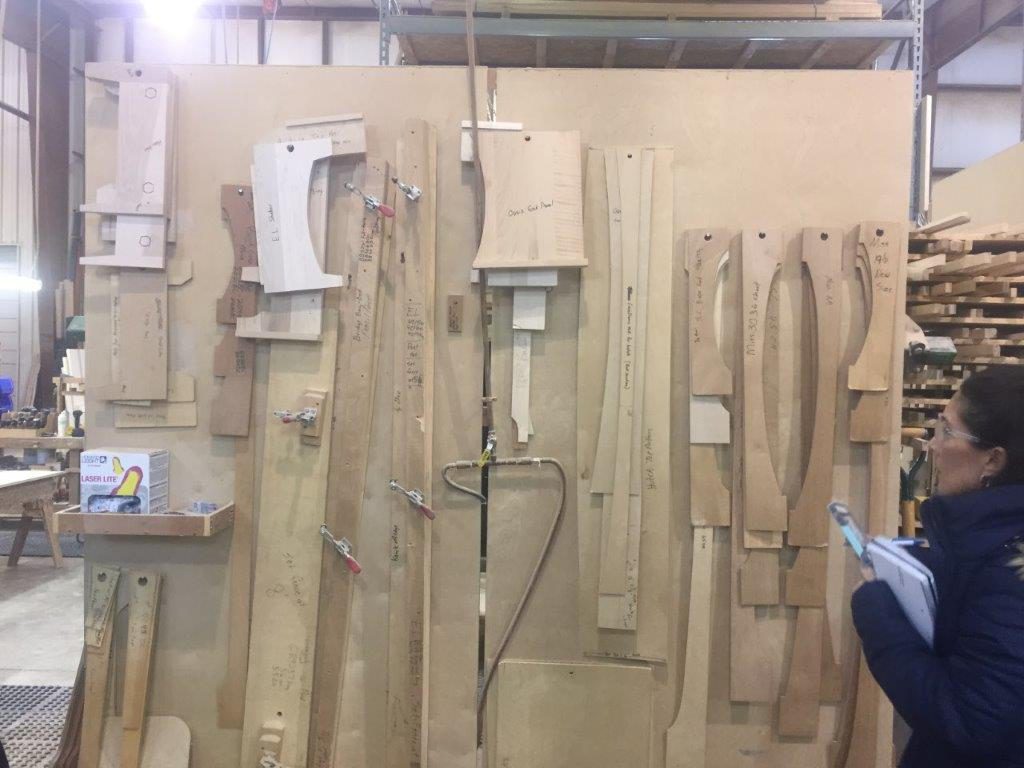 The jigs used at Millcraft.

Alan from Millcraft shows us lumber stacked for making drawers. This pile will fill one week of drawer orders.

This is used for the application of glue.

These are clamps that hold the wood while the glue dries.
There's a friendly feel throughout the woodshops. The workers greeted us with smiles as our guides provided information on what they were doing, while the hum of the machines made most of the noise.
At MillCraft we met Norman who has 13 years of experience in the assembly area. He let us all try our hand at using the screw gun to help with a bedroom dresser.

Kari Jo, Alex and Regan all try their hand at the screw gun.
Each shop had an area where the completed furniture was placed, ready to be shipped out.
The Berlin Office Furniture Collection shop had lots of our orders finished and ready to be shipped.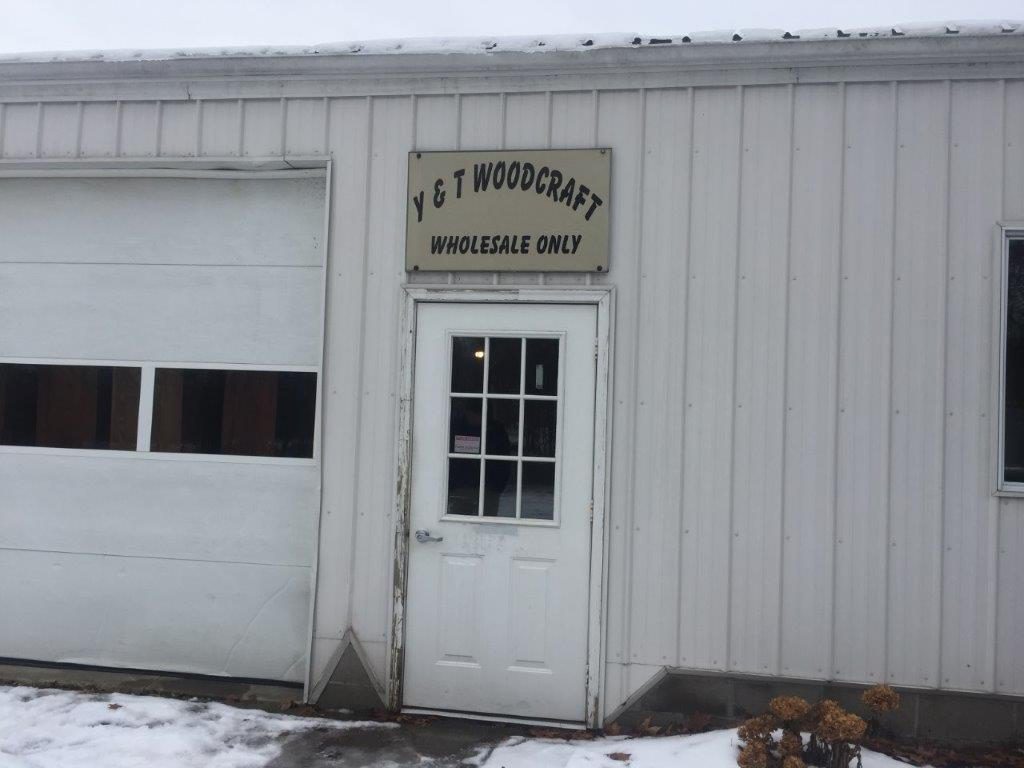 The front door at Berlin Office Furniture Collection shop.
Dutchcrafters orders for a lounge chair and custom bookcases
Amish woodshops house a variety of machines from large to small. There were machines to glue boards together, to cut table legs or chair arms, and to assemble table tops. There were machines that cut out dovetail joints and shredders that scrap wood that will later be ground into sawdust for pet bedding. There were even conveyor belts to fill holes in the wood with epoxy.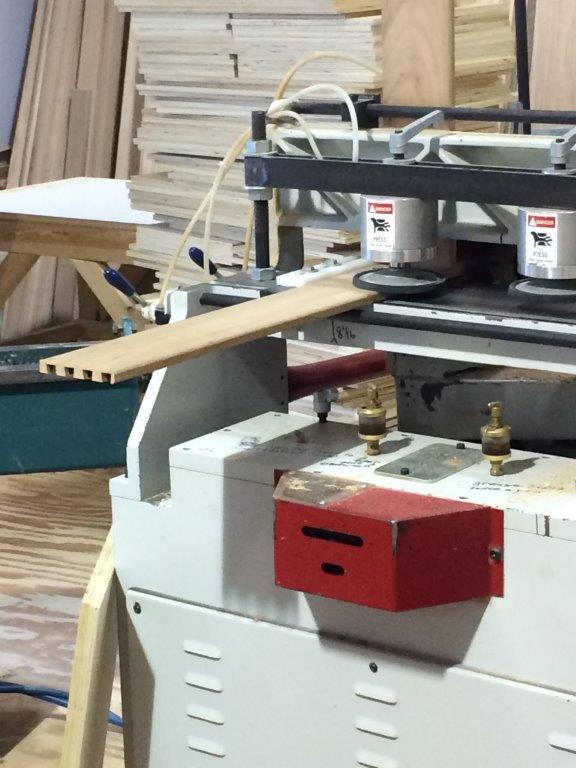 This machine is used for making dovetail joints.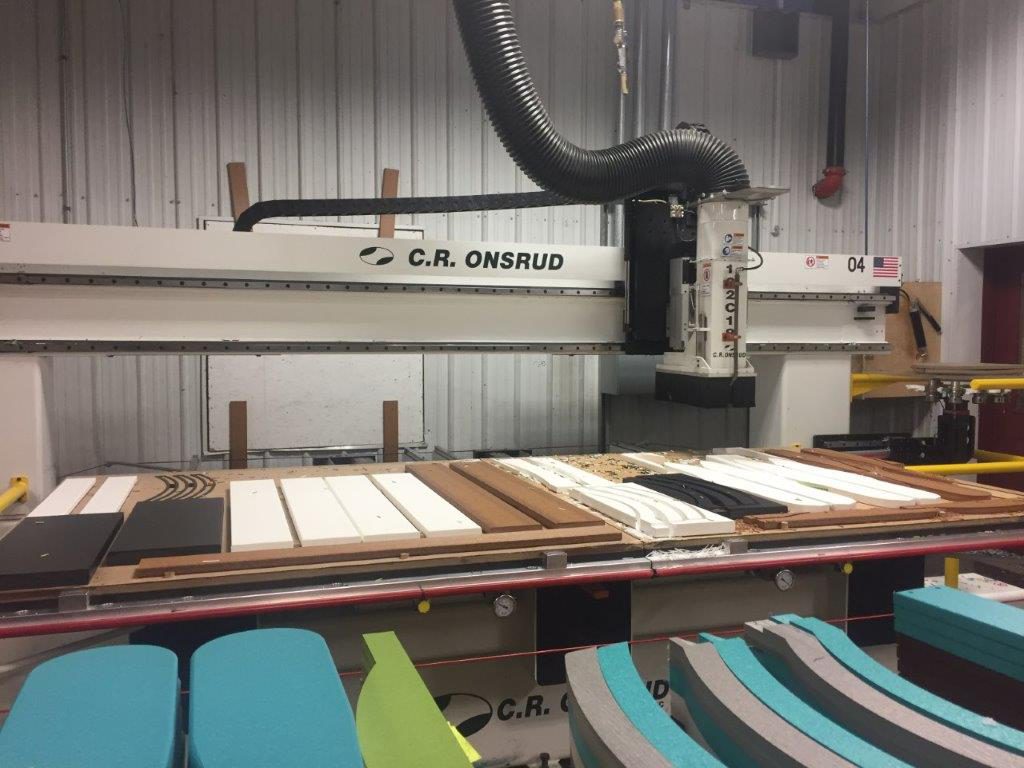 Cutting out furniture pieces at Berlin Gardens for poly outdoor furniture.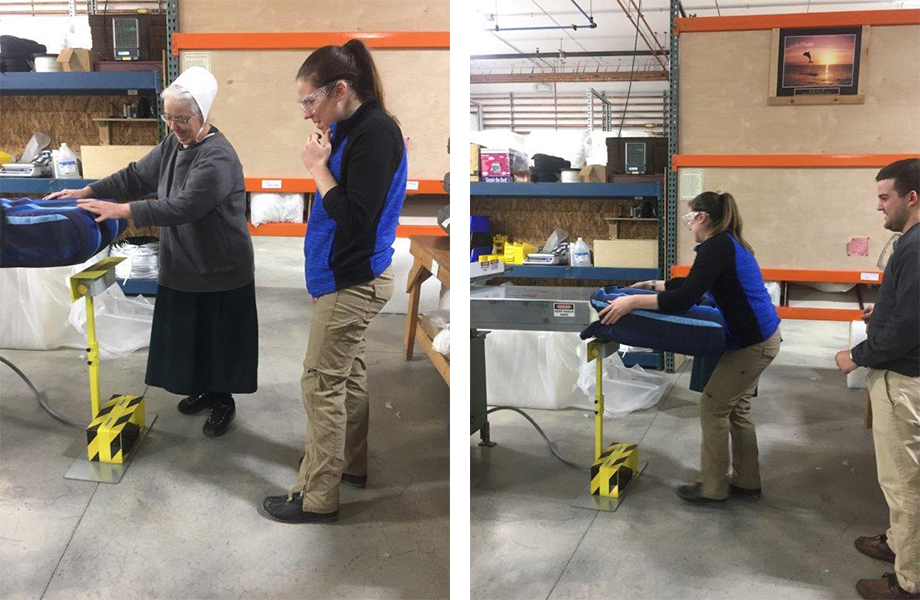 At the Berlin Gardens workshop, this machine is used to stuff cushions for outdoor furniture. KJ learns how to catch the cushion from an Amish worker.
Great pride is taken in switching from diesel fuel to natural gas to run their machines, and we were treated to a peek at the central power source at several shops.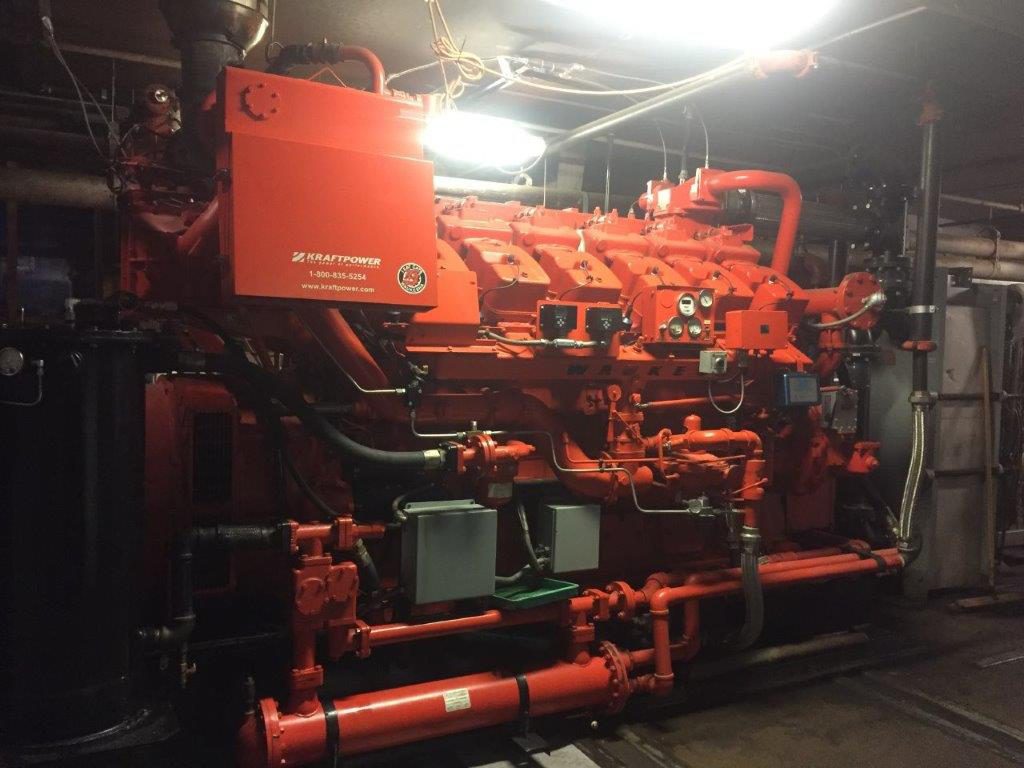 The main power source that uses natural gas at the Prairie Collection woodshop.
At the heart of Amish woodworking is the willingness to take the time to do the job.  At Luxury Office Collection, an Amish woodshop that makes high-end office furniture, our guide James shared with us how all their work is done by hand and takes several adjustments to perfect. It was clear why there's a wait with custom-made, solid wood furniture of this magnitude. All that precision, inspection, and revision takes time.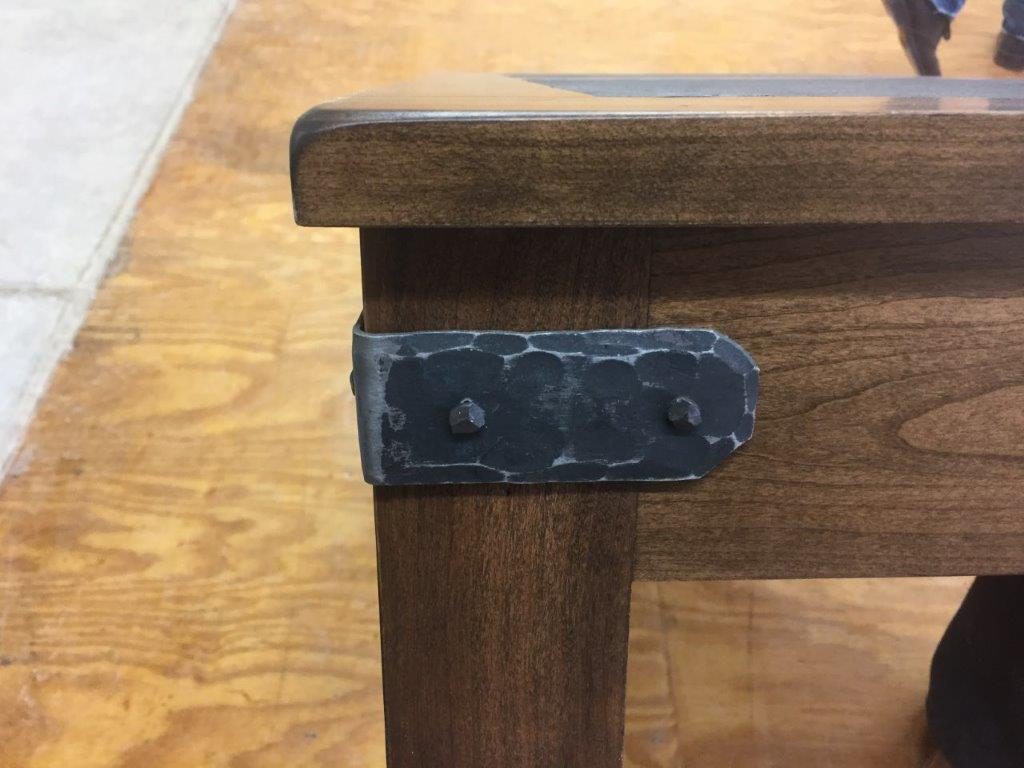 A metal corner on a desk by Luxury Office Collection. The metal is locally heated and handmade with glow coat.
Just like our hosts at other shops, James from Luxury Office Collection sat in his office with us at the end of our tour. This was a big part of what our visit was about — communicating with the woodworkers about the furniture. James wanted to know what they can do better and what our questions and concerns were.
And he wanted us all to try the fresh whoopie pies that his wife made for our visit.
The Whoopie Pies
A whoopie pie is defined as "a dessert or snack made from two soft cookies, typically chocolate, with a creamy filling sandwiched in between."
It's only fair we share a whoopie pie recipe with you.
The Wind Up
Sitting in a bistro at the airport with my teammates waiting for our flight home, it was time to ask them what they were bringing back to their work at DutchCrafters.
Alex:  "You see similarities in the woodshops, but then you can see what makes each one of them individual."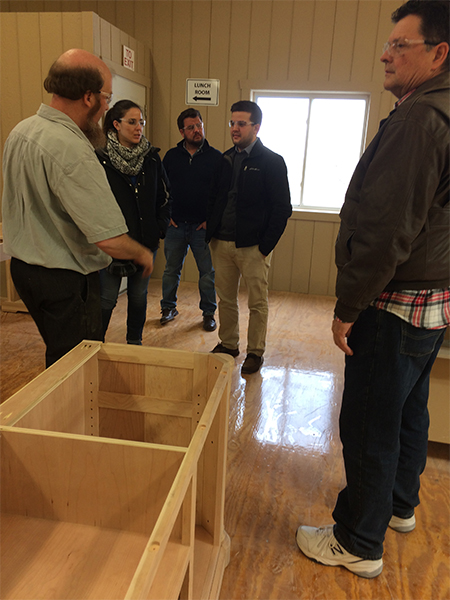 Talking with James at Luxury Office Collection
Reagan: "Amish made means quality made, not something you can get at the corner store."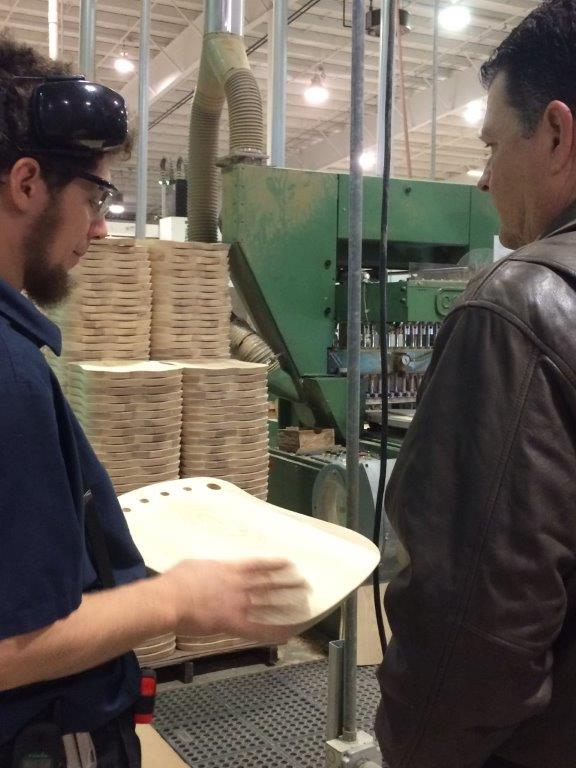 Learning about chair seats at Prairie Collection
Kari-Jo:  "The Amish woodworkers take the time to pay attention to the little details to make the furniture perfect."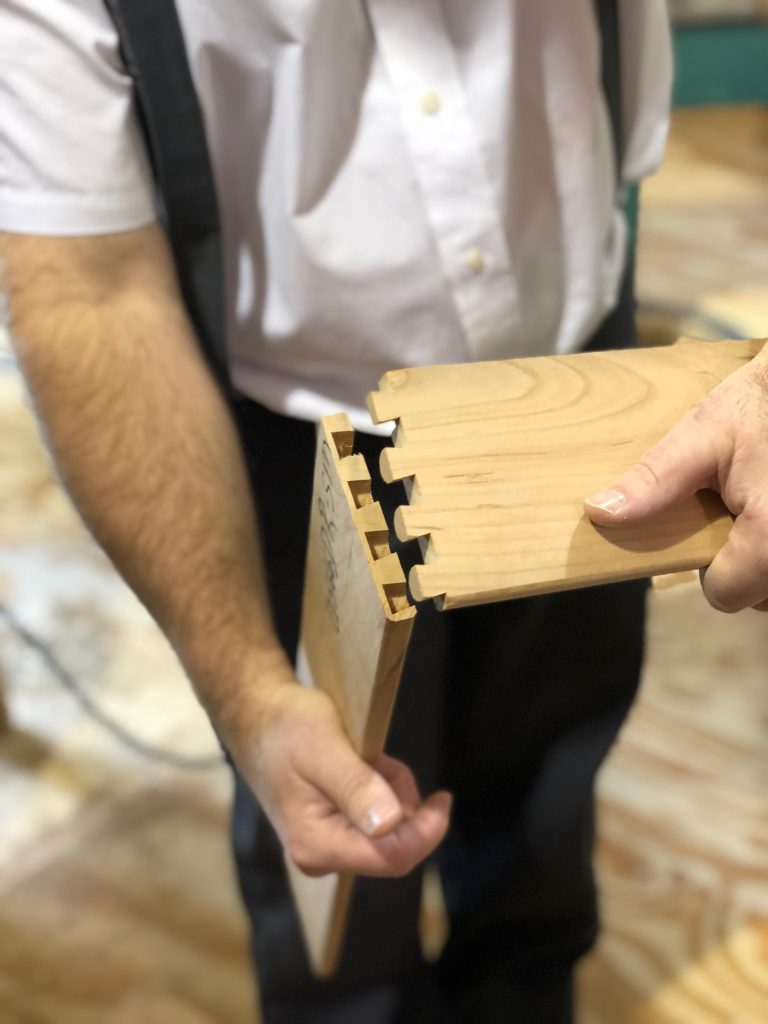 Great effort goes into perfecting dovetail joints for stronger drawers (Millcraft)
We brought back from Amish country a better understanding of how our products are made, an up-close look at the care that goes into making each piece, and inspiration to fuel our work.
And in my backpack I had one whoopie pie to share with my family.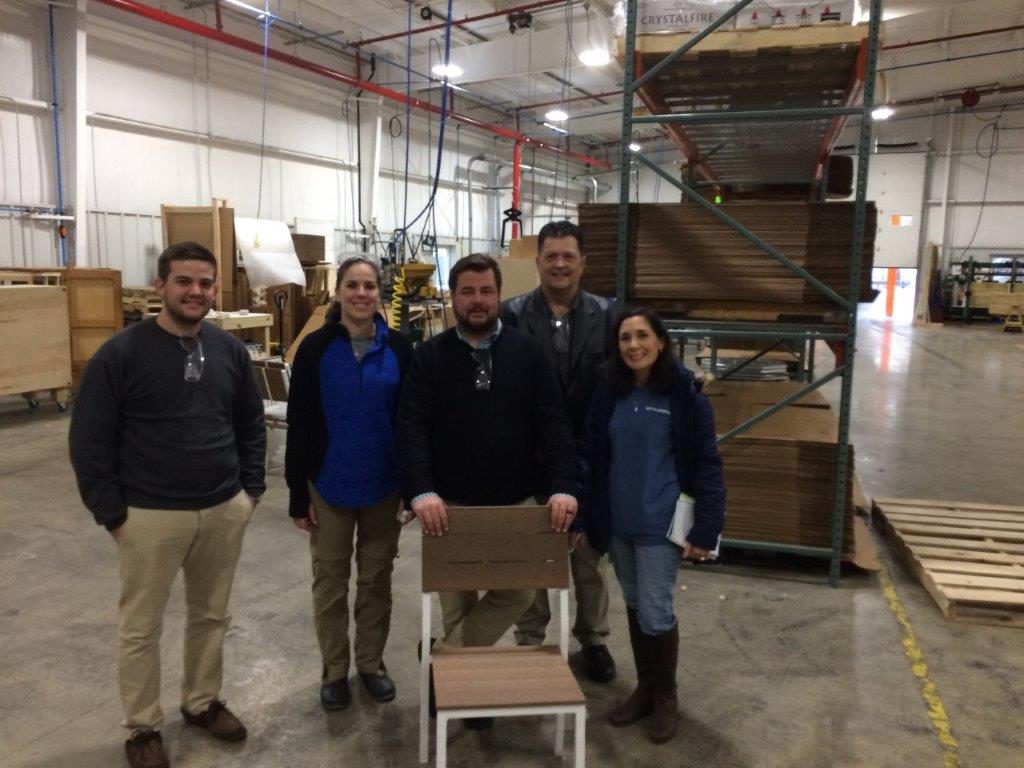 Our team visiting Berlin Gardens