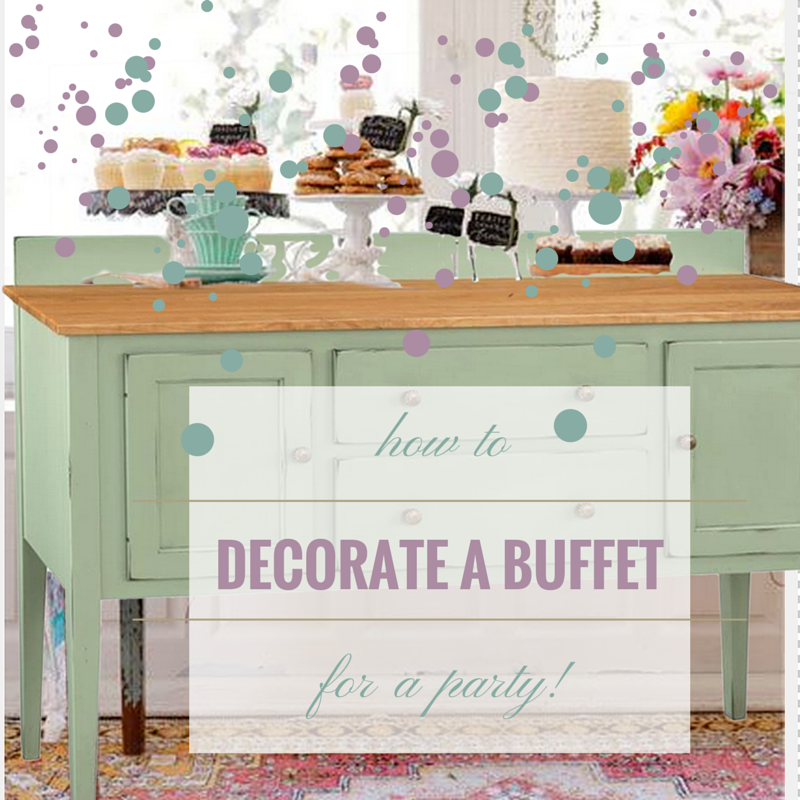 How to Decorate a Dining Room Buffet
Got a party coming up? A dining room buffet  is an excellent place to start decorating! If you take a few minutes to plan the layout, you'll be able to use your buffet table not only as a party-food server, but also as your decoration central.
1. Set the Buffet Stage
Graduation coming up? Try a tablecloth or table-runner draped over the buffet surface in the school colors. Not only will this protect the surface of your solid wood buffet table, but it will set the tone of the party, especially in a neutral dining room. Bridal shower? Use a cloth in the wedding colors, or layer a cloth with napkins or even streamers and pretty lace. Then, use serving pieces that allow you to serve food at different levels — a cake stand, platters, and raised warming trays all help ease overcrowding. Crystal and silver look beautiful at wedding or showers, while mason jars, milk glass and overturned milk crates set a sweet, chic farm-to-table stage.
2.  Light Your Dining Room Buffet
You've got party hats, maybe leis, maybe name tags, or placecards, in addition to all kinds of food . . . but let us kindly advise you to use some extra lighting on your server or sideboard. Your dining room is likely optimally lit for the dining table, and not the areas around it. So add some cozy, romantic taper candles for an evening affair (bonus! They add height to your arrangement), or some strategic tealights for a more casual feel. Take down the fancy – for, say, a children's party – with a table lamp at the center, or matching lamps on either end of your buffet.
3. Buffet Food as Buffet Decor
Never underestimate the power of colorful food – most certainly at kid's parties. Monogrammed and themed sheet cakes are just the start. Cupcakes are having a moment – why not a cupcake tower in the party colors? Use food dye to coordinate icing and cake colors. Or how about cupcake toppers as placecards? Fourth of July buffet? Fill a watermelon with cut fruit for a summer splash. Make a flat Christmas tree of broccoli and with carrot-stick garlands or radish-slice Christmas balls. Easter begs for buffet table food decor — dip-dyed eggs and egg salad, bunny-shaped chocolate centerpieces. . .
4. Serving Drinks is Part of the Fun
If you have a dining room buffet and bar combo, congratulations! You've just earned yourself some extra space on your buffet. For the rest of us, continue your theme when you're thinking about how to serve the liquid refreshment – an old barrel of ice for sodas at a shabby-chic shower, a color-coordinated plastic tub for a less formal event. A lovely tea set can serve as a centerpiece as well as the drinks at, say, a Mother's Day celebration. Pitchers at the end of the buffet full of bright juice for summer or children's parties. We also love sparkling bowls of your favorite sparkling beverages – paired with candlelight, a twinkling bowl of whatever floats your boat looks positively luxe – even if it's just icy Sprite.
5. Add Personality to the Dining Room Server Buffet
Framed photos at a birthday party, a celebratory banner across the face of the server or above it, or — for a graduation party — a baby photo at the start of the buffet line, progressing toward the cap-and-gown picture at the end. Remember, you and your family are using the dining room buffet server every day of the year as a display, or to store china or other serving items. But this is a party! Decorate your buffet like you mean it, and let that decoration reflect the truly celebratory nature of the event. It wants to feel special, too 🙂