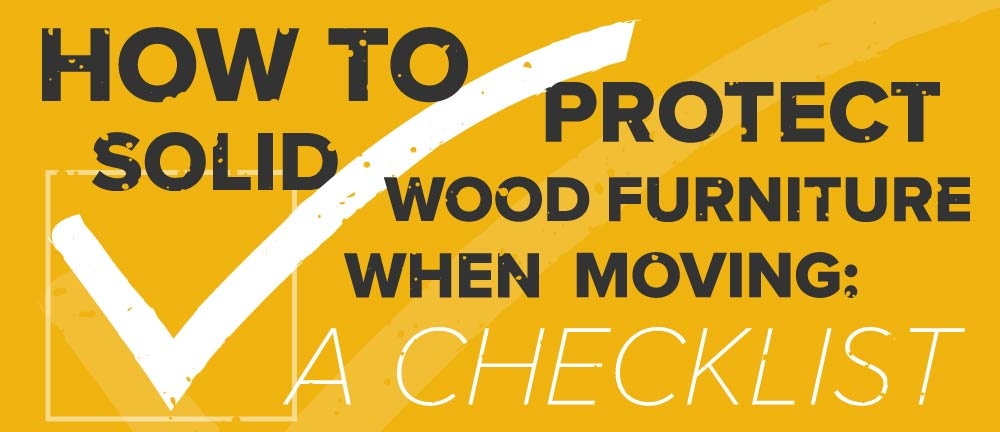 How to Protect Solid Wood Furniture When Moving
There's nothing more heartbreaking than seeing a piece of solid wood furniture damaged during a move. We treasure our solid wood heirlooms for their beauty and the generations of stories they bring along with them. Here are some tips on how to protect solid wood furniture when moving to ensure it arrives at its new home safely.
You can use this checklist as a guide for taking inventory, labeling, wrapping, and securing your solid wood furniture so it's ready for the road ahead.
Take Inventory
____Make a list of the wood furniture you're going to move so you can plan accordingly and allow ample time to disassemble and prepare it.
____Take measurements of doorways, hallways, elevators, stairways, and any place your furniture must fit through.
Have the Right Tools and Equipment Ready
____Gather tools needed to remove table legs, table tops, doors, and bed frames.
____Have envelopes and plastic sandwich bags (or larger ones if needed) ready along with a permanent marker to collect and label any nuts, bolts, washers, and furniture pieces you remove.
____Collect items for protection like cloths, linens, padding, and furniture blankets.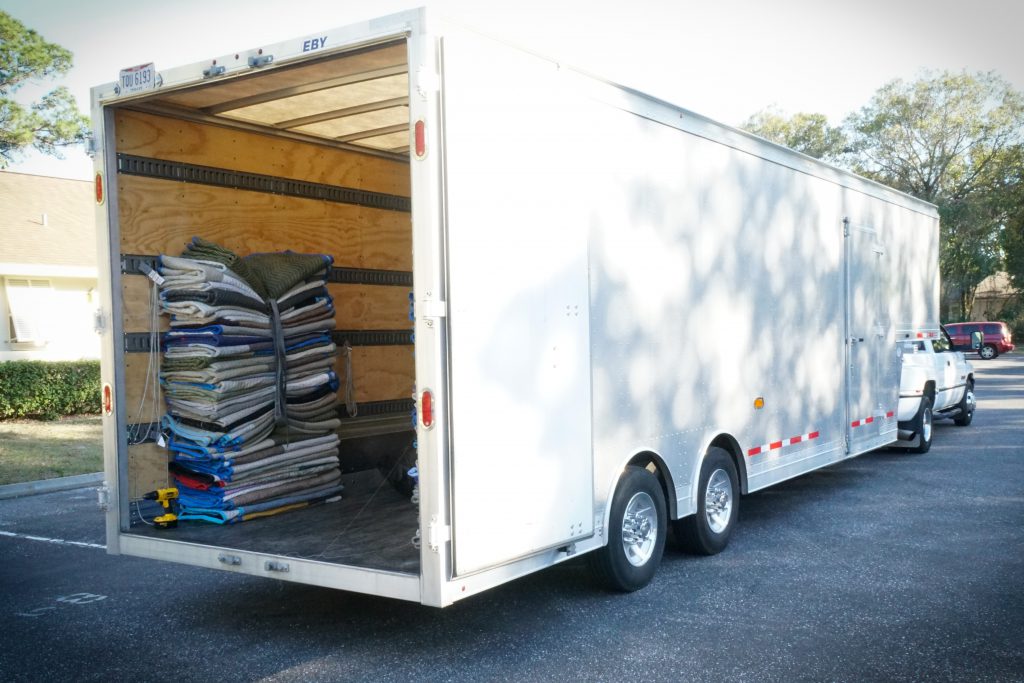 A stack of padded moving blankets in the back of one of our delivery trucks.
____Gather items for securing like twine and packing tape.
____Get a furniture dolly with a strap for larger, heavier items.
Disassemble and Label
____Remove all knobs, handles, casters, finials, and small pieces that can come loose and place them in an envelope and label it. Be sure not to tape anything to the furniture in order to protect the finish.
____Remove legs if possible.
Taking the legs off of the Amish Mansfield Dining Table and wrapping them separately provides added protection for all table parts.
____Remove shelves. Wrap them in padding and label them.
____Take apart bed frames. Save all nuts, bolts, and washers in plastic bags labeled with the piece of furniture they belong to along with the tools needed for reassembly.
Secure It
____Tie any drawers or cabinets shut with twine and place padding between the twine and the wood. Never tape doors or drawers shut.
____Remove cushions and pillows and place them in clear plastic bags, making sure there are no holes in the bags. Don't clean upholstery before a move, do it after.
Wrap and Protect It
All solid wood furniture should be wrapped well before a move. It is recommended to hire a professional company that regularly handles antiques and solid wood furniture. Consider insuring your antiques.
The three recommended layers of protection are:
Surface protection, which protects the wood surface from moisture, dust, and dirt.
Look for protection that will allow the wood to breathe. Cloths, linens, and moving blankets are good options. Avoid bubble wrap or plastic coverings that can damage the surface of the wood.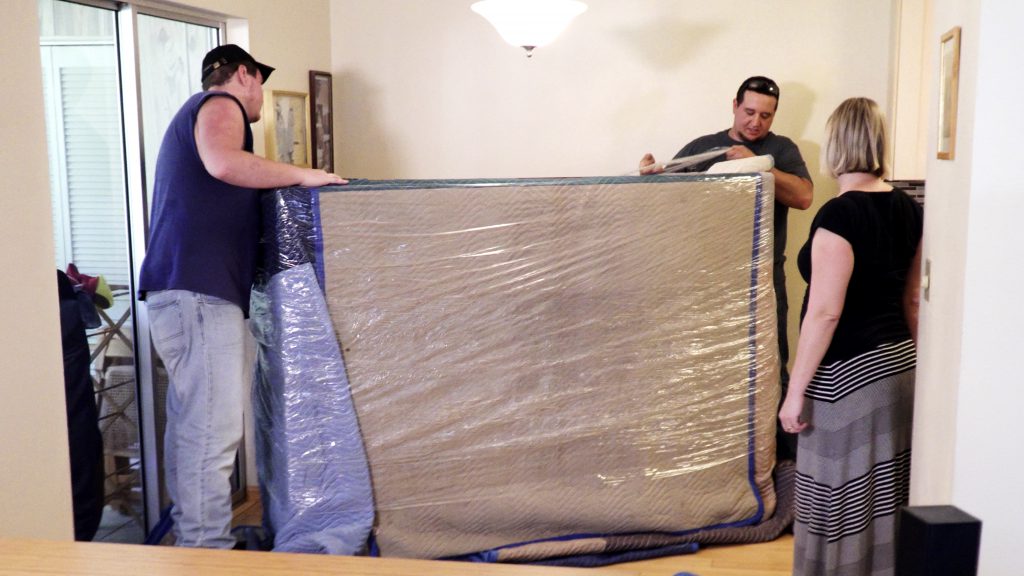 While we don't recommend wrapping wood furniture in plastic, our delivery drivers may put plastic over blankets to ensure they don't slip off during transport.
Shock protection, which works to absorb any shocks, vibrations, bumps, or impact.
Furniture pads and foam padding should be used to cover every inch of your solid wood furniture for this layer. Be sure to cover corners and handles. Wrap your furniture multiple times if need be.
The decorative corners of an Amish Queen Anne Sideboard would require extra foam padding for protection.
Outer protection, which includes a hard casing or added padding if possible.
Getting it On the Moving Truck
____Have a few helping hands to assist you. Solid wood furniture should never be dragged or slid across the floor. Items should be lifted and carried to avoid damage to the furniture and floor, and to prevent legs loosening or breaking.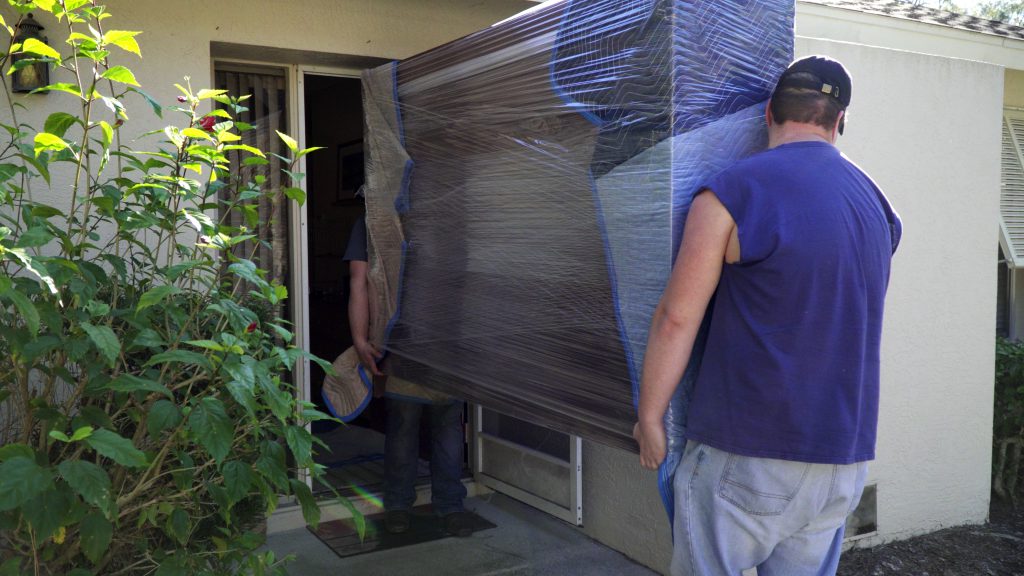 Two of our movers work as a team to lift a hutch through a pre-measured doorway.
____Load heavy furniture on the moving truck first, and try your best to evenly distribute them in the bed.
____Tie down larger items on the truck with twine to prevent them from sliding or falling over.
____Don't stack items (like packed boxes) on top of furniture in the truck as this can cause scratches or pressure that can damage wood surfaces.
____A climate controlled truck will best protect the wood on long moves and guard against the wood expanding or contracting.
____Having a third person watching the movers path is a good idea. Wood furniture moved on dollies, carried through doorways, or placed near other furniture, runs the risk of gouges, dents, and scratches.
Be sure that your new home is ready for your solid wood furniture with the temperature and humidity adjusted prior to bringing in the furniture. This way your furniture can adjust quickly.
Storing Your Solid Wood Furniture
In case you have to store your furniture before moving into your new home, remember the following:
To protect wood furniture from drying out and possibly cracking, pre-treat your solid wood furniture with furniture polish for added moisture before storing.
Climate control is important. Temperature changes can cause wood to expand or contract, affecting the look and strength of the piece. Use a temperature controlled environment to store your wood furniture. Keep the relative humidity at 35 to 45 percent.
If storing in a basement or attic, invest in a humidifier, dehumidifier, or humidistat.
Make sure there is enough space to store. Furniture that's packed in together can get scratched.
Avoid piling or stacking boxes or other furniture on top of larger pieces.
Take legs off and drawers out to best protect each piece.
Use a protective covering to prevent scratches or damage but avoid plastic, which can cause condensation and swelling of the wood. Use cloths, furniture pads, and moving blankets to shield the wood from light, moisture, and dust.
Be careful storing furniture on the floor of a storage facility. Raising it up on planks or blocks offers added protection in case of flooding.
Protect your solid wood furniture while moving with these tips that will help ensure its longevity and beauty.