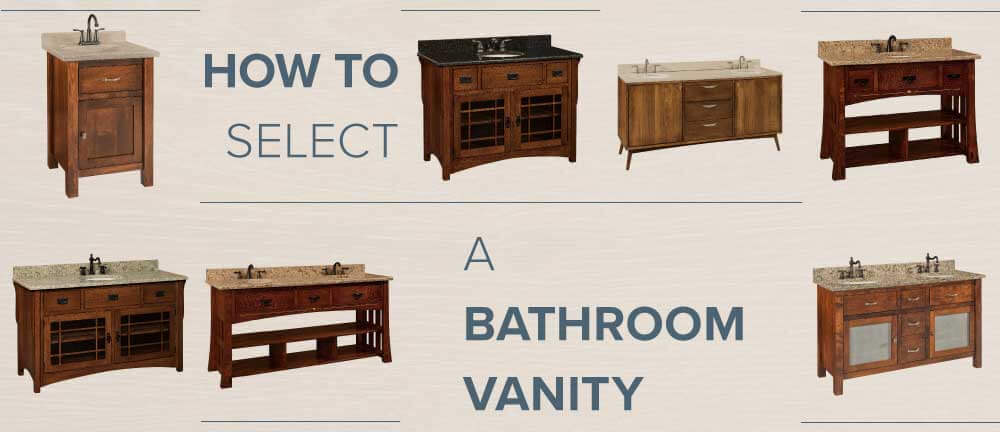 How to Select a Bathroom Vanity
From master bath to the kids' sinks to the guest bath, bathroom vanities need to be ready for action. Used daily for washing and as storage and style elements, they offer a great way to dress up the bathroom. We're taking you through the steps to choosing an Amish bathroom vanity to make sure you find the best fit, form, and function for your bathroom space.
Start with Measurements
Choosing a vanity will depend on the size of your bathroom, what height you're comfortable with, how much counter space you're looking for, and what materials best fit your style.
Measure the bathroom space, taking note of your shower door and bathroom door. Make sure there will be enough room for vanity doors and drawers to open.
Measure the depth, width, and height of vanity cabinets.
If you're getting a vanity without a top, you will need to measure for the countertop. The vanity top should be 1" wider and 1" deeper than the vanity cabinet.
Take note of electrical switches, outlets, and plumbing.
Assess the space needed for mirrors.
Some vanity styles come with a backsplash in the same material as the countertop—take into account the height of the backsplash.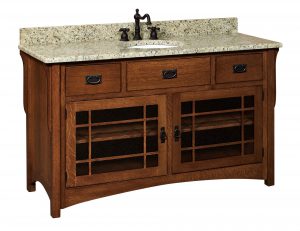 Standard and Popular Sizes
Vanity Height: 
Standard is 32" but can range from 30" to 36" with some higher countertops for taller folks and smaller ones for children.
Vanity Width:
Depends on your bathroom space and what you're looking for. Standard widths include:  12", 18", 24", 30", 36", 48" and 60". Some are even up to 84" wide.
A width of 48" is common for two sinks with 48"-60" being popular for large bathrooms and 30"-36" for smaller bathrooms.
Popular Widths:  24", 30" and 36"
The Amish Mt Elbert Bathroom Vanity stands 36″ high with the top and 61″ wide. Shown with choice of single or double sink.
Vanity Depth:
Standard: Within the 18"-23" range
Popular Depth:  21"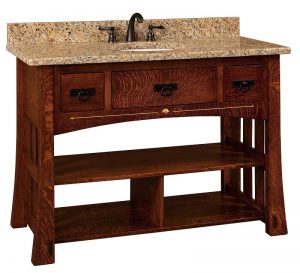 Sink Types
Undermount:  Sink is installed underneath counter and creates a smooth flow from counter to sink.
Drop In:  Hole is cut out of the countertop and sink is dropped in. The rim of the sink rests on the vanity counter.
Vessel: Entire sink sits on top of the counter. Vessel sinks come in many styles, designs, and materials.
Integrated: Sink and counter top are one piece.
For the Powder Room
A smaller space will need a smaller bathroom vanity. A powder room is not used as often as the hall bathroom or master bath, so less storage is needed.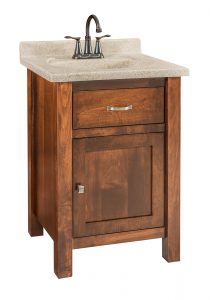 The Mt Elbert – Small Brown Maple Free Standing Bathroom Vanity – Quick Ship
Freestanding version saves space
One sink, minimal counter space
4" Backsplash
Choice of wood or glass doors
One adjustable shelf in lower cabinet
Choice of cultured marble, solid surface, or granite top
For the Guest/Hall Bath
The guest or hall bath may be used by kids and teens and should be large enough to store accessories and daily bathing essentials.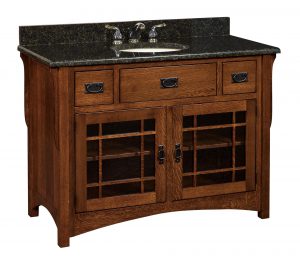 The Amish 49" Henderson Mission Single Bathroom Vanity Cabinet
Freestanding version saves space
One sink, modest counter space
4" backsplash
Two storage drawers for bathroom essentials
Choice of plain or smoked glass
Cabinet space for storing towels and toiletries
Choice of solid surface or granite top
For the Master Bath
Used daily, therefore needs maximum counter and storage space.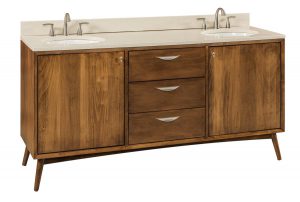 Double sink, 69" width offering extra counter space
4" backsplash
Three drawers, two cabinets with adjustable shelf for storage
Choice of wood and varnish
Choice of solid surface or granite top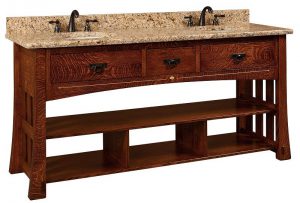 Double sink with 72" width offering plenty of his and hers counter space
4" backsplash
Three drawers and adjustable lower shelves
Choice of wood, varnish, and hardware
Choice of solid surface or granite top
Get the most out of your bathroom space with a custom-made bathroom vanity offering the perfect fit.