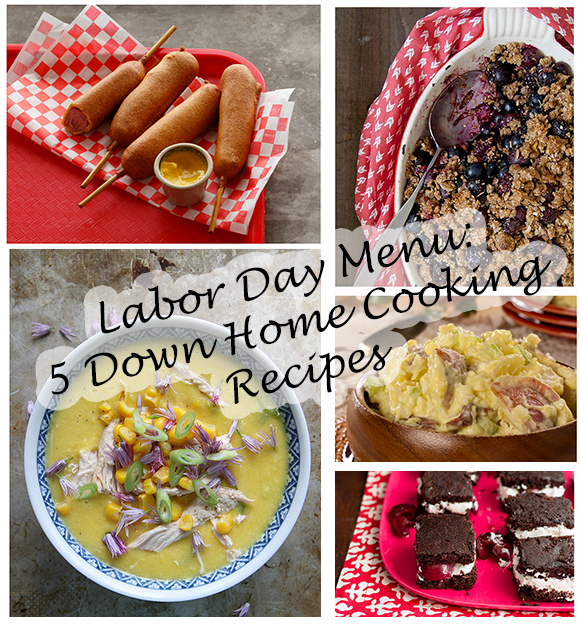 Labor Day Menu: Down-Home Cooking Recipes
These recipes originally appeared as five different posts on the Timber to Table blog in August and September of 2014. They have been combined into one post for ease of access.

—
Labor day is just around the corner. For many, the holiday is celebrated as a farewell to summer with a day on the beach or a cookout.
If you plan to host the latter, here are five recipes that are a perfect way to warm hearts and stomachs. Bid adieu to summer with corn dogs, Amish potato salad, big berry crumble, cherry cream whoopie pies, and chicken sweet corn soup decorating your outdoor dining table.
Consider this feast a Labor Day labor of love.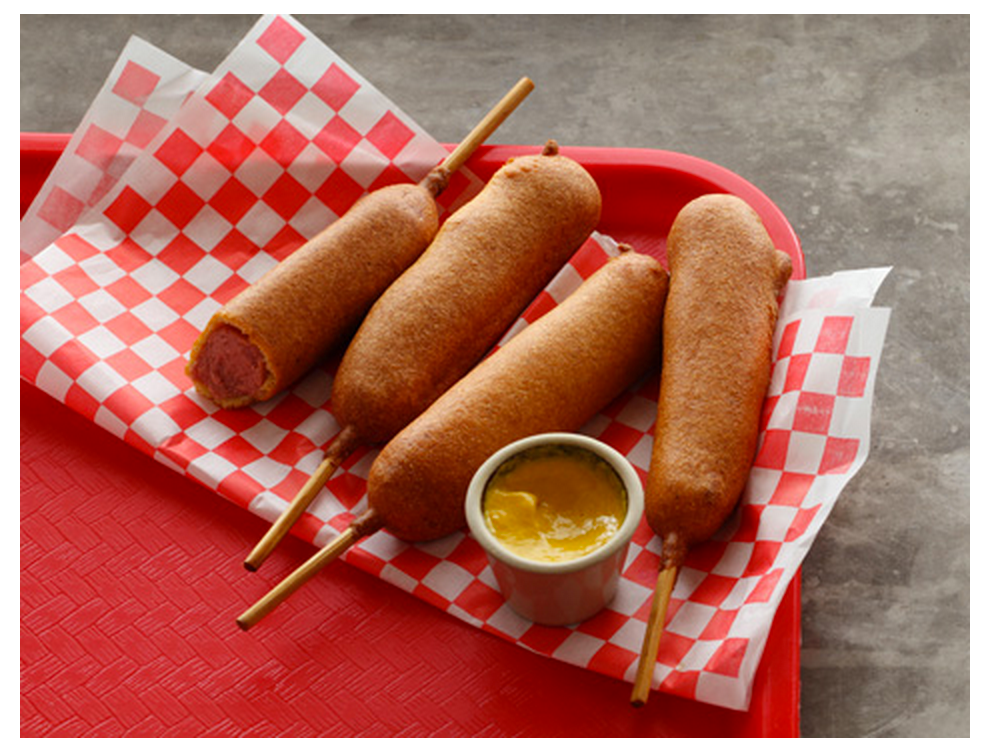 Down-Home Corndogs
Author:
Ingredients
3/4 cup all-purpose flour
3/4 cup cornmeal
2 tbsp granulated sugar
1 tsp salt
1/2 tsp baking powder
1/8 tsp baking soda
1/8 tsp black pepper
3/4 cup whole milk
1 egg
4 jumbo hot dogs
1 quart vegetable oil for frying
4 wooden skewers
ketchup and yellow mustard, for serving
Instructions
Preheat oil in a large, heavy pot over medium-high heat. BE CAREFUL!
Mix flour, cornmeal, sugar, baking powder, baking soda, salt and pepper in a bowl. Stir in milk and egg and whisk gently until fully combined.
Once the oil reaches 360ºF, thread hot dogs onto skewers. Dip each in batter, rolling until fully coated, and quickly drop entire stick into oil. Fry two at a time for 4 to 5 minutes. Drain on paper towels. Repeat for remaining corn dogs. Serve warm, with ketchup and mustard.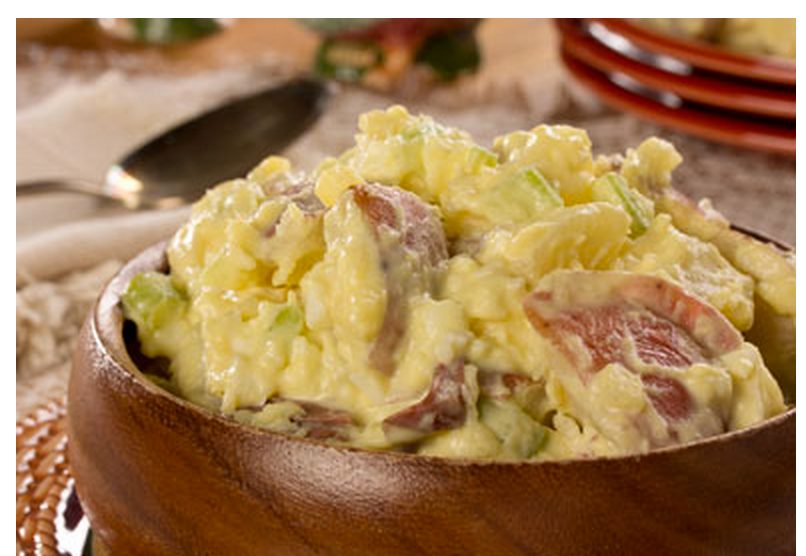 Down-Home Amish Potato Salad
Author:
Prep time:
Cook time:
Total time:
Ingredients
3 pounds potatoes, cut into quarters
3/4 cup mayonnaise
3/4 cup sugar
2 tablespoons yellow mustard
2 tablespoons vinegar
1 1/2 teaspoon salt
4 hard boiled eggs, peeled and chopped
1/2 cup onions, finely chopped
2 stalks celery, chopped
Instructions
Place the potatoes in a large pot, fill with enough water to cover potatoes. Bring to a boil and cook about 20 minutes, or until fork tender. Drain, set aside to cool.
In a medium bowl combine mayo, sugar, mustard, vinegar and salt, mix well.
Place the potatoes, eggs, onion and celery in a large bowl. Pour in the dressing and gently stir until thoroughly mixed. Chill 2 to 3 hours before serving.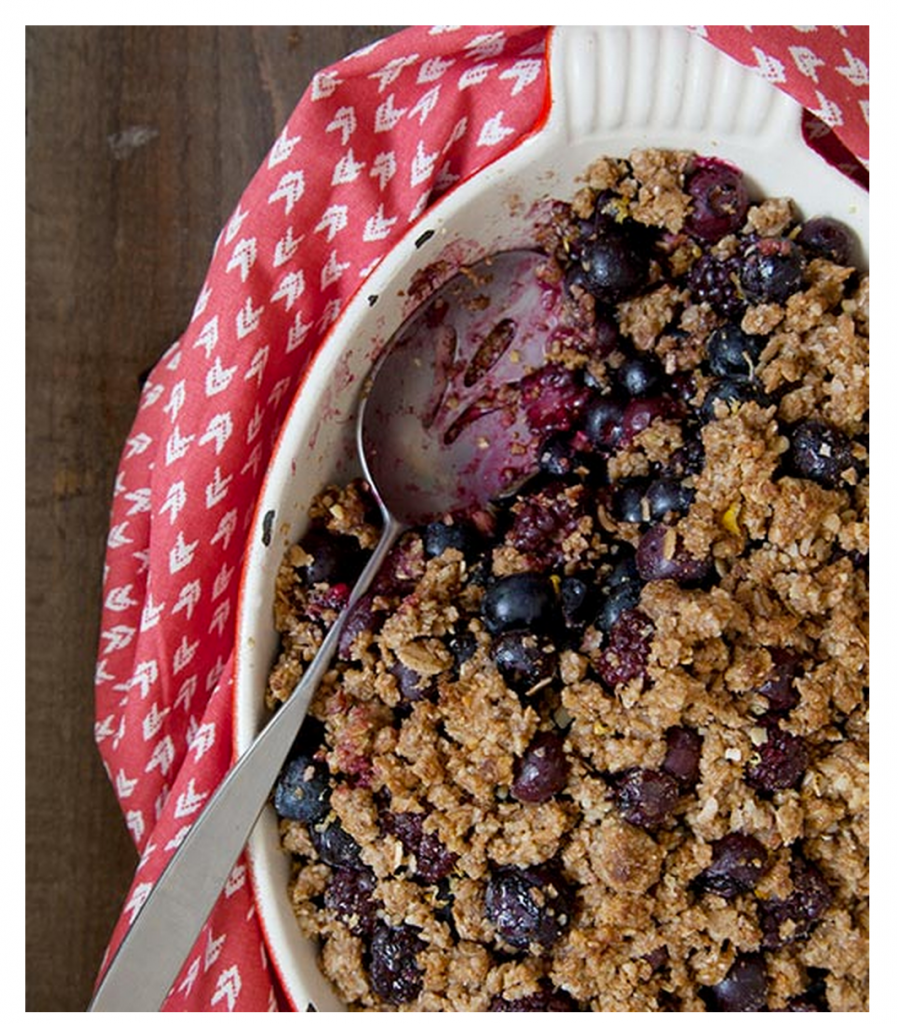 Big Berry Crumble
Author:
Note: Try any combination of fruits that you like. This recipe also uses spelt flour, but feel free to substitute what you have in the house.
Ingredients
Filling:
4 cups (2 pints) fresh blackberries
2 cups (1 pint) fresh blueberries
2 tablespoons Sugar
1 teaspoon lemon zest
1 tablespoon light spelt flour
Topping:
2⁄3 cup rolled oats
1⁄2 cup Sugar
1⁄4 cup light spelt flour
1⁄2 cup (1 stick) butter
1⁄2 cup finely chopped walnuts
2 teaspoons ground cinnamon
Instructions
Preheat the oven to 350 degrees F. Lightly grease a 9-inch pie plate.
To make the filling, in a medium bowl, combine the berries, Sugar, lemon zest, and flour.
To make the topping, in a food processor, pulse the oats, Sugar, flour, butter, walnuts, and cinnamon until just combined. Pour the berry filling into the prepared pan and sprinkle the topping over the top.
Bake until the topping is golden brown and the juice is oozing and bubbling, about 40 minutes.
Cherry-Cream Whoopie Pies
Author:
Prep time:
Cook time:
Total time:
Serves:
15
Note: This recipe is not for the faint of heart, but worth the time and effort.
While these whoopie pies may not the usual shape or have the same filling, they sure are delicious.
Ingredients
Cake:
1/2 cup (1 1/2 oz.) cocoa powder
6 tablespoons boiling water
2 oz. (about 1/3 cup) semisweet chocolate, melted
1 large egg + 1 egg yolk (reserve the white for the filling, below)
1/2 cup (4 oz.) sour cream
1 tablespoon vanilla extract
1 cup (4 1/4 oz.) unbleached all-purpose flour
1/2 teaspoon baking soda
1/4 teaspoon baking powder
1/4 teaspoon kosher or fine-grained sea salt
1 cup (7 oz.) granulated sugar
8 tablespoons (4 oz.) chilled unsalted butter, cut into 1/2-inch cubes
Marshmallow Cream Filling:
1/3 cup (2 5/8 oz.) granulated sugar
1 1/2 teaspoons light corn syrup or Lyle's golden syrup
2 tablespoons water
2 large egg whites
Coconut-Cherry Filling:
1 14.5-oz. can unsweetened full-fat coconut milk, refrigerated overnight
1 cup pitted sour cherries (fresh, jarred, or thawed from frozen)
Instructions
Make the cake:
Preheat the oven to 325˚F and spritz a 9- by 13-inch metal baking pan with nonstick baking spray.
Whisk the cocoa powder and boiling water together in a medium mixing bowl to make a paste, then stir in the melted chocolate. Reserve.
Whisk the eggs, sour cream, and vanilla together in a small mixing bowl. Reserve.
Whisk the flour, baking soda, baking powder, and salt together in a small mixing bowl. Reserve.
Beat the butter and sugar together in the bowl of a stand mixer fitted with the paddle attachment on medium speed for about 3 minutes, until the butter is pale and fluffy.
Scrape the reserved cocoa paste into the butter and stir on low speed until fully incorporated.
Add a third of the flour and stir until just incorporated, then half the egg and sour cream mixture. Repeat with a third more of the flour and the remaining half of the egg mixture, then stir in the remaining flour.
Scrape the batter into the prepared baking pan, using a silicone spatula to distribute it in a thin, even layer.
Bake for 20-25 minutes, until a cake tester or toothpick inserted into the center of the pan comes out clean.
Cool the cake in the pan on a wire rack for 10 minutes, then invert the pan onto the rack to remove the cake. Cool completely.
To fill the cakes choose one of the following cream fillings (or both!):
Make the marshmallow cream filling:
Stir the sugar, corn syrup, and water together in a small, high-sided saucepan over medium low heat just until the sugar has fully dissolved and the liquid no longer feels granular.
Clip a candy thermometer to the side of the pan and bring the liquid to a boil without stirring. Continue to heat until the sugar syrup reaches 235˚-240˚F (soft-ball stage).
Whip the egg whites with an electric hand mixer or a stand mixer fitted with the whisk attachment on medium speed just until soft peaks form. Stop the mixer and, just before the sugar syrup reaches soft-ball stage, restart the mixer on low speed and carefully drizzle the syrup into the egg whites.
Increase the mixer speed to medium-high and whip for 4-5 minutes more until the filling is thick, shiny, and white, forming stiff peaks.
Make the cherry-coconut filling:
Open the can of coconut milk from the bottom of the can—the milk will have separated in the refrigerator into liquid and solid layers.
Pour the liquid into a small saucepan and add the cherries. Bring to a simmer and cook for about 15 minutes, until the cherries have absorbed a good deal of the coconut liquid. Remove from the heat and strain, then coarsely chop the coconut-infused cherries.
Whip the solid, cold coconut cream on medium-high speed with an electric hand mixer or stand mixer fitted with the whisk attachment for 2-3 minutes until fluffy and creamy.
Put it all together:
Slicing from the long side of the cake, divide the cake into 6 2- by 9-inch strips, then slice each strip into 5 rectangles each 1 1/2 inches long. You'll have 30 rectangles total once the entire cake is cut.
Spread your filling(s) of choice in thin layers on half the rectangles, then top with the remaining rectangles to make sandwich cakes.
Cakes will keep, refrigerated, in an airtight container for up to 3 days.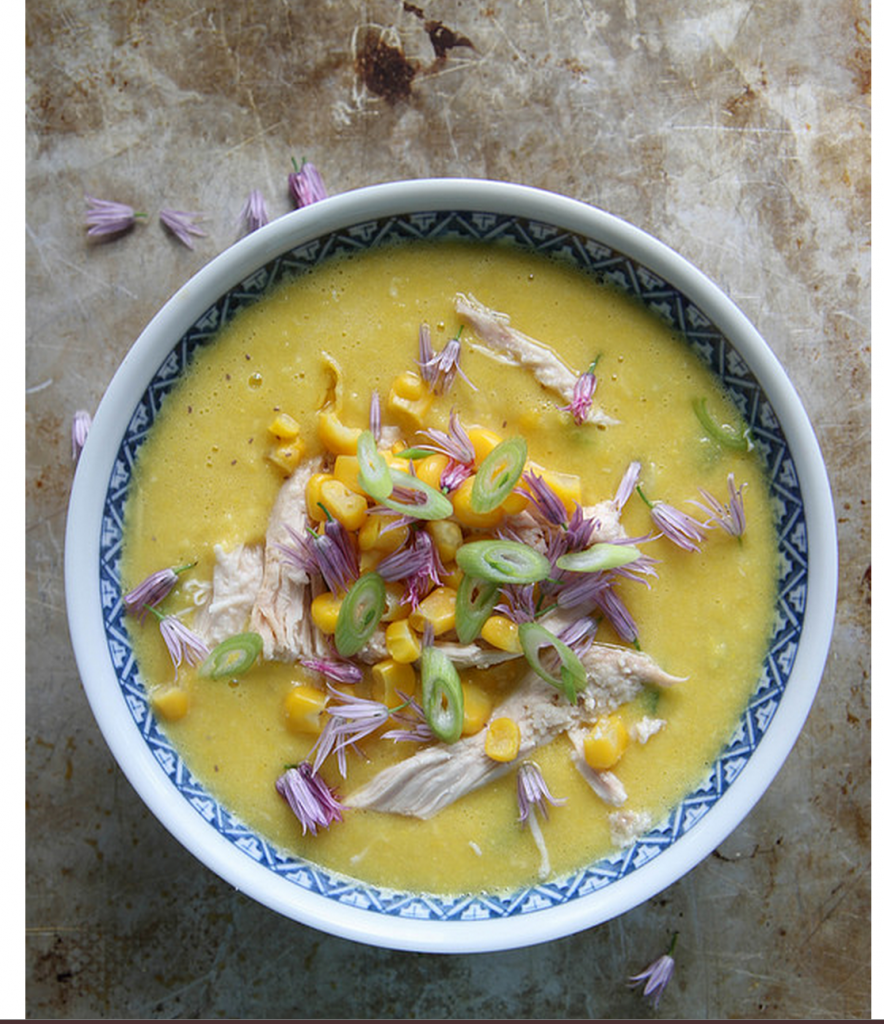 Chicken Sweet-Corn Soup
Author:
Prep time:
Cook time:
Total time:
Ingredients
2 tablespoons vegetable oil
1 yellow onion, chopped
2 cups water
4 cups chicken broth
2 pounds sweet corn (I used 2 bags of frozen organic sweet corn from Trader Joes)
2 cups shredded cooked chicken breast
4 green onions, thinly sliced
kosher salt
Instructions
– In a large pot, add the vegetable oil over medium-high heat.
– Add the onions and sprinkle with kosher salt and sweat for about 5 minutes until the onions have softened. Add the water and broth and simmer for 10 minutes.
– Puree the frozen corn and the very hot broth and onions to the jar of a blender and puree on high until the soup is very creamy and smooth. You will have to do this in batches.
– Then transfer the soup back to the pot and gently bring the soup to a simmer.
– Add the chicken and the green onions and mix together. Season to taste with kosher salt.
—
There you have it — five recipes that scream summer and will have your tastebuds wishing that the season didn't have to come to an end.
We would love to hear from you. If you make any of these recipes, please share your experience in the comments below.