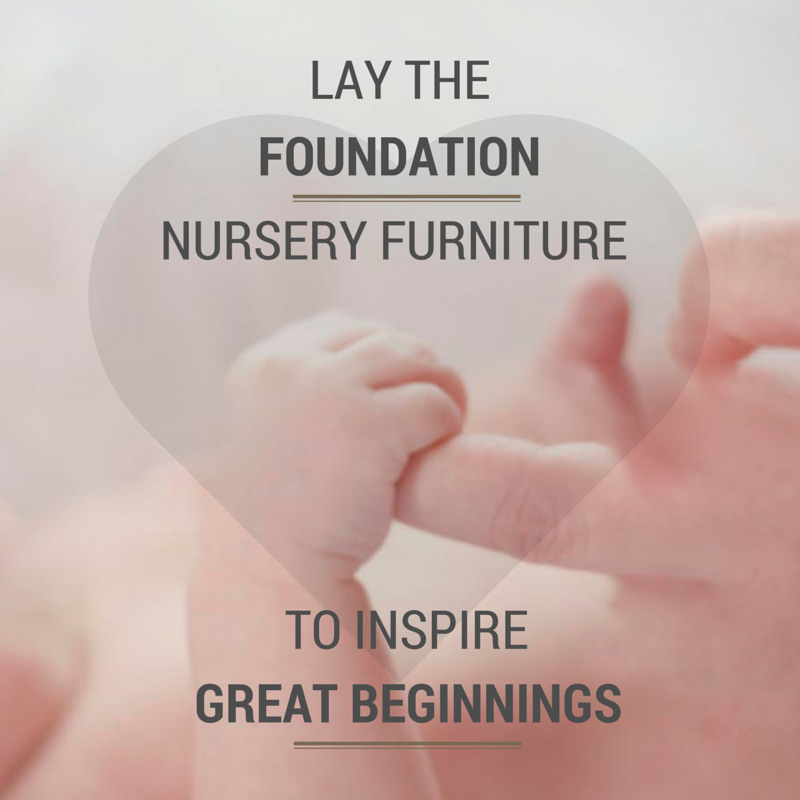 Lay the Foundation: Nursery Furniture to Inspire Great Beginnings
While there are a few everyday differences between our way of life and the culture of our Amish woodworkers, we share one defining value in common: our families are at the very heart of everything we do. So when you're starting to decorate a new nursery, we suggest making solid, safe, and beautiful Amish nursery furniture the foundation of your room. Then, let your dreams for baby's bright future (and your love of animal prints, baby elephants, glittering mobiles . . . ) take it from there.
When we're blessed with a new family member, we like to welcome them with as much warmth, care, and love as we can possibly muster. We saw new life springing into being all around us this month, and in between all of the oohing and aahing at adorable pictures, we decided to take a moment to reflect on nurseries and to really think about the foundations that we offer to the newest members of our families.
The result of those thoughts is a group of nursery furniture sets that we think offer the vital elements of an heirloom family nursery. The Manhattan Set, the Family Values Set, and the Charlotte Elizabeth Set – named for the birth of new British Princess Charlotte Elizabeth Diana Windsor – are designed to provide everything a nursery needs to give the family generations of beautiful memories. Below are the elements we focused on most in our reflection, and how they fit into the story of our sets.
1. The Crib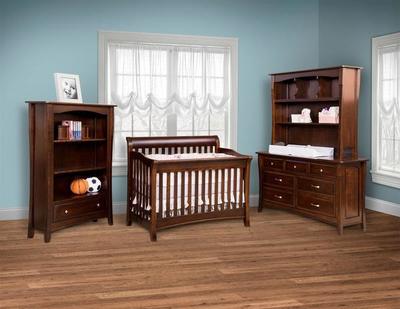 The Amish Berkley Nursery Set combines modern and traditional with ease.
The crib is at the heart of any nursery. All of our cribs are convertible cribs, meaning that they move seamlessly from being a crib to being a toddlers' daybed and then, finally, a full twin bed. Each one is crafted from solid wood and either meets or exceeds the strict guidelines on crib safety put forward by the federal Consumer Product Safety Agency, promising an unparalleled level of safety and peace of mind.
2. The Changing Table
Baby's first few years call for a safe and sturdy space for keeping them as clean and happy as can be. Our range of changing tables offer wide top surfaces that are perfect for holding squirmy babies snugly in place while changing them into fresh diapers and clothes. Most offer high-low tops, giving you plenty of space for keeping creams, powders, and wipes safely stowed away from curious little fingers.
Our changing tables also come with drawers and storage spaces that provide ample space for changing-time essentials, ensuring that caregivers can keep everything Baby needs to stay clean and bubbly close at hand.
3. The Dresser
We all need somewhere to keep clothes, towels, and blankets within easy reach. For everything from everyday outfits to night-time clean-ups, our nursery dressers give ample space for storing essentials in safe, easily accessible style.
In addition to serving the nursery, the quality of our dressers – and all of our nursery furniture – means that they'll seamlessly become a part of your family's story that lasts for generations to come. Our Amish woodworkers put as much love, care, and attention into every piece of our nursery furniture as they put into their own nurseries, bringing the world the kind of traditional handcrafted quality that the modern world often forgets exists.
We hope you'll find as much to love our nursery furniture sets as we do. Welcoming new life is an honor and a privilege – enjoy the ride!