Meet the Woodworker: Middlebury Furniture Collection
Martin Yoder of our Middlebury Furniture Collection makes beautiful Amish furniture with the wants and needs of every customer in mind. His workshop, located in Middlebury, Indiana, holds a team of 15 who contribute to his solid wood masterpieces.  Martin recently visited our DutchCrafters Furniture Store to explain some features of his solid wood furniture and to share a little history as well as what motivates him in the furniture business.
Having recently doubled the size of his shop, Martin shared with us what led him to where he is. Spending 35 years working in the mobile home industry designing cabinets, Martin gained insight about what goes in to the making of fine designs. He found that anticipating a customer's wants and needs was imperative to successfully fashioning fine furniture.
"You have to ask yourself, what do people want?" Martin told us. In the furniture business, "you must think outside the box" he said with conviction. "It's the key to growth." Martin started his business crafting fine furniture with just two employees and the highest quality standards. His attention to details that will please the customer has carried him through 14 years in the Amish furniture business.
Amish furniture from Martin's shop is sure to come packed with features and full of function.  He's committed to "better quality with more features" as the right combination for success.
With touch lighting, adjustable shelves, smoked glass, raised panel sides and more, the Amish Wood Grove Mission Entertainment Center is a perfect example of exquisitely made furniture with all the extras.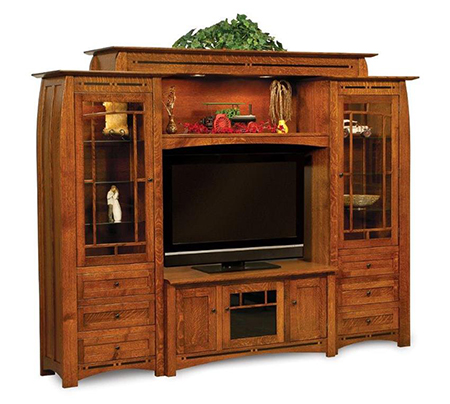 Martin's motion lighting feature for entertainment centers was a hot topic during his recent visit. This new feature adds something special to each entertainment center crafted in his shop. Customers can turn lights on and off with just the swipe of a hand and can set the brightness they want just by holding their hand in front of the unit for a few seconds. Sensors within the entertainment center handle the rest. This motion lighting activates within one inch of the unit and Martin explained how using motion lighting prevents rub marks on the wood.  The new motion lighting feature is showcased in this exciting video and is used in the Amish Ensenada Six Piece Entertainment Center Wall Unit, a new arrival on our DutchCrafters site.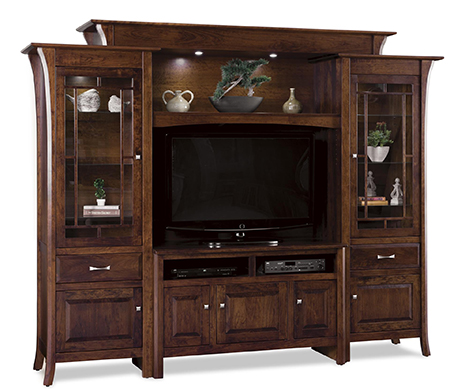 Ease of use is a goal with Martin's designs. The lift-top feature of the Amish Wood Grove Mission Open Lift Top Coffee Table with Counter Weight makes it a delight to use.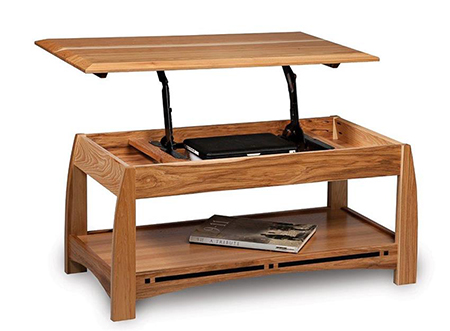 Concern for the customer is apparent as Martin discussed the features of the L shaped desks that he designs. "We need to build the best when we're selling to the public," he explained. Martin shared with us how the details make a difference, like the mitered corners, the extended drawers that pull out a full 1" past extension, and the H clips that allow disassembling of the desk should a customer need to move it from one place to another. He is "very particular" about the green certified lumber they use from Oregon and explained how each desk is put together three times in his shop before the finishing is done.
The Amish Artesa Six Drawers L Desk with Finished Backside is one of the best.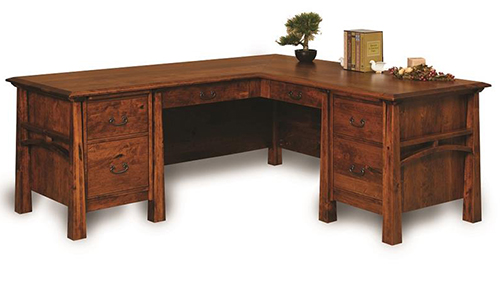 On a trip to visit Martin's shop in Middlebury, Indiana, details of his fine furniture stood out: 1" thick tops, 1" thick writing pullouts for desks, solid end panels for TV stands and end tables with soft close doors are some of the features that contribute to his exceptional collection. Martin and his woodworkers adhere strictly the Amish practice to not be photographed, so we have no pictures of them working except for one person in the distance. It did take some pictures of their shop area and tools of the trade.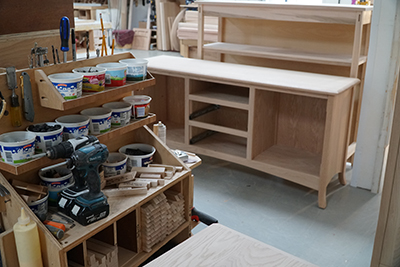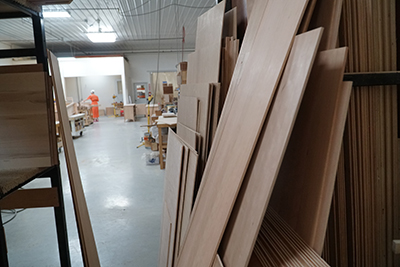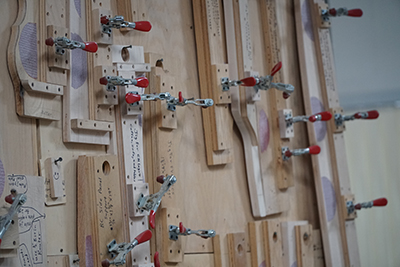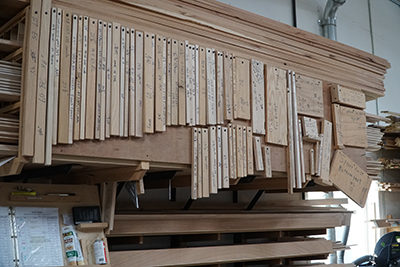 "This is more than a business," Martin told us. "We really want to give people what they want in high end furniture." Martin values the friendships he has made nationwide as his business has grown and continues to look for new ways to provide comfort for customers with innovative designs full of custom features.