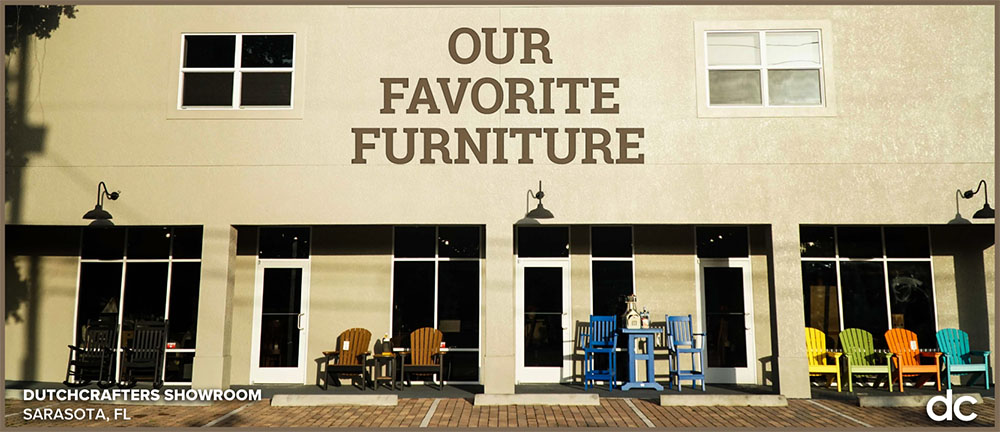 Our Favorite Furniture: Part I
The DutchCrafters store in Sarasota, FL sits warm and bright, with colorful poly wood chairs lining the entryway.  Tucked inside, under the gentle glow of the showroom lights, sits a collection of custom made furniture that speaks of home.
More than a store full of items, the DutchCrafters showroom offers an experience that we have perfected after years selling furniture online.  Furniture specialists answer your questions, and colorful wood samples and fabric books add to the fun. There is a realm of possibility waiting for you to come and create the furniture you envision.
We've taken some time to bring you a glimpse of our favorites on the showroom floor. Eager to share their picks, our staff highlight what is special about their favorite furniture and why its beauty and function appeals to them.
Scott Anderson, Product Portfolio Manager
The gently curved headboard of the Amish Transitions Sleigh Bed sits next to its matching nightstand at the front of the store.
This set is a favorite of Scott, who values furniture that is made the Amish way — with heart.
The perfect mix of classic and modern, this bed, Scott explains, is "defined enough to have impact anywhere you put it and transitional enough to withstand changes in design throughout generations."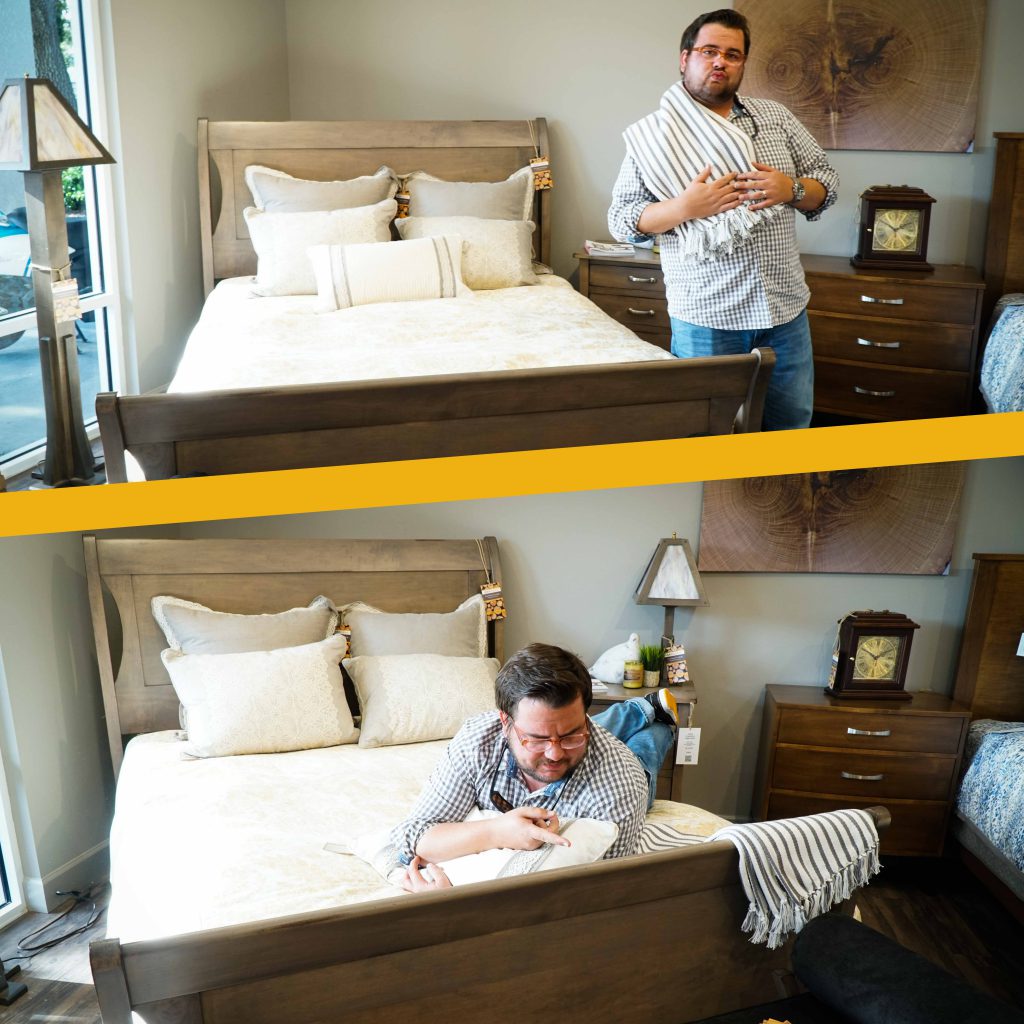 Scott with our Amish Transitions Sleigh Bed
Joe Shea, Furniture Specialist
Amidst the vibrant colors of the outdoor poly wood furniture, Joe sets his sights on the Berlin Gardens Poly Outdoor Bar. Friendly, fun and lively like Joe, the poly outdoor bar drew his attention for a number of reasons.
"I like to entertain," he says. "My perfect day would be having my closest friends over for barbecuing, swimming, and listening to good music with my poly bar full of refreshing cocktails and snacks. "
Poly wood material is low maintenance, durable, easy to clean, and always looks good.  The bar is versatile and holds everything a person needs for a day of entertaining family and friends by the pool.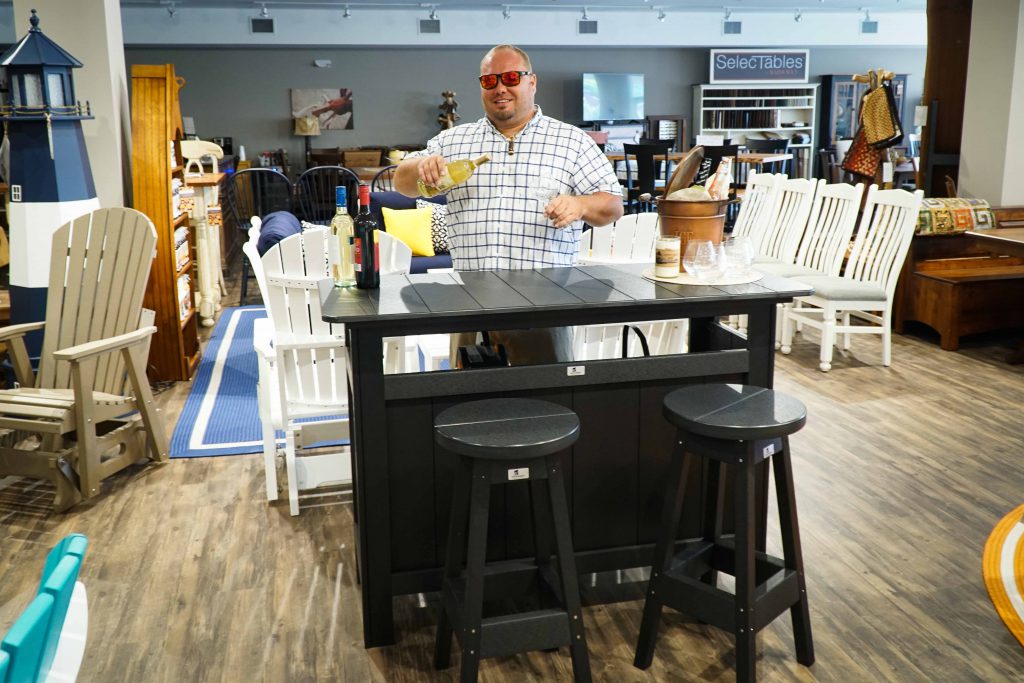 Joe at our Berlin Gardens Poly Outdoor Bar
Jake Smucker, Multimedia Producer/Graphic Designer
Jake's explanation for choosing the stunning Planked Live Edge Bar Table with Steel T Base speaks for itself.
"There's something about the live edge on this bar table that takes me out of the dining room and connects me with nature. It reminds me of where the wood came from," he says. "From a practical standpoint, it's very comfortable to sit at to eat, drink with friends, or to have your morning coffee."
The duality of the table being rough and natural and imperfect while still being expertly crafted by experienced hands is meaningful to Jake.
Jake seated at our Planked Live Edge Bar Table with Steel T Base
Ryan Bergeron, Product Portfolio Manager
The Amish Napa Wine Serving Bar sits near the front of the store with its doors wide open.  From wine rack to stemware holder, to the optional built-in ice bin, this bar is Ryan's favorite Amish furniture, and we can see why.
"It has everything you need to entertain house guests with doors that open to reveal a fully functioning serving bar," he says. "When you're done, it can close up into a space saving cabinet."
Spending time with friends and family makes Ryan happiest and the charm and ease of the bar he chose presents Amish furniture that contributes to the fun.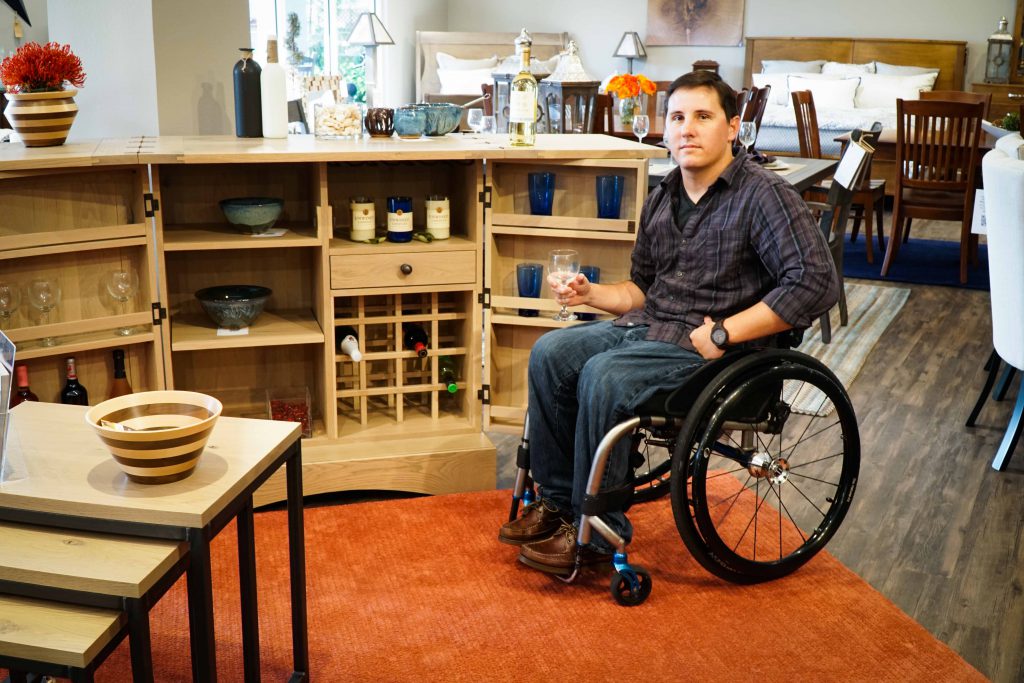 Ryan with our Amish Napa Wine Serving Bar
Jennifer Ferdico, Customer Service Specialist
Just to the right of a warm, wooden sign that reads "Selectables," a display that showcases dining table tops and leg options, sit the Amish Christy Dining Table and Amish Christy Fanback Dining Chairs.  This is a table that makes one pause as the warmth of its design welcomes you.
Jennifer takes one look at it and sees family.
"I love that it is made with elm wood, which is different," she says. "It's a large table and I can see my whole family sitting at it for dinners, sharing, and making memories together."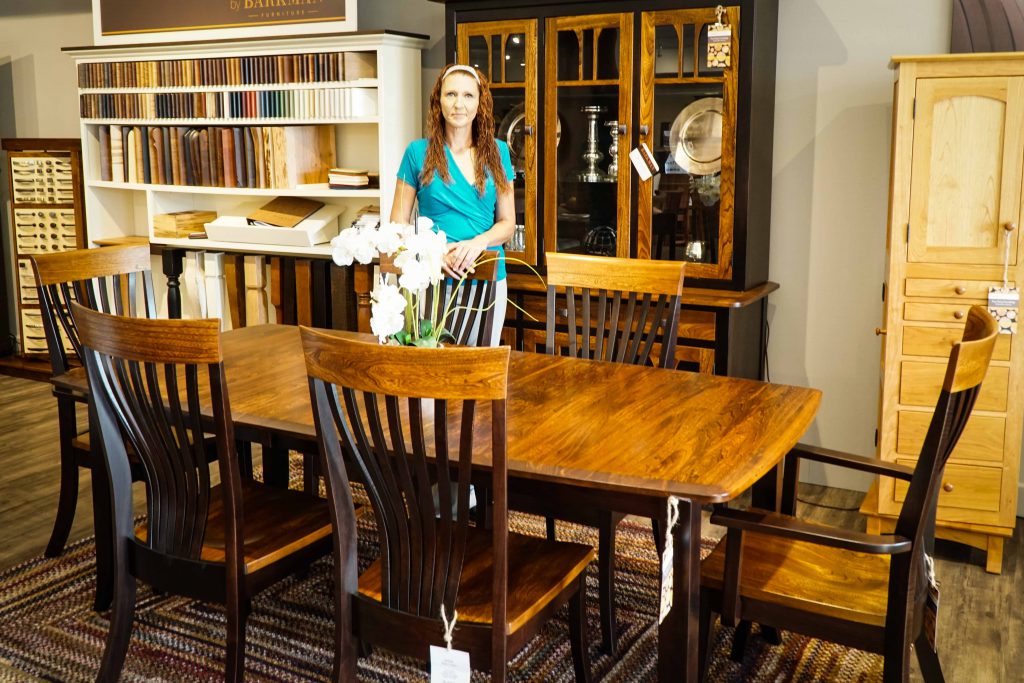 Jennifer standing at our Amish Christy Dining Table
Kari-Jo Koshes, Shipping & Logistics Coordinator
Behind the breakfast nook and before the wind chimes, Kari-Jo's favorite piece of Amish furniture is featured.
"I love everything nautical and I love to read," she says, explaining her connection to the Amish Lake Placid 72" Boat Bookcase.
There's nothing standard about this Amish bookcase. Made of brown maple wood, it's rich and ready to hold Kari-Jo's collection of books. It's also adventurous and fun, and that's what drew her to it.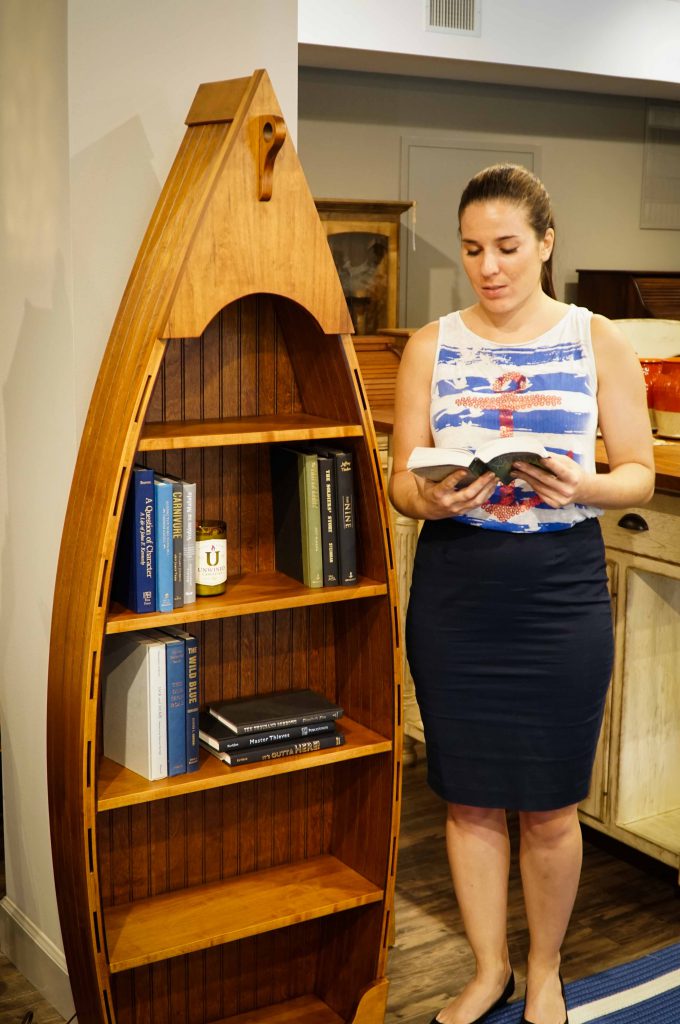 Kari-Jo with our Amish Lake Placid 72" Boat Bookcase
Linse Miller, Vice President
The beauty of design created by skilled hands brings Linse to reflect on her favorite choice in the store.
"I love walnut wood," Linse explains looking at the Amish Grand River Extension Dining Table.  "The beautiful grain and the gorgeous color of this table reminds me of my grandparents. This table paired with the Amish Parsons Straight Top Side Chair is a wonderful, contemporary look."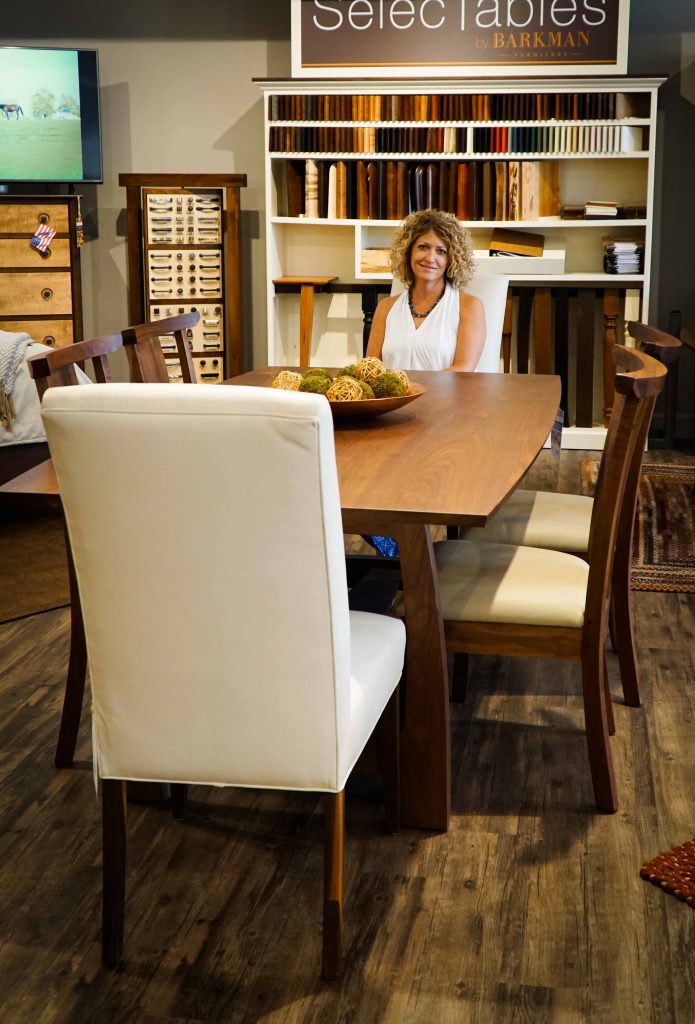 Linse seated at our Amish Grand River Extension Dining Table.
Julie Smith, Sales Operations/Visual Merchandiser
Near a coffee table with toy wooden trains on top and the old-fashioned solid wood rocking horses, sits Julie's pick.
"I love the old farmhouse look with the distressed finish," Julie smiles referring to the French Country Kitchen Island.  "This island sits higher than usual, it's homey and comfortable."
She can see herself seated with her coffee, surrounded by baked goods.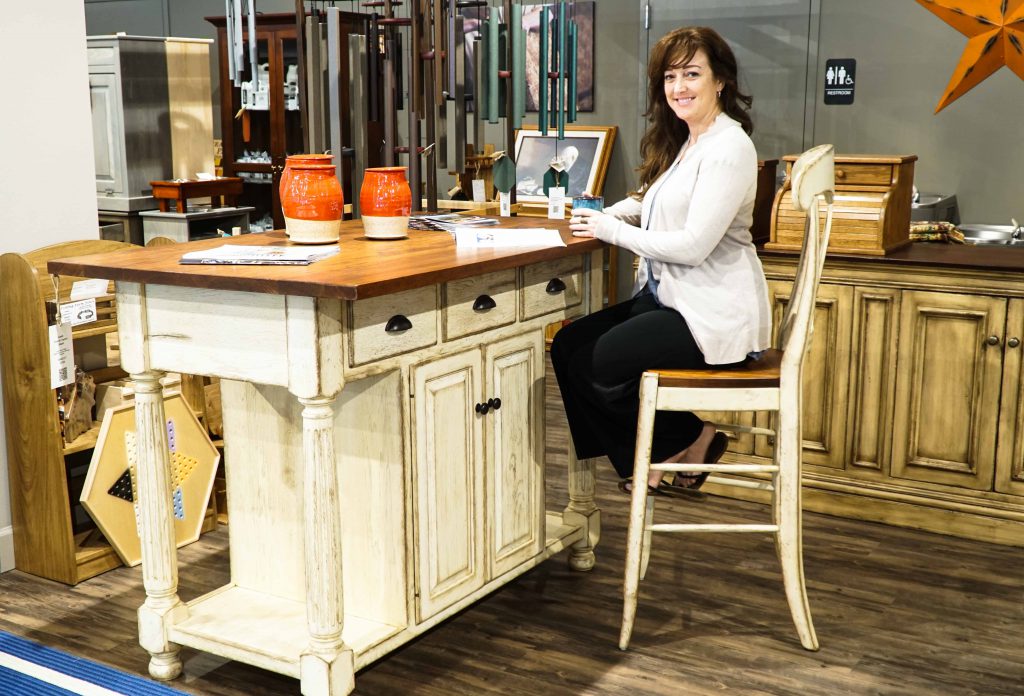 Julie with our French Country Kitchen Island
Mary Fehr, Product Portfolio Manager
"For me, it's about the story," Mary shares as she speaks of her selection, the Amish Reclaimed Barn Wood Dining Table.
"I love that the wood has 100 years of life under its belt.  As you look at the knot holes or saw marks, you can imagine it standing as part of a big barn where farmers worked to plow the fields," she says. "Think of how much the wood must have seen in over 100 years as the farm equipment changed with technology."
All that old history is combined with a new modern look in the timber ridge style with the legs coming through the table top. Each table is truly one-of-a-kind as the leg matches perfectly to the table top — it fits like a puzzle.
"I love the rustic chic look," Mary adds.  "It's a timeless classic."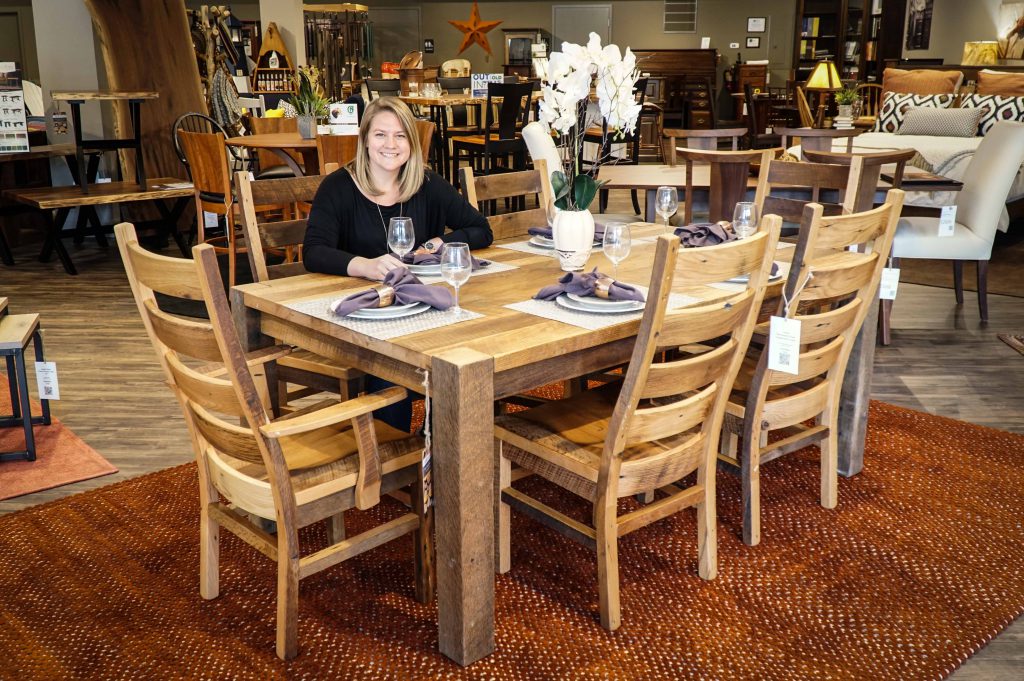 Mary seated at our Amish Reclaimed Barn Wood Dining Table
The furniture we select is a reflection of who we are. This sampling of favorites gives a small glimpse into the possibilities that fine Amish furniture has to offer.  Our team has so many favorites that a part two of this post will be published in a couple weeks. Come share your story with us and discover your favorite furniture.