Space Saving Corner Furniture
Corner furniture helps save space as it enhances a corner. It makes a great addition to homes with limited space. In addition to its space saving quality, corner furniture is there to help organize, add storage, brighten a dark spot and add beauty. If you've been grappling with a room layout or struggling with finding the right spot to add some storage, we suggest turning to your nearest corner and giving it a good look.
Benefits of Corner Furniture
Makes the room look larger.
Corner furniture creates the illusion of more space, freeing up more room to move about and makes the open space more comfortable.
Adds style to a corner space.
Corner furniture starts with a unique shape that is sure to draw interest. Corner pieces like hutches, desks and accent tables come in all kinds of styles.
Helps organize and reduce clutter.
Not only attractive to the eye, a big plus for corner furniture is the way you can tuck things away and add storage without sacrificing space. It's easy to cut down on clutter with a corner hutch or TV stand.
Can be moved to another corner.
If you like to change things up from time to time, you can pick another corner to move the piece to, provided the space to work with is relatively the same, the wall space is the same, and you aren't covering up vital outlets, vents or light switches.
Requires less wall decor.
The wall space the corner furniture covers means you have less wall space to worry about decorating. For some this is a plus; for others who like picking just the right wall art, it's a drawback. Corner furniture makes use of vertical wall space and is often taller than regular furniture, so less wall decor is needed.
Corner furniture is unique.
Available in a variety of styles with unique features, Amish-made corner furniture can bring a corner in a room to life. Often people look for ways to dress up a corner that's dark and dull and incorporating a unique corner piece is just the way to do it.
Measuring for Corner Furniture
You'll want to measure the dimensions of the space where you want to place your corner furniture. Some corners are odd and awkward. It's good that we know a thing or two about custom dimensions here at DutchCrafters!
Measure along the wall from the corner forward. It's important to measure the depth that's there and compare that measurement to the depth of the corner furniture you're considering.
The smaller the length of the wall, the smaller the inside depth of your corner furniture will need to be. This is important to keep in mind if you are selecting a corner piece for storage purposes.
Don't forget to check for light switches, vents, outlets and thermostats. You don't want your new corner furniture to cover them up.
Remember that the two walls that comprise the corner might be different lengths. This is important to note to be sure the corner piece will fit on both walls.
What is Wall Width?
Wall width, or corner width, is a measurement from the corner outward. It measures how far out the piece can extend and helps indicate how much room you have for it to fit.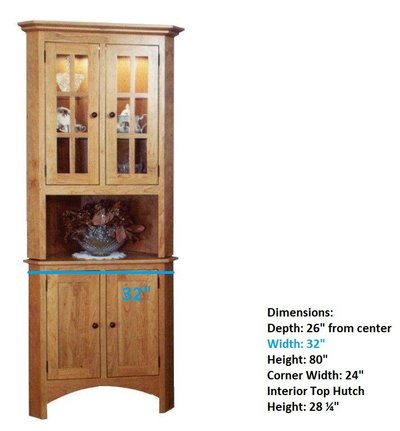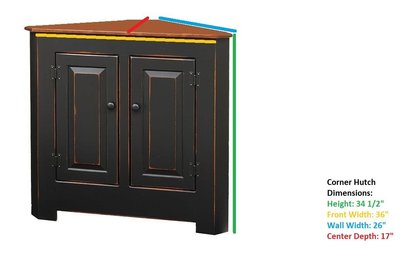 Corner Furniture Ideas
There's a lot you can do to add style, function and storage to a corner. Here are some great corner furniture ideas illustrated with Amish furniture.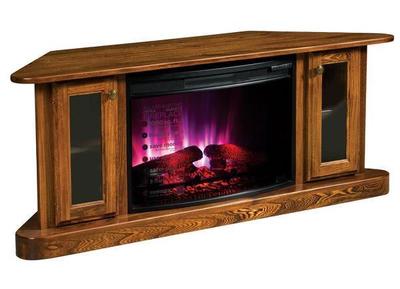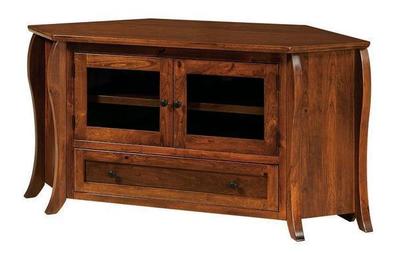 Custom Corner Furniture
We're able to take corner furniture a step further, by offering options to customize it. Choose wood type and finish to match existing furniture.
We're always open to talking about custom dimensions and designs. We're not afraid to create your custom corner piece.
It's a good idea to let your furniture specialist know if the corner you are working with is anything other than a standard 90 degree corner. While it's uncommon, it is possible and will impact how the furniture fits.
​While no one should ever "put Baby in a corner," corner furniture is made for them. Whether you're looking to add storage, save space or just create a unique piece, take a look at what corner furniture has to offer.