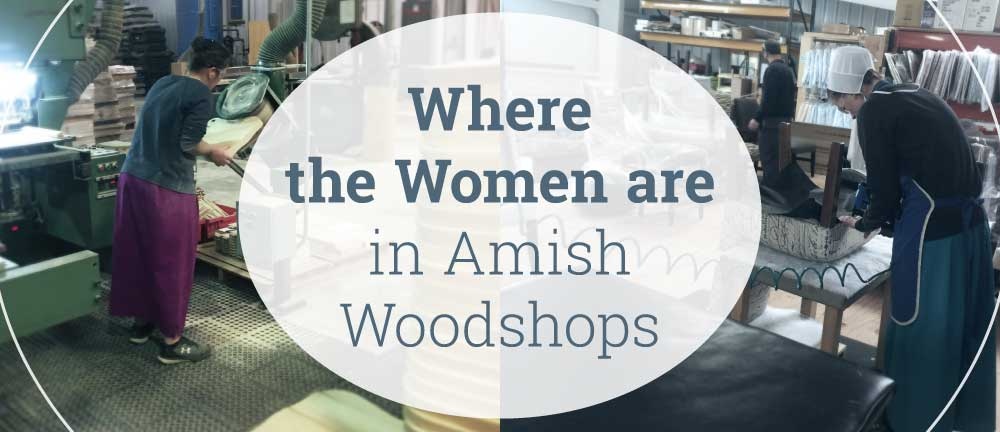 Where the Women are in Amish Woodshops
Amish women are wives, mothers, homemakers and active members of their churches. They contribute to running households and making decisions for the home and family. Many Amish women branch out and work outside the home, creating their own businesses. It's not unheard of for them to make and sell handcrafted items like quilts or to run restaurants, bakeries, or produce stands.
Amish girls usually work until they get married. Many work in factories or furniture shops and not only in secretarial roles. They can be found alongside the men working on similar tasks as well as greeting clients in the shop offices. This is right where our team found them in early January, when we toured several woodshops that build DutchCrafters solid wood furniture in and around Millersburg, Ohio.
Here's where the women are in Amish woodshops with a peek at some of their tasks.
The Prairie Collection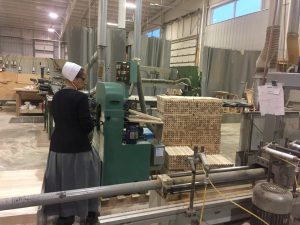 Feeding the wood into a machine that shapes chair legs. The wood starts out squared when it goes in, then the legs are removed and checked to see if further sanding is needed.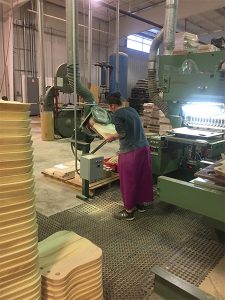 Working on shaping and sanding chair seats. The women are credited with their eye for detail, resulting in beautifully shaped edges.
The Mt. Eaton Collection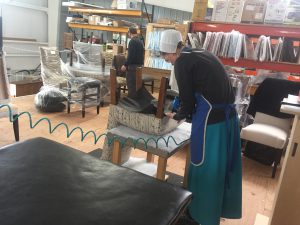 At the Mt. Eaton Collection, Amish women work on the custom upholstery for dining chairs. They wear the traditional long cotton dresses, bonnets, and sneakers.
The Berlin Gardens Collection
.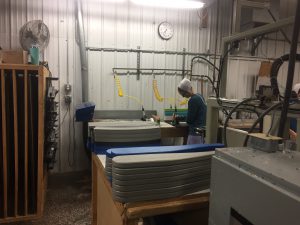 Woodworkers at Berlin Gardens craft poly outdoor furniture. Here, chair slats are sanded and smoothed after being cut.
Men and women have separate lunch rooms at the Berlin Gardens woodshop.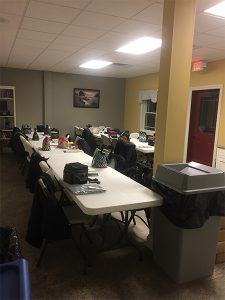 The women's lunch room.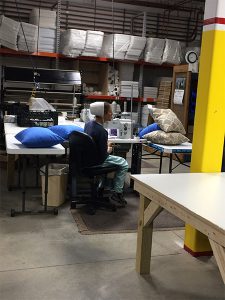 Sewing outdoor cushions at Berlin Gardens.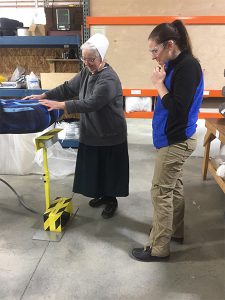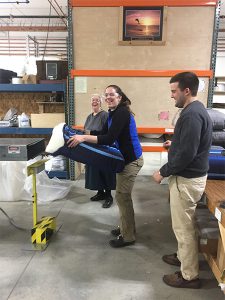 This is the machine that stuffs the cushion filling into the sewn fabric. The filling is shot out into the fabric covering and the women catch the cushions. Here DutchCrafters Customer Experience Team Assistant Manager Kari Jo is schooled on how to use it.
While there were more men than women in the woodshops, it's becoming more common for Amish women to work outside the home, even after starting their families.