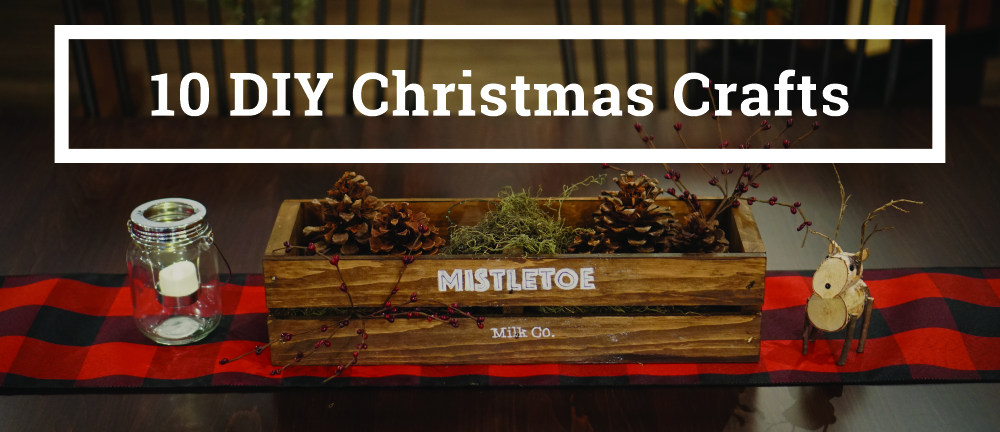 It's that time of year again:
"There'll be parties for hosting
Marshmallows for toasting
And caroling out in the snow…"
For me, the "Most Wonderful Time of the Year" also means that it's time to get crafty.
Last year I shared some easy holiday DIY decor ideas with you. This year, I'm sharing more involved (but super-fun and rewarding) projects that caught my attention while searching the Internet for ideas that could fit in with the theme I chose — rustic.
What I love most about these DIY crafts is that I was able to put my own spin on them.
Alright, get your glue gun ready…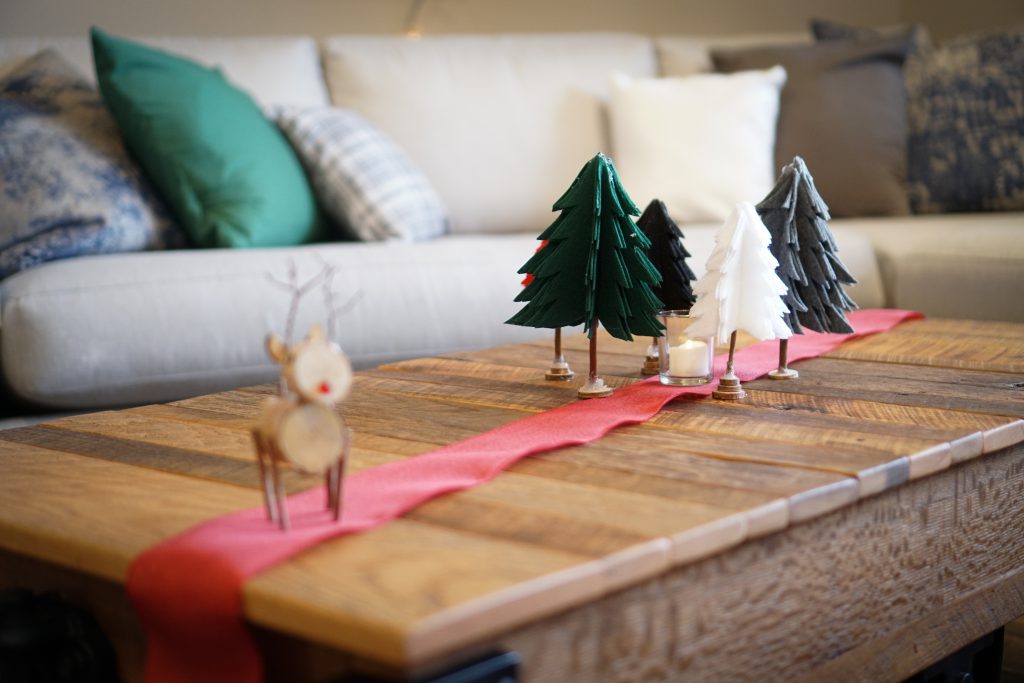 This DIY idea comes from Katie of the blog Little House of Four. According to Katie, catalogs and websites are a great source of ideas for her. She saw these felt trees on a popular retailer's site and was inspired to create them after a commenter said they would love a DIY tutorial.
Depending on how many trees you make, this can be a slightly time-consuming project because you will need to cut a good amount of felt to fill out the trees. Also, I made the mistake of purchasing stiff felt sheets. If I could do it over, I would buy a yard or two (depending on how many trees you plan to make) of soft, pliable felt.
It's still a fun project, and taking family with you to hunt for twigs and branches for the trunks and bases of the trees is a great way to get to spend some time together. Or, you can do what I did and purchase the twigs (which I also used in the next project).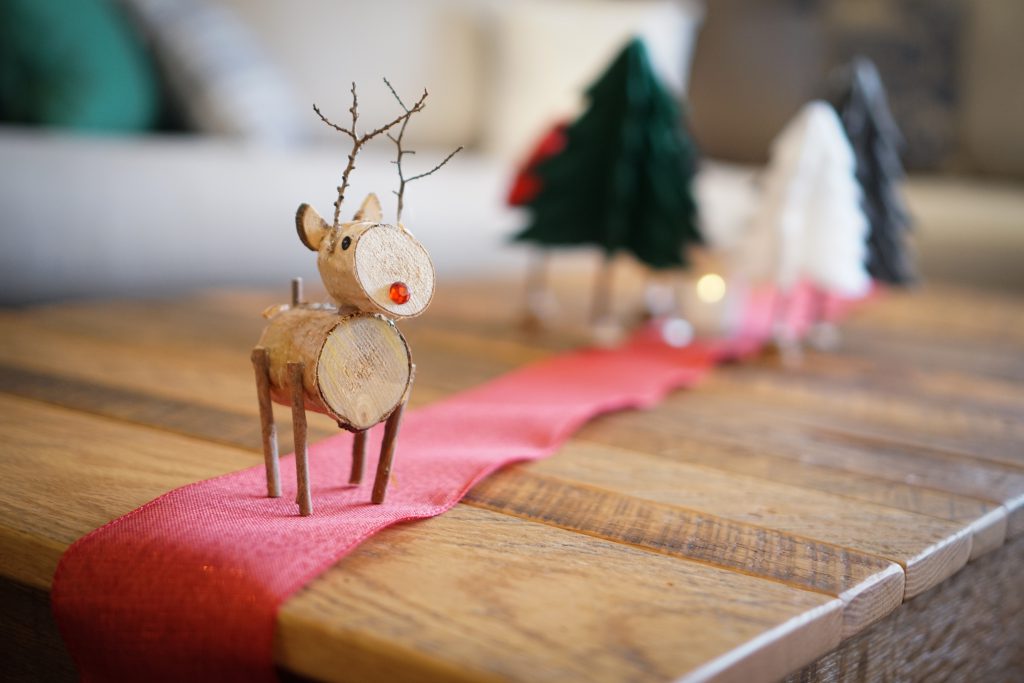 This adorable depiction of Rudolph came about thanks to Jonathan Fong, author and host of the web series "Style with a Smile" on eHow.
You will note that the tutorial calls for the use of a drill. After attempting to drill a couple of holes in the birch body and fearing for my fingers, I decided to hot glue the twig legs and antlers to the body. I also glued the head to the body rather than drilling holes for the neck. To save a little bit of money, I didn't purchase upholstery tacks for the eyes and nose. Instead, I used black sequins that I had on hand.
Following Jonathan's tutorial will create sturdier deer, but since I was making seven, my shortcuts saved me time.
If you don't want to cut thin pieces of birch to make the ears, I used the same log slices I purchased for the bases of the felt trees. Ears cut out from fabric or felt are another option.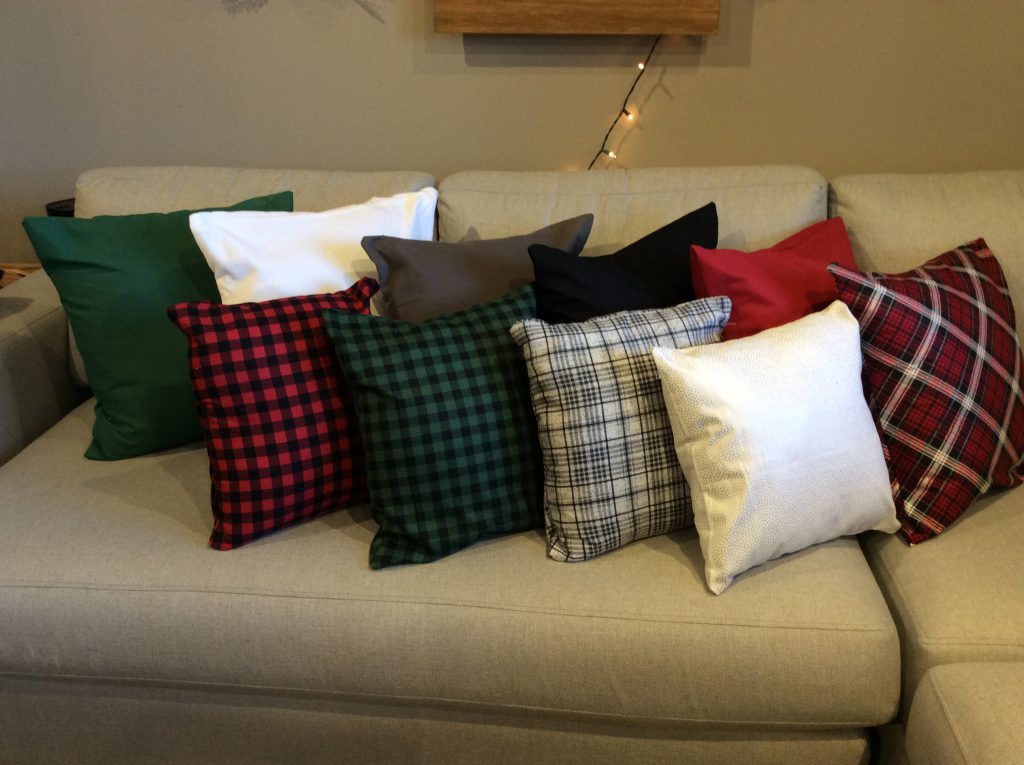 This envelope pillow cover tutorial by Corey of Hey There, Home is one of my go-to crafts. DIY pillow covers are a quick and easy way to change the look of a room. During the holidays, they are a way to add cheer.
When I chose the theme of rustic, I also decided the colors I wanted to decorate in — green, white, red, grey, and black — and selected the fabric for my pillow covers around those colors.

This year's wreaths were inspired by the DIY bottle brush Christmas wreath tutorial found on the blog Lolly Jane. The base of the wreaths created by the blog's authors' twins Kelli and Kristi are macrame hoops in different sizes. I didn't follow the tutorial exactly for the larger wreaths (left photo), and didn't add as much decor to the six smaller wreaths I made and hung on the back of Windsor chairs as Kelli and Kristi did to their super-cute wreaths.
If you're having a holiday gathering and plan to have assigned seating or want to have a keepsake for guests to take home, mini-wreaths with added accessories that showcase guests' personalities are a great option.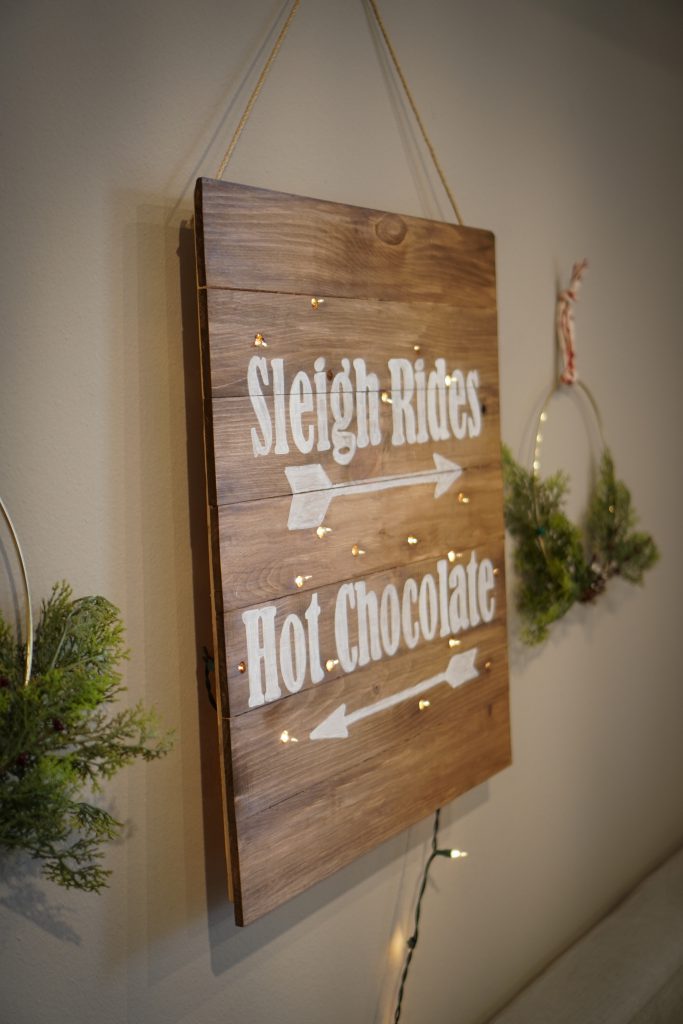 This sign was inspired by a DIY tutorial created by Mauri of The American Patriette. It's a fairly quick and easy project that can be customized in a few different ways including word choice, colors used, no lights, etc.

6. Crate Centerpiece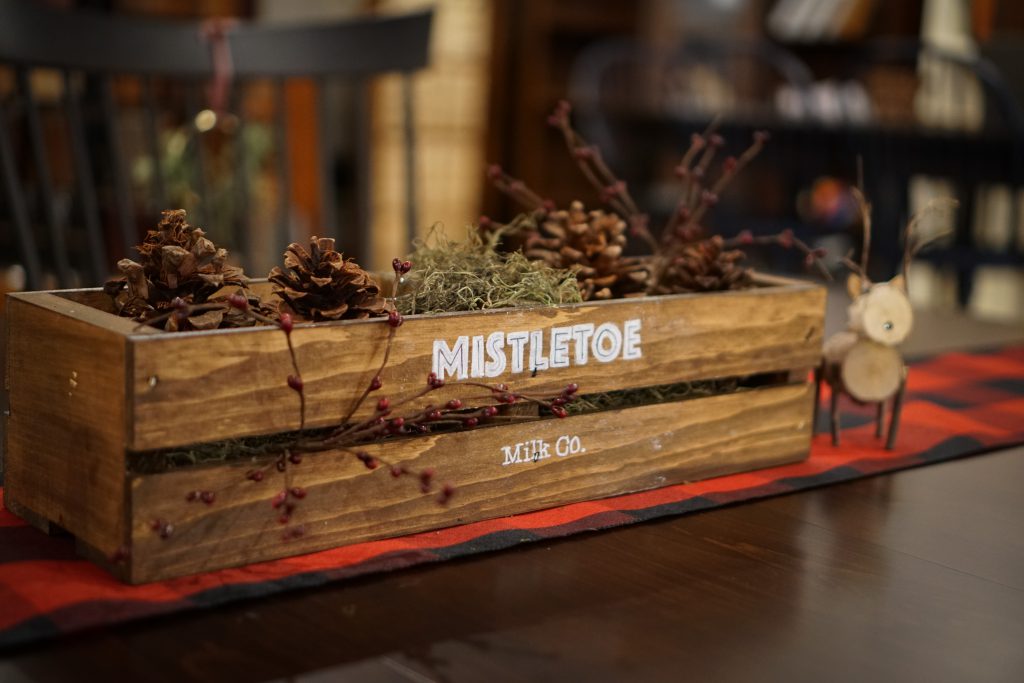 The DIY rustic sign tutorial from The American Patriette inspired this "Mistletoe Milk Co." crate centerpiece. I purchased the crate at my local craft store, stained it and added the wording by following the sign tutorial. I filled it with fake cranberry strands, faux moss, and cinnamon scented pinecones.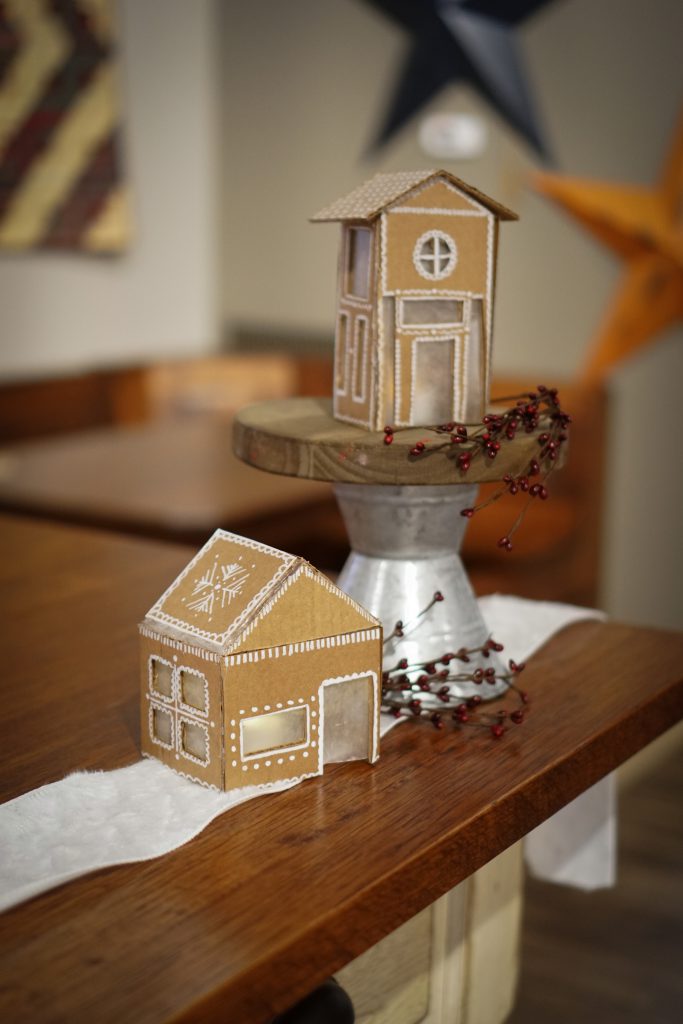 This project was dreamed up by Cassie of Little Red Window. Even though cutting out the gingerbread houses was daunting at times, I really enjoyed creating and decorating them. This is a fun craft to do with kids. They can be involved with the house design process, and after you cut it out of the cardboard for them, they can decorate it.
8. Hoop Art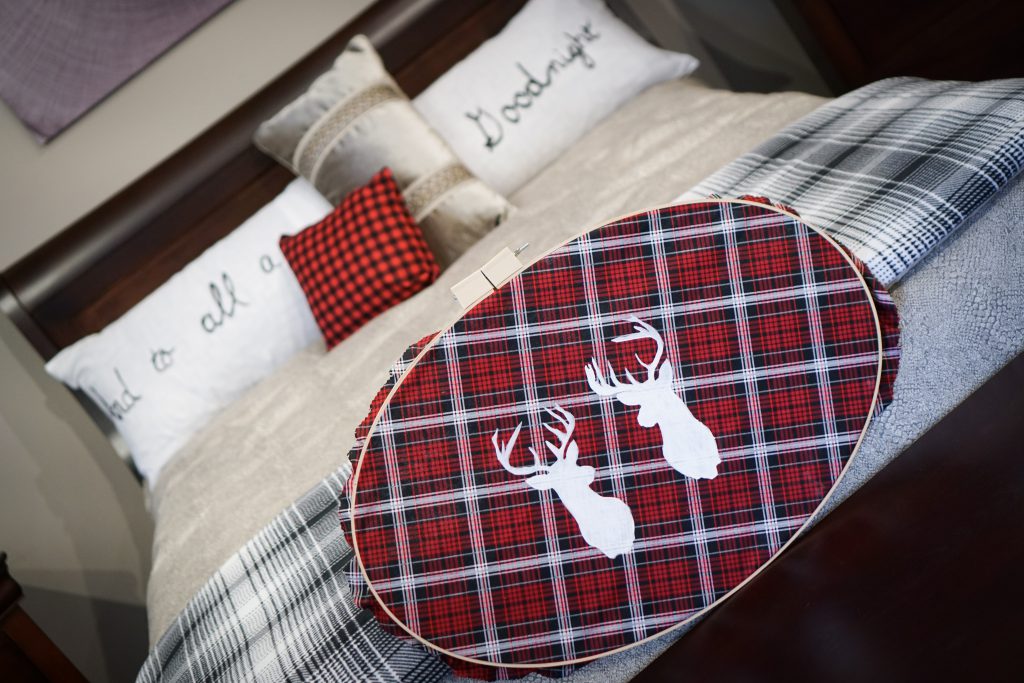 This craft was inspired by embroidery hoop ornaments created by Christine of The DIY Dreamer. I used a large hoop, about a yard of fabric, a stencil sheet, and fabric paint.
First, I searched for a deer head silhouette online, printed it out, traced it onto the stencil sheet, and cut it out.
Second, I placed the fabric in the hoop and cut around the excess fabric using pinking shears. Then I marked the center of the hoop to get an idea of where to place my stencil.
Finally, I painted the design on the fabric.
This is another project that can be customized in a variety of ways, and can be used year-round by changing out the fabric and design monthly or seasonally.
9. Custom Pillowcases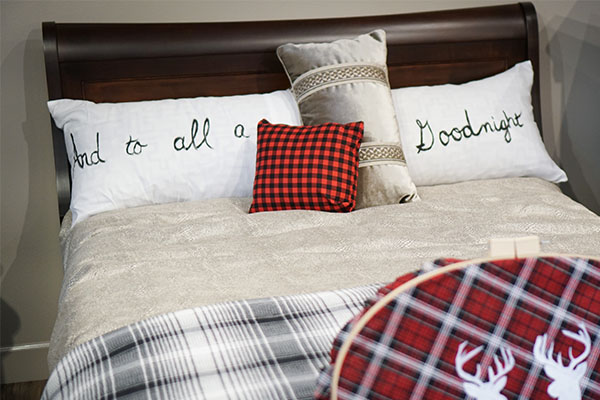 Although I wish I had planned out these pillowcases a little better, they are a cute way to add decor to a bedroom. Orignally, I purchased letter stencils to paint the words onto the cases. However, I didn't measure the pillowcases or take into consideration the size of the stencils before purchasing them. I ended up having to freehand "And to all a goodnight."
If you decide to take on this project, know the length of your phrase and size of your stencils. You could also print out your words and cut them out of stencil sheets, cut them out of fabric and sew (or glue) them on, embroider them, or use iron-on letters.
10. Outdoor Sign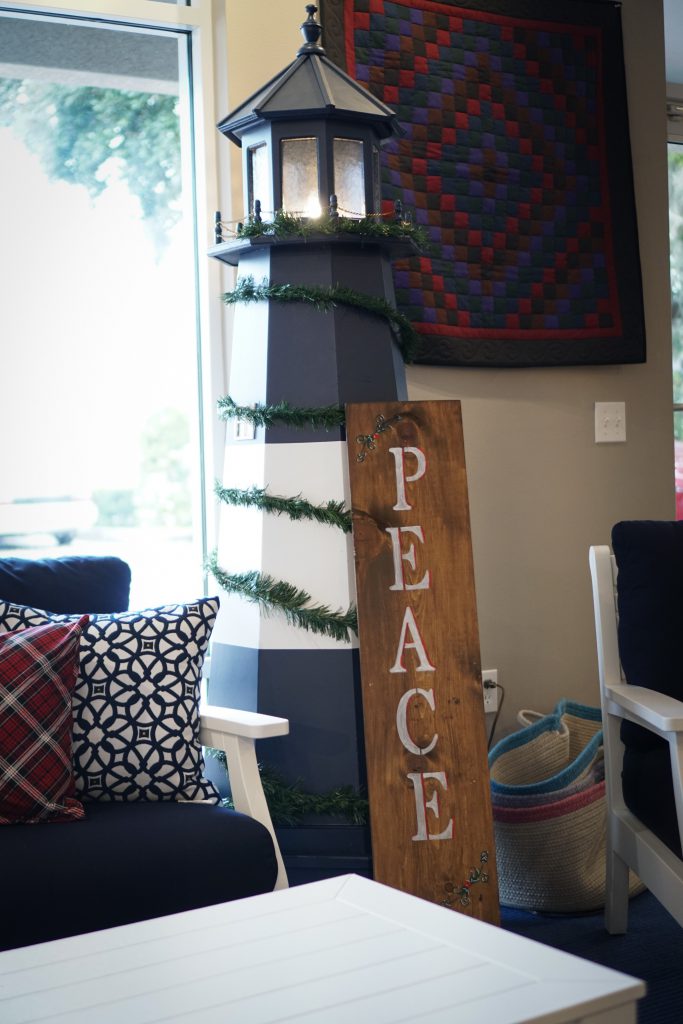 While searching for ideas, I kept seeing wooden signs with holiday sayings, and thought one would be a nice touch. I purchased the board at my local hardware store for about $8, stained it, then used a stencil and paint marker to add the letters. Rather than purchasing stencils, you can follow the steps The American Patriette uses in her rustic light-up sign tutorial.
Putting it All Together
Here are photos of how all these crafts came together in our Sarasota showroom: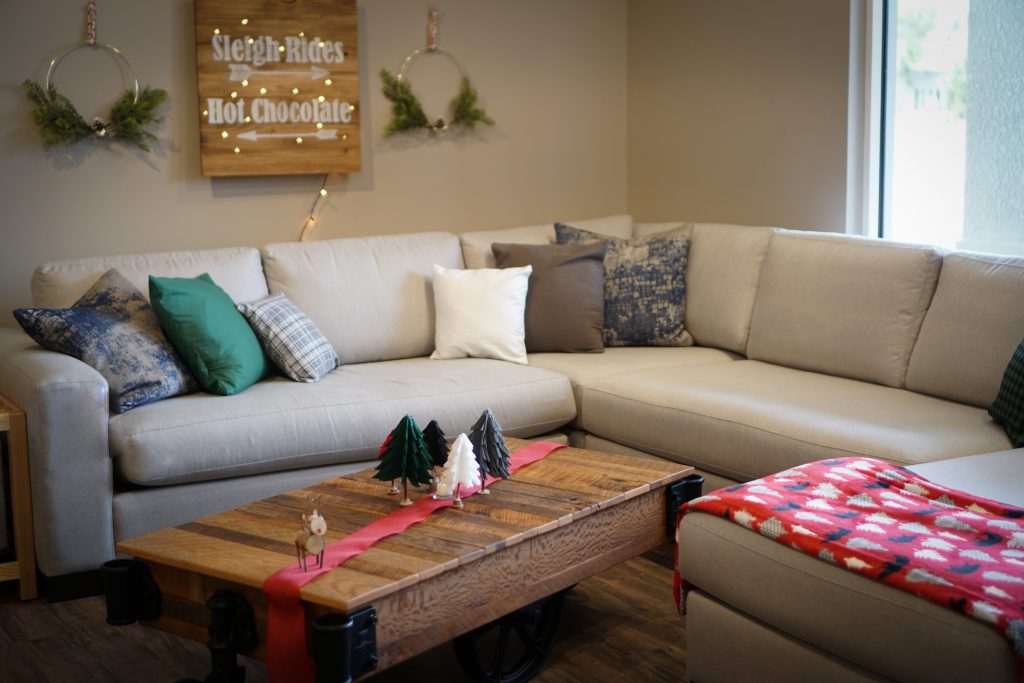 Our Connor Sectional becomes a festive hub with crafts that include throw pillows with covers in holiday colors, wreaths, a rustic light-up sign, felt tress, and Rudolph the Red-Nosed Reindeer. A fleece blanket and wide ribbon used as a runner on our Urban Factory Barn Cart Coffee Table complete the space.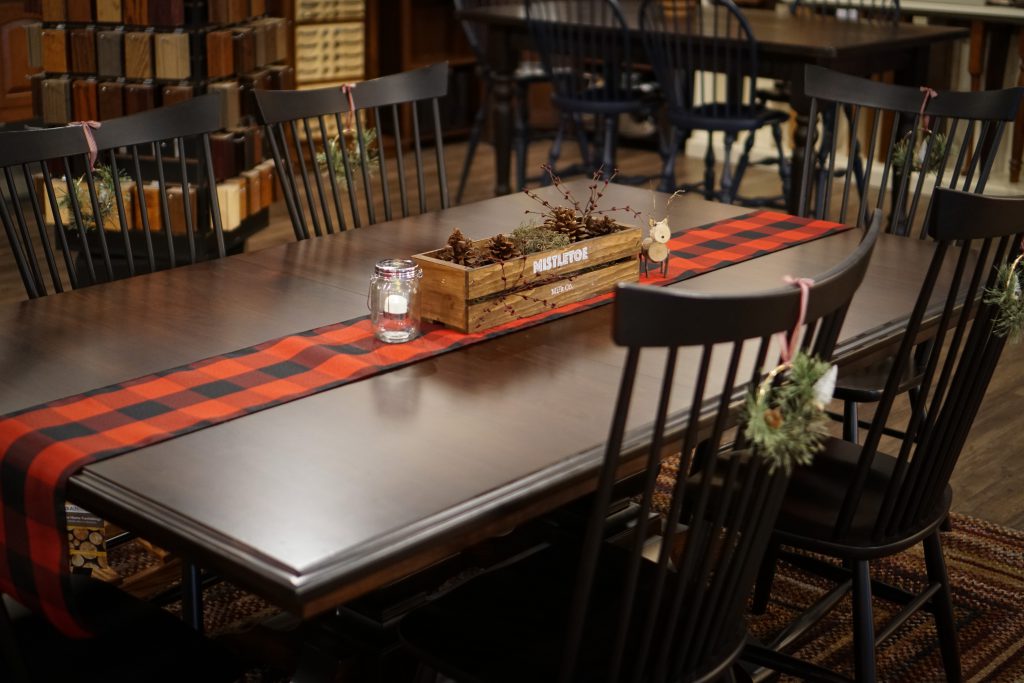 Our Kingston Pedestal Table and set of Buckeye Straight Back Windsor Dining Chairs get the holiday treatment with a birch wood reindeer, crate centerpiece, and wreaths hanging on the back of each chair. An extra-wide ribbon acts as a runner.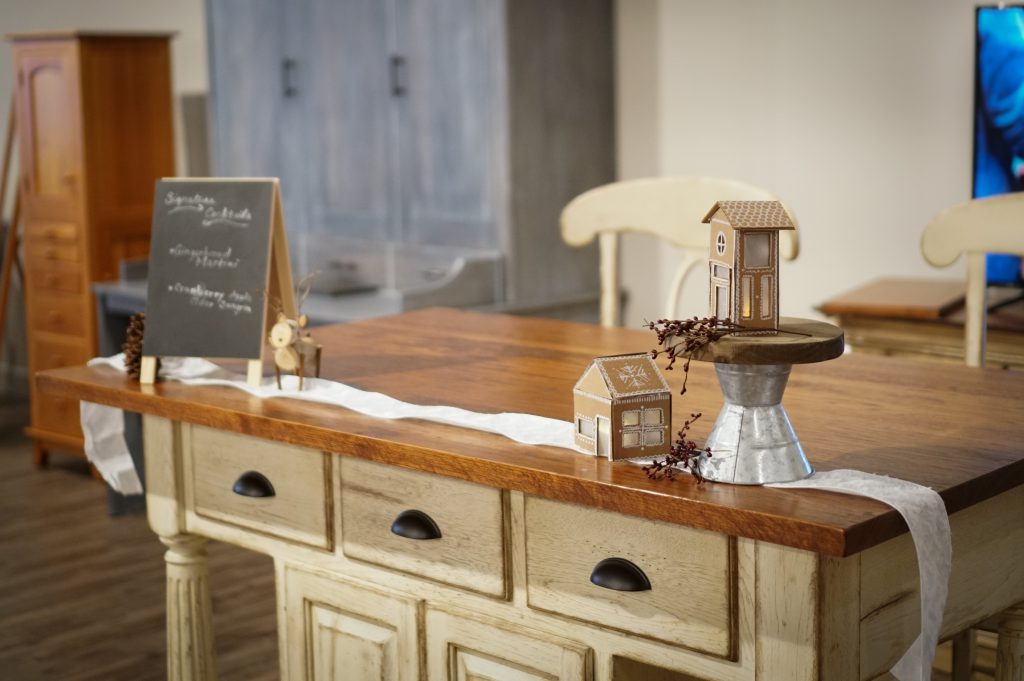 Our French Country Kitchen Island serves as a home bar with a chalkboard noting the evening's signature cocktails: a gingerbread martini and cranberry apple cider sangria. A piece of wide ribbon is used as a runner and a rustic cake stand gets decorated with sprigs of cranberry and cardboard gingerbread houses. A reindeer and some pinecones complete the look.


The Berlin Gardens Classic 6-Piece Poly Terrace Set is ready for carolers with holiday-colored pillow covers, a wood sign, a garland draped lighthouse, and lanterns decorated for the holidays with holly and bows.
Merry crafting, everyone!