10 Uses for Wagons and Wheelbarrows
Wooden wagons and wheelbarrows may seem like a thing of the past; however not only are they still useful for gardening, they also make great wedding, party and home accents. Read on for new and trending ideas for using wagons and wheelbarrows on the big day and beyond.
The Big Day
1. Flower Girl Wagon
A wooden goat wagon makes for a memorable flower girl entrance! You have the perfect flower girl in mind, but she's only been walking a couple months, and you're not quite sure she'll make it all the way to the alter. Transform a wooden wagon into a carriage by adding ribbon and flowers that match your wedding colors. The ring-bearer will be able to pull the flower girl while she tosses flowers onto the aisle.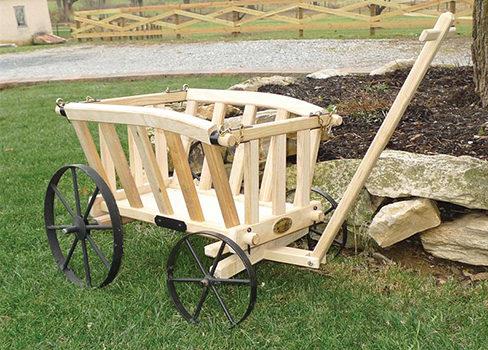 2. Wedding Favor Stand
Add delight to your big day by placing your favors in one of our old fashioned wooden wheelbarrows. Place your wedding favors on a wagon or inside a wheelbarrow to create a beautiful, innovative display that will wow your guests.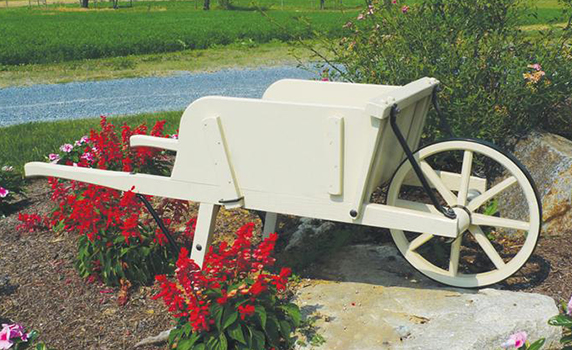 3. Portable Bar
Create the perfect rustic bar with one of our buckboard wagons. Our unique, movable wagons can become an ideal spot for your wedding refreshments! Customize one with a metal liner to transform it into a portable bar – a practical and inviting addition for your wedding guests (and their tired feet)!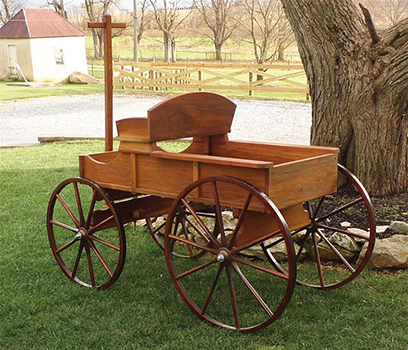 4. Camera Station
See your wedding through the eyes of your friends and family by having them take pictures throughout the event with disposable or Polaroid cameras. Make sure all of the cameras are returned by turning one of our Amish wagons, available in many sizes and dimensions, into a camera housing station.
5. Planters for Floral Arrangements
A cart full of flowers in a wooden goat wagon is sure to bring beauty and romance to your special day! What better way to display your beautiful floral arrangements than in a wagon or old-fashioned wheelbarrow? After the wedding convert it into a garden planter, making it the perfect home for flowers and plants.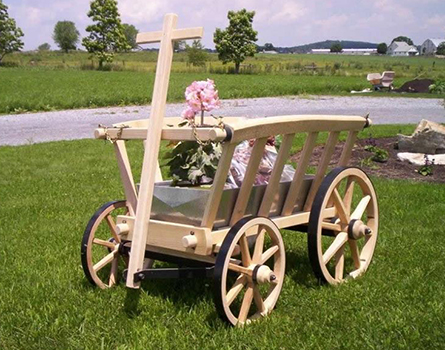 After the Big Day
6. Cooler
Add extra charm to your graduation and summer birthday parties by converting a wheelbarrow into a cooler. All of our handcrafted Amish wheelbarrows come with the option to add a metal liner. Add ice and beverages, and you're ready to celebrate!
7. Gift Table
Wow your party guests by transforming a wooden wheelbarrow into a gift table! The sky's the limit when it comes to customizing our Amish wheelbarrows. Spice up your parties by replacing your traditional gift table with a wheelbarrow. This fun, unique spot for your party gifts is sure to get your guests talking.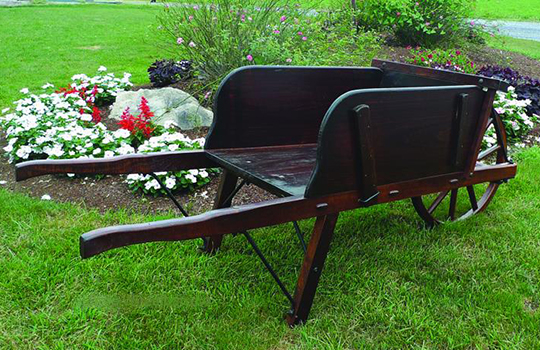 8. Photo Shoot Prop
Gather the family around a old-fashioned buckboard wagon or wheelbarrow to snap perfect pictures! The great outdoors makes a stunning backdrop for photos; and wagons and wheelbarrows are the perfect props to accent Mother Nature's natural, rustic beauty.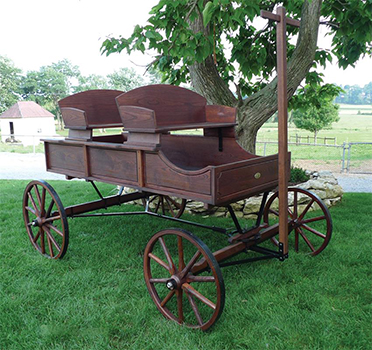 9. Blanket Basket
Bring country charm to your living room with our wooden goat cart wagons! Who says that wagons belong outdoors? Place one next to your favorite chair or couch to create a basket/holder for your blankets and quilts.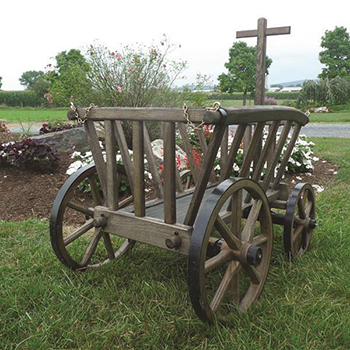 10. Coffee Table
Don't settle for a boring coffee table – convert a wagon into a coffee table. If you don't have many throws or quilts but long for that "outdoorsy" look in your living room, add either a mirror or glass top to one of our wagons. This unique piece will be sure to get a lot of attention.