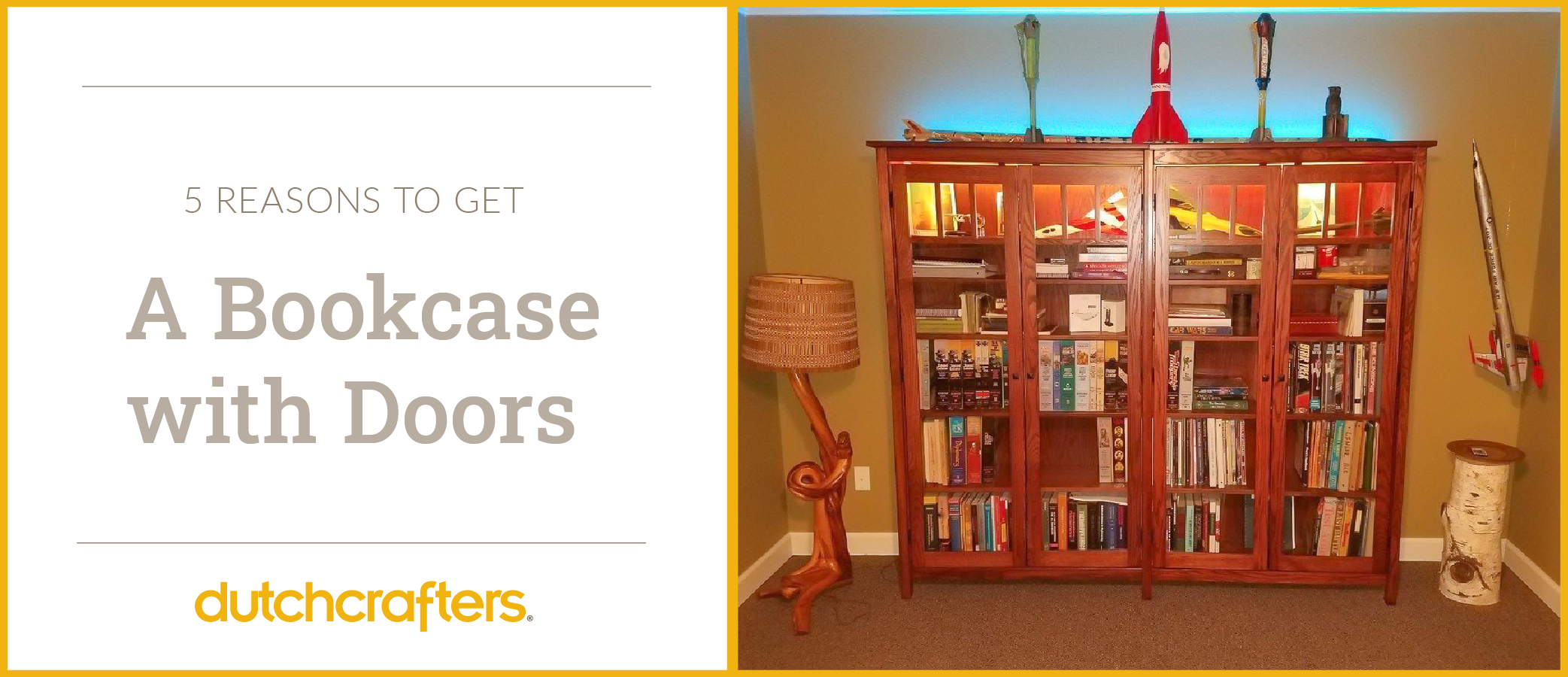 5 Reasons to Get a Bookcase with Doors
An attractive trend for furniture in recent years has been pieces that are multifunctional. The bookcase is one of these. A versatile piece, the bookcase can be used in almost any room in the house. In addition, you have the option to store and organize some books, or to display and store a variety of other items, like photos, trophies or collectibles.
Bookcases come in a variety of styles, shapes and sizes. One option is to add doors. How much do they help? What do they add to the bookcase?
Here are five reasons to get a bookcase with doors.
They protect items from dust and damage.
Perhaps the number one reason to add doors to a bookcase is the added protection they provide. For precious old books that you want to keep and pass on, an added layer of protection is a good idea. Curious kids and lively animals can cause books and other items to come off the shelves, and doors help prevent damage from occurring. Some bookcases with doors even offer a lock option to secure contents.
They create a spot to conceal clutter.
Like the tambour door of a roll top desk or the drawers in a storage bed, doors on a bookcase offer an opportunity to conceal clutter, either continuously or in a hurry. Bookcases fit in well in most rooms. Having doors lets you tuck items inside for a nice, neat appearance.
They add to the style of the room.
Bookcases are available in a variety of styles, and adding doors enhances the look of your bookcase. Things like hardware, raised panels and other details are brought into the room scheme with the addition of bookcase doors.
They offer a way to showcase other items.
While open shelves offer room to display items, adding glass doors to your bookcase turns it into a combination of bookcase and curio…perhaps a burio if you will! This allows you to display items that you want protected from exposure. Some bookcases with glass doors have lights in them too and add a nice feature to show off your lovely collection of books and other items. They sit on the shelves, easy for you to show off while the doors protect them from dust and handling.
They help cut down on cleaning time.
When books and other items are displayed on open shelves, you can count on adding to your cleaning time. Items on shelves are always in need of dusting, and adding doors helps keep added dust out, cutting your cleaning time down.
Whether it's as a catch all for mail on top, a place to store and showcase books, or shelves to display treasured items, bookcases are multifunctional pieces of furniture. Add some doors and their multifunction power increases even more.