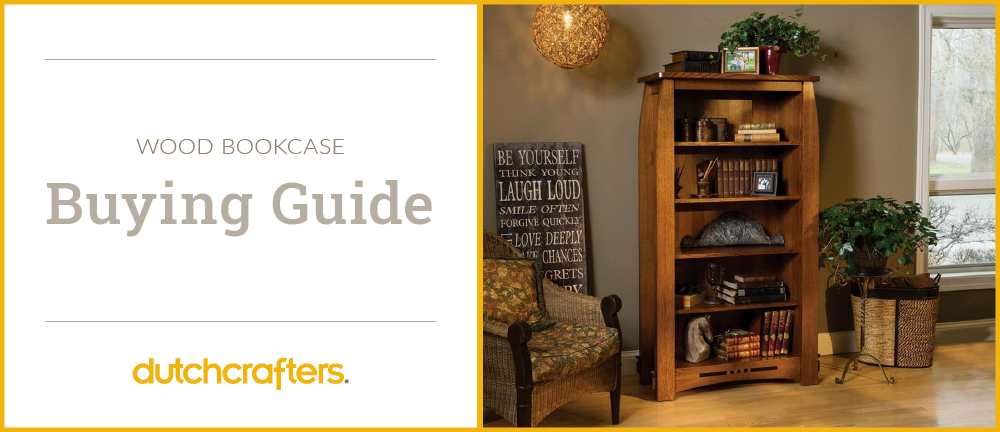 Wood Bookcase Buying Guide
Isn't it great that a beautiful wood bookcase doesn't have to be limited to an office? With so many designs and features available, the bookcase can find its place in a number of areas throughout the house. To help you find what will work best for you, we've put together a wood bookcase buying guide.
Start with measurements.
As with any furniture purchase, you'll want to start by measuring the space you have to work with. You don't want a bookcase that's so large it's overpowering, or one that's too small to hold what you'd like. Measure the width, depth and height of the space where you intend to put your bookcase.
Another measurement you'll want on hand is the width and depth of the shelves in order to determine if they will hold what you have in mind for them. Most shelves are around 12 inches deep, others a bit more or less.
Consider what you want to display.
What will your wood bookcase hold? If you have an extensive library you need to organize or a mixture of books and items you wish to display, you'll want to focus on both function and style. Things like adjustable shelves offer flexibility and can accommodate oversized books as well as a sizable vase. Wood bookcases with their lovely wood grain patterns and the different styles they're available in, can also contribute if you're just looking to showcase some family photos and a few books. Shorter bookcases also offer usable surface space on top for items you wish to display.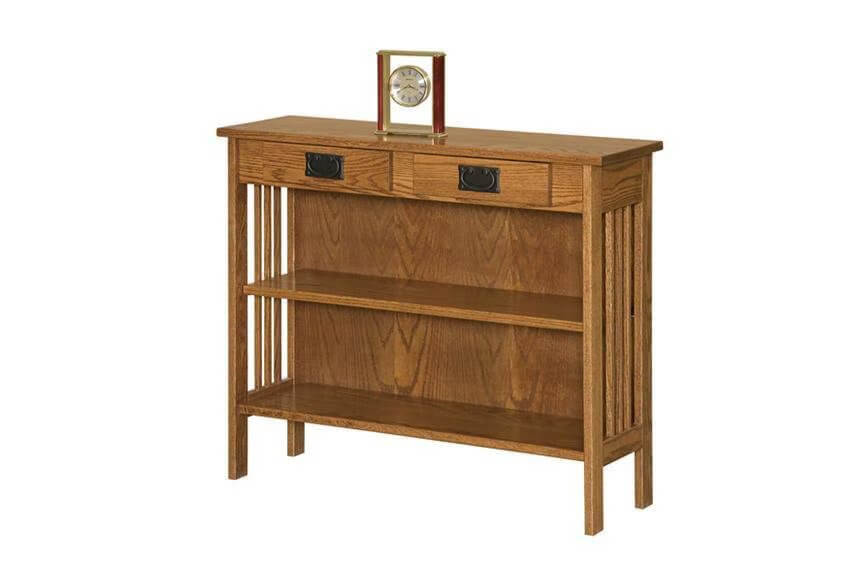 Decide on design.
Wood bookcases are available in a wide variety of designs, and they can add to the room's aesthetic. From simple to fancy, there's a bookcase to fit the area you have in mind, whether it be a home office, a quiet bedroom corner, a kid's room or the living room.
Bookcases also come in a wide variety of heights and widths. It's best to choose one to fit your available space, perform the functions you're looking for and provide any storage you need.
Choose style, function, or a combination of both.
A solid wood bookcase is one you'll have for a long time. Consider if you want a bookcase more for how its style adds to the room or more for the function it provides.
If you're accommodating odd-sized items, you'll want to consider a bookcase with adjustable shelves. Adjustable shelves create a more versatile bookcase. Do you like to reorganize the room from time to time? Perhaps you'll want castors on the bottom for easier movement of your bookcase.
Do you have a lot of books? You'll want to consider the weight the shelves will need to accommodate, and this will likely require a high-functioning bookcase made with sturdy material.
If your bookcase is a piece that helps balance the room and will only be used to display some décor items, you can look to rely more on the style and look rather than the function.
Wood vs. other materials.
Being a company that builds solid wood furniture, we're quick to point out the advantages a solid wood bookcase has over the others. It will last longer, it's environmentally friendly, the natural wood is beautiful, it's easy to maintain and it's customizable. Wood bookcases are available in a variety of styles too. A solid wood bookcase can handle the weight of heavier objects that are stored or displayed on its shelves, as it's highly durable. Things like particle board may cost less, but in the long term, they're not as sturdy as wood and you'll have to be careful of how much weight they can hold. Synthetic woods are only good for the short term and will wear easily. Metal shelves also offer sturdy support and easily add to a contemporary look. If you use glass shelves in your bookcase, be careful with the weight of items so the shelves don't break.
Open vs. closed shelves.
Closed shelves seal everything up and are more aesthetically pleasing to some. Open shelves present a higher risk of something on the shelf falling out. Both open and closed shelves (particularly in wood bookcases) are equally stable. Open shelves allow you to see items and select books and items easily from the shelf. Open shelves allow dust to accumulate, however, increasing the need to dust items on the shelves as well as the shelves themselves. Some bookcases come with a combination of open and closed shelves if you'd like a little of both.
Bookcases with doors help protect items from dust as well as curious children. Added drawers provide added function and convenience for storing and organizing small items.
Custom Wood Bookcases
Part of the fun of investing in a wood bookcase, particularly ones made in Amish country, is the ability to customize. Amish made wood bookcases are built in choice of wood and finished in choice of stain. They can be painted too, depending on the wood type chosen. They can also be distressed to create a rustic, farmhouse look. They're available in a variety of heights and widths, many with adjustable shelves. Many offer the option to add doors. They come in all kinds of styles, and they're better for the environment than those made with plastic or lesser materials that will end up in a landfill in a few years.
Consider Budget
The material you select will depend on your budget. Cost will also depend on the size of bookcase you're looking for. While wood bookcases will cost more, they will last longer and won't end up in a landfill like those made of lesser materials often do.
Types of Bookcases
There are many different types of bookcases, and their features and functions can help you decide which best fits your needs.
Vertical Bookcases
Vertical bookcases stack the shelves and are good for small rooms. They make use of vertical space without taking up too much floor area. They are often freestanding and placed against a wall.
Horizontal Bookcases
Horizontal bookcases work well in larger rooms, taking up more floor space. They might have fewer shelves, but they're longer and can provide plenty of room. They are often freestanding and placed against a wall.
Corner Bookcases
Corner bookcases are triangular shaped or a half circle shape and fit snugly in a corner. They are ideal for small spaces, and some designs have additional drawers.
Geometric
These bookcases come in fun shapes. They easily add to décor and often complement more modern style rooms.
Barrister
A barrister bookcase (so named as they were originally designed to hold law books for barristers) offer a more formal style bookcase. Their unique style presents as more of a cabinet like case. Here you'll find some glass utilized in some models on the doors. Barrister bookcases were built to protect what's inside. Each shelf has a unique door that opens out and upward. They are good for protecting books from dust and debris.
Bookcase Styles
Traditional
Contemporary
Mid-Century Modern
Rustic
Farmhouse
Mission
Bookcases are pieces of furniture that often stay in the home for many years. And wood bookcases will certainly be able to stand the test of time. They're a versatile piece of furniture and provide a range of functions. Whatever style bookcase you choose, the ultimate goal is to find one that will hold the items you wish while complementing your home at the same time. Solid wood bookcases are at the top for appearance, sturdiness and strength.