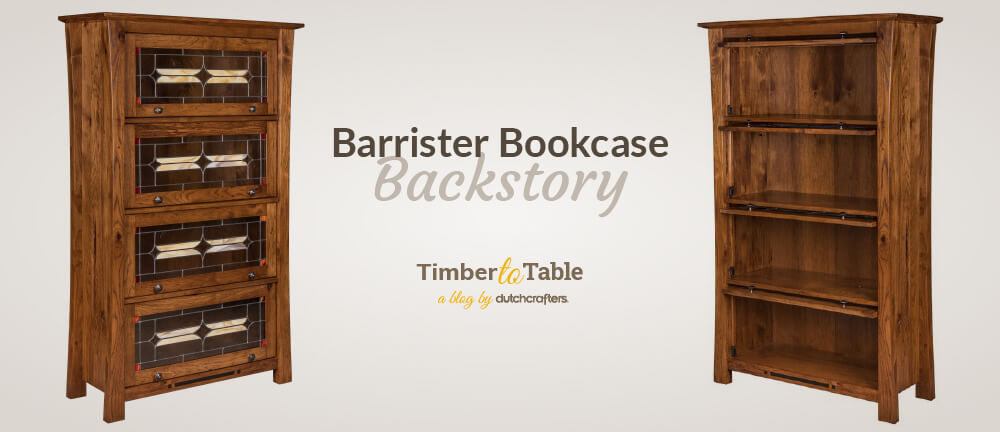 Barrister Bookcase Backstory
The barrister bookcase was born out of necessity. Barristers, or lawyers that specialize in case law and represent clients in court, found themselves in need of a piece of furniture that could not only store volumes of reference books but also could be transported safely and easily as they traveled from court to court. Judges would be required to travel to different courts, and the barristers had to follow them.
Enter the barrister bookcase that provided a strong, portable option for storing and transporting a lawyer's reference materials. Barrister bookcases became popular during the mid to late 19th century.
What is a barrister bookcase?
A barrister bookcase is a solid backed bookcase with self contained shelving units that can be stacked one on top of another inside a free standing bookcase. Each shelf features a door mechanism that opens outward, then slides up and over the top of the shelf, similar to a rolltop desk's tambour top that slides open. Each shelf has a glass door that hinges along the top of the shelf. Modern styles can have glass doors or solid ones. Early barrister bookcases contained shelves that separated allowing them to be carried without unpacking the entire shelf. The contents were kept organized and protected inside. Some models even had handles on the ends of the shelves to make them easier to carry.
Barrister bookcases needed to hold lots of heavy books and protect them in the process. In the meantime, the design of a barrister bookcase had to align with the sophistication and elegance of a law office.
The attractive, elegant and sturdy design of the barrister bookcase became popular not just in law offices, but among the wealthy, who used them to showcase their books. Their popularity spread among schools, libraries and colleges, since the design was function forward and made it possible to showcase books and keep them protected from moisture, dirt and dust, and direct sunlight.
Names Associated with the Barrister Bookcase
Globe Wernicke
Globe-Wernicke patented what they called "elastic bookcases," which were modular or barrister bookcases. They were well-made stacking bookshelves, often built in oak, walnut and mahogany wood. They were called "elastic" because the shelf units could fit together with the same size units or with units of varying depths and heights. Globe-Wernicke was an American furniture company that formed when the Globe Files Company (est. in 1882) bought the Wernicke Company that was founded in 1893 by Otto Wernicke.
Gunn Furniture Company
Founded by William S. Gunn in 1893, this company was popular in the 1920s for producing sectional bookcases with the modular barrister design.
The option to have shelf units of varying depths wasn't lost on Thomas Jefferson. In 1814, when books from his personal library were used to found the Library of Congress, special shelves were designed to transport the books from his home. Book boxes were used to move them. Book boxes had wood backs and shelves, but no fronts and they could be stacked on top of each other. Each shelf had a different depth somewhat mirroring the elastic bookcase barrister design.
Ways to Customize an Amish Made Barrister Bookcase
Amish made barrister bookcases are solid wood with the distinguished look that works for a law office, business or home office. What's nice with Amish made barrister bookcases is the ways you can customize them. You can select wood type, size, stain color and hardware to create a custom look.
Ways to Use Barrister Bookcases Today
In addition to books, barrister bookcases are being used in new ways to store, protect and display a variety of items.
The shelves are ideal for storing records, CDs, videos, DVDs, and photo albums.
Storage for china, crystal and miscellaneous items.
The barrister bookcase offers a new way to display prized dishes and important keepsakes.
Barrister bookcases come with a bonus, combining a cabinet feature within a bookcase. The designs are stunning while they function to protect contents. Barrister bookcases are still popular today for their classic style and unique design that can be simple or dressy.