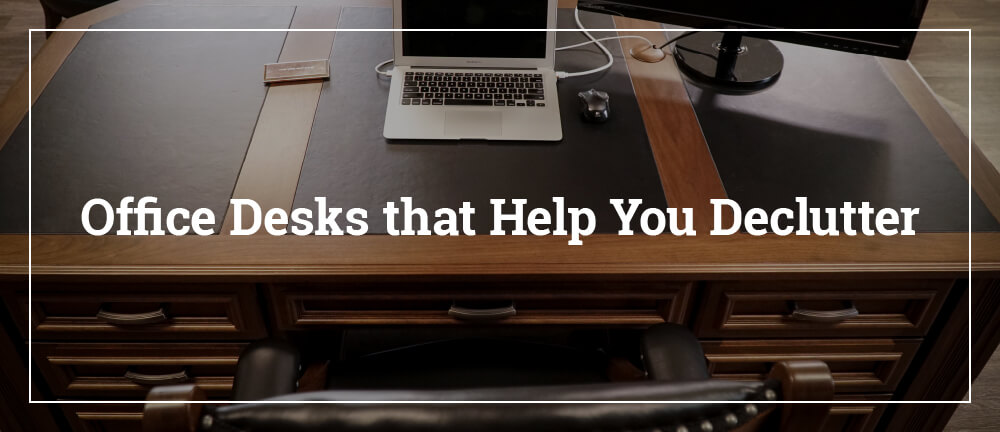 Office Desks That Help DeClutter
Looking for an office desk that will do more for you in the new year? We've zeroed in on three office desks that bring a lot to the work space and that can help you get and stay organized in the new year. Which office desk will help you the most?
The Computer Desk
If you have lots of computer and office equipment and not enough room to put it, a computer office desk could be just the right desk to store everything and stay ahead of clutter.
Is your computer currently set up on that extra table you inherited from your parents that didn't really fit anywhere else so it became a spot to set up your workspace? Is the table covered with wires that are spilling all over the floor? Is there a printer hanging off the windowsill and a computer tower on the floor behind a chair?
Enter the computer desk.
If you've moved on to a slinky laptop or work only from your tablet and you've gotten rid of your computer monitor and other computer equipment, then you most likely don't need a computer desk.
Computer desks are big and they do take up a lot of room, but they offer compartments and surfaces to safely and neatly store computer equipment to provide you with a functional space.
Features of the Computer Office Desk
Provides lots of space for a computer tower, monitor and accessories like printers and connecting cables.
Displays a simple, efficient style.
Can have a built-in keyboard tray.
Models vary, offering lots of different designs and features.
Their large size makes them more difficult to move.
Good for offices that use desktop computers and need lots of storage.
Many come with hutch tops for added storage.
A Custom Computer Desk
A custom computer desk takes things to the next level in providing the storage you're looking for in an office desk. We'll explain how by using the Flat Top Computer Desk with Hutch Top as an example.
This computer desk is customizable. For this desk that means you have the following options to consider:
Choice of wood and finish
Choice of hardware.
Option to add secret compartment
The Executive Desk
If your home office or business lacks the professional look you desire and you want a desk that makes an impression while providing ample storage and workspace, an executive desk could be just the right style desk for you.
Features of the Executive Office Desk
Ideal for home office or business.
Available in lots of grand styles and designs .
Demands attention as the centerpiece of your office.
Provides plenty of space to work at.
Offers lots of drawers for storage including file and storage drawers to keep clutter under control.
Large in size.
Customizing an Executive Desk
The executive office desk is built to stand out. It's the statement maker, the wow factor, full of style and function. Here's how an Amish made executive desk can take things higher. We'll use the exquisite Paris Executive Desk as an example.
This Amish executive office desk is customizable. For this desk that means you have the following options to consider:
Choice of wood and finish with 5 different wood types offered.
Option to add grommets.
5 different desk top options to pick from including glass cover, leather top, granite top and more.
Option to add locks to file drawers.
Distressing options offered for an antique look.
Choice of hardware.
3 different power station options offered .
The Paris Executive Office Desk is from the Luxury Office Furniture Collection that's Amish made in Ohio. Their desks are highly customizable.
The Credenza Desk
Don't have a home office but you're in need of a work space? Living in a smaller home or apartment doesn't mean you have to sacrifice your desk.
A credenza desk works seamlessly in the dining room or living room and provides storage along with surface space, keeping clutter under control as it adds style and function.
Credenza desks are a great addition to your office or can serve as an office area where you need one.
Features of the Credenza Office Desk
Combines a desk with a credenza full of cupboards for storage.
Creates a workspace that can be used in addition to a desk or by itself.
Available in many styles.
Helps keep clutter under control.
Works well in a dining room or living room, adding its style and function there.
Customization of a Credenza Desk
The Amish Computer Credenza Desk is completely customizable, allowing you to create your workspace where you need it and customize it with options like the following:
Choice of wood with 9 wood types offered.
Choice of finish color.
Choice of hardware.
Option to add soft close drawer slides.
Which of these office desks will work best for you?