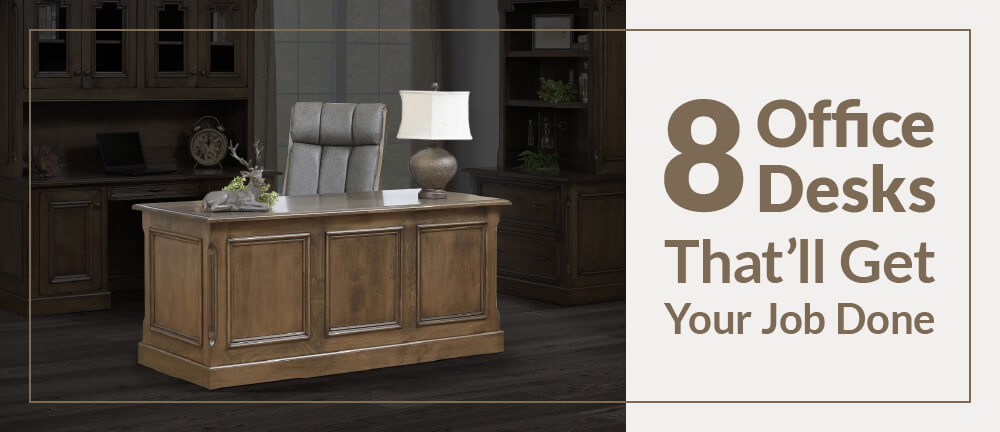 8 Office Desks That'll Get YOUR Job Done
A practical office desk that allows for an efficient workflow is essential for any businessperson, head of household, or student. Bonus points are awarded for an office or home office desk that looks just as good as it works.
Amish desks make good on offering not only exquisite style, but solutions for different work spaces. Since Amish desks are custom made, they include a number of features woodworkers create that you won't find in other desks. From executive desks that impress to writing desks that create special areas to work, to secretary and roll top desks that close up works-in-progress, there's an Amish desk for every situation from offices to working from home.
What custom options do Amish desks offer that run-of-the-mill desks don't?
You can choose the layout: L desks offer room to work, store and organize. Customizing the layout lets you fit the desk that works for you in your space.
Add a little extra leg room: Need a little extra leg room? Amish desk customizations let you create a larger kneehole space to keep you comfortable and accommodate your favorite oversized desk chair. Going along with more space for chair and knees, you can also increase the height of an Amish custom desk, keeping you comfy and providing room to slide your chair under your desk.
Choice of pencil drawer or keyboard pull out: There's often a central pencil drawer in Amish desks for writing utensils, but if you'd prefer a keyboard pullout, Amish craftsmen can build one in place of the pencil drawer.
Add a luxurious desk top: Our craftsmen can add a glass or leather desk top to a number of Amish desks that creates a luxurious look while also adding protection.
Add power ports and grommet holes: Accommodating your computer equipment is made seamless with power port and grommet options that can be added to Amish desks to accommodate cords.
To help you select the desk style that will work best for you, ask the following questions.
How much work space will I need? Larger desks like L desks made for corner spaces, partner desks built to accommodate two, and executive desks can take up a good amount of room, whereas writing desks and secretary desks are better at fitting in small to medium spaces. Measure your office space first before you begin desk shopping.
What kind of storage do I need? If you don't need much storage, secretary or computer desks are good for offering modest storage. Credenza desks are made with added storage in mind. Many Amish desks offer the option to add a hutch top for additional storage.
What equipment does my desk need to accommodate? If a laptop and notepad are all you need, a writing desk with modest surface space can do the job. But if your computer equipment fills a lengthy list, you'll want to consider a desk that makes room for a monitor, keyboard, printer and more. Computer desks are built to accommodate everything from keyboard to tower.
With these tips in mind for selecting a desk that's right for you, we offer eight customizable Amish made desks that are sure to get your job done. Click through for our guide to buying an office desk that's built for YOUR workload.