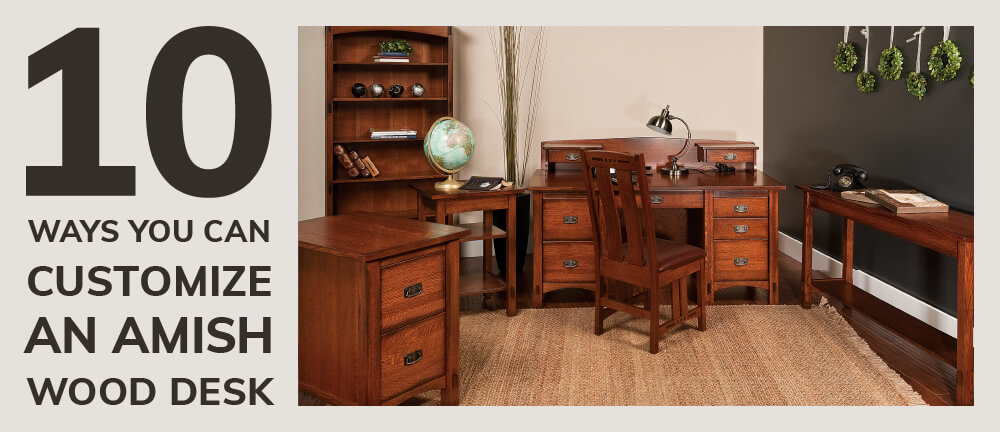 10 Ways You Can Customize an Amish Wood Desk
Amish wood desks are special. Not just because they're pretty and made with solid wood, but because they are customizable and customizations give you options. An Amish wood desk can have the look, the features and the function that will serve you best.
Here are 10 ways you can customize an Amish wood desk to be the desk you like to use, look at, own and pass on for generations to come.
Get ready. It's fun.
10 Ways to Customize an Amish Wood Desk
Choose a Reverse Layout
L desks feature a main desk area and a return. What's the return on a desk? The return attaches to the main desk and provides an additional work space to one side of the desk. The return on an L desk is the area where you often see a hutch topper added, and it will usually feature a pencil drawer.
What's great about Amish wood desks is if you need the return on the left side versus the right or vice versa, you can customize by requesting a reverse layout to best fit your office space.
Create a Larger Kneehole Space
Say you've got an extra-large desk chair you want to use with a new Amish wood desk. The kneehole space can be customized with some extra width to accommodate your desk chair and have you sitting comfortably.
Increase the Desk Height
Going hand in hand with adjusting the kneehole space so you can sit comfortably doing work for hours is the customization to increase the desk height for more space. This is a great customization so you can have more leg room and your desk chair can slide underneath the desk when not in use.
Choose A Pencil Drawer or a Keyboard Drawer
The central pencil drawer provides room for writing utensils and other office essentials right where you need them. If you use a desktop holder for writing utensils and prefer a keyboard pullout, you can add this customization to your desk.
The keyboard pullout slides out for easy access to your keyboard, and then tucks it away neatly when it's not in use.
Add a Glass or Leather Top
The addition of glass on top of your wood desktop can help protect the wood underneath. The leather tops are also stunning and add to the luxurious look of your desk.
Customizing with a glass or leather inlay on top is often recommended for desks made with cherry or brown maple wood since they are a little softer than other hardwoods.
Add Lights to Hutch Tops
Hutch tops bring additional storage with unique shelves, cubbies and cabinets. The option to add lighting—manual or touch—right where you need it is a bright customization!
Add Power Ports or Grommet Holes
Power ports (often pop up models) add additional function that allows you to plug in by adding outlets and USB ports.
You don't want to ruin the look of your gorgeous wood desk with cords all over the place, and the addition of grommet holes right where you need them helps to keep cords in check.
Have Matching Pieces Built
If you've fallen in love with the look of your Amish wood desk and there's not matching office furniture offered, you can just ask us if you need a matching bookcase, hutch, file cabinet or credenza. There's a good chance our Amish woodworkers will build you one. Just like that.
Have the Backside Finished
When you choose the customization for a finished desk back, the back of the desk is stained and raised panels are often used to enhance the look. This is ideal if you'd like to place the desk anywhere in the room and the desk back will be observed regularly.
Let's clarify that if you opt not to have the backside of your desk finished, that doesn't mean the back is left bare with rough wood and no stain. The back will be stained and will have regular wood panels. This plainer presentation of a desk back is used when it is assumed that the back of the desk will be placed up against a wall.
Modify Mailslots or Pullout Trays for Printers
Say you ordered an Amish wood desk and you need the mail slots to aide in organization, but you prefer they be moved to another part of the hutch or desk. This customization allows you to do just that. This goes for pullout trays as well. Amish woodworkers make accommodations for the trays so they are positioned where they will work best for you.
Amish wood desks part ways with other desks with customizations and quality craftsmanship. How would you customize yours?