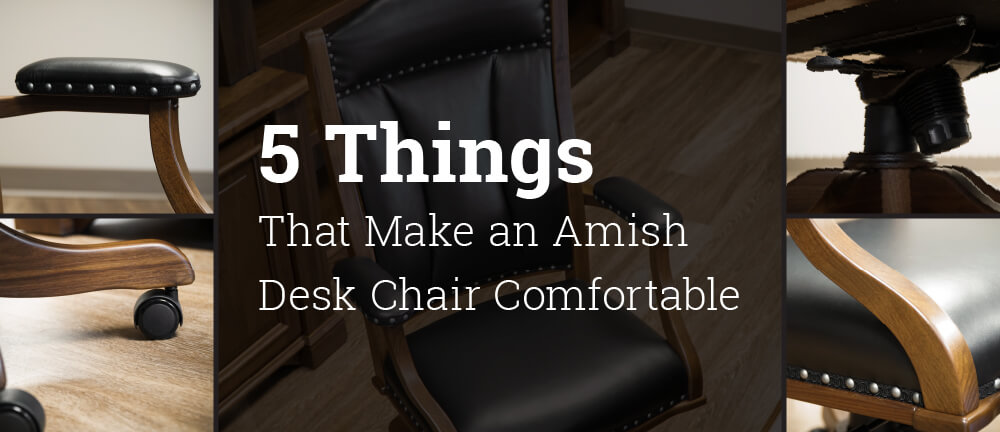 5 Things That Make an Amish Desk Chair Comfortable
While a desk is essential to supporting our work, we don't sit in the desk. It's understandable that significant funding can be put into the right desk for the job, but working at your desk can become unbearable if comfort is sacrificed. And the source of comfort for someone working a desk job 40-plus hours a week can be found in….an Amish desk chair.
What Makes an Amish Desk Chair Comfortable
The Back Support
The average time spent sitting at a computer has been skyrocketing for some time. For home or office, a good desk chair that supports the back makes all the difference.
Amish desk chairs offer a good shape and fit, with support for the lower back that will ease strain or compression on the spine.
The Adjustable Features
We come in all shapes and sizes, and adjusting your chair so you can sit at your desk comfortably is essential.
Amish desk chairs come with gas lifts to adjust the height of the chair where you need it.
The Swivel Factor and Wheel Base For Ease of Movement
Straining to reach for papers on the other side of your desk won't do. Amish desk chairs have wheels in the base to allow ease of movement from monitor to phone to file drawers. A swivel option helps provide access to different desk areas without making you twist and turn in your seat.
The Cushioned Seat
Amish desk chairs offer just the right amount of plush. You don't want cushioning that's so thin you can feel the base of the seat through it and you don't want a seat that's so soft you're sinking into it and losing support.
The front of the seat should have a curve or cushion to it. Squared sharp edges are harsh against your legs and can interfere with proper circulation.
Fabric should breathe so the seat doesn't get too hot or uncomfortable. Higher end fabrics are likely more breathable and more stain resistant.
The Stability
Amish desk chairs are built with solid wood by experienced craftsmen. You can rely on a durable desk chair with mortise and tenon joinery that promises the strongest joints for support.
Bonus: The Style
Built by hand in Amish woodshops, Amish desk chairs are high in function, durability, comfort and style. These are desk chairs that will demand attention, will create a professional atmosphere and that everyone will want to sit in when they see them!
Will my Amish Desk Chair fit Under my Desk?
A popular question for our furniture specialists here at DutchCrafters is whether or not a new Amish desk chair will fit under the desk. It's important to note the width of your new chair and measure the kneehole space of your desk to be sure it will fit. Desk chairs with arms can be a little wider than the kneehole opening. The arm height is important to note too, if you are hoping to push your desk chair partially or completely under your desk.
We recommend consulting a furniture specialist when shopping Amish desk chairs. They can answer specific questions to be sure you have the right fit for your office.
An Amish desk chair brings exquisite style, comfort and durability ideal for working at your desk. What questions do you have about custom made Amish desk chairs?