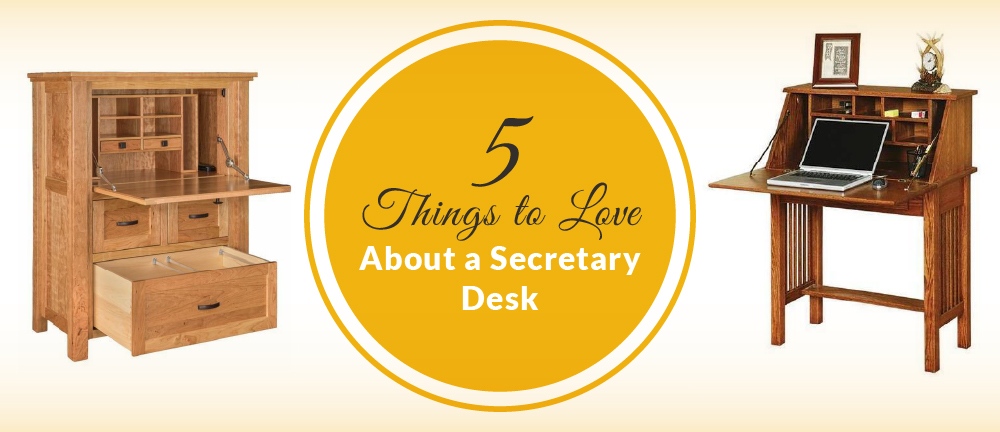 5 Things to Love About an Amish Secretary Desk
It's pretty easy to name five things to love about a secretary desk, from its space saving features to its collection of storage compartments. When you factor in the ability to customize, the solid wood, and the variety of styles to pick from, it's even easier to name five things to love about an Amish secretary desk.
Let's take a look.
Secretary Desk History
The secretary desk has come a long way. Also referred to as an escritoire (the French term for writing desk with a hinged top), bureau, or secretaire, the secretary desk appeared during the early 18th century. Jean-Francois Oeben, who was the royal cabinetmaker for Louis XV, is credited with creating the first secretaire desk during the 18th century. Prior to this, traveling desks were popular. A traveling desk could be placed on top of a table to set up an instant workspace. As more storage was needed, many outgrew the traveling desk and turned to the secretary desk that offered an instant work space along with drawers and compartments for storage. The Victorian era produced secretary desks with elaborate top cabinets and ornate carvings and inlays, along with plainer, simpler styles that began to take after mission and arts and crafts styles.
Defining the Secretary Desk
A secretary desk features a built in writing surface, often in the form of a hinged, slanted front that drops down, with compartments for storage. It's a desk for many spaces, small spaces included, and it has the power to instantly tidy your workspace with its close down top.
5 Things to Love About an Amish Secretary Desk
It can fit in small spaces.
The secretary desk of today has adapted to provide a lot of features and still fit in a small space. This makes the small secretary desk even more appealing for different kinds of home spaces, as it can easily be set up in a corner and function just fine.
It's ideal for college students.
With most college students having small spaces, plenty of coursework, and items to store, the secretary desk makes a great fit. It's an instant desk for a laptop with lots of compartments for all kinds of items. And when Mom and Dad come to visit, just close the top down for an instant tidy!
It's a versatile piece of furniture.
Some secretary desk styles look like a dresser, hutch and desk combo that can work well in several areas of the home.
It's multifunctional.
Even a small secretary desk does it all. It adds style, provides room to work, and storage to boot. This kind of desk with added storage doesn't actually have to be viewed as an office item. You can think of it as storage with a handy desk built in, if you need it!
The secretary desk achieves the following with flying colors:
Provides a desktop to work
Offers a variety of storage
Helps organize office essentials
Conceals clutter quickly
Contributes an attractive look
The secretary desk offers a variety of storage. There are cubbies and compartments, drawers and shelves. There are usually drawers at the base, a hinged desk surface on top of that, and compartments in a hutch type set up or even a bookcase on top.
It comes in lots of styles.
Some might consider the secretary desk an old fashioned look, and while that's part of its charm, this useful desk storage queen is available in a wide range of styles today, making it a popular pick to fit several different décor styles.
New Ways to Use a Secretary Desk
In the living room, a secretary desk brings together desk and cabinet, with some featuring a hutch for even more display space. It's great for books and displaying other treasures.
In both entryway and kitchen, a secretary desk makes a great central location for the family to view a calendar of events, stow keys and mail, and keep items that are needed for every day. The added storage is also great for cookbooks, placemats, napkins and tablecloths.
The unique design of the secretary desk is even being used to set up mini home bars. You can fold down the desk top to reveal glasses and decanters tucked inside.
Set one up in a hallway near the bathroom for bubble bath, bath salts, candles and towels.
Due to its small size, the secretary desk is ideal as an addition to bedrooms. You can work quietly on laptop and paperwork, and when it's time to relax, just close the top to conceal the clutter. The rest can function as a dresser to store clothes, jewelry and small items.
Any drawbacks?
One thing that's important to remember with a secretary desk is that it is not ideal for those in need of a large workspace. Those who need storage for lots of computer equipment, printers and such would likely find a larger desk option a better fit.
These are just five of the things to love about a secretary desk that expertly folds lots of function into an attractive form. What's your favorite?