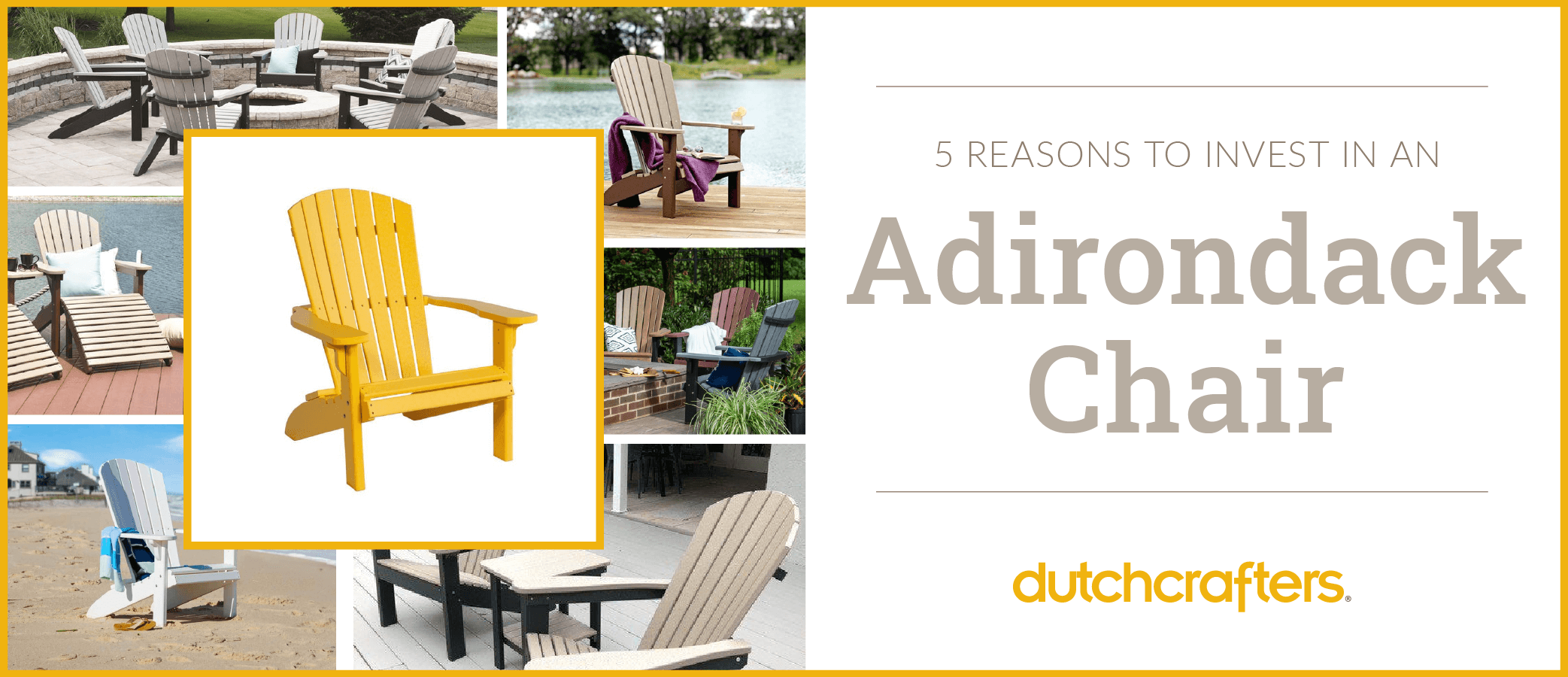 5 Reasons to Invest in an Adirondack Chair
If being outside in such a relaxed state you could fall asleep where you sit appeals to you, then you should read on. There is such a chair that not only can accomplish this ultra-chill feeling, but comes with a host of other benefits, and that chair is the one and only Adirondack chair.
If you haven't ever seen or tested an Adirondack chair, quite honestly, you're missing out. Get ready for five reasons to invest in an Adirondack chair as soon as you possibly can.
Adirondack History
Thomas Lee was the one to design and build the first Adirondack chair, as he sought to create comfortable chairs he could use with his family while they were on vacation. His design not only offered comfort, but balance, making it a great choice to use on uneven terrain—this is the magic combination of the Adirondack chair. A friend of Lee's, Harry Bunnell, asked to build Lee's design to offer for sale in his own wood shop. Lee agreed, and Bunnell sold many in the Westport area. Bunnell patented Lee's design and called the chair the Westport Plank Chair. As the chair became popular, it became known as the Adirondack Chair due to its widespread use in the Adirondack mountains.
Now that we have a little history, here are the reasons to invest in Adirondack chairs of your own.
Comfort
The biggest persuader for buying an Adirondack chairs is their ability to deliver a heavy dose of comfort and support.
The Adirondack chair was designed for comfort, featuring a high, wide, reclining back you can lean back in and rest against to read, nap, chat, toast marshmallows, listen to music, etc. The seat sits low to the ground and slopes backward, practically pulling you into a reclined position with a supportive back. The armrests are wide, wide enough to rest your arms on as well as a drink, phone, tablet or book.
Stylish
Adirondack chairs add a sophisticated look to front porch, lanai, pool areas and really anywhere you use them. Their substantial frame, wide, fanned-out back and wide armrests create an inviting look. Woods like cedar add rich red hues, while pine can be stained or painted. Poly Adirondacks come in a variety of colors from neutral earth tones to bright colors of the rainbow, making it easy to customize your outdoor furniture in your favorite team colors. There's plenty of room in Adirondack chairs to add accessories for even more comfort. Add cushions and pillows for more plush and pops of color.
Adapts to Any Terrain
You're not going to teeter or tip in an Adirondack chair, as they were built to handle any terrain and provide an even and supportive seat. You can get comfy in sand, on a hillside or most other terrains, as it can't outsmart the Adirondack base.
Low Maintenance
It's pretty easy to maintain Adirondack chairs. Adirondacks made of wood will require a little more maintenance, like adding sealant or refinishing every few years. Poly Adirondack chairs are ultra easy to maintain, only requiring cleaning with soap and water on occasion.
Durable
Depending on what materials they're made of, Adirondack chairs can last a long time, adding to their appeal. Wood or poly Adirondacks offer serious longevity, relieving you and your bank account of handing over money repeatedly to replace outdoor furniture.
Solid wood Adirondacks made of pine, teak or cedar wood offer stability and a good amount of resistance to weather and decay. They won't blow off the porch with a heavy wind. Cedar's natural oils help to repel pesky bugs.
Adirondacks made of poly combine superpowers of ultimate comfort and durability together. Poly lumber comes from recycled plastics (think milk jugs) that are converted into HDPE lumber (high density polyethylene). Poly has been called a "miracle material" for outdoor furniture as it is highly durable, weather resistant, easy to maintain, and comes in lots of rich colors. In addition to its ultimate performance, it's eco friendly too.
Adirondack Friends
Expanding beyond the chair that changed the way we beach, camp and relax outdoors, you'll find the wide, supportive back and arms of the Adirondack design on benches, gliders, swings and more.
Adirondack Benches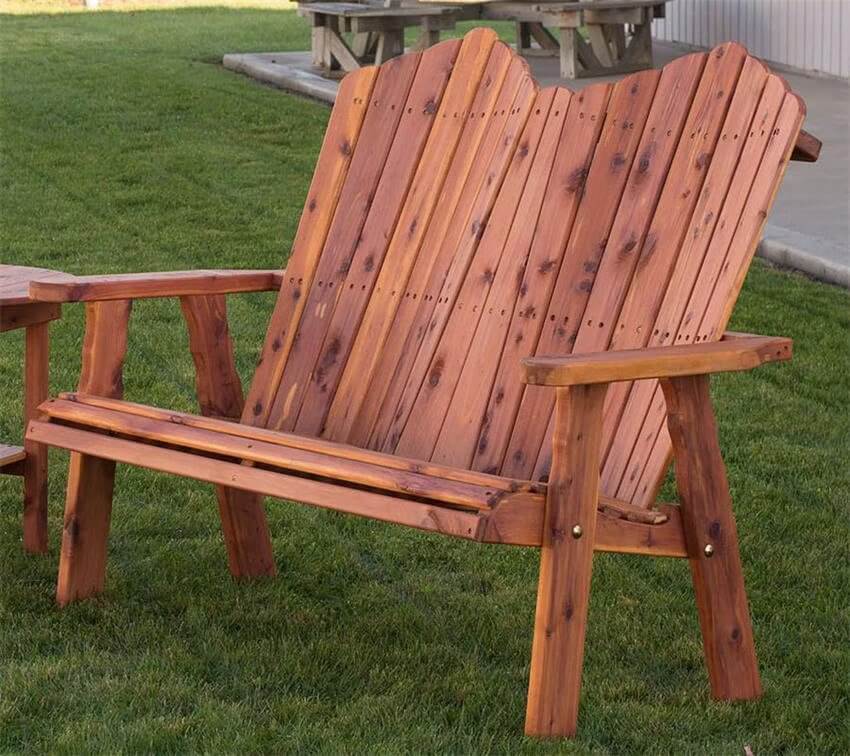 Adirondack Rockers
Some Adirondacks feature adjustable backs and armrests, and there are folding designs for easier transport.
Adirondack Swings
Offering the highest level of comfort and stability along with a versatile look for pool, patio, porch, pergola, yard or garden, the Adirondack chair is a timeless classic that makes a great addition to your outdoor furniture collection.