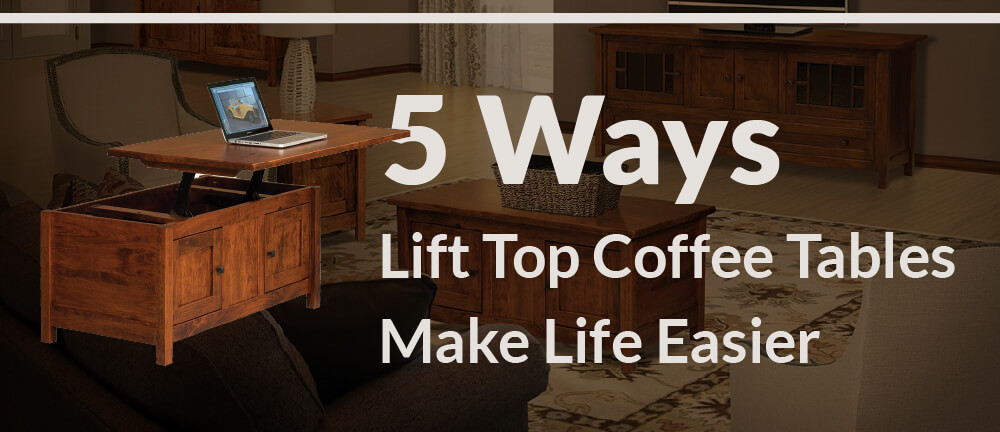 5 Ways Lift Top Coffee Tables Make Life Easier
No longer sitting there as a catch all for clutter, lift top coffee tables have put a new spin on a living room staple, and with one simple adjustment, they can make your life easier.
The lift top coffee table is an exciting addition to the accent table family as it meets the needs of different situations. How you ask? Let's take a look.
Adding Savvy Storage
While we expect coffee tables to be catch-alls for remotes, reading material, glasses, mugs and more, this can oftentimes create a cluttered tabletop. While there are plenty of coffee tables that offer storage, the lift top makes room right beneath the tabletop. It's easy to tuck away video game controllers, chargers, magazines and other items inside and then lift the top for easy retrieval.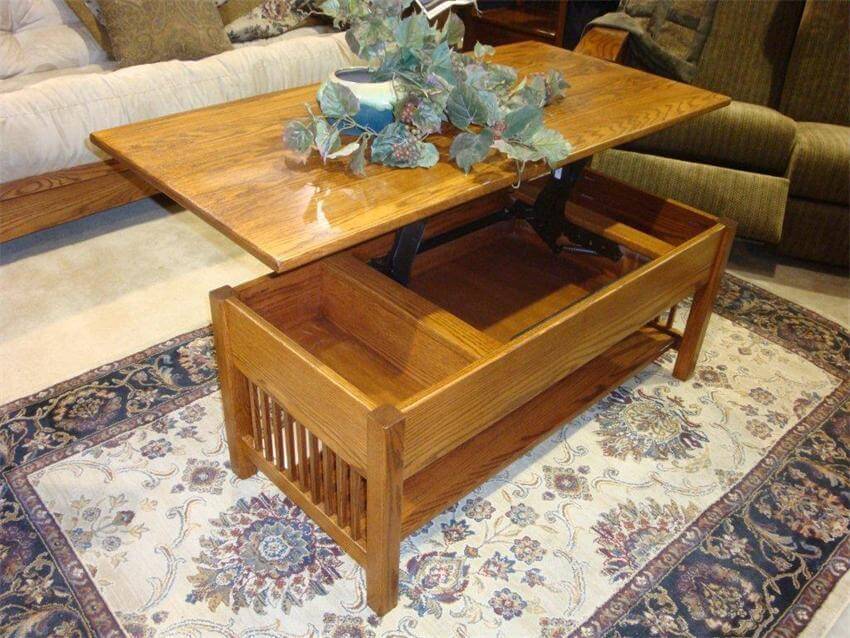 A Delicious Dining Option
If you are one who enjoys watching television as you dine, or you're short on space and rely on your coffee table to serve as a dining table, the lift top creates an instant dining area that's better on your back and opens and shuts quickly. No leaning over as you eat with a pop-up tabletop. The kids can gather around too, creating a comfy home theatre dining experience.
A Wonderful Work From Home Set Up
The lift top coffee table becomes an instant desk, supporting laptop and paperwork right at your couch or reclining area. If there's no home office to work from, the lift top coffee table is the solution for setting up an instant work-from-home space. Added storage within the coffee table is ideal for storing work essentials.
Savvy Space Saver
With the ability to offer options like an instant dining table or desk, the lift top coffee table offers a solution for small spaces. No home office? No problem. No eat in kitchen area? No problem. Need to fit lots of function in a small living space? It's not a problem with this table that can serve many purposes. It can also serve for family entertainment, supplying a space to set up board or card games. The lift top is an attractive option for small living rooms, apartments and lofts.
Style Supplement
Coffee tables often contribute to the look of the living room, sometimes serving as a focal point or centerpiece. They're a good way to inject style into your living room scene, particularly if you are challenged for space. Lift tops are available in a variety of styles, and they're versatile enough to match with different décor.
How does a lift top coffee table work?
Opening your lift top coffee table should be smooth and seamless. It opens by grasping the sides of the table and lifting up. The table top lifts with a hinge mechanism that opens smoothly and supports the table top to create an instant desk or table. It locks into place for sturdy support. When you're ready to close it, you just push it down.
On Amish-made lift top coffee tables, the top lifts up and to one side. This type of lift top works well to double as a desk or dining table.
What should I look for in a lift top coffee table?
When you're shopping for a lift top, the main thing to keep in mind is how you plan to use it. Will it be your desk? Dining table? Both? Are you looking for added storage and if so, how much? Are you just looking to store small items like remotes, or are you looking for room for blankets and bulkier items?
Once you've defined how you plan to use it, keep in mind that a quality hinge mechanism is a must to be sure your table will be sturdy and supportive and that it will last a long time. Hinges made with quality metal are most durable. The table should open smoothly with a secure lock. Other important factors to consider are table shape and how it will fit in your space as well as choosing a style you like.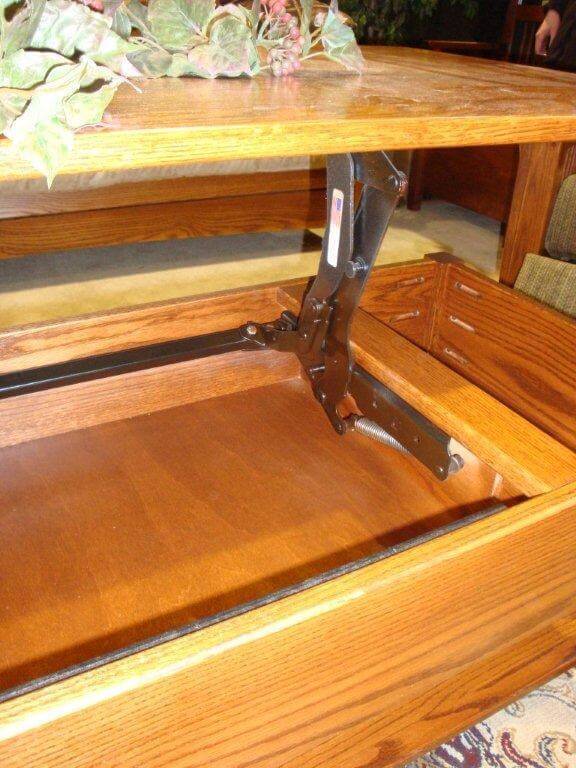 We checked in with Martin Yoder, builder of the Middlebury Amish Furniture Collection, to help explain the important lift top mechanism along with other features. "The mechanism is made of powder-coated metal and it's spring loaded to hold the table open." He also pointed out that the hardware used for his lift tops is American made. "We create a floor inside the table to make it easy to store a laptop to work on or to keep coloring books for kids. We build our lift top tables 24″ wide to make them less likely to tip. A 16″ or 18″ base width could be more prone to tipping." Yoder also explained that a steel block of metal is added on the side opposite to make it sturdier. He explained that the mechanism locks into place without any additional steps.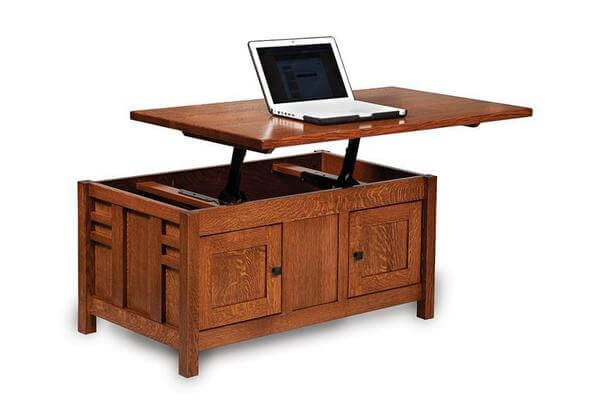 Keep the following in mind when shopping for a lift top coffee table.
A style you like
Storage if desired
A quality hinge mechanism
Size and shape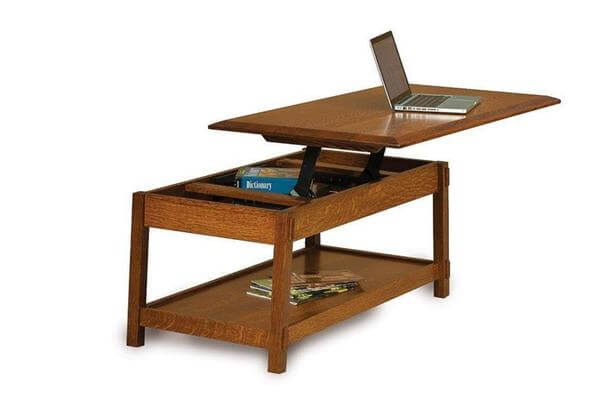 Saving you time and space and adding convenient storage and style, the lift top coffee table design with its numerous functions brings home new ways to make your life a little easier.