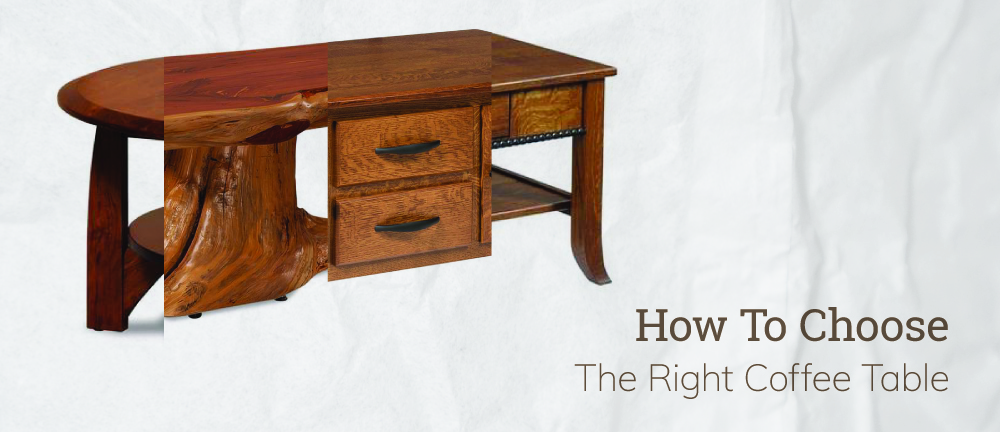 How to Choose the Right Coffee Table
The living room coffee table I grew up with was round and brown and held magazines, the newspaper and the remote. My mother didn't allow drinks on it since it was made of wood. When it was time for parties, a doily with a basket of flowers was placed in the center and coasters came out to protect it. I remember doing puzzles on that table and finding Easter eggs hidden under it on Easter morning.
The home I live in now has a more formal living room as well as a family room. I'm more careful of the living room coffee table since we entertain in there more and also because it's a solid wood table we inherited from my mother-in-law who would frown if I wasn't careful with it. The family room coffee table is solid wood, but it has streaks of crayon where the kids went way outside the lines, nail polish spills that didn't completely come off, and occasionally some shoe marks since no one is afraid to put their feet up on it.
What about your coffee table? Maybe it's a centerpiece, maybe it's not. Perhaps you rely on it for storage, or maybe you don't. Is it a statement piece or do you use it a lot? If you're looking for a new one, where should you begin?
Things to Remember When Shopping for Coffee Tables
Coffee Table Size
Try to factor in scale when choosing your coffee table. It shouldn't be more than two-thirds of the total length of your sofa if it is being paired with one. Going with a smaller coffee table is better than getting one that's too large. Remember you'll want room to move comfortably around the coffee table too. A space of 18 inches between coffee table and sofa (or other seating) is ideal.
Coffee Table Height
Coffee tables began as tea tables (where teacups were placed) in Europe during the Victorian Era of the late 18th century. They were tall and round, creating an inviting seating area. It's debatable exactly when the lower coffee table height and style took over, but coffee table production increased and expanded during the 1920s as the convenience of sitting on the sofa and drinking coffee sought the perfect spot to set down the coffee mug.
The coffee table should be the same height as your sofa or one to two inches lower. Standard height for coffee tables is 16 to 18 inches.
Coffee Table Shapes
Take cues from your seating line up when choosing a coffee table shape.
Square coffee tables work well for smaller spaces or smaller seating arrangements.
Rectangular coffee tables are the most popular shape and can handle larger seating like sectionals or sofas.
Round coffee tables work well with smaller sofas or loveseats. They can get lost with a long sofa.
Coffee Table Styles
For a more formal sitting area, a glass top coffee table fits in fine.
For a casual family room or living room that gets a lot of action, you'll need a sturdy table. Round coffee tables are a good pick to protect kids from sharp edges when they're playing. The family room coffee table needs to be made of durable material for all the wear and tear it will receive.
Coffee Tables With Storage
If you need your coffee table with storage, there are all kinds that come with shelves and drawers. Also a good idea for the family room that calls for a less decorative coffee table.
Lift-Top Coffee Tables
Lift top coffee tables let you raise the surface to make it more comfortable to work or eat from the couch. They make great coffee tables for a small apartment or living room space.
Did you purchase your coffee table new or did you inherit one? What are you looking for in a coffee table? What are your coffee table stories?