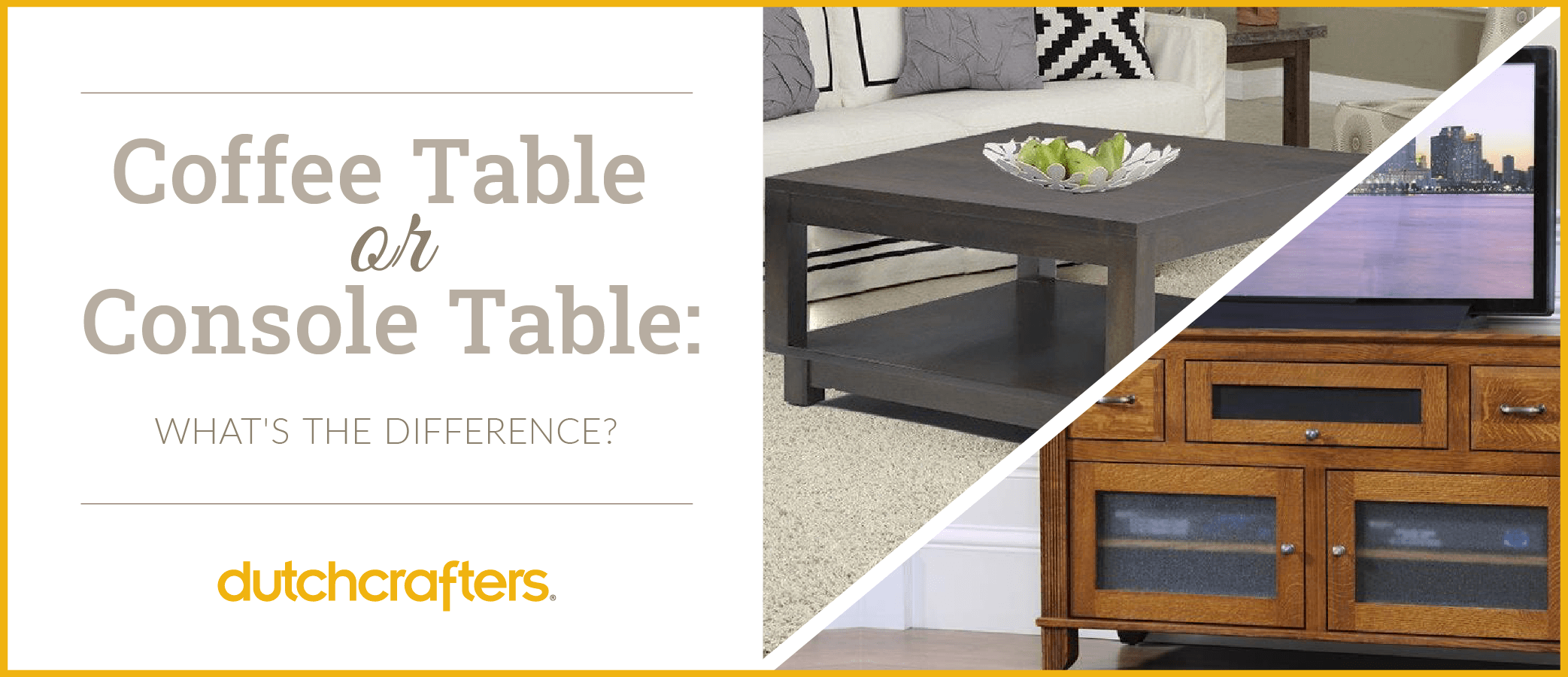 Coffee Table or Console Table: What's the Difference?
If you had to choose between a coffee table and a console table, which would you choose and why? These two tables enhance living space and serve different purposes. We're taking a look at the coffee table versus the console table and clearing up questions as we go.
Coffee tables and console tables come in different styles and shapes. One of the biggest differences between them is the purpose they serve.
Purpose of a Coffee Table
While it's true the coffee table adds a style element at the center of the living room or family room, the main purpose of a coffee table is to be a support and catch all for items used or brought into the room. For drinks, snacks, remotes, phones, laptops, game boards, magazines, books, (and the list goes on…), the coffee table is the place these items rest. It's the perfect host for living room activities. The coffee table is one we generally look to for high function, and even though it's not an ottoman, the coffee table has a history of serving as a place to put your feet up, which you definitely wouldn't do on a console table.
Purpose of a Console Table
On the other hand, the purpose of the console table (also known as a sofa table when placed against the back of a sofa) leans more toward adding a decorative element to a living room, foyer or entryway. A console table provides a decorative display area to showcase photos, candles, flowers, keepsakes, plants and things of the like. When used behind the sofa, it's a good place for a small lamp.
Placement of Coffee Table
Coffee tables generally live in the living room and are placed in the center of the room in front of the sofa where they're easy to reach. They are often between the sofa and entertainment center or TV stand. Some designs offer a lower shelf and storage options, that add even more function for storing games, candles, reading material and more.
Placement of Console Table
Console tables (also called sofa tables) are often positioned behind the sofa, but are also used against a wall or in the hallway or entryway. When placed behind a sofa, a sofa table should not be taller than the sofa back. When using a console table in other areas like a hallway or entryway where they stand alone, you can get creative with heights, shapes and sizes.
Structure and Size of Coffee Table
Coffee tables are lower than console tables to make them easy to reach for things while sitting near them. Their length should be shorter than the couch they are used with. Coffee tables come in all shapes and sizes, adding to the style of the room even though they are valued more for their function. They take up more space than console tables.
Coffee table height should be the same height as the height of the sofa seat or one to two inches below it. There are numerous widths and shapes to pick from, including the most common ones which are round, square and rectangular. On average, the height of a sofa seat measures between 17 to 19 inches, so the average height of coffee tables runs around 16 to 18 inches tall. These measurements help prevent your coffee table from being too big or small and help ensure ease of use so family and friends can reach and retrieve items from it.
You'll want to look for coffee table length to be about 2/3 the length of the sofa, again, for comfort and ease of use. How close to the sofa should you place the coffee table? Leave about 16 to 18 inches between the table and the sofa edge to leave enough leg room but still be close enough to grab the remote easily.
Structure and Size of Console Table
Console tables are taller and narrower than coffee tables. Some designs have a lower shelf as well as storage options. Storage drawers add a bit more functionality to them, offering a good spot for mail or keys. With longer legs and more height, console tables take on an air of sophistication. Their long, slender nature is perfect for fitting between a sofa and the wall or in a foyer or entryway. The size of a console table is up to the homeowner and also depends on how much space you have to work with.
The average height of console tables is 30 inches. When placed behind a sofa, this height makes it easy to reach objects from the sofa but not too high so that the table sticks out.
Are you looking for more function or decoration? This is the main question to ask when deciding on a coffee table or console table. Then take inventory of your room layout and measure the space you have available. Both coffee table and console table can add to the style of the room while serving their purpose.