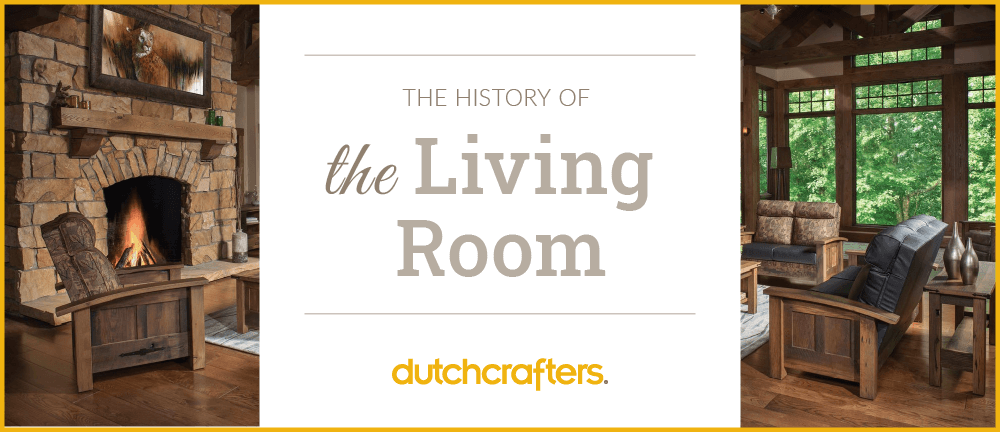 The History of the Living Room
How did the living room come to be? Why is it called a living room? Is a family room really a living room? How do they differ? Who knew the room we rely on each day for some relaxation could generate so many questions? Living room design really does have history behind it. Here's how it goes.
Before the Living Room
While Louis the XIV lived in luxury, he didn't necessarily live in comfort, and by the time Louis the XV was in charge, he decided he wanted to live with both. He decided there would be some formal rooms used only for entertaining guests and when he was not entertaining, there would be…could it be?..some informal rooms for cutting loose and relaxing in luxury and comfort. This idea of having space to be comfy and relaxed started to catch on, particularly in homes of the rich. With the creation of this new space came acceptance of the idea of enjoying some leisure time within the home.
During the early 20th century, the well-to-do were intent on setting up home space with areas devoted to comfort, entertaining and relaxing. There were parlors, or receiving rooms, reserved for guests. This was where the fanciest furniture was displayed, and children were usually not allowed in this room. An evening could start with conversation and drinks in a parlor or receiving room, then move to the dining room for dinner.
The time after WWI saw an influenza outbreak that consumed many. Families wanted time to grieve and bodies could not be buried quickly enough. While awaiting burial, bodies were kept at the home for a period of time, usually in the room that was used the least, which was most often the parlor or receiving room. This turn of events caused these rooms to be called "death rooms."
Once the influenza outbreak subsided, the term "death room" was no longer used. The term "living room" came from an issue of the Ladies Home Journal that suggested moving past the sadness and difficulty of the time and getting back to having fun and getting together. It was suggested that these spaces be used and lived in, instead of being reserved for fancy occasions. Living rooms could be a place to socialize, relax and entertain.
A Living Room by Any Other Name…
Some wonder what the difference is between a living room and a family room, and some homes have both. Despite the relaxed approach to the use of the living room, in many homes the living room is still used more for entertaining guests, while the family room is the let down your hair, nap anywhere, or play in full force room. Family rooms are usually more casual than living rooms. Living rooms are often located closer to the main entrance of the home, since that's where the first impression is made upon those entering. For this reason, the living room is often still decorated with a more formal look. A family room is less formal and located farther away from the main entrance. A family room is more functional than decorative, and supports gatherings for just family or for family and guests.
Some also use the term "TV room," denoting a room reserved for, well, watching TV and spending time together as a family. The TV room is less formal than living rooms, and could be called either a TV room or a family room.
In general, current living rooms are free from any strict rules for entertaining friends and family. It's really up to the homeowner and their preferences for entertaining and gathering. Some homes still have a more formal area for entertaining and a less formal one for relaxing and family interaction. Some families use the living room more as a family room than a formal room or vice versa, or they use the living room as both.
Today, the living room is exactly what each individual homeowner wants it to be. Whether that be entertaining guests, family activities, or all the activities that come along with living in one space. Today living rooms are places to spend time with friends and family, watch TV or movies, play video games, nap in comfy furniture, play games, and have family discussions. They have become bright, warm, cozy spaces that have left behind the dark times in their history.