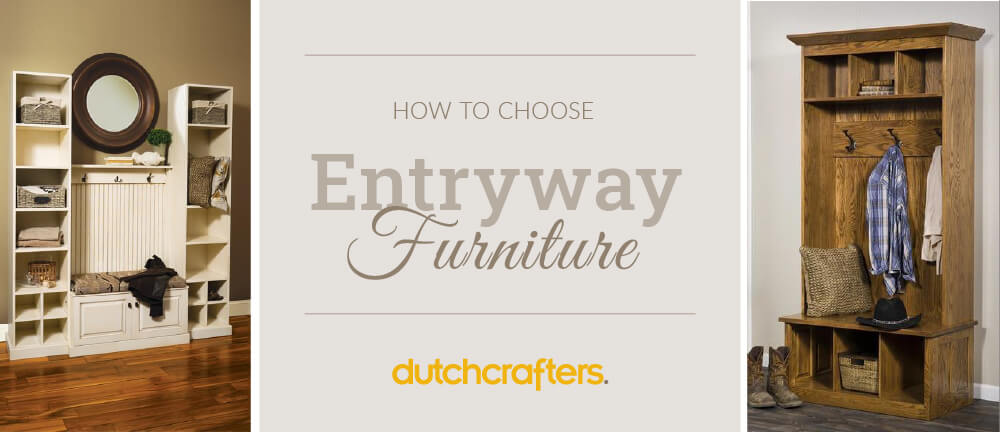 How to Choose Entryway Furniture
Entryways, whether large or small, are the first glimpse inside your home. The list of job duties for an entryway includes:
Creating a welcoming atmosphere
Showcasing your personal style
Storing and organizing items
Where do you begin selecting furniture items for your entryway? What could work best for your space? What style do you like? Here we'll help lay out how to choose the best entryway furniture for your home.
Entryway Spaces
Entryways are versatile spaces and can range in size from a grand foyer to a small space inside a side door. Top goals for any entryway are to keep it free of clutter and make it functional and welcoming. Side or back door entryways might only be used by family, whereas front door entryways are often the places that greet your guests and make that first welcoming impression.
If you have a grand formal entryway, there's more room to create a design space. If you have a modest-size or small one, chances are you're looking for it to be functional.
Entryway Questions to Consider
Before shopping for entryway furniture, it's important to determine how you want to use your entryway and to assess the space you have available.
Before shopping, be sure to ask, how big is my space? (And be sure to measure it.) Knowing the measurements of your entryway space makes it easier to choose furniture and décor.
What function do I want my entryway to serve? How do I want to use it? Who will be using this space? Do I just want it decorative? Or perhaps you have kids and are looking to create storage and organization in your entryway.
What style am I going for? Entryway furniture is available in a variety of styles, making it easy to incorporate your favorite look.
Entryway Furniture Ideas
Depending on the space available to you, you can create an entryway that is full of function or one that simply makes a style statement.
Hanging Hooks
Hooks to hang coats and bags on are ideal in the entryway. Guests have a place to store and retrieve their coats easily and items are hung up neat and tidy.
Coat Rack
The coat rack is another way to bring hooks for coats and bags into the entryway. Some even have revolving tops to make it easier for guests to retrieve coats and bags.
Entryway Bench
Entryway benches are ideal for family and guests. Here they can sit and change shoes upon arrival. A bench seat has a welcoming character to it. Add pillows for extra warmth.
Entryway Bench with Storage
Entryway benches with storage provide places to keep many things organized. They are full of function, especially for families with kids. There's room to hang up outerwear as well as store shoes, sports equipment, dance shoes, bags, umbrellas, and more. If your entryway does not feature a closet, an entryway bench with storage creates a way to keep everything organized for easy retrieval.
Entryway Table
A decorative entryway table is perfect for collecting daily mail and keeping keys where you can find them. You can personalize your table with a few family photos, houseplants, or flowers. Adding a lamp to cast a soft glow makes for an attractive entrance too. Entryway tables are also great for making a design statement.
Mirror
Entryway mirrors are a lovely addition. They reflect natural light, help open up the space, and are a great tool for checking how you look before heading out.
Shelves
Shelves in the entryway add to the décor and allow you to insert some personal décor items like family photos or keepsakes. Good for key tray and mail.
Writing Desk
Another way to go in the entryway, particularly if there's a good amount of space, is to use a writing desk for table and storage. They're available in lots of styles and offer drawers for storage.
Bookshelves
Bookshelves are another way to go. Open shelving is great to stow backpacks, lunch boxes, stacks of mail, and even books!
Curio Cabinet
Curio cabinets are great for adding to the design of your entryway and showcasing some treasured keepsakes. Many come with interior lighting, making for a great way to illuminate your foyer or entry.
Small Entryway Ideas
If you're looking for a way to stay organized in a small entryway, try to create a catch-all area within it. It can be something as simple as a table for mail, keys, books, purses, or a basket for shoes, bags and other gear. Placing items in or on a catch-all area can help prevent them from piling up or being strewn about in the house. Console tables come in different sizes and offer storage you can use in the entryway. If you can fit a storage bench or an ottoman with storage, they are ideal for a cozy look with added function.
Additional Entryway Tips
Make sure your entryway is well lit
Avoid choosing bulky pieces of furniture that lack function and can interrupt the flow of your entryway space
Make use of vertical space to keep items off the floor and out of corners
Personalize by adding artwork
Showcase houseplants for added greenery
Large or small, there are lots of ways to add furniture to an entryway that makes it stylish and functional.