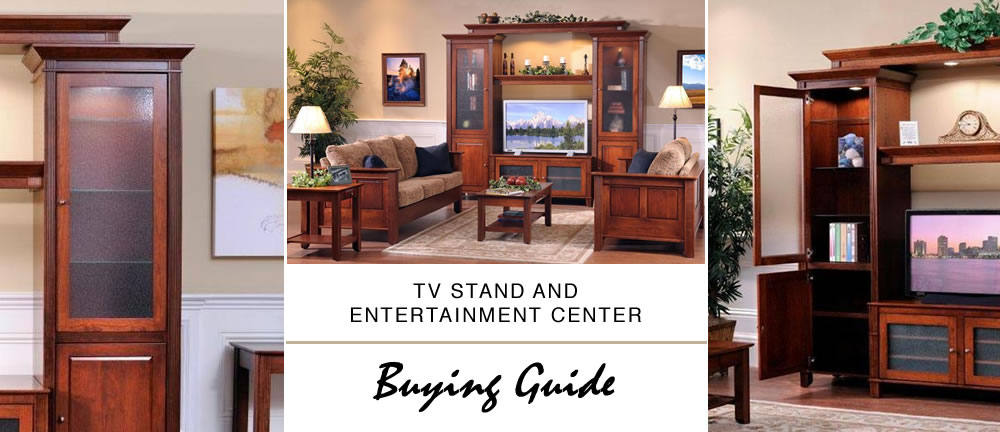 TV Stand and Entertainment Center Buying Guide
TV stands and entertainment centers come with a wide variety of options. From a simple, solid wood stand to rest your TV on to a wall unit centerpiece full of storage, there are plenty of features to fit just what you're looking for. For a small apartment living room, a bedroom or a sizeable family room, there's a TV stand or entertainment center with just the right storage and display combination to serve you.
Welcome to the TV Stand and Entertainment Center Buying Guide that will help you narrow down the field and guide you to the right option for your home.
Questions to Ask Before Buying a Home Entertainment Center
What fits my space?
One thing you don't want is a mismatch. A tiny TV stand in a generous living room space or an entertainment center with hutch top in a cramped space won't work. Take a look at the space available and measure it carefully. Then consider the height, width and depth of the entertainment center or TV stand you're looking at.
What am I going to use this for?
Determine the main uses for your new TV stand or entertainment center. Will it hold video games or music and movies? How many compartments do you want for electronics? Are you looking for a statement piece to define the décor of the room? Is this simply a place to set your television or are you looking for a range of storage and display space?
What are my storage needs?
There are TV stands with cabinets and TV stands with cabinets and drawers. There are entertainment centers and wall units with adjustable shelving, drawers, cabinets and cubbies. Take inventory of the items you have and what spaces you'll need for them. For your television, game control unit, blue ray player and sound system, do you want them all enclosed behind cabinet doors or sitting on a shelf? What about your movie collection, book collection and music? Take note and jot down if you prefer drawers, shelves, or a combination of both.
What style do I like?
Entertainment centers and TV stands come in a variety of styles. Consider your living room, family room or den. Do you need a versatile Mission or Shaker style entertainment center? Or is your décor more contemporary or relaxed rustic?
Types of TV Stands
TV Stands
TV stands are basically a surface to set your TV on and most TVs will fit easily on top of them. Some TV stands come with added storage in the base and some do not. They vary in size. What's nice about TV stands is you don't have to fit the TV perfectly in a center opening.
TV Cabinets
TV cabinets (also known as media chests or media cabinets) provide a surface to display your TV and cabinets to store your media. There are open styles and those with glass or solid doors. Some have an armoire design, which is a nice option if you'd like to conceal your TV when you're not using it.
Corner TV Stands
Corner TV stands host your TV and add some storage while saving you space by fitting conveniently in a corner.
TV Stands with Fireplaces
TV stands with fireplaces add to the aesthetic and warmth of the room. They make for a cozy place to gather for movies and shows, store your media collection and showcase a fireplace that spreads warmth throughout the room.
Types of Entertainment Centers
Entertainment centers combine a place to hold your TV with added room to store media and display treasured photos and keepsakes. There's more than just a place to hold the TV and store media collections, but room to add décor elements you love, hence the added title of "center." Entertainment centers with a hutch top range from small to quite large. The hutch adds a collection of shelves and compartments. Entertainment centers are often intended as a centerpiece that adds to the décor of the room.
If you want to go even bigger than an entertainment center, you can. Enter the wall unit. The wall unit is the mecca of entertainment centers, combining a central location for your television, ample storage and display space, and a hefty dose of style. It's the largest you can go to house your TV and electronic equipment. These are meant to be centerpieces with high function and lots of features. Wall units look like they are part of the wall and are the largest version of the entertainment center.
Top 3 Things to Do Before Ordering Your Entertainment Center
Measure your available space.
We can't stress measuring enough. For the right fit and a great look, start with measuring what space you have to work with in the room.
Measure for the TV.
Will my TV fit? This is one of the questions our furniture specialists most often hear when it comes to entertainment centers. You'll need to measure the TV (including its frame), as well as the height and depth. Keep in mind the width printed on the box your TV comes in is a diagonal measurement of the screen and does not include the frame of the TV (if there is one). We can't stress enough the importance of measuring your TV and once you've got that measurement, allowing for roughly 2" additional space on all sides. The additional space provides good ventilation for your TV and will make it easier to install. Measure your TV from the top to the bottom and from the left edge to the right edge, then measure the depth as well.
Check placement of light switches and cable connections.
Take note of cable connections and access to your light switches. Adding a large entertainment center or wall unit can easily cover them up. Note where they are so you can plan accordingly.
The Difference an Amish Entertainment Center Makes
Shopping Amish made TV stands and entertainment centers opens up a world of possibilities. Amish furniture is innovative and strong, and these units for living room are full of custom features.
We encourage you to share with us what you envision for your TV stand or entertainment center. Options to customize can take your furniture beyond anything standard. Special dimensions, features, wood types and styles are just the start of what we can do.
Customizations for Amish TV Stands and Entertainment Centers
Sliding panel for easy wiring access
This customization allows for wiring to run through the back of your entertainment center to conceal cords and wires.
Gaps to accommodate cords
For some units we can create a gap below the TV center or below the TV cabinet to accommodate cords. This is called a raceway in Amish furniture terms.
Unique lighting designs
Lots of our entertainment centers come with lighting features including touch lighting for shelving and for added bookcases. If you have an idea for a lighting option, just ask us.
Move the middle shelf
In many of our entertainment centers there's a shelf over the television. Many customers prefer this shelf to be moved underneath the TV and many of our entertainment centers can be customized this way.
Choose glass or wood doors
Keep your devices in mind when considering doors. Wood doors look great and can conceal, but might disturb a remote's infrared frequency. If you prefer wood doors, just keep in mind you might need to keep them open for remotes to work with your devices. Glass doors allow use of remote controls to control equipment stored in your entertainment center.
Choice of wood and stain
Amish made entertainment centers are made with premium quality solid wood. There's no particle board or flimsy construction techniques. The solid wood ensures your TV stand or entertainment center will last decades, not just a few years. There are dovetailed joints to provide the most support and full extension slides under every drawer to offer the most access to drawer contents. There are a variety of wood types to pick from along with a number of stain options. This lets you build just the right match for your home.
Advice from Amish Furniture Experts
Here's advice from DutchCrafters Furniture Specialists who work closely with customers and woodworkers in our Amish woodshops.
Tips from Natalie (Sales Training Coordinator) and Shannon (Online Order Coordinator) for DutchCrafters
When measuring for your TV, add an extra 2 to 3" on each side. For example, for a 50" TV, plan for an opening 54″ to 56" so your TV fits correctly.
Check where your light switches and power sources are, and make sure your entertainment center will not cover up access to them.
If you'd like to add side bookcases with lights, be sure to use glass shelves or glass shelves with a wooden border so the light can reflect through each section.
Measure the overhang on your wall unit or entertainment center to be sure the unit will fit your space.
Just the right TV stand or entertainment center is out there waiting to grace your living room. Keep in mind these tips and things to consider when you are shopping and you're sure to find just the right one!