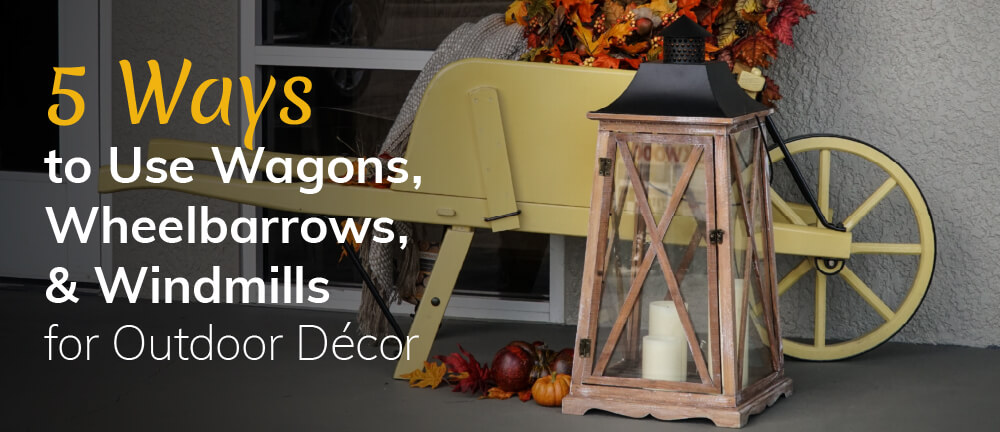 5 Ways to Use Wagons, Wheelbarrows and Windmills for Outdoor Decor
Outdoor décor is a fun way to be expressive, create a new design and add to the comfort of your outdoor scene. Wagons, wheelbarrows and windmills can enhance your outdoor areas and in addition, come in handy for plants, parties and pretty outdoor spaces.
Here are 5 ways to use wagons, wheelbarrows and windmills for outdoor décor.
1. Create a Colorful Outdoor Planter
Amish wagons and wheelbarrows make great display areas for showcasing your favorite flowers of the season. Handcrafted with solid wood, they add a rustic farmhouse charm anywhere you set them up. With the option to add a galvanized steel liner, your wagon or wheelbarrow is a perfect and unique place to set up your herb garden or favorite flowers.
2. Set up an outdoor bar
For an outdoor gathering in the yard or on the porch, an old fashioned wagon makes a great spot for drinks to be served. The wagon is easy to move, making your bar set up a portable one. Several Amish wagon styles come with a metal liner to hold ice and drinks to create a stylish and unique outdoor cooler.
3. Make a unique gift table
From summer graduations to outdoor birthday parties, a unique way to collect gifts to give or exchange is with a wooden wheelbarrow. There are plenty of sizes to pick from for parties large or small.
4. Snap a pretty family photo
Stand around one, sit on the ground, tuck the dog on top and smile! Wagons, wheelbarrows and windmills add color to your background and create attractive scenery for family photos. They offer a natural rustic beauty that enhances the outdoor scene. Your wagon or wheelbarrow can easily be decorated to reflect the season or holiday. Decorate with flowers, pumpkins and gourds, or pretty holiday lights.
5. Add an easy to find landmark for home or business.
A handcrafted windmill made of wood or eco friendly poly makes a great landmark to easily find your location. Placed out on the lawn or outside a home or business, windmills offer a cheery greeting as friends and customers come to visit.
Customizing Your Outdoor Decor
Amish made outdoor décor offers you more options than you'll find in big box stores.
Wagons
You can customize an Amish cart or wagon. Many have different wheel options to choose from, along with the option to add a plant liner. There are different finish and paint options to pick from.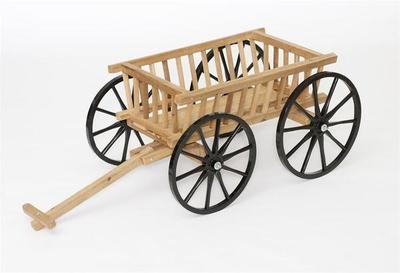 Wheelbarrows
Wheelbarrows make a great customizable gift. There are options to add a handpainted scene on the side with selections like spring tulips, a lighthouse or apples in a basket. Or you can talk to us about your own design that you'd like painted as this customer did for her custom wheelbarrow that now features artwork of her two dogs, Gizmo and Billie Bo.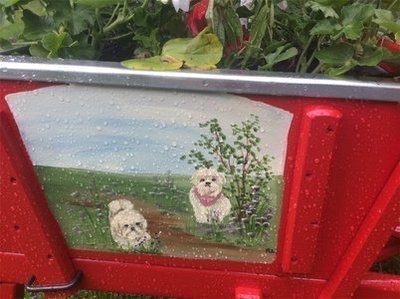 I have attached pictures of the wheelbarrow with the picture of my two dogs, Gizmo and Billie Bo. The artist truly captured both my dogs. Gizmo is always sniffing the flowers and Billie Bo loves his T-shirts and sweaters. Words can't express my happiness at the way my dogs were portrayed and my gratitude to the artist. Thanks to him my dogs will live forever in a way. He made a wheelbarrow into a family heirloom. –Patricia W. from NY
Wheelbarrows also offer the option to add a planter as well as choice of finish or paint.
Windmills
For poly windmills, there are a variety of colors to choose from for your primary and trim colors. For wood windmills, you can select from small, medium and large sizes as well as the stain color you like best.
Enjoy creative ideas for your outdoor wheelbarrows, wagons and windmills. Please send us photos of how you use your favorite outdoor décor at questions@dutchcrafters.com