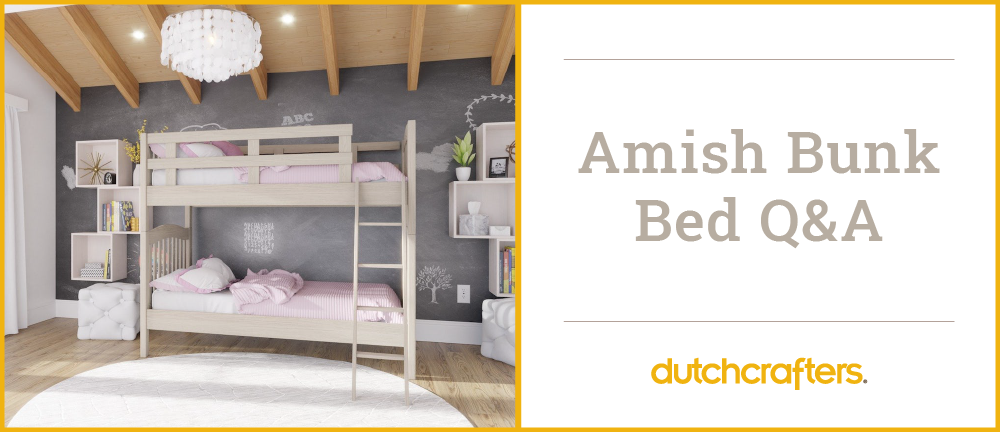 The bunk bed is often viewed as a kid's bed, a fun bed and a space saver. While these attributes are accurate, there's more to bunk beds that can take them beyond the kid's bedroom. How do they measure up and what else do they offer? Time for an Amish bunk bed Q & A.
What are bunk beds?
Bunk beds consist of two bunks (narrow beds) that make use of vertical space and are stacked one on top of the other. The use of vertical space saves floor space and creates a unique bed dynamic. The top bunk is accessed most often by a ladder, or sometimes a stool, and guardrails are used to prevent whoever is sleeping on the top bunk from rolling out.
Bunk beds are a solution for kids sharing a room. They allow more floor space to play and can have their own private bed space.
What are some popular bunk bed features?
Size and Space
Most bunk beds are narrow, so they take up less space and are a good fit for kids.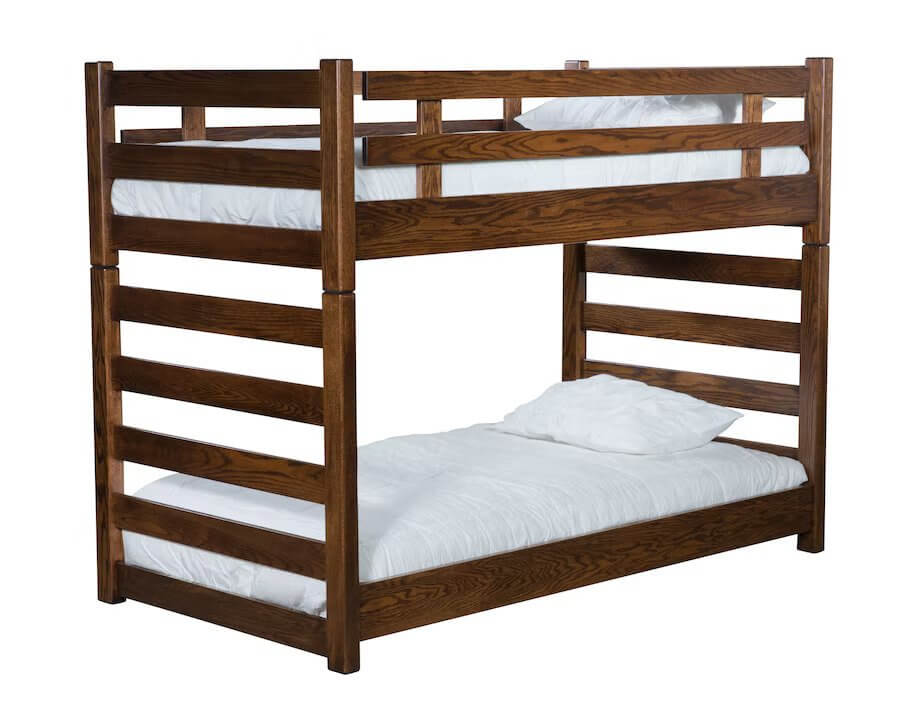 Privacy
When you have to share a room, bunk beds provide a special space within the room. Kids can decorate the wall by their bed and hang a small reading lamp that attaches to the headboard to create their own private den of sorts.
Storage
Bunk beds offer all kinds of storage options, with storage drawers and shelves built right into them. Some models can offer enough storage to serve in place of other bedroom chests or dressers, saving even more space.
Are bunk beds safe? How can I use bunk beds safely?
Bunk beds require you to take more safety precautions, making sure there's a secure guardrail, particularly for kids, and a secure ladder or stairs to climb on. Top bunks are often five feet or more above the ground.
Be sure to choose bunk beds that are made with sturdy materials. Amish made bunk beds are solid wood and offer maximum support and stability.
Position bunk beds so that they are not too close to a ceiling fan or lighting fixture, and watch the air conditioning vent as well so it's not blowing directly on either bunk.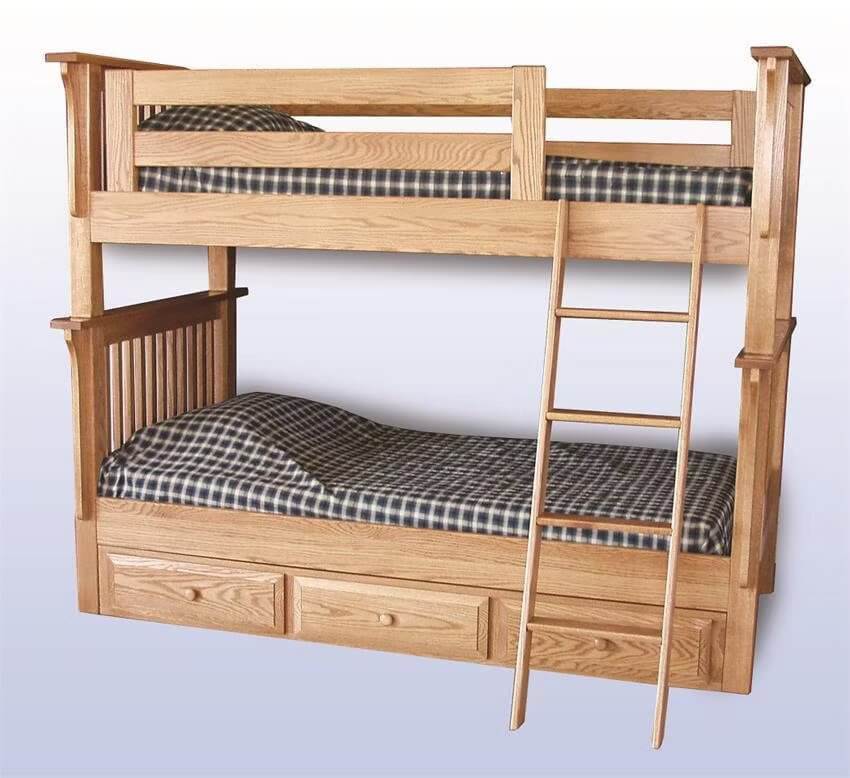 Get a guard rail to prevent any rolling out of the top bunk. Very young children under six years of age should not sleep on the top bunk. A guardrail should be at least five inches higher than the top of the mattress.
It's a good idea to have a nightlight on in case the top bunk sleeper needs to come down the ladder during the night.
Make sure there's four feet between the top bunk and the ceiling and between the top and bottom bunks to prevent feeling closed in or claustrophobic and also to prevent those in top bunks from hitting their head on the ceiling when sitting up.
What are the top benefits of bunk beds?
They save space. Saving space is the biggest benefit of bunk beds. They use up less floor space. In kid's rooms, this creates more room for them to play, as well as makes room for other furniture like a dresser or desk.
They save money. Purchasing a set of bunk beds will cost less than buying two separate beds.
They add storage. There are a variety of storage options that come with different bunk beds. This added bed storage can eliminate the need for other bedroom storage pieces, providing space for toys, books, clothes, blankets and more.
They're fun. Bunk beds are the ideal sleepover situation. For kids having parties or friends spending the night, there's automatically a comfy place for them to sleep versus sleeping on the floor.
What are some bunk bed drawbacks?
Bunk beds require you to take more safety precautions since they are higher off the ground. There's more risk of falls with climbing the ladder.
Making your bed on a bunk bed is not the easiest task, particularly the top bunk. The bed is high to begin with, and one side is against the wall. You'll likely have to stand on the ladder to make the bed at an odd angle.
Are bunk beds just for kids?
Bunk beds aren't just for kids. Adults can use them too. They're popular for guest rooms, making it easier to provide comfy beds for guests. One important thing to check for adult bunk beds is the weight capacity for the top bunk to be sure it offers the right support. Bunks can be used stacked, or can be used separately as twin beds in a bedroom or guest room, when you're looking to change things up. Make sure the bunks are long enough and strong enough and that the ladder is sturdy. Bunk beds are popular for adults for a rental or vacation homes too.
The stacking feature is popular for college students too and a solution to maximizing space in dorms and apartments with multiple roommates. With a desk underneath they are set to go.
How can you customize an Amish bunk bed?
Amish bunk beds offer a variety of options. They can be customized in choice of wood type and stain color, along with additional features, like added desk space, added storage space, convenient trundle beds and unique features like a private hammock space!
If you're looking to create more floor space, provide fun bedding for siblings sharing a room, or even outfit a vacation rental with plenty of beds, the bunk bed could be just the right thing for you.