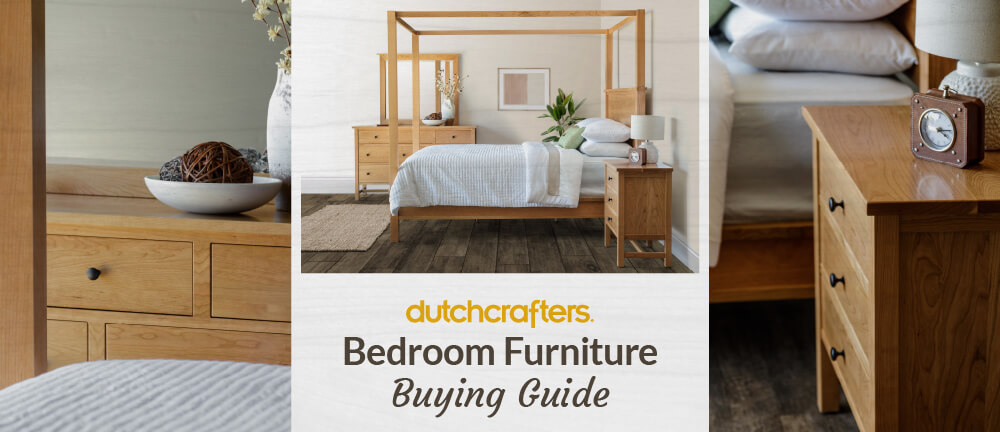 Bedroom Furniture Buying Guide
The goal of any good bedroom furniture buying guide is to help you determine your bedroom furniture needs to create a space with the right combination of personal style, comfort, and storage. Let's take a look at what to do before you start shopping and how to go about choosing the right bedroom furniture for you.
Bedroom Furniture Buying Guide Checklist
Before you start shopping for bedroom furniture, knowing three key things will help you speed up the buying process:
1. Your Budget Amount
Know what you have to work with before you begin shopping. It's not a great feeling to find a set you love, only to discover it is out of reach.
2. The Furniture Style You Like
Bedroom furniture is available in a variety of styles. From traditional to contemporary to transitional bedroom furniture that mixes the two, knowing your style before you begin shopping will help minimize the time you spend choosing furniture and décor.
3. The Measurements of Your Space
We can't stress this enough. Take measurements of the bedroom you'll be furnishing. Knowing how much space you have to work will help you determine what furniture pieces will actually fit and look right in the room.
Once you've completed this checklist and have an idea of what your budget will allow, the style you'd like to achieve, and how much space you have to work with you're ready to begin bedroom furniture shopping.
How to Shop for Bedroom Furniture
1. Choose a Bed
The most important piece of bedroom furniture is the bed. This is the first item you should find for your room.
Beds are available in just about every style you can think of these days — from colonial style beds with Windsor features to mid-century modern beds that capture minimalism to a tee. Keeping the design style you are trying to achieve in mind, other factors to consider when shopping for a bed include bed size and bed type.
Bed Size
Bed sizes range from twin to California king (the largest). When deciding which is the right bed size for your space, you'll need to consider the size of the room and how many people the bed needs to fit.
When measuring the room for the bed, also try to include at least 30-inches around the sides and foot of the bed so it is easy to move around it. Also consider if you will need bedroom storage like a dresser, armoire, or bedroom chest when selecting the bed size. If you dream of adding a bedroom bench or hope chest at the foot of your bed, be sure to allow space for that as well.
If space is limited, but you are in desperate need of storage, consider a storage bed (keep reading for the pros and cons of storage beds) or seeing if the bed you like can be custom designed with under-bed storage drawers.
Bed Type
The bed type you select helps to define the style of your master bedroom or guest suite.
Sleigh Beds
Sleigh beds are centerpieces for bedrooms. With curving headboards and footboards, sleigh bed styles range from simple to extravagant.
Sleigh Bed Pros & Cons
Pros:
Sophisticated look
Available in many styles
Sturdy and comfy
Create a focal point
Cons:
Some require lots of space
Can be heavy and hard to move
Limited under-bed storage
Higher footboard may limit legroom
Post Beds
Post beds have been around for centuries and feature four posts. The posts were important at one time to hold curtains that could be closed to help keep the sleeping area warm.

Pros & Cons of Post Beds
Pros:
Sophisticated look
You can add a canopy to them
If you use a canopy you can block out the light
Cons:
More to maintain/clean if you use a canopy
Canopy Bed
Canopy beds are four post beds with canopy rails. Originally designed to conserve warmth and offer privacy, canopy beds are now used to make a design statement.
When measuring for a canopy bed, be sure to make sure the ceiling is high enough to accommodate the posts and canopy if the canopy is domed.
Canopy Bed Pros & Cons
Pros:
Add a romantic, sophisticated look
Can offer warmth and privacy with curtain
Cons:
May require more maintenance
Can block airflow from an overhead fan
Curious pets could damage curtains
Platform Bed
Platform beds are popular because they offer more room for under-bed storage and don't require a box spring. Since platform beds are lower, they can make the bedroom look more spacious. Platform beds have a level base with either a slat support system or a solid panel. They are fairly low to the ground and usually feature simple frames available in styles for all tastes.
Pros & Cons of Platform Beds

Pros:
Easier on your budget with no need for a box spring
More room for storage underneath
Easy contemporary style
Closer to ground makes bed more stable
Available in many shapes and styles
Cons:
Can tend to be heavy and harder to move around
Not really a traditional style
Low height can make it difficult to get out of
Panel Beds
Panel beds feature a headboard, footboard, and side rails. They typically come with a slat system to support a mattress and mattress foundation, like a box spring. Panel beds also often feature large headboards made from a solid panel. They tend to be made in more traditional designs but can suit a variety of styles.
Pros and Cons of Platform Beds
Pros:
Available in many different styles
Box spring adds to height which can be easier for some to get in and out of
Feature great support with slats, box spring and mattress
Cons:
Need for box spring adds to cost
More of a traditional style, not a fit for modern bedrooms
Storage Beds
Hailed for saving space and providing comfort, storage beds offer additional storage somewhere on the bed frame. Storage beds can feature under-bed storage drawers on the sides and/or in the footboard, bookshelves and small drawers in the headboard, or lots of space in the headboard area including cabinets, drawers, and shelves in the case of pier wall units.
Pros and Cons of Storage Beds
Pros:
Great for adding storage
Doesn't require a box spring
Cons:
Tend to be larger and take up more space
Heavier to move
Daybeds
A multifunctional bed, daybeds can act as seating during the day and a bed at night. Ideal for small spaces that are in need of multifunctional furniture.
Pros and Cons of Daybeds
Pros:
Multifunctional
Good for small spaces
Can be used in living room
Cons:
Don't look visually appealing floating in a room
No back style will require a wall with comfy pillows for back support
Headboard Only
Why consider a headboard-only? Purchasing only a headboard allows you to inject a good amount of your personal style while saving space and making the bed easier to make in the morning. They also create a focal point, allow tall people room to stretch their feet, and give easy access to the bed from the sides or foot.
2. Choose Bedroom Storage
Popular combinations often chosen to complete a bedroom and add storage include a dresser, nightstands, and chest of drawers. Selecting the right storage options for your bedroom will come down to how much you hope to store, how much space you have to work with, and your personal style.
Nightstands
Nightstands come in all styles and shapes with different storage options. Some offer drawers, doors, open shelving, or a combination of those options. While a set of nightstands placed on either side of the bed is traditional and helps balance a room, it's fine to go with one nightstand or bedside table, depending on the space you have.
Nightstands are handy not only for storage, but also as a spot for a bedside lamp, clock, for your cell phone, and tablet or book. Some nightstands may offer secret compartments for storing valuables.
The height of your nightstands should roughly be about the same height as the top of your mattress to create balance and make it easy to reach anything on the top.
Dressers and Chests
Dressers and chests are both great for storing folded clothing, accessories, and linens, but they offer different features.
Dressers are short, wide, and deep, offer multiple columns of drawers, and their wider tops provide space to attach a mirror. Chests are usually tall and narrow. Their height is unideal for attaching a mirror.
Dressers provide wider drawers for more storage and are more versatile than chests because you can dress and put on makeup and accessories in front of them. For smaller bedrooms, chests are recommended since they take up less room.
Bedroom dressers and chests are available in a variety of styles to suit all tastes.
Armoires
Armoires feature double doors. Behind the doors, you may find a clothing rod, drawers, and shelves for storing items like clothing and blankets. Some offer a shelf for a TV that can only be viewed when the doors are open.
Lingerie Chests
Lingerie chests offer a way to organize delicate items and accessories. They offer a narrow set of drawers and don't take up a lot of space. They make for attractive storage pieces and are available in many styles.
Bedroom Mirrors
Many dressers come with a matching mirror, providing an attractive addition as well as a place to view hair, make-up, jewelry, and more. If space allows, full-length mirrors make a beautiful addition to master bedrooms or guest suites. The mirror's reflection can also help make the room look more spacious.
Bedroom Benches
If space allows, adding a bedroom bench offers many benefits. When used at the foot of the bed, benches add to the décor of the room along with providing a comfy place to sit. Many add storage options that help keep things like extra blankets organized. Used under a bedroom window, a bedroom bench allows you to relax while enjoying the layout of the room and the view.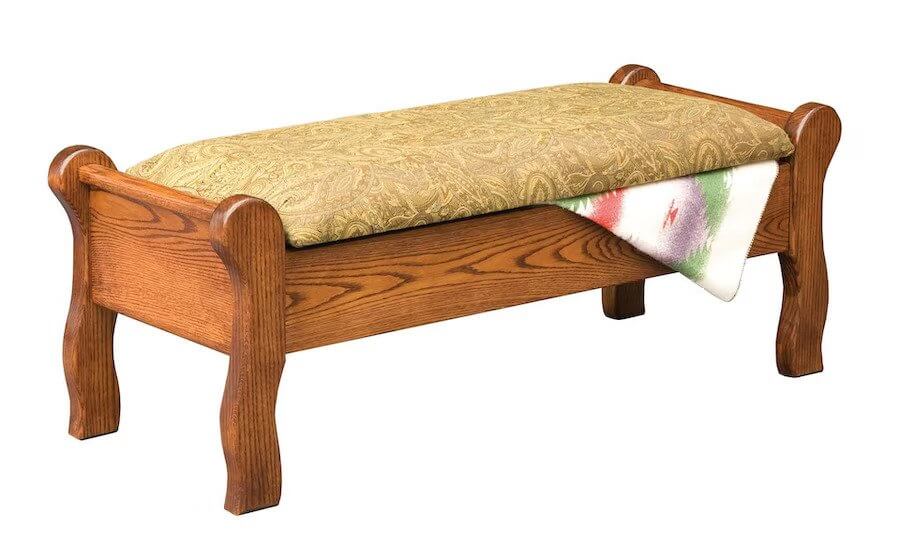 Storage Chests
Storage chests are often put at the foot of the bed but can be placed in the closet or used as a coffee table in a bedroom sitting area. They provide storage for blankets, linens, and special keepsakes. Hope chests made from cedar help protect treasured items thanks to the wood's natural ability to repel bugs.
Bedroom Sets
If you want your bedroom furniture to match, bedroom sets are the way to go. Selecting a set in a style you love is easier than trying to piece one together. Bedroom sets balance the room nicely and will save you time when shopping for bedroom furniture.
Final Thoughts
As you select bedroom furniture, be sure to consider the material it is made of. Solid wood will perform the best and last the longest if your budget allows. Be careful of particleboard and furniture made with micro density fiberboard that will likely break down over a short time span. Look for signs of a quality build, like a solid frame, dovetailed joints, and drawers that open and close smoothly. Go for furniture that matches your style and will help keep you organized.
We hope this bedroom furniture buying guide helps lead you to bedroom furniture that fits your style, budget, and needs. Happy bedroom furniture shopping!