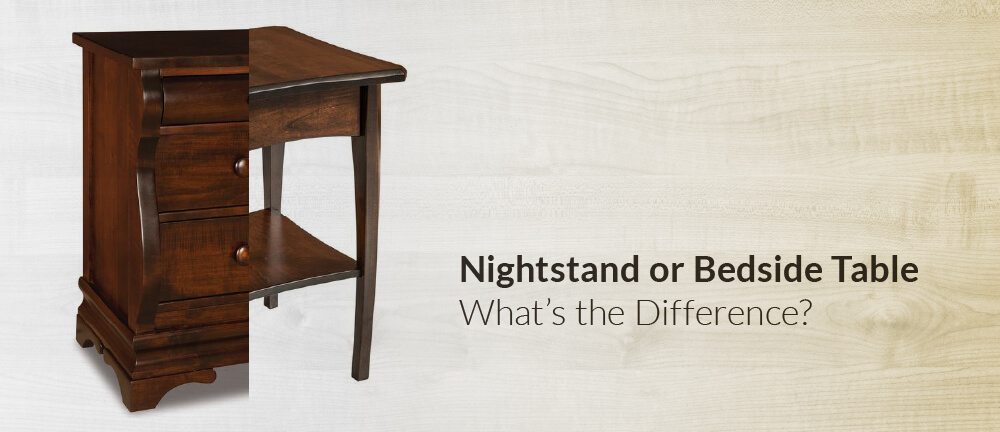 Nightstand or Bedside Table — What's the Difference?
Do you call it a nightstand or a bedside table, and is there in fact, a difference?
A nightstand is typically defined as a small, low bedside table that usually has drawers.
A bedside table is defined as a small table beside a bed.
How are the two furniture types different from each other?

Some believe there is just one main difference: Nightstands are expected to have at least one drawer, while bedside tables are not.
Can a bedside table have drawers and not be a nightstand? Can a nightstand exist sans drawers and still earn the title nightstand? That's up to you.
The terms nightstand and bedside table are often used interchangeably, since they perform similar functions. They may also be referred to as night tables.
Nightstands
Nightstands achieve a number of goals that include balancing the look and style of the room and providing storage and a convenient surface to easily reach things you need when you're in bed.
Bedside Tables
Bedside tables are meant to be practical and hold the items you're most likely to reach for while in bed. Bedside tables might not offer as much storage as nightstands and some won't offer any.
Benefits of Both
Nightstands and bedside tables both add to the style of the room, come in many different shapes and sizes, and offer a variety of features.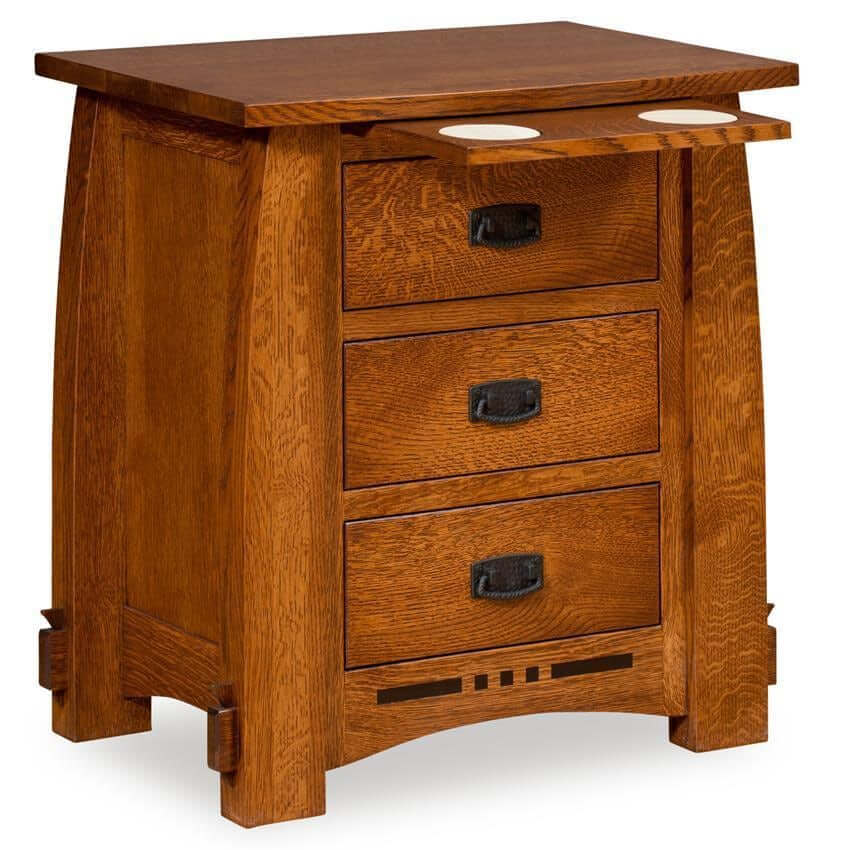 Both can be relied on to host lamps, alarm clocks, phones, drinks, remotes, books, and more.
The storage drawers that nightstands provide help to keep items like medications, glasses, and reading materials stored neatly and make them easy to retrieve.
Nightstand and Bedside Table Dimensions
Ideally, the top of the nightstands or bedside tables should be even with the top of your mattress or sleeping surface. This way it's easier to grab your drink, turn on your lamp, or hit the snooze button on your clock or phone when you're in bed. Higher or lower than your sleeping surface can look out of place.
Keep in mind, to balance the look of your bedroom, larger beds will look better with larger nightstands and smaller beds will look better with smaller nightstands.
Do nightstands or bedside tables have to match?
Gone are the days where bedroom furniture collections have to match. Depending on your preferences, it's your choice whether to have nightstands to match your bedroom collection or to make a collection of mismatched furniture work to your advantage. Matching furniture helps to pull together the look of the room and provide added balance. Mismatched furniture is adventurous and can contribute to a more casual, eclectic look.
For bedside tables or nightstands that aren't made to match, try to choose ones finished to match your color scheme or ones that are made of similar material to your existing bedroom furniture.
The title nightstand or bedside table is up to you. Now don't get us started on bedside cabinets…