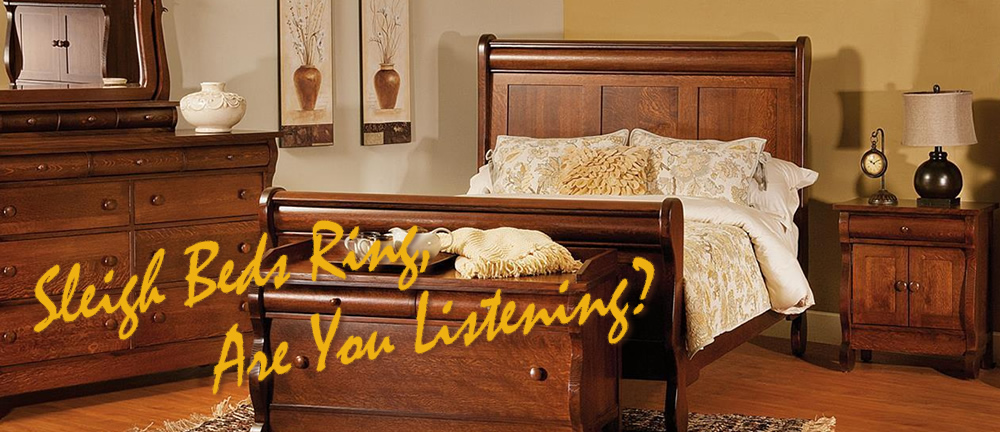 Sleigh Beds Ring, Are You Listening?
There's something quite cozy about sleigh beds.
Displaying curvy headboards and footboards with gorgeous scrolling, early sleigh bed styles were quite extravagant. They have developed simpler surfaces and structure over time. This showcase of Amish beds displays the styles and details available in modern sleigh beds.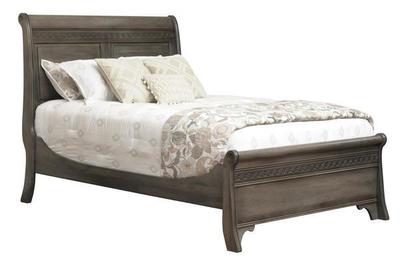 Sleigh Bed Style
Simply put, sleigh beds resemble the curves of an old-fashioned sleigh. The headboard and footboard scroll and flow with an outward curve at either end. Early sleigh bed designs featured inward or outward curves. These days, the outward curve is preferred. Sleigh beds have a delicate look to them despite their rich full bodies.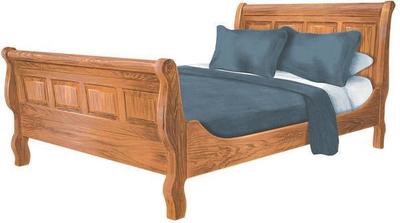 Sleigh beds are often made with carved wood and serve as centerpieces in bedroom suites. Sleigh bed styles do not disappoint, with styles ranging from simple to elaborate. While sleigh beds offer a lot of old-fashioned appeal, they adapt easily to a variety of design styles.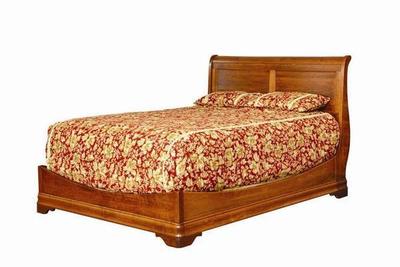 The Chantilly Amish Sleigh Bed boasts a more formal look.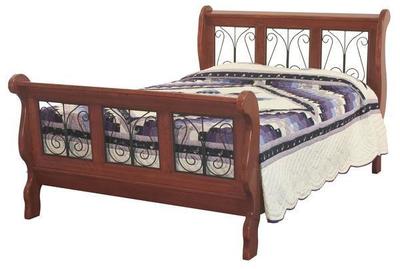 This classic sleigh bed incorporates wrought iron.
Construction of the sleigh bed doesn't differ much from other beds.  There are two side rails, the headboard and the footboard. Slats are often dovetailed into the side of Amish sleigh beds for added durability.
Custom Amish Made Sleigh Beds
Lots of detail goes into an Amish made sleigh bed. Details in the headboard and footboard create a distinct look. When you choose a sleigh bed, you're definitely looking to make a statement—one of cozy elegance.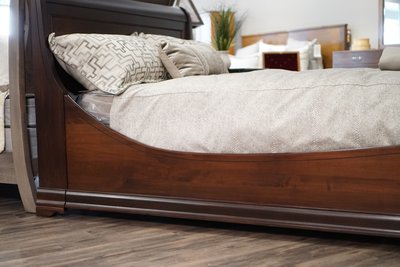 Some new sleigh bed styles include leather headboards that fit a contemporary bedroom with ease. Amish made sleigh beds make it even easier to match to existing bedroom furniture with custom options like wood and finish available to find a perfect match. This timeless design can easily go rustic or modern and adapts to a modest or spacious bedroom, apartment, or loft area.
Solid wood sleigh bed features are used for day beds and cribs too.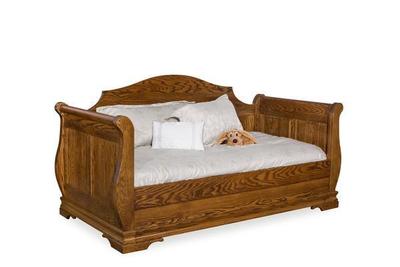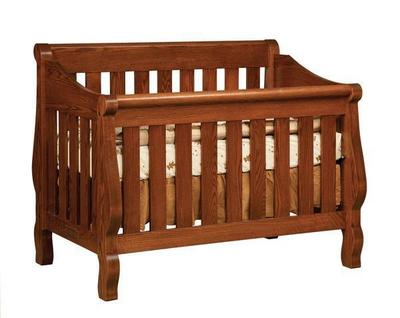 To show off the strength of an Amish made bed, we conducted an experiment using the Amish Versailles Euro Sleigh Bed that you won't want to miss.