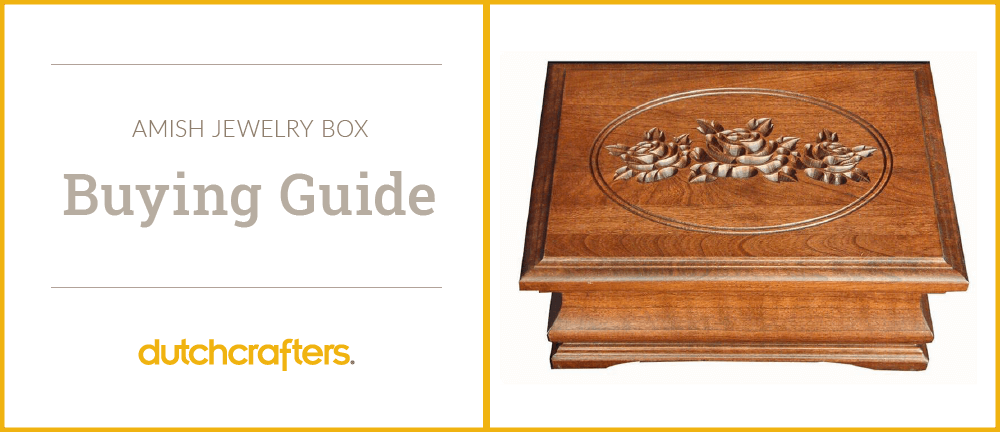 Amish Jewelry Box Buying Guide
Whether you're searching for a gift or the right storage for your own collection, the Amish Jewelry Box Buying Guide can offer helpful tips. Read on for guidance on what to look for to find the best jewelry box to meet your needs.
Types of Jewelry Storage
There are many different types of jewelry storage, ranging from small to large in size. There are different materials to choose from, and you can find jewelry storage to fit any budget from inexpensive to high-end. Some options available include:
Hanging Jewelry Organizers—These are inexpensive and can hang on a hook. They have plastic compartments so you can easily view and access jewelry. They are not as sophisticated as other jewelry storage and won't last as long, but they are affordable and practical.
Over-the-Door Jewelry Organizers—These are similar to hanging jewelry organizers, except they have hooks that hang over the door. They are a good space saver option.
Travel Jewelry Organizers—These are available in a variety of sizes from small box or pouch to a roll-up fabric case you can tuck in your luggage. They are lightweight and some have soft linings.
Jewelry Organizer Trays—These are stackable trays with compartments for storage. They are often made of plastic and are an inexpensive option.
Standing Jewelry Armoires—These come in a variety of sizes and can hold larger collections. They can be heavy and take up a good amount of space. They can contribute to the style of the room as another piece of furniture.
Jewelry Box—These are the oldest and most popular versions for jewelry storage. They come in a variety of sizes and styles. They sit easily on a flat surface.
Men's Jewelry Box—These are also called valets and offer simpler styles than women's jewelry boxes. They often have a single tray, and are used to hold watches, cufflinks, coins, wallet, rings, money clips and more.
What should you look for when buying a jewelry box?
Ask the following questions before beginning your jewelry box search.
How much storage do you need?
Take inventory of your jewelry collection. Smaller collections can find enough room in a small jewelry box or organizer tray, while larger collections may need something like a standing armoire. Do you like chunky bracelets or delicate ones? Do you have lots of necklaces, or do you only wear rings? Keep items in mind in order to choose the right box with the right compartments you'll need. Jewelry collections can grow over time, so be sure to select a jewelry box that will accommodate your collection if you plan to add to it. Taking inventory helps determine if you need your jewelry box to have rows for rings, drawers and compartments for bracelets, hooks for necklaces, or a combination of these. Amish jewelry boxes come with a variety of storage options for different collections.
What style do you like?
Jewelry boxes come in lots of different styles. Consider what style you like, particularly if you're planning to have it on display. Wood jewelry boxes range from simple to traditional to sleek modern styles.
What's it made of?
Consider the material your jewelry box is made of. Jewelry boxes are made of lots of different materials, including plastic, fabric, glass, and wood, with wood being the most popular choice. Jewelry boxes made of wood bring a sophisticated look along with them. Wood is strong and offers added protection as well as some insulation for your jewelry collection. Glass offers transparency that allows you to see what's inside, but can break if dropped. What your jewelry box is made of will help determine how well it will perform and how long it will last. Amish jewelry boxes are generally made of solid wood with soft linings to help protect your jewelry.
What is the lining like?
Look for soft lining inside a jewelry box to help protect your jewelry and prevent it from getting scratched during storage. Amish jewelry boxes offer plush linings to create the softest storage.
Consider a lock.
For items that you are concerned about keeping safe, options include a home safe, a safety deposit box at a bank, or a lock for your jewelry box. Not all jewelry boxes offer locks, so if there are items you want to secure, a home safe could be a better option.
Keep budget in mind.
Jewelry box prices range from inexpensive to costly. You can find tray organizers, travel boxes, and hanging jewelry cases that are quite affordable. When you get into wood jewelry boxes (Amish ones included), the cost will go up due to the quality craftsmanship and materials used. Of course, the better it is made, the longer it will last.
Amish Jewelry Boxes
Amish jewelry boxes offer the highest quality for protecting and storing jewelry collections. The solid wood offers an attractive, stylish piece to add to the room and offers some insulation for your jewelry collection. Different woods contribute rich colors and a natural look, and standing armoires handcrafted in an Amish woodshop are works of art. Amish-made jewelry boxes take jewelry storage and design to the next level by offering you options to customize.
Ways to Customize an Amish Jewelry Box
Choice of wood: An Amish jewelry box is going to be made of wood, and it's going to last a long time. There are lots of wood types to choose from, including woods like hearty oak that wears a prominent grain pattern, to distinguished cherry wood, with its smooth texture. There's brown maple wood that costs a bit less than cherry, offering a smooth texture as well, along with a variety of brown shades.
Choice of stain: The finish or stain for a wood jewelry box is just as important as the craftsmanship of the box itself, and there are many colors to pick from. Skilled craftsmen apply the stain that offers protection, adds color, and enhances the beauty of the natural grain pattern.
Choice of hardware: There's a variety of hardware to choose from for a custom Amish jewelry box. Selection of hardware can enhance the look, contributing to a traditional or modern style.
Choice of lining: Many Amish jewelry boxes offer plush felt lining to help protect jewelry and comes in a variety of colors.
Choice of lid design and personal engraving: Along with handcrafting comes some beautiful and unique carvings for jewelry box lids, including roses, grapes and personal engraving. You can personalize with a name or special message.
Consider adding a stand: Some Amish jewelry boxes offer the option to add a stand or base to place your jewelry box on.
Benefits of Amish Jewelry Boxeds
Quality build
Maximum durability means they can be passed on for generations
Made with beautiful solid wood
Soft lining
Option to add engraving
Customizable to match your furniture
Choosing the right jewelry box organizes your jewelry collection, making items easier to find and ultimately saving you time from untangling necklaces or trying to find that perfect pair of earrings to go with your outfit. They also help to protect your jewelry and increase the life of your jewelry. An Amish jewelry box offers heirloom quality, and when purchased for yourself or as a gift for someone else, it can be kept and passed on for generations.