Amish Wooden Toys for Summertime Fun
I was recently in the grocery store line and watched, with the gentleman in front of me, as a young child ahead of us became frustrated with his mother's cell phone.  He scowled as he pushed a flurry of buttons on the device.
His mother asked him what was wrong, and he cried that the game wouldn't work, with a little stomp of his feet.
The gentleman shook his head.  Once the boy and his mother were out of earshot, he turned to me and commented, "When I was a kid, my mother would throw a big cardboard box outside and tell us to go out and play.  We would play for hours with that box….and boy was it fun."
Therein lies the appeal of creative play. Toys that tickle the imagination and feed creativity are timeless toys that span generations.  The best part about old fashioned toys is that power sources and batteries are never required.  Brainpower fuels the fun.
With school closing and summertime offering long hours to fill with fun for your child, a collection of original, classic Amish wooden toys will make great companions.
5 Reasons to Make Amish Wooden Toys Part of your Summertime Fun
Entertainment on the Move:  Wooden blocks, farm animals, puzzles, and yo-yos transport easily.  Pack light knowing the kids are occupied during lengthy car or plane rides.
Avoid Rainy Day Blues: Delightful doll beds, engaging art easels, captivating choo-choo adventures, and block-building keep the fun going indoors when the weather goes awry.
Great Gift Idea:  Timeless Amish wooden toys make perfect gifts for family and friends you are visiting.
Mind Development: Kids exercise the imagination with solid wood toys.
Unplugged:  Phones, tablets, iPads, and TVs are silenced with the introduction of solid wood toys. Children will think, talk, create, laugh, and learn about themselves as they play.  Make it a great summer and get unplugged.
Advantages of Solid Wood Toys
Safety First:  As little ones explore, they are naturally inclined to put toys in their mouths.  Wood is safer than plastic, painted, or metal toys.
Educational:  These wooden treasures exercise the imagination and inspire creativity.
Recyclable:  Naturally made wooden toys support the environment.
Durability:  Solid wood toys will not break like cheaper plastic options.  These handcrafted items are made to last and to be passed on to future generations.
Brainpower Basics, the Amish Way
Early toys were made from materials that were readily available.  Dolls were born of corn husks. Cloth and wood lent themselves to fashion blocks, puzzles, doll beds, and trains.  These toys required imagination and creativity to bring pretend play into action.
Handmade Amish toys contribute to exercising the mind and keeping the wheels of creativity turning.
Bring Along the Blocks
Mighty forts, colossal castles, charming houses, and grand designs are born from blocks.  The possibilities are endless as your child determines the course of play.  Blocks are one of the best toys for exercising the mind and developing hand-eye coordination.
Create Animal Tales
Our Wooden Toy Horse Stable provides a platform for exercising the imagination. Listen as stories develop and adventures unfold with your child the author and creator of the action.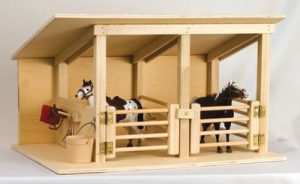 Amish Wooden Toy Horse Stable
Keep the Train Moving
Children will explore new worlds with a classic Amish Train Engine or Toy Trucks.  Fine motor skills are developed as little engines that can are pushed and manipulated to travel far and wide.
Amish Oak Wood Medium Train Set
Classic Take-Along Toys
Problem-solving puzzles and reflex sharpening yo-yos keep eyes and minds focused.  Light and compact, they are easy to take along while you travel.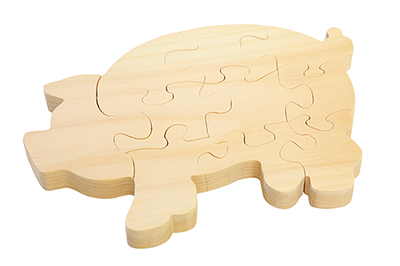 Wooden Jigsaw Puzzles
Delightful Dolltime
The story is different every time as dollies are cared for and dressed for their adventures.  Our solid wood stacking doll beds provide room for doll friends to slumber as little ones create their own version of bedtime.