Let's Get Cooking: Fun Amish Kitchen Accessories
Do you consider yourself a gadgeteer? Love kitchen tools and can't get enough of them? Kitchen accessories make cooking chores easier and food prep more fun. While the Amish are no strangers to hard work, they certainly want to use their time as efficiently as possible. Here are some helpful Amish kitchen accessories along with a DIY project that puts an old whisk to good use!
For Cookies-n-Pizza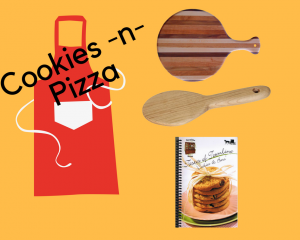 While your finger will still work just fine for taste-testing batter, these tools come in handy when it's time for fresh baked cookies or homemade pizzas.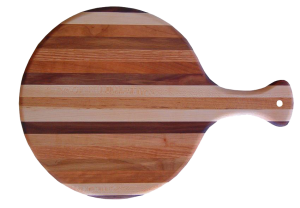 The Amish Handcrafted Wood Pizza Cutting Board:  Serves up your delicious homemade pies with ease. Rounded to fit pizza pies and made of a multi-wood combination that includes maple, cherry, walnut and red oak wood, this colorful cutting board adds a durable tool to your kitchen essentials. Slice pizza directly on the board and serve.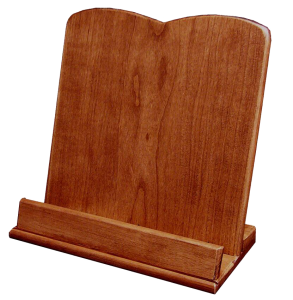 Favorite recipes are even easier to follow with the Amish Hardwood Plain Cookbook Holder with Drawer to keep the page open and your hands free.
Helpful Kitchen Gadgets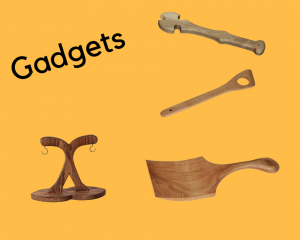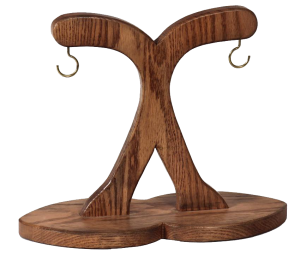 Banana lovers will have plenty of room to store their share of potassium with the Amish Oak Wood Banana Tree Double. Stores two bunches instead of one. Great for families. Did you know the banana is considered to be a berry?

Wooden Pancake Turner
Chances are if you perform a pancake flip, the Wooden Pancake Turner will catch it. A kitchen aide you'll never have to replace made of solid, strong, brown maple wood.

The Wooden Salad Serving Set is an essential for easy serving of delicious salads. This set is made with brown maple wood.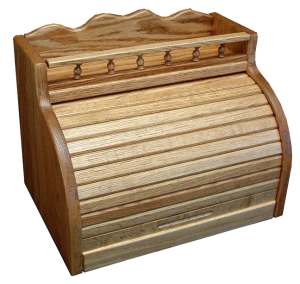 A spacious bread box can hold bread and other baked goods. These attractive boxes help to keep bread fresher longer and limit mold-producing moisture. This version doubles as both bread box and spice rack.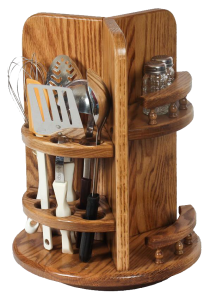 Keeping drawers and counters organized, the multitasking Amish Wood Kitchen Lazy Susan with Paper Towel Holder and Spice Rack can't go by just one name.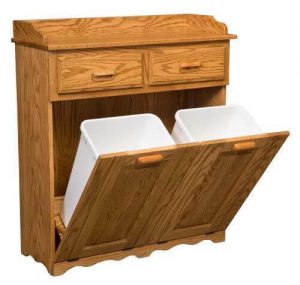 A customer favorite for kitchens and lots of other areas around the house (think laundry room, mudroom, pantry) is a pine tilt out trash bin. Plastic bins tilt out easily and can be used for trash, recyclables or laundry, all concealed in a gorgeous solid pine cabinet. The Amish Double Tilt-Out Trash Cabinet makes the perfect recycling station.
For the Table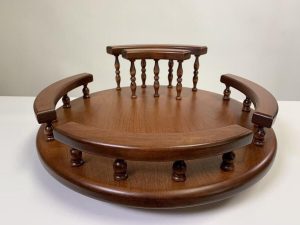 A lazy susan is more than a tool for the table. It's a courtesy, a convenience, and a charmer. We like how the Amish Hardwood Square Mission Lazy Susan offers lots of room for condiments and napkins.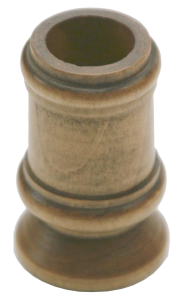 Amish Wooden Toothpick Holder
And no meal is complete without the after dinner toothpick!
Don't forget Amish kitchen accessories as great housewarming or wedding gift options. They are always useful since everyone takes part in daily meals.
As promised, here's a quick DIY project to make a handy veggie shelf out of a whisk.