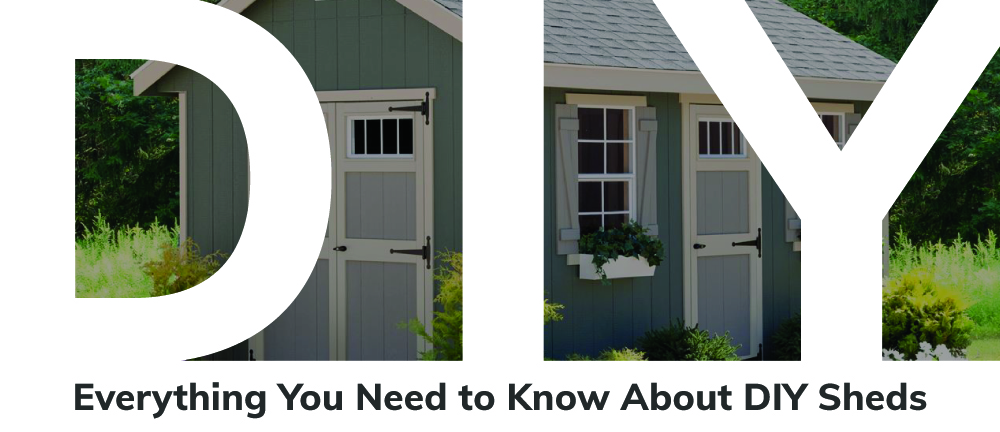 Everything You Need to Know About DIY Sheds
Some outdoor sheds serve as storage for the lawn equipment, car parts and other miscellaneous items that might belong in the attic. Some are organized with tools and workbenches, gardening items and snow shovels. Now this popular outdoor structure that contributes storage and style is even easier to incorporate on your property.
At our first house, my husband recruited a neighbor and they built a shed for our backyard. It had a window and a solid door. It was gorgeous and looked like a mini-house. It was also expensive and took a lot of work to build, but it was worth it.
DIY shed kits can take outdoor storage to a whole new level. Some of these sheds aren't being considered for storing gardening tools and fishing supplies, but for outdoor offices, exercise studios and even insulated rooms! They're easier to put up since DIY shed kits come with pre-made walls and pretty easy to follow instructions. They are more fashionable than ever and are arriving in the form of the very popular DIY shed kit.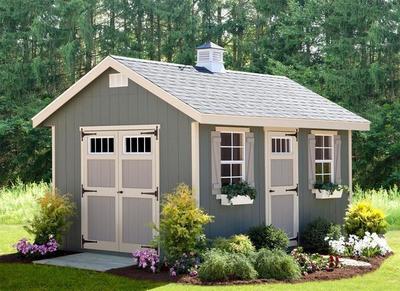 DutchCrafters DIY Shed kits offer much more than what you can find in the big box stores. They're made in Lancaster, PA or Holmes County, OH, and they range in size from 8 to 12 feet with lots of sizes in between. Not only are these wood storage sheds pretty, functional and durable, but they come with options that let you contribute exactly what you want to their design. They're fairly easy to put together, and they cost less than having one custom built. So if you enjoy do-it-yourself projects for your home, you're in need of outdoor storage or a she shed/man cave shed to call your own, here's everything you need to know about DIY Sheds.
Advantages and Disadvantages of DIY Shed Kits
Advantages:
Made with high quality materials that will last long
Can add value to your property and enhance outside appearance
Ready to ship and easy to assemble
Available in a variety of sizes
Lots of additional options available to personalize with (i.e. location of doors and windows, flower boxes, weather vane, transom windows)
Save money on installation by building it yourself
Disadvantages:
You have to build it yourself (actually, two people working a good part of the day is what's needed).
What's Included in a Standard DIY Shed Kit
Your new shed is delivered in panelized form, meaning the walls are already assembled in 4' sections. Everything else (including rafters, trim, door hardware and fasteners) is pre-cut and ready to assemble.
Assembly instructions include a list of tools you'll need for assembly as well as drawings of the shed layout.
The instruction manual included explains exactly where each fastener is used.
What's Not Included
The floor: Not everyone needs or wants a floor for their shed. We do offer an optional floor kit that you can order.
Shingles: There are costly to ship, so we recommend selecting a color that matches your house and purchasing them locally.
Drip edge: This is installed at the edges of the roof to help control the flow of water. Drip edges can be purchased at your local hardware store.
Paint: Siding is shipped primed and ready for any exterior latex paint should you choose to paint your shed.
About the Foundation/Flooring
We offer guidelines for site prep, assembly and delivery that include suggestions for prepping the site for your new shed. We do offer an optional floor kit upon request.
Design Features You Can Add to Your Wood Shed
Ordering your shed kit and designing it to fit your home is easy. Each shed comes with standard features. Then you can add on options with a wide variety to choose from. Simply choose a design, select options, checkout, and then get your shed location ready for delivery day! (Remember, additional custom options add to the cost and may add to the build time. You will need to consult with a Furniture Specialist prior to ordering.)
Some Shed Options to Choose from Include:
Additional windows
Change location of doors
Different size options for windows
Transom windows (window set over the door)
Vents on the sides for added ventilation (comes with 2 standard)
Add a cupola
Add a weather vane
Add flower boxes
Add a ramp
About the Wood Used for These Sheds
Your shed is made with oriented strand board (OSB). It offers top quality moisture tolerance and is less susceptible to warping.
OSB is made by compressing and gluing pieces of wood together. It's mixed with wax and adhesive and then hot pressed. Fifty strong layers make one durable sheet of OSB. Oriented strand board has an added layer of protection called smart siding.
What Smart Siding Is and Why It's Good for Your Shed
Smart siding adds an incredible layer of protection. It won't rot or rust, and it's not susceptible to termites or pests. It's easy to keep clean and can even be pressure washed gently. It is made from premium engineered wood from certified forests and offers exceptional durability and an attractive look. It offers added protection from outdoor elements. Smart siding has a warm and natural look and is highly resistant to fungi and decay. It's made to keep moisture out.
Here's What's in Your Smart Siding
Each wood fiber is coated with water resistant wax to enhance durability which is especially good for rainy, humid areas.
Smart siding is treated with zinc borate that wards off termites and fungal decay.
The top layer on your smart siding is also protective, including a resin saturated overlay that keeps moisture out as it adds the perfect surface for painting, if you wish.
Advantages of Smart Siding
Impact and moisture resistant
Attractive wood texture
Lighter and easier to install than fiber cement
Protects against decay and termites
Manufactured with wood from sustainable forests
Covered by a 10 year warranty
About Shed Delivery
The shed kit ships via common carrier freight on a pallet. A liftgate is not available due to the size and bulky nature of the kit. The package is opened on the truck, and it can be unloaded by hand. It is recommended to have two to three people to help unload all the pieces. The heaviest piece weighs 60 pounds.
Check If You Need a Permit
This will vary by location. Some counties require a permit to build your shed. We recommend you check into specific zoning or permit requirements beforehand.
Where to Find the Info You Need About DutchCrafters DIY Shed Kits on Our Site
You can find all the shed specifics on our shed product pages, including shed fastening, site prep, assembly, delivery and shed FAQs. You can click on the drop down windows on any shed product page to learn more, or email or call a Furniture Specialist for help.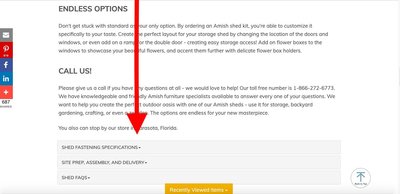 Whether you're just storing your lawnmower and tools or you're treating yourself to a she shed to use as an outdoor studio or even an insulated guest room, DIY sheds can make it happen. It's an activity the whole family can be involved in building together.
What would you use your DIY shed for?