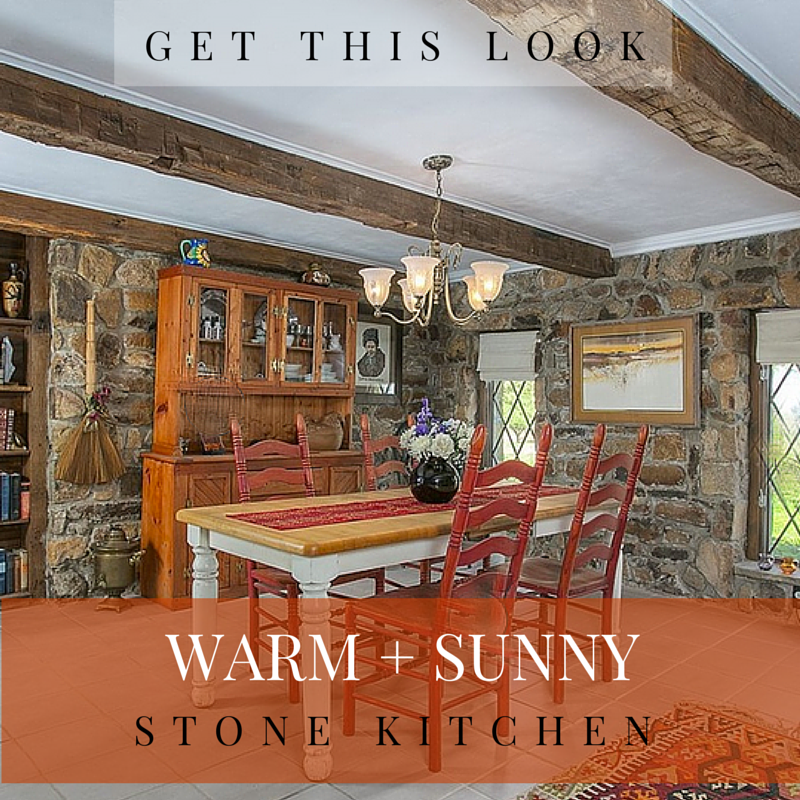 Get This Look: Light + Sunny Stone Eat-In Kitchen
You're getting warmer . . . As the summer heat descends, we're drawn to the cool, refreshing environs of a stone eat-in kitchen to beat the power of the oven. The trick here? Keeping it cozy yet bright.
Dark and dreary? Dank and dungeon-esque? Hardly. Relaxed, traditional pieces in a variety of tones and textures, plus some natural light and a high ceiling help bring this stone eat-in kitchen to light, er, life!
1. Exposed Beams
We get it – not everybody has the luxury of opening their ceiling up to the world. But this kind of rough-and-tumble, almost industrial ceiling feature both draws the eye up (creating the feeling of a larger space) and adds to the organic theme of the kitchen. Achieve a similar effect with a wooden ledge placed high along one wall, or even a woven, wicker ceiling fan.
2. Textured Accessories
This lovingly worn and colorfully patterned floor covering divides the kitchen space while warming the chill of solid slate underfoot. Keeping those colors muted but varied is key to successfully tying the rest of the room together – think easy, primary colors like brick red, mossy green and deep faded blue to work the traditional angle.
3. Ladderback Chairs
It's obvious that these chairs are the center of attention, and we think the distinction is well-deserved. A perfect example of Early-American poise, straight ladderback chairs around a generous leg table beg to be pulled away for Sunday dinner or a midnight snack.
4. Farmhouse Leg Table
From Texas to Pennsylvania, a farmhouse dining table is right on trend. Country without being cutesy, this kind of pared-down dining staple conveys stability and timeless taste. Think of investing in a farmhouse table like investing in a good spice . . . it works well in a variety of (styling) recipes, but it doesn't overpower the entire dish. Consider switching up the table runner with the seasons to add interest.
5. Kitchen Hutch
What's a country kitchen without a well-stocked hutch? Whether overflowing with recipe books, figurines, or themed china, a hutch is likely the largest unit in your kitchen or dining room, and should be thoughtfully chosen as such. While we aren't averse to mixing wood tones, bear in mind that closer tones are more likely to read as mismatched, where contrasting light and dark wood stains has more universal appeal. Of course, with all that stone around, picking up the lightest tans in the streaky rocks may be your best bet to keep the room fresh and inviting.
What other advice would you offer to get this look at home?