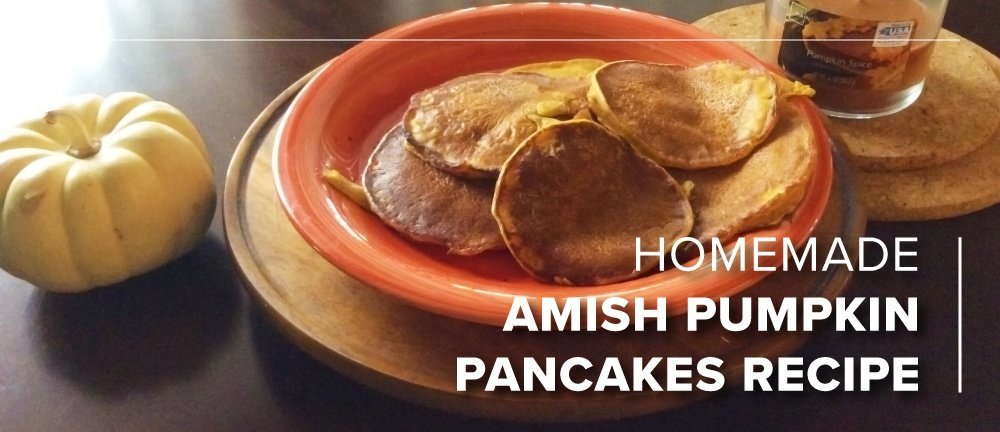 Homemade Amish Pumpkin Pancakes Recipe
Pumpkin time has come a calling. When the first cool wisps of fall enter the picture, it's easy to shift the mind to thoughts of the season and with that come pumpkins everywhere.
Pumpkins are a member of the gourd family, and they are fruits.
Pumpkins are low in calories, fat and sodium and high in fiber.
Pumpkins are a good source of Vitamins A and B, potassium, protein and iron.
Pumpkins have been grown in North America for five thousand years.
It's time for pumpkin spice scented candles, pumpkin seeds baking in the oven, and now pumpkin pie makers can roll up their sleeves, for it's time to get baking!
In the spirit of pumpkin season, we're sharing an Amish recipe for Homemade Amish Pumpkin Pancakes from Kevin Williams, a master resource for Amish recipes that he shares on his site, Amish365.com. Now all you pumpkin lovers can start your day with a pumpkin food. Thank you Kevin!
Homemade Amish Pumpkin Pancakes Ingredients
1 cup flour
Pinch baking soda
2 tbsp. sugar
¼ tsp. cinnamon
⅛ tsp. ginger
⅛ tsp. nutmeg
1 egg well-beaten
1¼ c. milk
2 tbsp. melted shortening
½ cup canned pumpkin or mashed sweet potato, cooked
Instructions
Combine flour, soda, sugar and spices. Combine egg, shortening, pumpkin and milk; add to flour mixture and beat until smooth. Bake on hot, lightly greased griddle, turning only once. Serve hot with butter and syrup or powdered sugar.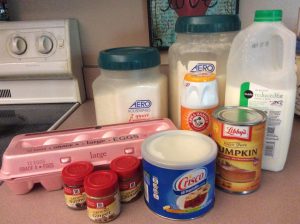 First, I assembled all ingredients.
Next up was mixing the dry ingredients. I loved the colors of the cinnamon, ginger and nutmeg against the whites of the flour and sugar.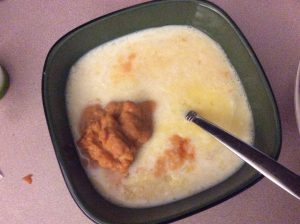 Next came combining the wet ingredients. The pumpkin had its nice fall orange color, but didn't look so attractive when I dumped it in.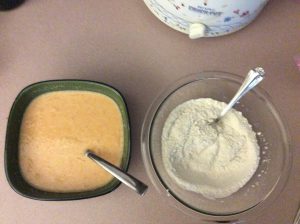 Then it was time to mix wet and dry together…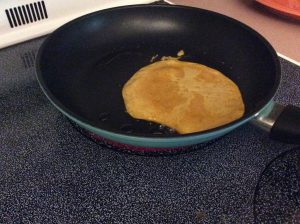 …..and into the pan it all went.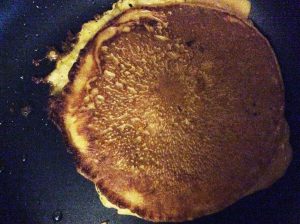 My first Amish homemade pumpkin pancake! The ripples and waves made me think of the fine grain patterns on our wood furniture.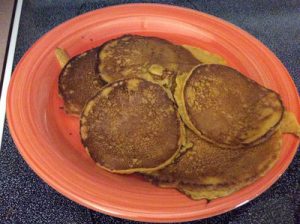 I piled plenty onto a plate…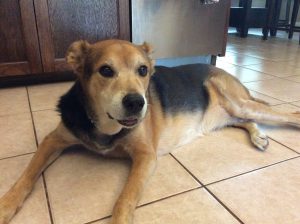 ..while my dog Lady stayed glued to her spot in the kitchen in case anything dropped on the floor.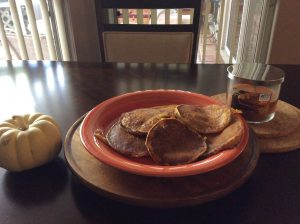 This recipe made 10-12 medium sized pancakes.
After taste testing with my husband, daughter, and friend, we found these Amish Homemade Pumpkin Pancakes had a nice pumpkin flavor mixed with a little sweet. I tried a plain pancake and one with a little syrup. They had a crepe-like consistency which we decided could go well with the following: whipped cream, walnuts, pecans, honey or cinnamon apples.
Be sure to visit Amish365.com for more Amish recipes and a wealth of information about Amish people.