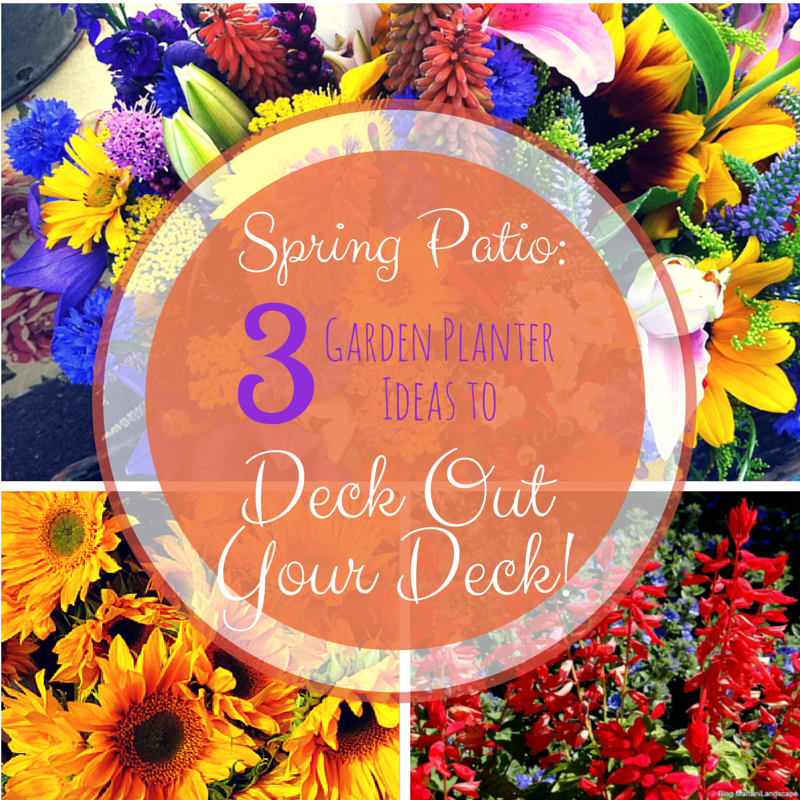 Spring Patio: 3 Garden Planter Ideas to Deck Out Your Deck
With spring in full bloom and summer just around the corner, May brings with it some of the most vibrant and magnificent outdoor displays that the year has to offer. It seems as though almost everyone's outside – weddings, picnics, holidays, those long afternoons with a book that we can't stop dreaming about – and all of that calls for outdoor décor to match these bright, vibrant days. So, we've taken a little time away from the sunshine to round up these ideas for seasonal garden planter arrangements that'll fit any space!
Growing Love: The Wedding Garden Planter
It's wedding season! Our brilliant Amish woodworkers are more than happy to add a custom inscription or mural to any planter, giving them the flexibility to work with you to create a wedding centerpiece or gift that's exactly as you imagine.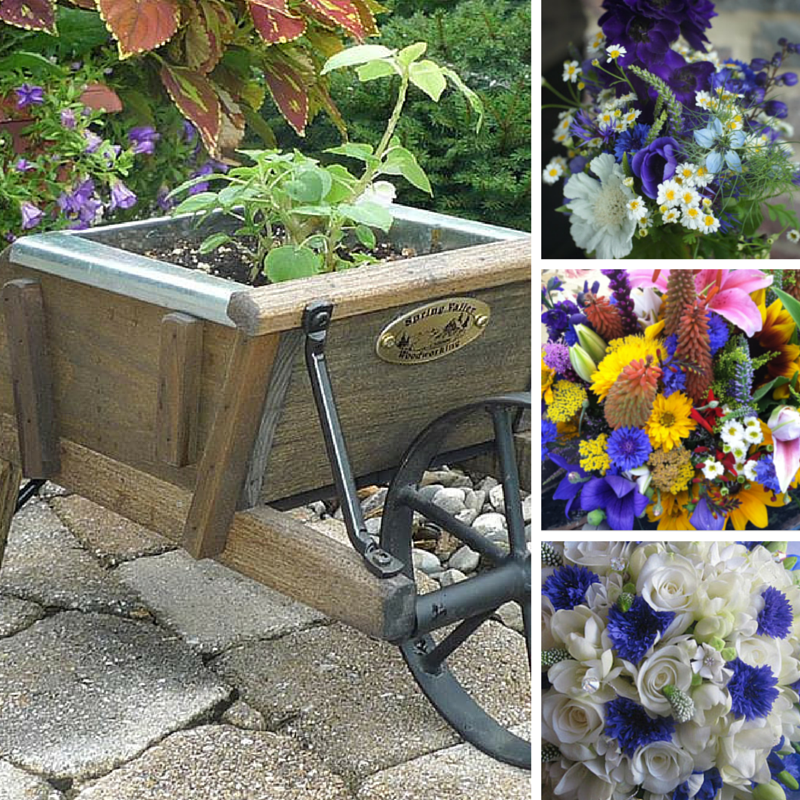 -One beautiful idea for a unique wedding gift or centerpiece for the big day is a planted floral arrangement in a personalized basket or planter. Cornflowers and freesias – fragrant, bountiful, and available in a huge range of colors – match up perfectly with a decorated planter and are at their best in May and June. Add the names of the new Mr. and Mrs. to the planter along with their new anniversary for a truly personal touch that'll stay with them for the rest of their (long and happy!) marriage.
Hello, Sunshine: The Seasonal Garden Planter
To us, nothing says summertime like the big, bright, irresistible blooms of towering sunflowers! May is the perfect time to grab some sunflower seeds from your local outdoor store and plant them directly into moist soil.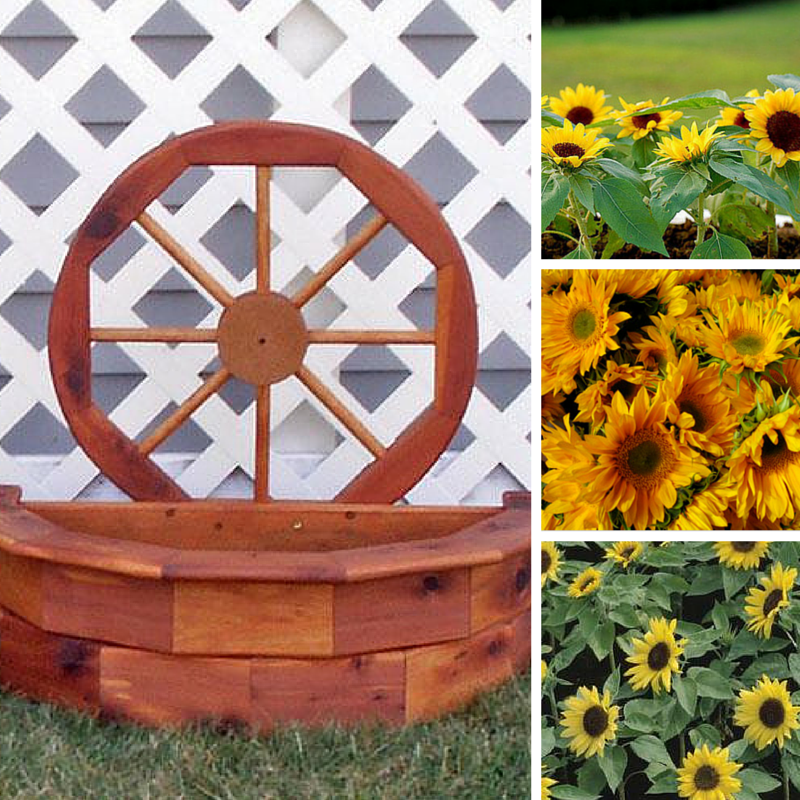 This classic Cedar Wheelbarrow Planter's height complements tall plants, like the sunflowers at right!
Planting a line of sunflowers straight into a planter creates a uniquely versatile summer display that'll be as comfortable on a porch or balcony as it will in a sprawling garden or entryway. For a planter, it's best to choose a smaller species of sunflower, and then plant your seeds in clusters around four inches apart. Choose which stems are strongest once they're all around six inches tall, keeping only the best-looking from each cluster.
Sunflowers love, love, love long sunny days in the full glare of their namesake – the sun! Keeping them in an area that's sheltered from the wind but offers six to eight hours of beautiful sunshine every day will yield the biggest blooms. A little fertilizer helps them too, but they're not too fussy.
America the Beautiful: The Fourth of July Garden Planter
Although there are a few months yet before it rolls around, we like to start thinking about the Fourth of July early so we can make sure our red, white, and blue is ready to go on the day! Plant these varieties now or buy grown plants closer to July to bring the majesty of the flag to your outdoor space. Our woodworkers will also be happy to paint a flag, mural, or other celebration of our country on your planter in many cases – just get in touch, and we'll see what we can do.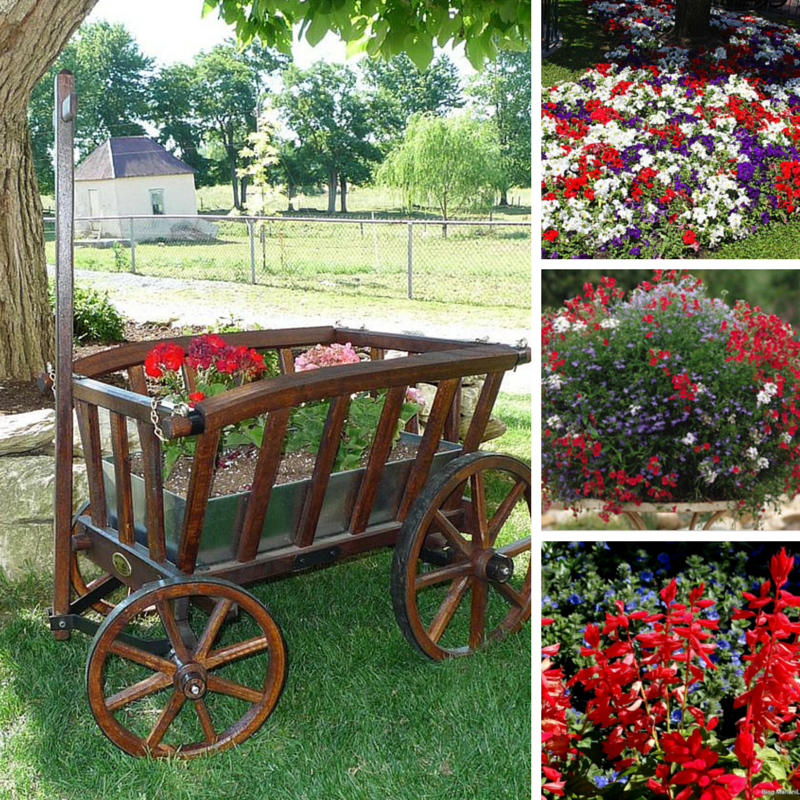 Our best-selling Medium Goat Wagon is an all-American home for the red, white, and blue!
For red colors, geraniums, poppies, begonias, and vibrant snapdragons make great choices.
For the white, more geraniums paired with shasta daisies, white verbena, and white zinnias look wonderful.
And finally, for the last third, beautiful blue bells and lobellas really pop against the reds and whites. Lavender also works well in a pinch!
Every handcrafted garden planter you'll find at DutchCrafters is made right here in the USA, so you can rest assured that your garden planter will be built with nothing but the best in home-grown quality and attention to detail. They're truly beautiful creations – just like the flowers and plants that love to call them home.