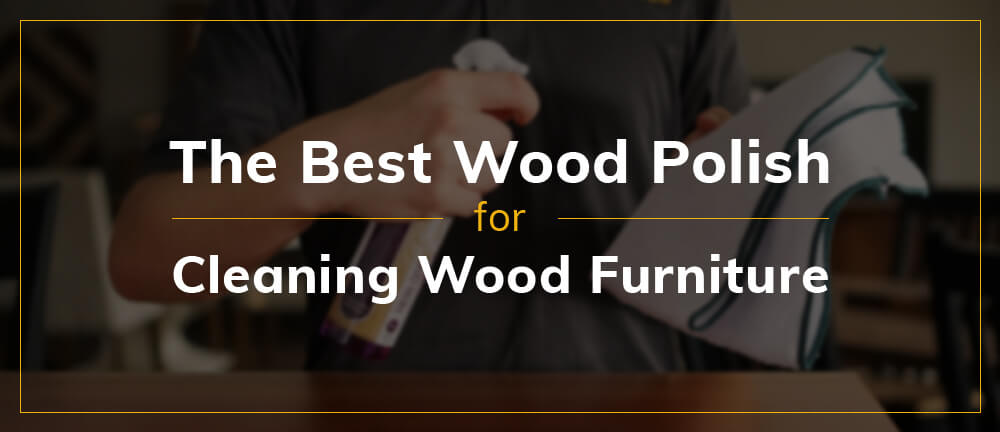 The Best Wood Polish for Cleaning Wood Furniture
What is the best wood polish for cleaning wood furniture? When you've made a significant investment in solid wood furniture, waited for it to be built and delivered, made it a part of your family story, and proudly displayed it in your home, there will come the time to clean it. And when it comes to high end, solid wood furniture you might hesitate.
None of us wants to use the wrong cleaner on wood furniture. And it's true there are things to take into consideration when choosing a cleaner.
Let's take a look.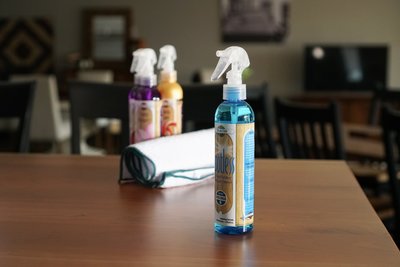 Before we get into wood polish specifics, let's go over the basics on how to clean wood furniture.
How to Clean Wood Furniture
It's important to dust your wood furniture regularly. Dusting removes abrasive particles from the surface of the wood that could scratch it. Items safe to use for dusting include a lamb's wool duster, cotton cloth, feather duster, or really any dry soft cloth will do, even an old T-shirt. These are all gentle enough for your wood furniture.
You'll want to moisten the cloth–moisten not wet. Use just a few drops of water. The cloth should not be so damp it wets the wood, but you want to moisten it. A dry cloth could possibly leave tiny scratches on the finish. Then, dust the furniture following the grain pattern of the wood, making sure to lift objects on the surface, never sliding them across the wood.
We summarize the steps in this helpful video where we answer a popular FAQ, How Should I Clean My Wood Furniture?
Now, on to the polish.
Wood furniture polish goals include helping with dusting, cleaning the wood and leaving a fresh scent.
How often should I polish my wood furniture?
While it is recommended to regularly dust your wood furniture, we recommend polishing it just once a month.
What's the best wood polish for cleaning wood furniture?
The best wood polishes for cleaning wood furniture are:
Silicone free
Wax Free
Ammonia Free
Water based
The absence of silicone and wax helps ensure a waxy residue will not build up on your wood furniture. While the right paste wax can be applied every 6 to 12 months to protect the finish on your wood furniture, it should not be put on wood as frequently as cleaning and polishing occur. Just remember, a water-based formula is safe for wood furniture.
Recommended Wood Polishes Safe for Wood Furniture
The Heirloom Essentials Two-Step Furniture Cleaner and Polish Combo with Towels offers a great trio for wood furniture. This set combines the water-based cleaner with silicone- and wax-free polish. The polish adds fresh scent, and there's a variety of scents to choose from. This polish contains essential oils to moisturize and preserve wood, and it's a non-aerosol polish making it more environmentally friendly. It's made with gentle cleaning agents and is available in 17 luscious scents and an unscented option as well.
Aristo Shield Furniture Polish is safe for polishing wood furniture. It's a water-based polish and does not contain any harsh additives. It won't dull the shine of the wood. It provides a protective shield for the furniture, making the wood more scratch resistant. Another thing to love about Aristo is it's a polish that is safe for matte varnish as well as other varnishes.
Things to Avoid
Fun furniture polish scents in pretty packaging can be tempting, but many aerosol polishes contain silicone or other contaminants that are harmful to furniture varnish.
Be sure to avoid:
Silicone-based polishes that can leave a spotty shine.
Waxing too often, as this can create buildup over time.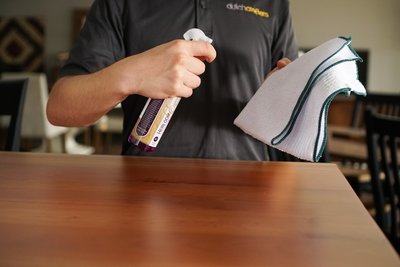 The best wood polish for cleaning wood furniture is a water-based one, free of silicone, wax and ammonia.